A gym newsletter contains all the best industry news and trends in one easily digestible email. It gives value to your audiences and answers the biggest questions might they have about fitness.
Done correctly, a fitness newsletter will get you heard by your audience. And once your members start listening, they won't want to switch off.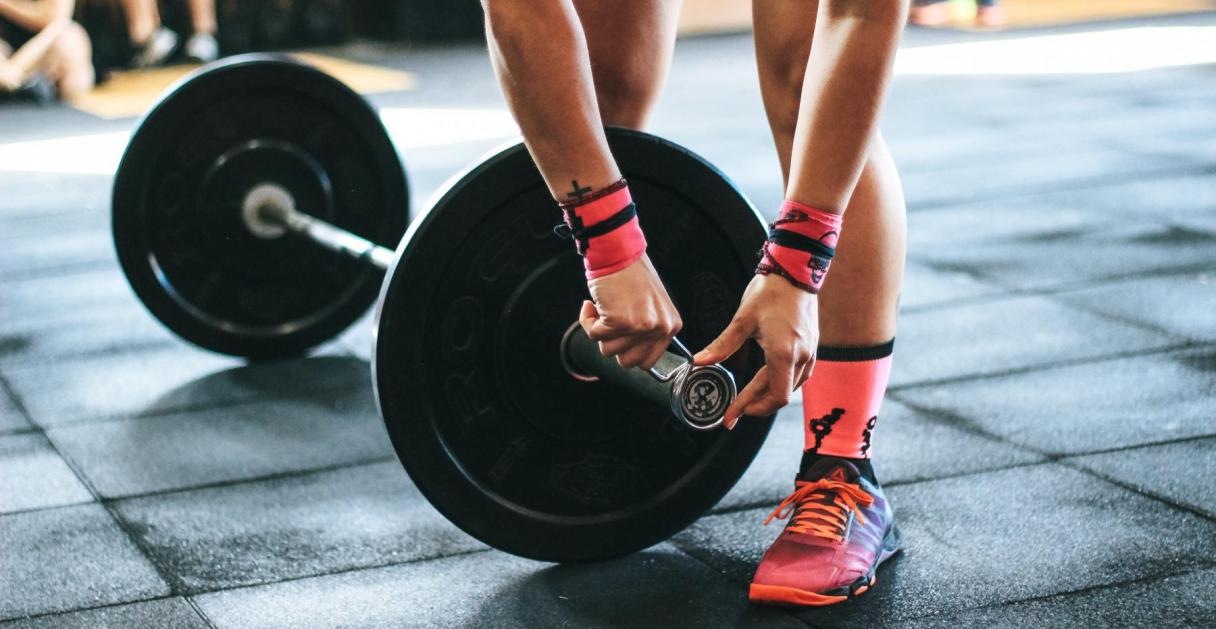 Here are the 3 steps you need to take when creating a quality fitness newsletter for your gym members.
Step 1: Create Your Gym Newsletter Template
When approaching writing a fitness newsletter, your email template should have 3 main sections.
Newsletter Template Section 1: Club news.
It's called a newsletter for a reason. You have an opportunity to craft exciting announcements and developments that are happening at your gym.
Perhaps you will be implementing a new spin class, or maybe you're altering the closing times or hiring new staff. Let your members know about how you're improving your club. Keep them in the loop. The more informed people are about your club the more connected they will feel to it.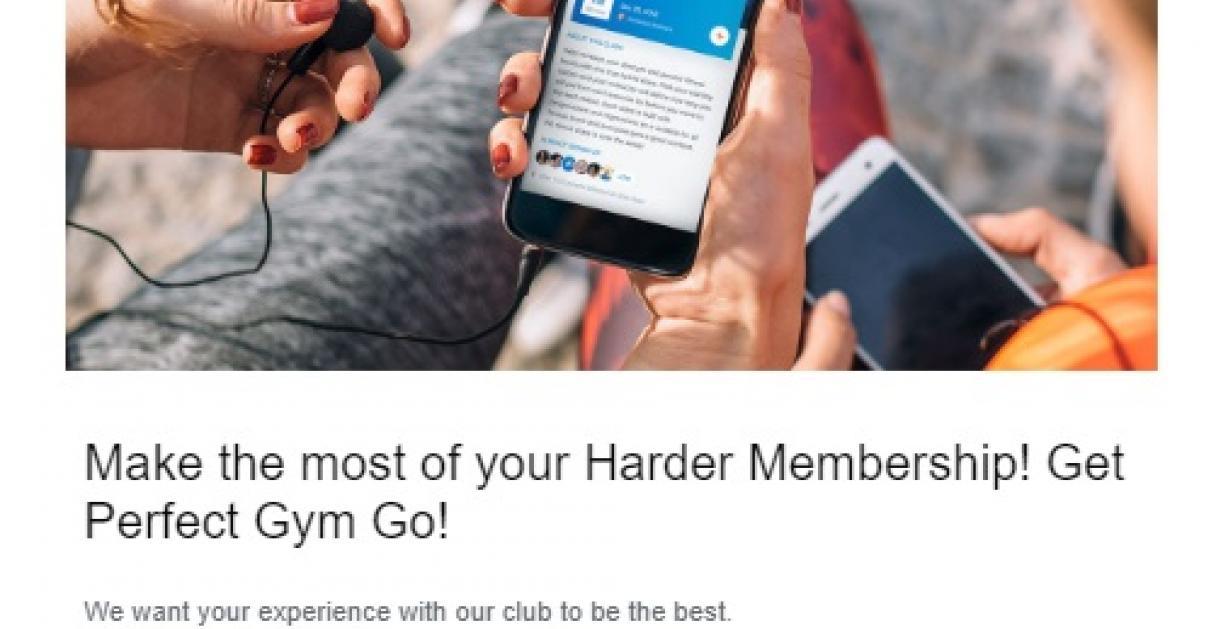 Newsletter Template Section 2: Insider fitness knowledge.
Gym newsletters are 'unselfish' opportunities to show your club is worthy of loyalty and the best way to do this is by curating the most valuable health and fitness articles on the internet for their consumption.
Maybe you already have a blog going, in which case, your newsletter should include a round-up of the top articles you've posted that month. If you don't have that resource at hand, you can gather the best advice the internet has to offer on fitness.
But don't cut corners on this.
Remember, this digital newsletter is like a gift for your members to show you value them. And it will say a lot about your standards. Sub-par, superficial, or useless content shows you don't put much thought into the needs of your clients and makes your club appear incompetent.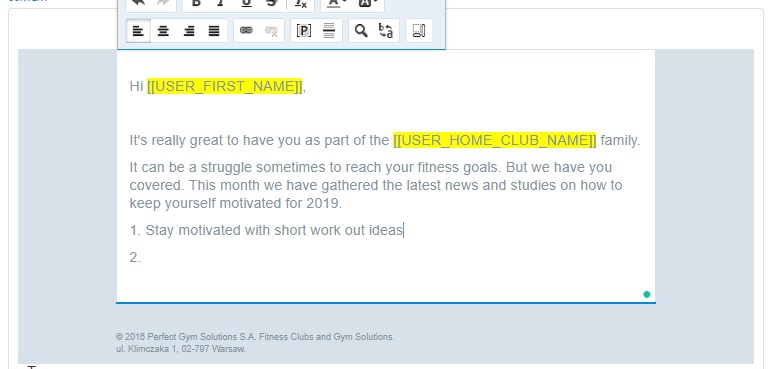 The content you give needs to show your dedication to their fitness as well as your club's expertise.
Ideas for gym newsletter topics
Educate on nutrition and food groups
Advise on general health and wellbeing
How to get the most from various exercises
The latest studies on fitness
Ways to get motivated for the gym
The benefits of paring training with certain diets
How to avoid sport-related injuries
Information on the best ways to keep a healthy routine
Workout ideas
Newsletter Template Section 3: Build your community engagement.
A great fitness newsletter will get you heard by your club members. But don't stop there. You should monopolize on that attention to start building up community engagement.
End your email newsletter template with a link for members to write replies. Better yet, link the newsletter to your social media accounts. It's a great way to gather client feedback on what the gym is doing and build an online community for your club. Monitoring these replies and comments on your social media will give you all kinds of insight into your members.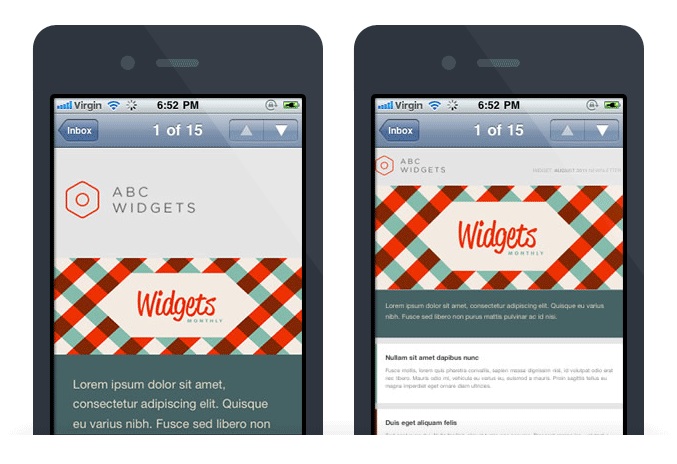 Pro Tip: According to IBM Watson Marketing "2018 Marketing Benchmark Report" (2018) Leisure, Sports & Recreation have the highest mobile email readership with 60.0%.
Which means it is super important to have your health and fitness newsletter optimized for mobile consumption.
Using appealing visuals and embedding videos in your gym newsletter will make it more accessible for mobile users by reducing strain on eyes and creating a more compelling customer experience.
You can create a great HTML newsletter template easily with the aid of some online tools, such as: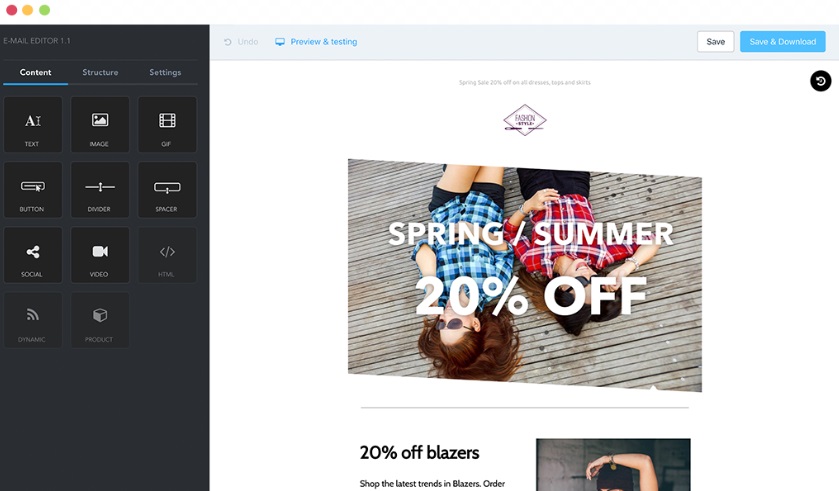 Step 2: Segment Your Email Lists
So, you have your basic gym newsletter template sorted. Next, you will need to write your email newsletter according to the interests of your audience. A 'one-size-fits-all' newsletter will be read by no one if it's written for no one in particular.
Here is where list segmentation comes into play. Based on the data you have on your members from youc club management platform, you should divide them into various groups or segments. This will help you tailor your fitness newsletter to the needs and goals of your audience.
And yes, this means you can produce different versions of your newsletter according to the different demographics at your club. The amount of email lists you can make depends entirely on the amount of data you have about your members.
More data means more insights, better grouping, and therefore more opportunity to tailor content that will be relevant to your members.
Think about it. A 25-year old green-juice-loving, Zumba enthusiast will need different health and fitness advice, than say, a retired office worker who goes to the gym to keep his heart healthy.
In the Perfect Gym Club Management System you can compile groups of members based on their biggest fitness interests, like below.  

Key ways you can segment your gym members for email:
- Geographics (Location and related data)
- Demographics and Profile (age, gender, social status, membership type)
- Psychographics (lifestyle, attitudes, interests, and opinions)
- Behavioral (frequency of gym visits, class sign-ups, clicks, website browsing, etc)
Segmenting your members into groups will give you a better idea about who you are writing for and make it easier for you to craft relevant gym newsletter content.
Step 3: Personalize Your Newsletter.
The intricacies of your email segmentation allow you to personalize your newsletter. Great personalized content means more value for you customers and loyalty to your brand.
For example, if you had a newsletter list of members who were tagged as:
1. Single females, 25-35 years old
2. Live further than 10km from your gym
3. Visit the gym less than twice a week.
You could personalize the newsletter to that particular list by including articles about the motivational benefit of having a gym buddy and promote the social aspect of the fun, weekly classes your gym offers.
The possibilities to personalize your emails are endless, and the payoff is huge.
In a Nutshell…
Personalized gym newsletters based on segmentation are perfect for increasing brand loyalty. According to econsultancy.com; 74% of marketers say targeted personalization increases customer engagement. While other marketers have noted a 760% increase in revenue from segmented campaigns (Campaign Monitor).
Delivering high quality and relevant content in your email campaigns has never been easier or more necessary than it is today. Gym goers look for more than just a facility to use; they require guidance and motivation tailored to their unique fitness goals.
By segmenting members based on their problems, and curating quality solutions for them, you can give yourself a distinct advantage over your competitors.