There are many facets to running a fitness club; processes, customer care, finances, and equipment maintenance are just some of those. Club owners need to spin a lot of plates at once to make a gym work. And if one plate falls and smashes it can sometimes spell disaster for the whole show. 
Yes, fitness club management is tough.
But there is one secret weapon most clubs aren't utilizing for their business: An advanced Point of Sale (POS) system. 
Used to its fullest potential, POS software can simplify all the operational day-to-day running of your fitness club. It's like the eye in the sky which knows everything that is happening on the premises of your gym.
Image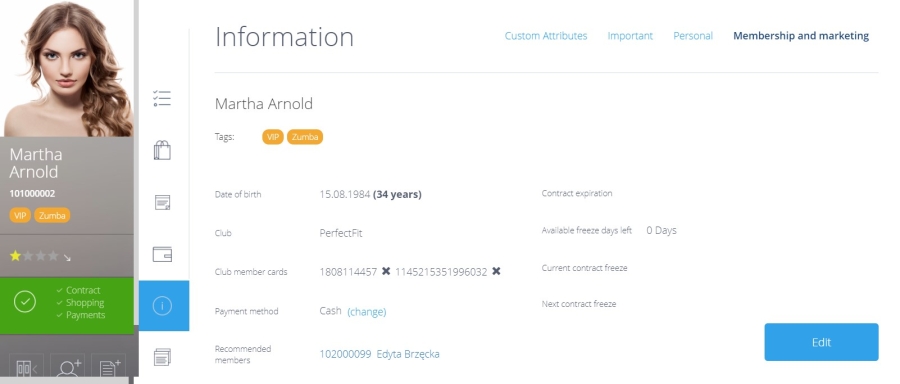 Basically, holistic Point of Sale systems can demystify operational processes, financially manage your club better and increase your member happiness, too. 
In this article you will learn:
Reasons fitness facilities should upgrade their POS
Real life examples of how a great POS can transform a gym
A breakdown of the features a great POS should have
Why do Gyms Need Better POS Systems? 
Despite the name, POS systems aren't just for making over-the-desk transactions with club members. The best digital point of sale systems can actually increase the amount of money members spend in your club and speed up admin processes too.
Image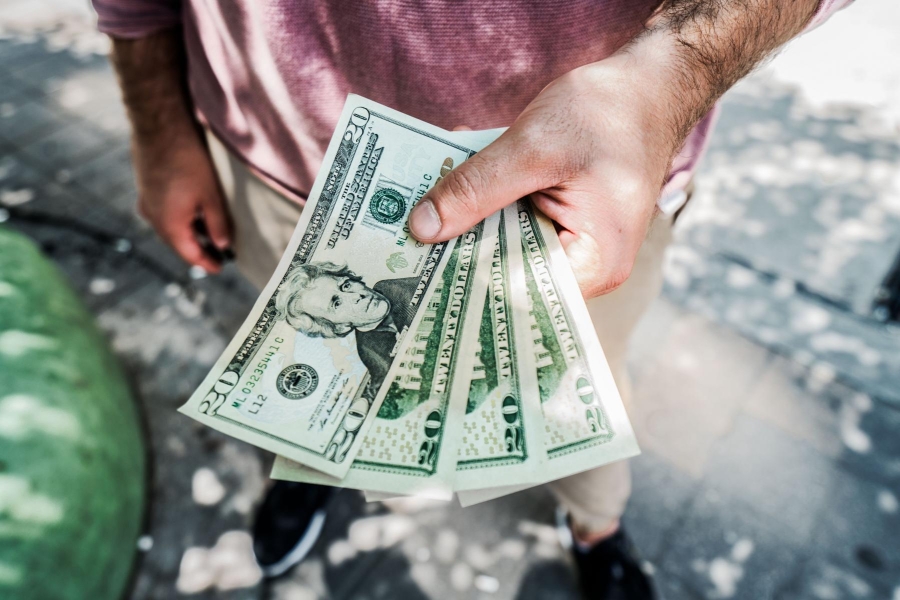 But in fitness clubs, owners usually use several systems to manage their facility. This can be complicated to track, leaving you in a mess of reports and blind to gathering information quickly. 
Also, legacy systems can become temperamental, leading your system to become overloaded with the onslaught of information and prone to crashing. Such occurrences can bring your club to a standstill and leave members frustrated with the lack of action your desk staff can complete. 
However, great POS software can bring a new level of efficiency to your front desk, which makes your facility more professional, smoother and helpful for your fitness members. 
The fitness industry is growing at an exponential rate, which means consumers are becoming more aware of their wellness. This has also lead to a rise in competitive fitness alternatives such as workout apps and smart home exercise machines.
To stay in the race and grow your business, your facility needs to run like a well-oiled machine.
Young people are the most prevalent demographic taking action with their fitness right now, they are used to lightning-quick systems and intuitive mobile payment processes.
The benchmark within the fitness industry is moving higher and higher so it is only logical that fitness clubs have to trade in their POS software for smarter models to meet this expectation
Image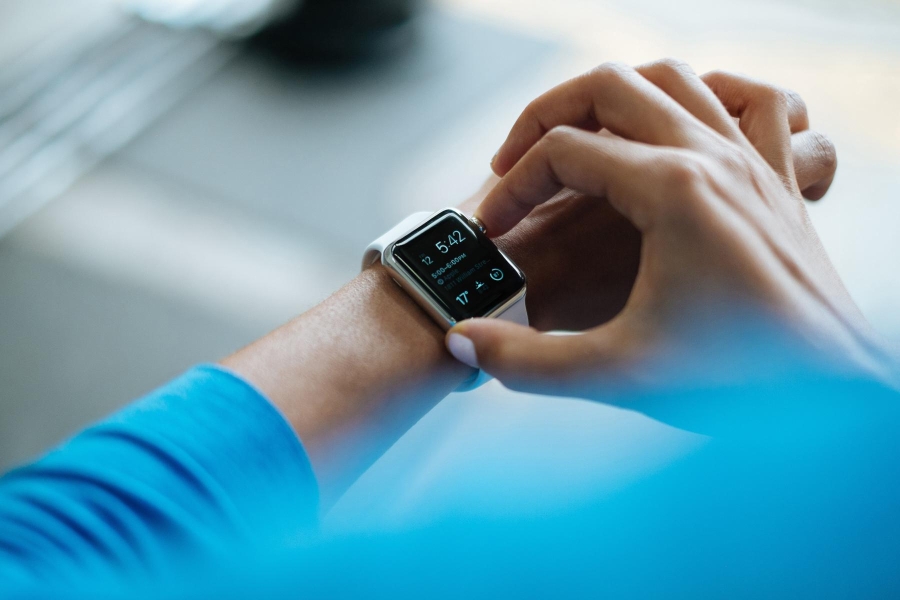 How can a Gym POS System Help You?
As fitness members expectations are increasing, they demand quicker service and effortless access to all of your facilities.
However, your staff cannot be everywhere and know everything at once. Human error can cost your fitness business a lot. Therefore, your team needs a little help to deliver the care members are seeking. 
Using one POS system for booking, payments, client registration, notes, inventory, analytics and reports means all your team can log and work from one system, which makes monthly reporting a lot easier for you, too. 
Class & PT Booking
When your clients inquire about a class it is a prime opportunity to not only increase your fitness club's revenue, but also show off your unique selling proposition. Classes are not only fitness experiences, but bonding experiences, too. 
However, due to outdated systems or complex UX, sometimes the booking process can be a tedious and lengthy process for staff or members using self-serve kiosks. But with a multi-functional system like PerfectGym, front desk staff have the power to book a class, bill an account, take payment and send reminders all within the Point of Sale system.
Image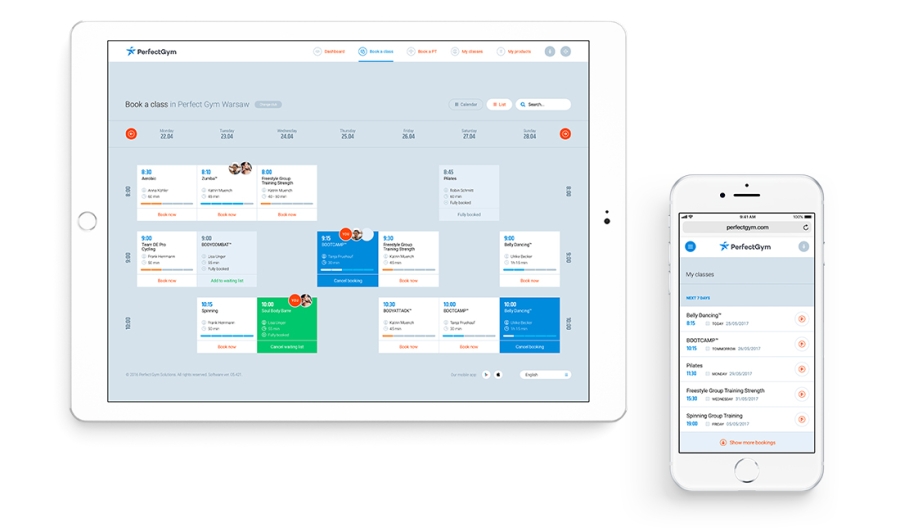 The responsiveness of your gym POS software can elevate your customer service by adding convenience and peace of mind to your member's gym visit. 
Also, having your class and PT bookings integrated with your club management system means you can get the bigger picture on how well class attendance is doing, which time slots are the most popular and which type of training or instructor is the most sought after through generating reports and using the data in your email marketing.
Information like this can help you to build better growth strategies for your fitness facility as well as plug potential leaks in your revenue streams.
Client Notes 
While all of your members come to your facility for their health and fitness, they are still individuals with unique needs and desires, which means they require personalized care too. 
With prevalent automation and generalized services, a little understanding and human care go a long way to build loyalty between fitness members and clubs these days.
A study by Wunderman found that US consumers prefer the brands providing a higher level of customer service. Utilizing client notes in a gym POS system can be impactful in delivering that care. 
By encouraging your staff to note down their observations about members they interact with means your club can offer more personalized services to them. 
Image

For example, if someone notes that the member always buys a protein bar on her way out of the gym, add a note: "Offer Martha Salted Caramel protein bar. If it's discounted, recommend she buy several."
An offer like this is relevant to the member, which means they will be more likely to buy.
Not only does this make your members feel looked after, but it helps increase your sales numbers, too. 
Locker Room Management
Whether you are a budget gym, boutique or luxury brand, your members expect clean, hygienic facilities. But, they also don't want to have to sit around and wait while the rooms and equipment get cleaned.  
If you're a 24/7 gym that may seem like a pretty tall order, however with a POS system integrated with your electronically powered lockers, you can view the capacity of the changing room with ease. 
Image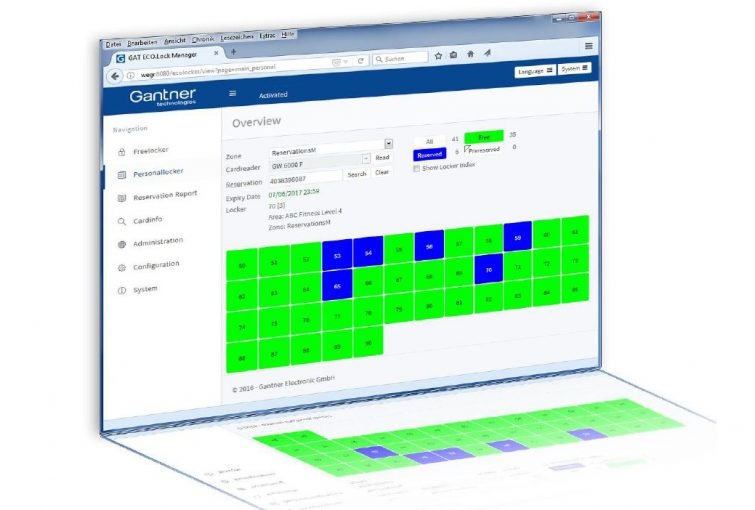 This way you can clean the locker rooms when there is low capacity to ensure your facility is always ready to use for members. 
In addition, with an advanced POS system, your desk staff will have the ability to electronically communicate with the lockers. If a person somehow loses access to their membership/locker card while working out, or forgets which locker is theirs, your team can see which locker the member chose and remotely unlock it for them too. 
Retail Sales 
Secondary spend, or ancillary spend, is any additional revenue generated through the sale of something that is not in the gym's main revenue stream. Items such as athletic wear, protein powders or nutrition cookbooks are such examples of secondary spend. 
Nowadays, consumers are expecting to find many of the solutions they seek in one place. In fitness terms, this means that when members visit your fitness club, they want you to offer more than just ellipticals and treadmills. They expect you will offer them other health-related solutions, too. 
In response, gyms have been rising to this new demand by bulking out their secondary spend products. 
Equinox is the king of the secondary spend game. Having built a brand of luxury and exclusivity, the brand offers spa services, own brand water bottles, and garments and, dipping their toes into the travel industry, will later in the year launch their fitness retreats product as well as a luxury fitness hotel.
Image

However, along with the enhanced member experience and extra revenue, secondary spend can also bring more operational complexity. 
Advanced POS systems can help your staff generate sales, manage inventory and complete & store payment transactions for secondary spend goods. 
For example, with Perfect Gym' smart spend recommendations, our POS software will actually recommend products which your member might like or need. Working in a similar way to how Amazon would, the software analyses member data and matches them to secondary spend products your facility offers.
In using a function like this, your staff is able to offer products which will be genuinely useful for your customer. 
Image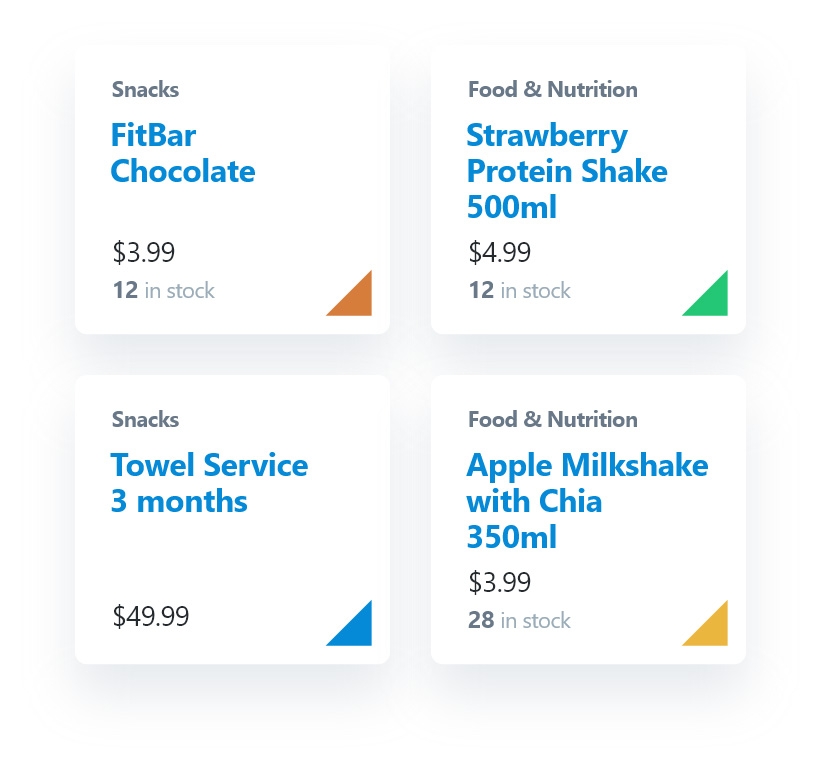 Having such a system in your gym can really push up your extra revenue and give your service an added personalized edge. 
Club Financial Data
POS systems for fitness clubs can keep all your club's transactions all in one place. It can show you who paid, who processed the payment and when. This means you can export many different kinds of financial reports with a few simple clicks. With a feature like that you are able to track all revenue coming into your club, and more importantly, where this revenue is coming from. 
You might find that your classes are doing amazingly, but your membership revenue is low. Or that you supplying more than is demanded with your secondary spend products. 
Image

Whatever the case is, with clear financial reports generated by an advanced Point of Sale system, you will be in a more informed position to make data-driven management decisions for your club.
In addition, this type of seamless reporting feature can also be a huge help when it comes to reporting your taxes accurately and allotting commission pay for your team.  
Commissions
Great POS systems don't just track your fitness club's financial transactions, they also can track which one of your staff made the sale. 
Keeping a log of your front desk staff's sales can help you to accurately reward team members with commissions. It also gives you a chance to view which team members made the most membership or secondary spend sales and which team member is lagging behind. Such overviews can give you real insight into how well your team are performing.
In addition to this, seeing a lack of sales made by your team can inspire you all together and brainstorm ways you can increase your membership and product purchases.  
Image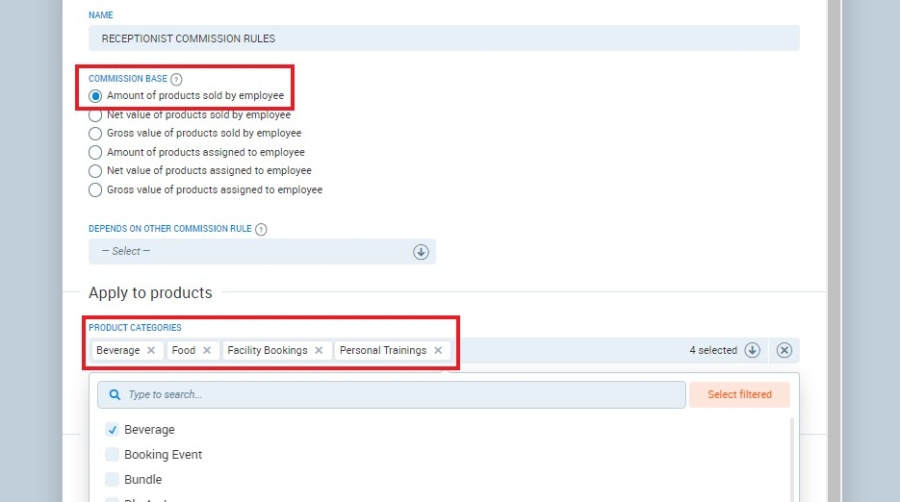 With PerfectGym's Club Management Software, club owners can set different commission rules depending on the club, type of staff, and metrics of sales made. The already integrated PerfectGym point of sale system can then monitor which team member made a front desk sale and send that information directly back to the club management system where you can view commission reports easily. 
Image

What Features does a Great POS Software Entail?
Not all Point of Sale systems were made to be equal. Some POS systems offer only the bare bones of sale functionality for fitness clubs. And if you only offer the bare bones services then that can work for your gym. 
But, in the long term, basic POS systems cannot always handle the growth of some fitness facilities. This leads to technical issues and fractures in member service, which is why it is important to use a POS system that can manage all your future expansionist plans.
Here is what you should be looking for when shopping for a gym Point of Sale system:
Super Simple UX & Easy Registration
A gym POS system can have all the beautiful mod-cons and features attached to it, but if the user experience of it looks like the dashboard on the Starship Enterprise then there really isn't any point in your staff using it. It will only end in frustration and in the end, a POS system is supposed to make life easier for you and your team, not harder. 
Indeed, advanced POS systems are complex and multifunctional pieces of tech, but that doesn't mean it has to be complicated to use. 
Image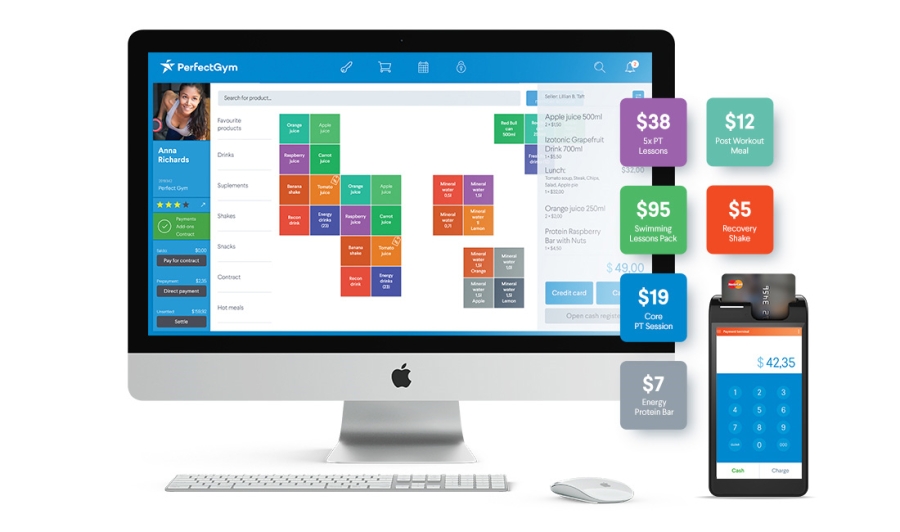 The UX of a great POS system will have:
At a glance readable information pages 
Visually appealing with large fonts
Consistent feature labels and clear navigation tabs with easy-to-understand icons
Minimal design on the page to make the user understand exactly what that page is for
Paperless Contract & E-signature
Online POS systems should mean less paper filing for your fitness business. Gone are the days where every member you ever had had a paper contract filed away in some dark cabinet somewhere. 
Not only do online contracts help the environment, but they also save you a fair bit on printing cartridges and paper purchases, and makes your customers lives easier. No one wants to look after a hard copy of their contract, send it to them instead, so they can keep it as a digital spec on their own drive. 
So how are members supposed to sign their contract is they can't physically sign it? With an E-signature. Instead of pen and paper, your members can use a stylus and an electronic Digipad to sign their name. The stylus and pad then mimic the movements to sign the digital contract. 
Image
With a digital contract, there is no need for physical filling and your member data is secure all in one place. You can even automatically pull this information into your CMS to create member profiles with PerfectGym's club management software. 
Registration of new members are therefore easier, faster and can leave your staff to focus on important things like facility onboarding or growing class attendance. 
Robust Functions & Quick Payments
Have you ever needed something quickly, only for your computer to chose that moment to seize up, load slowly or crash? The frustration you feel when you need efficiency and something is holding you back is next to none. 
Imagine if your team or yourself had to go through that same feeling every time they put through a payment. Imagine how your members might feel about it? 
At the end of the day, your gym POS system should do one thing very well, process payments. Most people don't pay with cash and thanks to mobile technology, most people don't even use a physical card anymore. Therefore, the best gym Point of Sale systems should be powerful enough to process payments quickly and robust enough to accept any type of payment. 
Remember, your POS system should be making life easier for your team and more convenient for your members. Popular non-cash payment types your members might use:
Apple pay
Google Wallet 
Contactless card payment
Credit Card
Image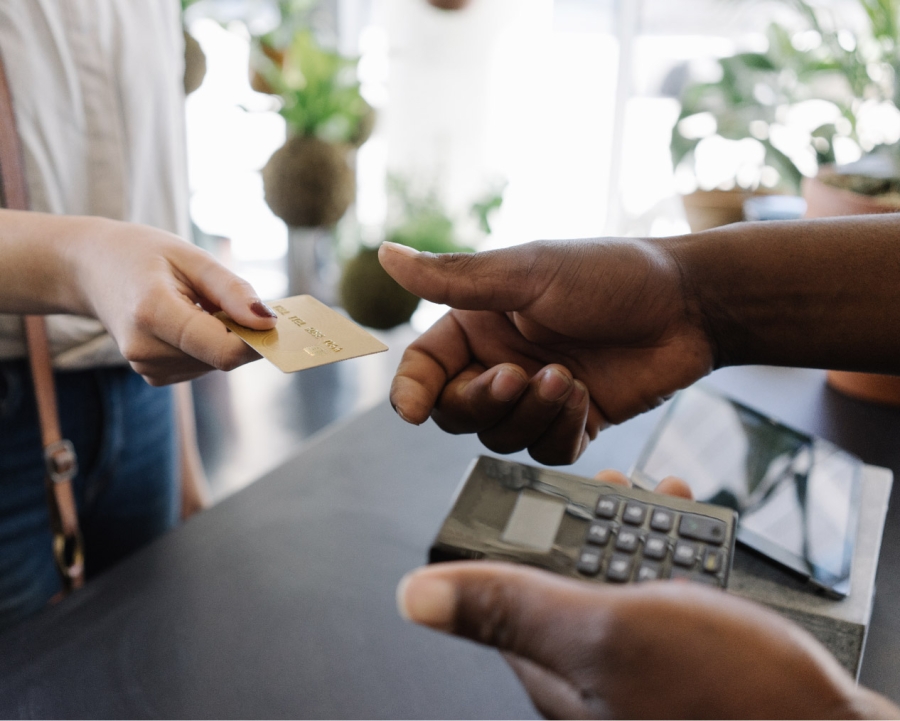 In addition to this, your POS system is also responsible for how quickly & accurately customer queries get answered. If a member wants to book a class, pay a membership fee, gain entry or cancel their contract and your members can't help them, it makes for a terrible customer experience, even worse if this happens during peak hour. 
Your members expect results, so your fitness facility's POS system shouldn't be a one-trick pony. 
Multi-functional POS systems can handle many processes, which means they need faster processors and higher output. They need to be robust enough to deal with many tasks at once, yet smart enough to finish tasks efficiently. Of course, systems like that aren't given away for free. But this is the one place where quality does beat quantity.
If you cut corners on the quality and functionality of your gym POS system it can lead to some operational nightmares at a later date. 
Integrate with other 3rd Party Software
The best gym POS systems will be able to seamlessly integrate with all the other software you might use to run your gym, so you can access, use and store all the data in one place. 
Image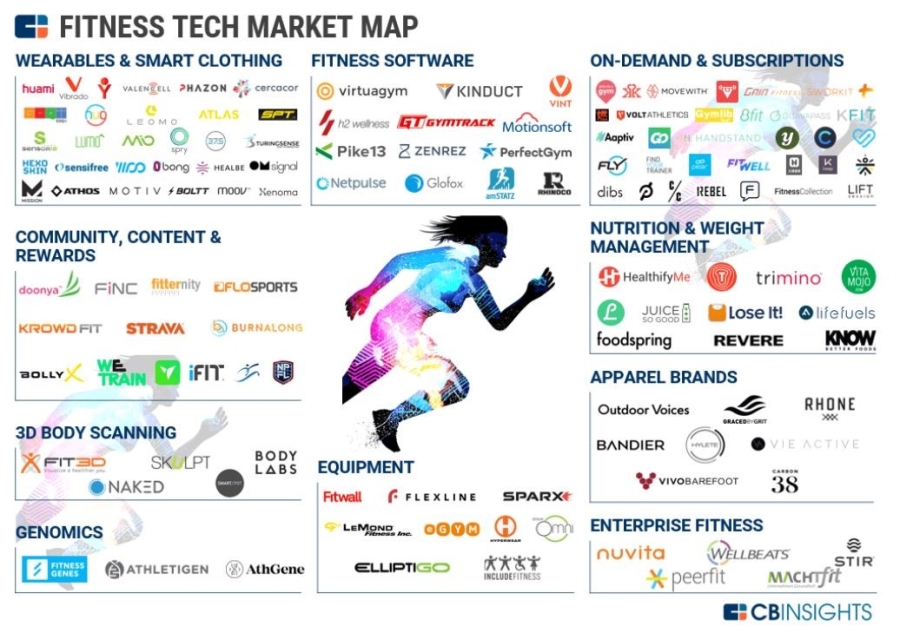 Using many different systems can be messy. You can, therefore, integrate so you can control all aspects of your gym. For example, with an open API, you can integrate your access controls with your club's POS system and control entry from your front desk. With Perfect Gym, we already partner with access control leaders Gantner, so our clients can monitor their gym's attendance stats, block non-paying members and control lockers and entry gates remotely from their front desk. 
You can also integrate your POS system with your club management system, so all transactions can be put straight into your system and reports can be generated easily therein. In doing so, you will be able to view transaction times and who made the payment, too.
Cloud-Based & Encrypted 
With so much sensitive data going through your system, your POS software must be secure. And by secure, we mean secure from others accessing the information of your clients and also secure from technical failure. If there is a power cut, or your system hard drive gets wiped then you have essentially lost all of your client information, sales information, inventory, commissions, financial reports and much more.
Wouldn't that be heart breaking?
Luckily, top-notch POS systems will be prepared for such end-of-the-world scenarios. With multiple cloud hosting PerfectGym offers, your gym's POS data can be saved automatically every two hours. 
In addition, due to the details you store on your system, you could become a target for cyber hackers who break into databases to steal data to sell on to criminals. 
Image
As a facility owner, you are required by law to ensure the security of your member's private information. The best way to do this is by installing a POS system that comes with heavy encryption which is in line with the recommendations from the Payment Card Industry Data Security Standard. 
In a Nutshell...
Purchasing a robust and multifunctional point-of-sale system can ease the day-to-day workflow in your fitness facility. Better organizational practices and management means that you can stop drowning in admin and start putting your efforts to helping your members and growing your fitness business. 
If you'd like to take a step and grow more, fitness facility POS software can help you handle that growth. With the features listed above, your POS system can act as another valuable team member watching your facility's back.