Is fitness metaverse just an unrealistic fad, or can the health and fitness sector broaden its appeal and reach new audiences?
In this article, we dive right into the definition of the metaverse and its implications for the fitness industry.
What is the metaverse?
The metaverse is a network of interconnected virtual worlds often referred to as the "embodied Internet". It focuses on immersion and the feeling of presence generated by virtual reality (VR), augmented reality (AR), and haptic gears to sense motion and reaction.
The term "metaverse" comes from science-fiction and was coined by Neal Stephenson in his 1992 novel "Snow Crash".  
In the words of Mark Zuckerberg, the metaverse "will be the successor to mobile Internet". If successful, the metaverse will bring about a number of changes we may not fully comprehend yet because of the way we now think about our devices. The metaverse will allow users to be fully immersed, creating experiences with people regardless of how far away they are. 
This includes:
spending time together and interacting with other users
attending work meetings (although a recent study shows that working in the metaverse for one week led to 19% more anxiety and 16% less productivity)
Image

Source: arXiv
purchasing digital assets
viewing content like videos or photos
and finally, working out
Whether people will spend endless hours inside a VR world is debatable, but it's likely that short bouts of virtual activity will successfully engage consumers.
How do consumers feel?
The consumers remain skeptical, however, Forrester Research shows that only "about a third of online adults are excited for the metaverse and less than 30% think the metaverse will be good for society."
Unsurprisingly, younger people are more interested in the virtual world. Gen Z and Millennials are more excited than other age groups (42% and 43% respectively, as compared to 18% overall) according to Morning Brew-Harris Poll.
Image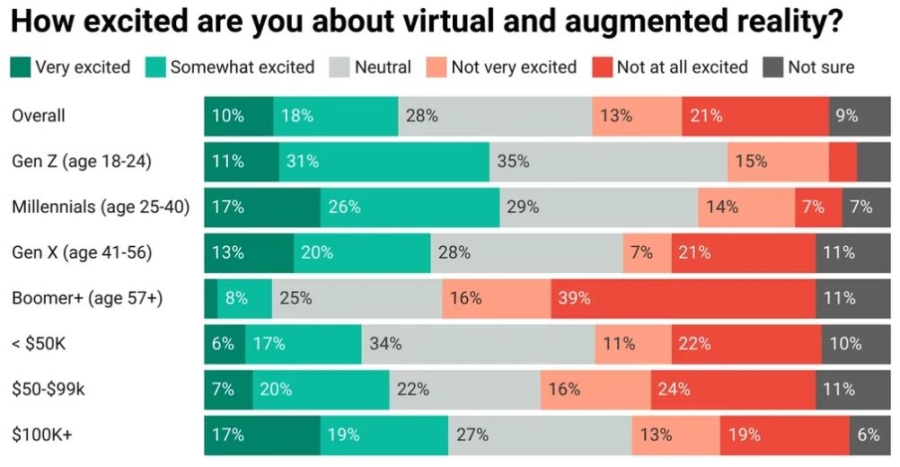 Source: Emerging Tech Brew
What could metaverse fitness look like?
Fully immersed virtual workouts will likely involve 360-degree landscapes, audio, and live-action interactions with avatars of your friends or coaches.
Here's a video of what fitness in the metaverse is striving to achieve.
Looks incredible, but are we there yet? Definitely not. This very advanced version of the metaverse doesn't exist yet. And it's unsure what exactly it will entail when (if?) it becomes available.
The idea behind metaverse workouts is simple: players utilize the digital space to improve their real world fitness and health as they play to earn experiences. Workouts are gamified through crypto to further incentivize participants. 
There are definitely areas metaverse fitness brands will want to capitalize on, including:
The fitness industry is already attempting to tap into virtual workouts with some smaller steps like Peloton's Scenic Rides, viewing CGI-generated landscapes during indoor cycling sessions available in some gyms such as McFit, and of course, VR fitness games. 
The concept of digitized workouts has been proven successful by the Playstation VR (PSVR) gaming app. PSVR offers complete workout based games, such as BOXVR or Beat Saber.
According to The Virtual Reality Institute of Health and Exercise specializing in rating energy expenditure in VR games, the intensity of a Beat Saber workout is comparable to playing tennis - it's one example of premium gaming for sure! 
Players are motivated by virtual rewards and the leaderboard - just look at the Beat Saber leaderboard on Exophase and the time spent in the video game.
Image

Source: Exophase
Fitness metaverse: how close are we to achieving this?
The metaverse doesn't exist yet - only some precursors providing metaverse-like experiences do.
And it looks like the road ahead is a bumpy one.
In May 2022, Meta's AR and VR hardware division Reality Labs announced its plans to scale back spending. The division, which is deemed indispensable for Meta's goal of becoming a metaverse company, is reportedly unable to afford some of its key projects. In 6 months, Reality Labs has generated $6.2 billion in losses.
What is more, in late June 2022, Mark Zuckerberg announced Meta would downsize its engineering hiring plans from more than 10,000 to 6,000-7,000 people, citing "the market downturn and the looming recession" as the main reason. He also warned current employees Meta would be weeding out underperformers.
There is one thing you can be sure of, though.Keep an eye on how fitness companies are prepping for the immersive gamification the metaverse brings. Make sure that any gym and fitness investments you make for your facility operate on open APIs to facilitate integration now and in the future.
Fitness companies in the metaverse: who is already in?
Some companies and fitness apps are already getting ready for the metaverse.
Trib3
Image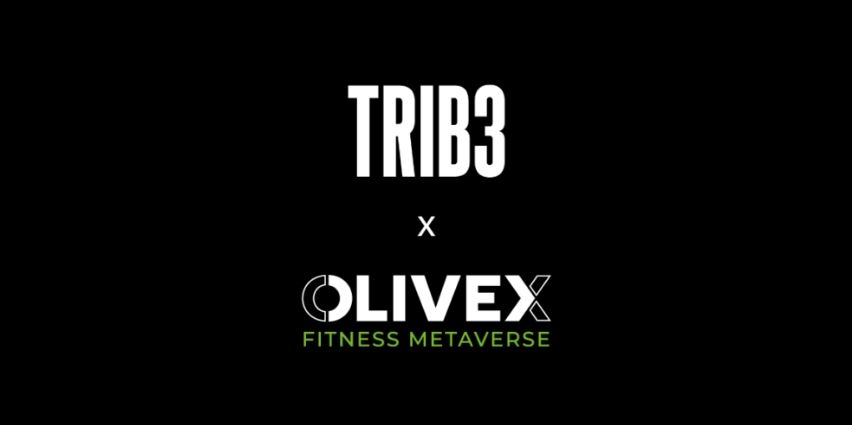 Source: Trib3
In an official announcement, Trib3 said it was partnering up with the Fitness Metaverse company OliveX. Together, they aim to deliver the first gym to launch in the Sandbox to provide unique user experiences. The OliveX gamified fitness ecosystem is focused on "creating and incubating gamified fitness experiences on the blockchain in partnership with premium gaming and fitness brands to provide users with an immersive fitness experience and empower them with digital property rights."
The cooperation utilizes Dose tokens ("The token that keeps you fit") which can be used to purchase NFTs, unlock items, and participate in special events.
Gym Aesthetics
Image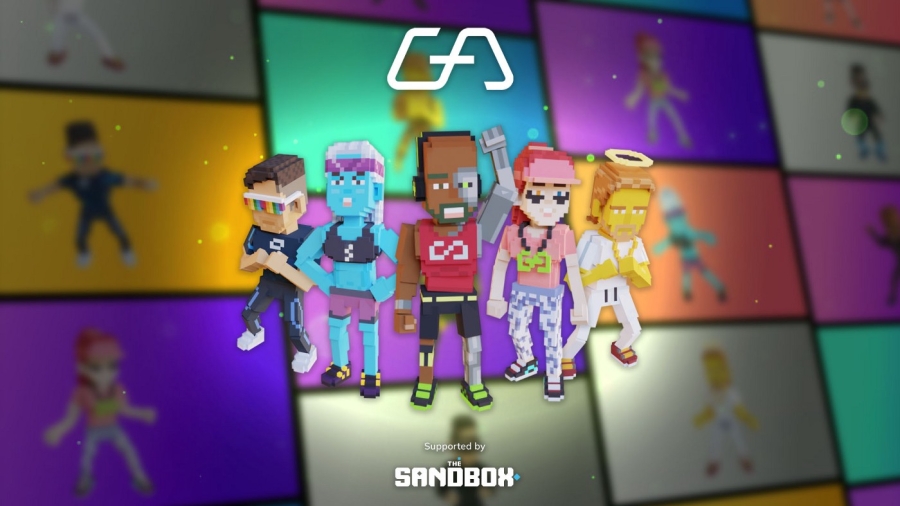 Source: Sandbox
Gym Aesthetics has also joined forces with OliveX fitness metaverse, becoming the first NFT project to launch in the fitness metaverse.
Other brands include GO24Fitness, TRAX, Cycliq, and Fitafy.
How can fitness clubs prepare for the shift to the metaverse?
There are two main areas fitness companies, clubs, and gyms need to consider when preparing for the fitness metaverse.
Software - i.e. fitness and gym management software like Perfect Gym
Hardware - headsets, controllers, gloves, VR and AR glasses/goggles, etc.
Open API
Without an open API, entering the world of metaverse fitness will be impossible. Perfect Gym offers an Open API that integrates with leading industry brands and equipment manufacturers to give you more power and flexibility.
Biometric entrance solutions
Turnstiles
RFID & barcodes
Digipads
Equipment integrations
App integrations
Tracking integrations
Image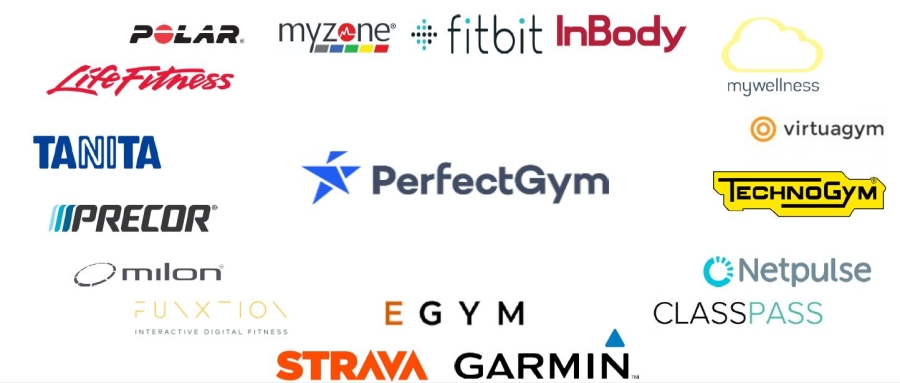 With the Perfect Gym API, you're able to build your own Perfect Gym-powered web, desktop, and mobile apps.
Open source platform
Open source software (like the Perfect Gym) refers to software with publicly accessible source code that can be viewed, modified, and distributed. It's typically developed collaboratively with peer review, which makes it more flexible and cost-effective than proprietary platforms.
Accessible through all devices and brands
One of the key aspects of selecting gym management software is to remove barriers for your users. Ideally, your system should be accessible from all types of mobile devices and the desktop to be more inclusive.
The goal is to simplify and automate daily activities to motivate your members to stay consistent. As an example, QR codes and push notifications are a great way to increase mobile app usage, provided they work on all types of mobile devices.
"We have to realize that the modern fitness industry is very high-tech. There are many services for specific tasks. Perfect Gym is able to combine all these services into one ecosystem."
Vlad Khartukov — Head Manager, Encor City
VR and AR glasses/goggles
A quarter of Americans express interest in purchasing VR headsets, mostly for fitness use (18%) according to Forrester Research (via The Washington Post). Interestingly, 88% of people who tried one had a positive experience.
For now, this seems like a purchase you can delay, but if you're considering running classes with VR headsets in the future, here are the factors you should consider:
price
performance
ventilation
high refresh rate display
comfort (head straps can be annoying for some users)
cleaning & disinfection guidelines
The most popular ones right now are Meta Oculus Quest 2, HTC Vive Pro Focus Plus, and Valve Index VR HMD. 
VR controllers
VR controllers come in all shapes and forms, including haptic gloves, hand-held gun replicas, and even VR treadmills (mostly used in commercial facilities like VR salons).
A word of warning is due here though: while making costly VR hardware purchases for your facility, make sure you calculate the ROI instead of relying on the wow factor alone.
Conclusion
Technology empowers us to achieve our goals, but it can also stand in the way of consumers creating positive health habits. Metaverse fitness is likely to reach new audiences (such as gamers) and help them improve their health as they play workout based games.
For now, it seems that the fitness metaverse is unlikely to win with gyms and real-life coaches in the foreseeable future, but rather complement their work.
For fitness brands, the next step is to consider if the purchase decisions they make now (such as equipment or technology) bring them closer to the fitness metaverse world. Perfect Gym is capable of integrating with a variety of partners to help you prepare for what's ahead of us. 
Source: Pixabay