Modern definitions of fit and healthy lifestyles have evolved over the last decade. Instead of just regularly going to the gym, pursuing wellness now means anything from leisure activities to mental exercise, and even traveling.
In fact, As tourism worldwide has soared doubled to reach 1.19 billion international travelers in the last decade, so have a wide variety of options now available to travelers. 
As a result, travel trends have diversified: individuals are moving away from conventional vacations for relaxation and recreation to embrace trips to improve the mind and body. This has resulted in the explosion of Wellness Tourism.
While wellness tourism is nothing new, its exponential growth has positioned it as a $639 billion dollar industry as of 2018. Its growth similarly has opened more opportunities for fitness companies to take part in this rapidly growing sector to the benefit of their brands. Whether it's partnering with travel-based companies, offering wellness excursions, or even launching their own hotels, many fitness enterprises have begun to crossover into the world of tourism.
The rise in wellness tourism has created new business opportunities for fitness brands to reach new consumer groups that can further establish their brand and push their reputation to new territories. 
Traditional Concept of Wellness Tourism
Traveling to pursue health initiatives is not a new concept. With vacation often perceived as a time to "recharge", wellness tourism attracts those looking for an opportunity to revitalize their health with a fresh start commonly associated with vacation.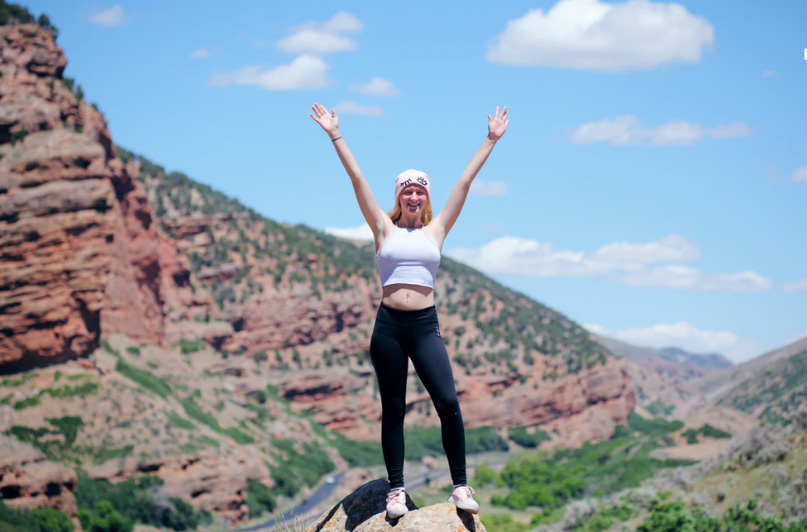 For years, different countries have lured visitors from all over the world to experience the diverse ways their unique culture approaches health and wellness. Especially in the east, trips focused on meditation and yoga in sacred locations across Asia have been very attractive to many travelers. Similarly, regional sports and athletics have also drawn visitors from all over the world, like Muay Thai or Jiu Jitsu camps and surfing retreats.  
Alternatively, other types of wellness tourism use the remote location of a destination to create a wellness agenda. Famed hiking, trekking, and climbing trips are popular in every continent, ranging from jungle routes to Machu Picchu to mountaining the peaks of Mount Kilimanjaro.
These experiences thrived off their geographical and cultural nuance, offering authentic experiences to travelers led by local guides and experts. However, this authenticity that allured many adventurous travelers in the first place also deterred many others. 
Without the familiarity of verified travel companies, many individuals did not feel as comfortable partaking in such an experience. Since accessing these remote places came at higher cost and complicated planning logistics, many travelers opted for simpler travel options.
Why Wellness Tourism is Growing
More people are traveling than ever before due to how modern technology has eliminated many stressful and costly aspects of traveling. The diversification of the tourism industry has sparked new travel preferences, one being more individuals seeking health and wellness-based vacations as opposed to travel for recreation, partying, or over-indulging on "holiday diets".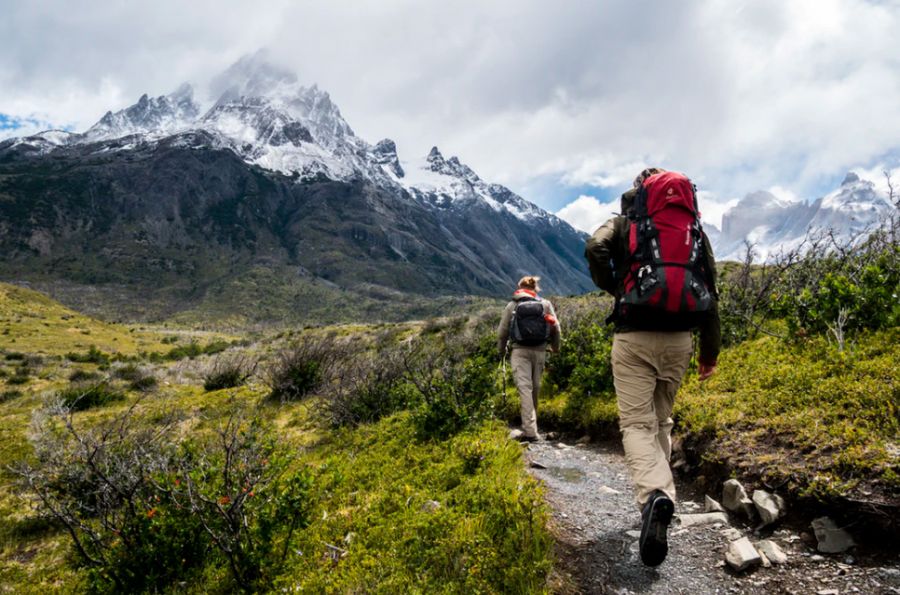 Furthermore, heightened consumer awareness about health and fitness has also fueled public interest in wellness tourism. The boom of digital fitness technology and its widespread adoption by consumers has nurtured proactive, health-oriented attitudes. This has sparked a generational emphasis on self-care in which individuals value their health as their currency. 
A natural byproduct of this value is for individuals to seek more elaborate and sophisticated  experiences to pursue their fitness goals, whether they be as small as attending a new fitness class or embarking on an international adventure. 
The Revitalized Definition of Wellness Tourism
Whether it is an international retreat or a weekend getaway in a neighboring town, travel fitness-experiences are now incredibly common.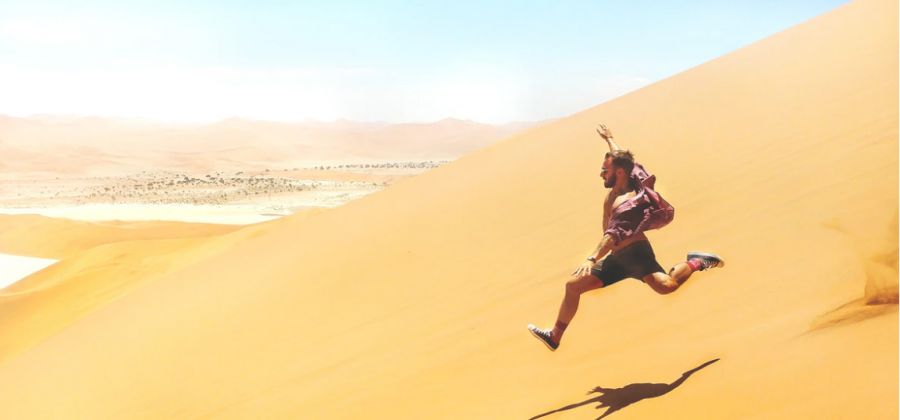 Many new travel companies and programs have emerged to make these trips more accessible and travel-friendly. They take care of the stressful side of coordinating trips and create agendas that will outmatch their competitors. Consequently, consumer expectations for wellness tourism have risen to match these services compared to traditional wellness trips organized by local guides.
Why Fitness Brands are Primed to Disrupt Wellness Tourism
Following the successful initiatives of wellness travel companies, fitness brands have also seized the opportunity to break into this thriving industry. According to Equinox Executive Leah Howe, "The demand for fitness and high-performance living – both inside and outside our clubs – has never been greater."
Now, consumers expect health-conscious consideration in all aspects of these trips, like meal plans, accommodations, and organized activities. These rising expectations advantage fitness brands to utilize their expertise to create elite and all-encompassing wellness experiences that traditional travel or excursion companies could not. 
Using their own in-house experts, industry resources, and professional partnerships, they have the upper hand to staff wellness retreats with the best fitness instructors, food and drink options, and professional services available.
Furthermore, fitness brands can leverage their reputation and pre-existing member base for their wellness tourism clientele.  With loyal customers that already identify with your brand, they are more likely to opt for a name they know and trust compared to foreign companies. New clients will also be drawn to a fitness brand's reputation to create a superior wellness excursion. 
Use Case: Equinox, Wellness Tourism Pioneer
With Equinox's status as the premier fitness chain in North America, they are one of the first fitness brands to transfer their luxury brand image and devout customer loyalty into the wellness tourism space. Their program is predicated off Equinox's elite status and loyal community of members and fitness professionals alike. 
Equinox Explore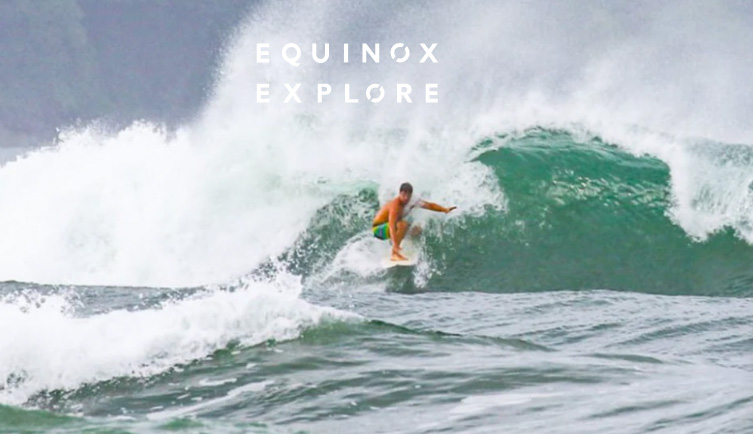 After earning rave reviews for its initial wellness retreats mountaineering in Morocco last year, Equinox is expanding its wellness retreat packages for 2020 to several different continents. Led by in-house instructors and local guides, wellness destination packages will include 4-6 day trips for:
Running in Florence
Hiking in Morocco
Surfing in Costa Rica
Cycling in the Hudson Valley, New York
Each trip boasts lavish full-day agendas packed with professional led fitness activities, gourmet meals from local chefs and winemakers, and elite spa and relaxation services. Trip costs per person match the expected level of experiences and amenities provided on the excursions. 
Equinox Hotel
Additionally, Equinox is pursuing an even more unprecedented wellness tourism initiative by launching the Equinox Hotel in New York, with plans to open two more in Los Angeles and Chicago. Eventually, Equinox intends to open 50 hotels worldwide.To date, no other fitness brand has entered the hospitality industry to its own signature hotels. Hotel offerings include every prospect of wellness: fitness, nutrition, regeneration, and mental clarity.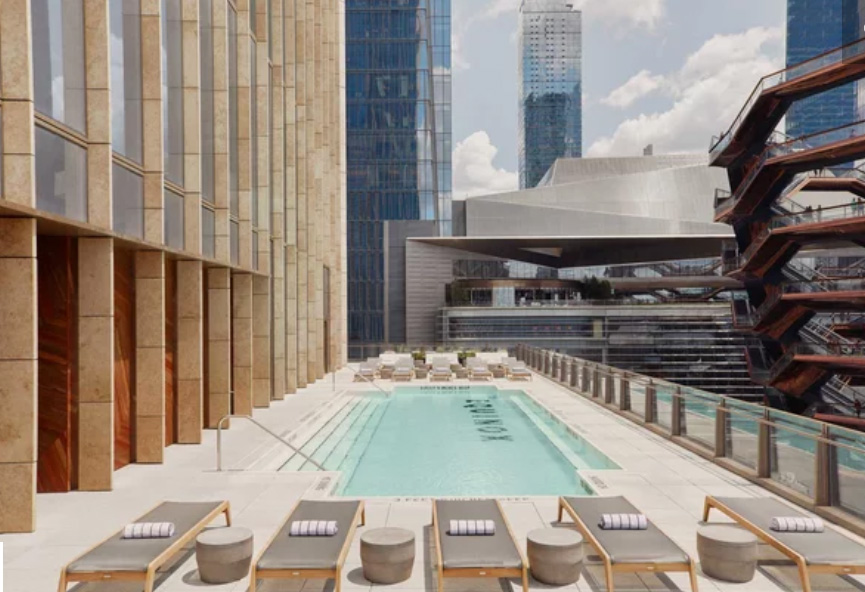 From lobby to roofdeck, the Equinox Hotel meets every expectation of grandeur. The New York location boasts a 60,000-square-foot gym, a huge spa complete with cryotherapy chambers, and an indoor saltwater lap pool. In addition, there's a large outdoor pool on the expansive rooftop sun deck with direct views of the famed Vessel, one of the most well-known public art pieces of the Hudson Yards.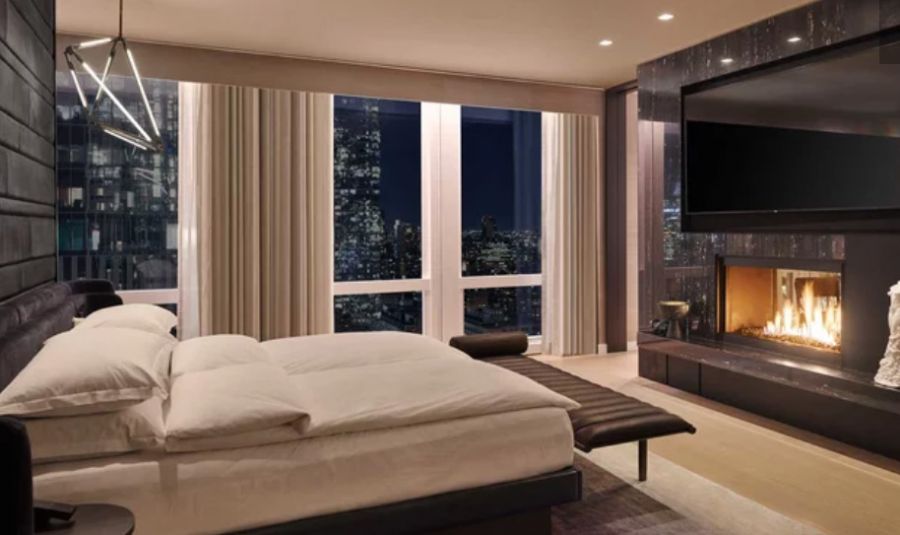 In addition to the highest quality amenities and lavish decor, many rooms also offer equipment like treadmills or stairmasters or functional pieces like pull-up bars in the bathrooms. The on-site gourmet restaurant under renowned chef Stephen Starr only offers nutrient-dense delicious meals that can be altered to any dietary restriction. 
While Equinox Explore packages are only available to its members, Equinox Hotels are open to anyone. In effect, opening Equinox Hotel services to the public is a brilliant customer acquisition strategy. Since the hotel's clientele perfectly align with Equinox's target member demographics, individuals can personally experience the whole "Equinox treatment" in a different way than they could from a one-day guest pass, leading to new loyal members. 
The Benefits of Wellness Tourism for Fitness Brands
Equinox's initial footprint in wellness tourism paves the way for other fitness brands to follow. Entering this new industry opens a wealth of opportunities that can dramatically enhance many aspects of their business. 
Reach New Consumer Groups
By creating opportunities that fall outside the traditional confines of the fitness industry into tourism, fitness brands will inevitably extend their outreach to new consumers. These new services can appeal to different audiences that your traditional services may have never reached. Your business will benefit from diversifying its platform, which will contribute to increased customer acquisition channels.
Extend Your Brand on a Larger Scale
Fitness brands and facilities are often limited in ways to effectively showcase their brand to the public. Especially for smaller scale companies than the  few titans of the fitness industry, fitness brands tend to lack opportunities to publicize their brand beyond their customers who directly interact with their services. 
As detailed through Equinox's example, wellness tourism offers a unique opportunity for fitness companies to present themselves as more than a traditional gym or brand. Consumers will recognize these brands as multi-faceted companies that are eager to provide special opportunities for their customers. For fitness clubs, members will perceive your business as more than just a gym and appreciate the effort to enhance and personalize their member experience creatively.
Furthermore, you have the freedom to create travel experiences that illustrate the core values or mission statement of your business to a broader platform. Just as Equinox has crafted its travel experiences to match its reputation for luxury, other brands can just as effectively emphasize their signature characteristics.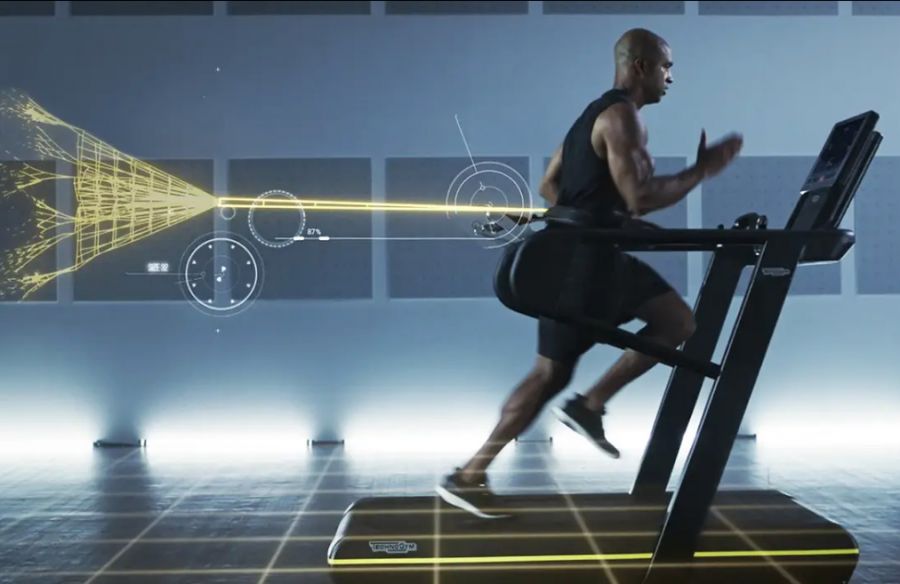 For example, leading exercise equipment manufacturing company, Technogym, partnered with SilverSea Cruises to help create their wellness tourism agenda. SilverSea launched wellness-focused cruises in which guests were treated to daily schedules of exercise classes, diverse lectures, spa services, and trainer-led gym sessions using exclusively Technogym equipment. 
These cruises balance luxury travel with wellness activities to provide guests with a unique opportunity to jumpstart their fitness goals and develop lasting habits through education. 
By association, Technogym brand benefits in multiple ways: it is publicly recognized for its top-quality equipment suitable for a luxury cruise as well associated with providing valuable fitness and health education to individuals to act on. 
Opportunities for New Business Connections
Entering wellness tourism also opens your brand to a new world of business connections and partnerships. Traditional partnerships fitness brands tend to make, like with nutrition or equipment companies, can be taken to new heights by providing products or services in a completely new environment. 
Additionally, fitness brands can venture into new industry partnerships to provide any range of services that can be required for a wellness based vacation, like hotels, spas, cosmetic, clothing, etc. Some examples of brands who have already successfully entered these partnerships are Westin Hotels with Peloton and Shangri-La with Lululemon. 
A popular method of intersecting wellness tourism with partnerships is by providing free gifts as incentives for participation. You can create individual wellness packages catered to the trip or the clientele that include anything from merchandise to additional classes. 
For example, when Tone It Up, a community-based fitness program tailored to empowering women, launched in fitness retreat to Miami, Florida, these business partnerships were crucial to the entire experience. 
All 300 women who attended were gifted an extended goodie bag of fitness apparel, bathing suits, cosmetics, snacks, etc. This personal touch not only achieved volumes in pleasing the participants, but came at little expense to Tone It Up by partnering with compatible brands who wanted the exposure. The value of these packages also justified Tone It Up set higher prices per participant to attend their retreats while also providing upselling opportunities throughout.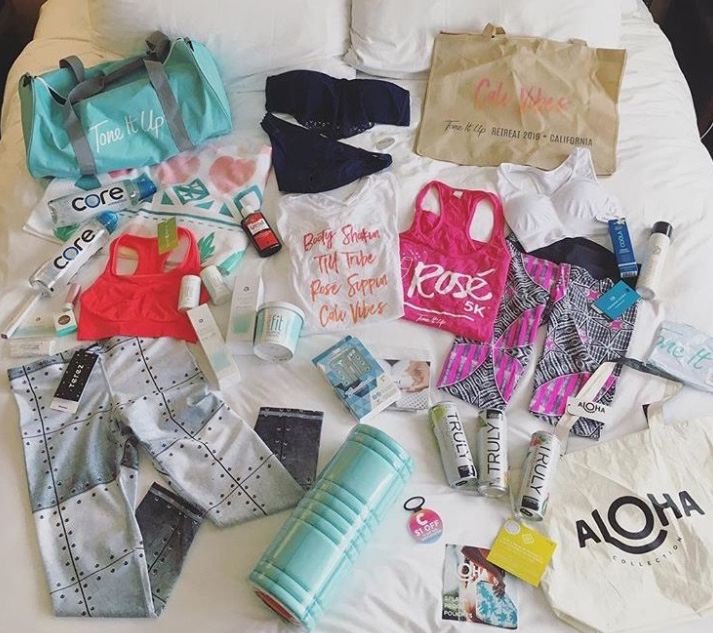 The lasting mutual benefits of these partnerships are crucial for fitness brands. The fitness industry exhibits more convergence with sister industries, like nutrition, beauty, fashion, etc, every day. These partnerships are crucial for exposure, customer outreach, and branding as your business grows. 
Financial Benefits
Ultimately, the outcome of all the previous benefits is, of course, the financial reward of wellness tourism. Entering the wellness tourism vertical has great promise for fitness brands with indefinite earning potential that is completely scalable to your individual business.
With your creative control, wellness tourism offers can be as elaborate or simple as you like. Accordingly, the resulting revenue can fall anywhere between helpful additional income or immense profitability. As fitness facilities are naturally vulnerable to inconsistent revenue streams from member churn and retention, diversifying income streams on any level can be crucial to your business model and sustainability. 
Final Thoughts
Wellness Tourism is a thriving industry that shows every indicator of continued growth and prosperity. The gap between wellness tourist experiences and accessibility for consumers has opened the door for fitness brands to fill and benefit immensely from. 
This vertical between tourism and physical wellness enables fitness brands to extend their brand name and services to new heights. With proper execution and strategy, consumers and fitness brands alike will enjoy the possibilities created by the merge of both industries.