Well-structured Black Friday fitness deals can help businesses grow sales on the busiest shopping day of the year. This makes the November flash sale an amazing instrument to increase revenue at the end of the year- just in time to meet those last quarter targets.
Whatever it is you are selling, you need to make sure your campaign is on point, especially because people are now becoming more money conscious.
Here's your how-to guide to the November sales extravaganza!
How to prepare for Black Friday fitness sales?
The good news is that your customers know the drill - all you need to do is give them what they are expecting. The most important (and difficult) step is to get out in front of all the chaos and plan ahead. The earlier you plan, the higher your chance of succeeding.
1. Start early to get your audience in the buying zone
RetailMeNot research (via Drip) shows that 54% of customers start their holiday shopping before Black Friday, proving just how receptive people are to holiday-related messaging earlier in the year.
Though Black Friday is known as the biggest day for discounts, promoting your Black Friday fitness deals should start a lot earlier to gradually build anticipation. Some fitness brands start leaking their one-off deals in late October and early November to get people interested. They use sneak peeks, countdowns, and timers, which they later combine with email marketing to drive sales.
2. Be ready to drop prices
Image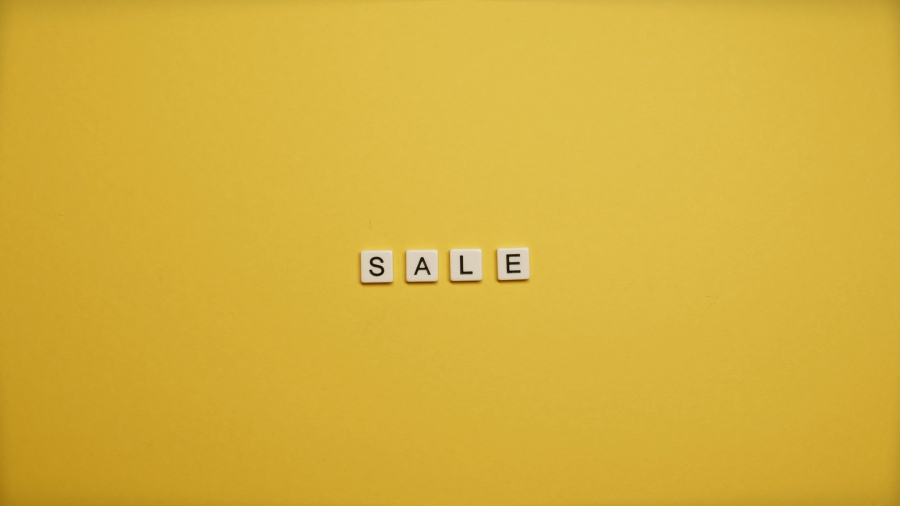 Source: Pexels
Black Friday customers have been trained to expect killer discounts which can put a lot of pressure on your pricing strategy.
Chase Fisher, the founder and CEO of Blenders Eyewear says: "You can't go into Black Friday and put 15% off, 20% off and expect to do well. Everything comes down to your offer—it's the one time out of the year you can lower your prices without feeling like you're losing brand integrity. Make sure your offer is compelling, no matter what." 
Some members may be on the market for expensive home gym equipment like power racks, weight plates, or treadmills - they're most likely the ones looking to save hundreds of dollars.
One smart technique used by fitness equipment brands is to discount both cheaper and more expensive products to create a more appealing offer everyone can take advantage of. You can also bundle products together into home gym packages to increase cart size.
3. Send gorgeous-looking emails with gym marketing and automation software
A Campaign Monitor study reports that on Black Friday, 116.5 million emails are sent, more than on any other day of the year. The expectation of the customer is to be bombarded with special deals and their job is simply to hunt down the best deals on something they've probably been eyeing for a while.
As Black Friday approaches, your customers will be inundated with emails, push notifications, popups, and texts. Getting noticed starts with the perfect message with the combo of:
your branding - you can use gym management software with white-label functionalities to have them fit with your brand's colors and logo
perfect messaging, the right mood, and the right trigger
It's really worth the effort, as "consumers who purchase products through email are likely to spend 138 percent more than people who don't receive email offers."
4. Easily schedule, execute, and monitor your Black Friday email marketing campaigns
Image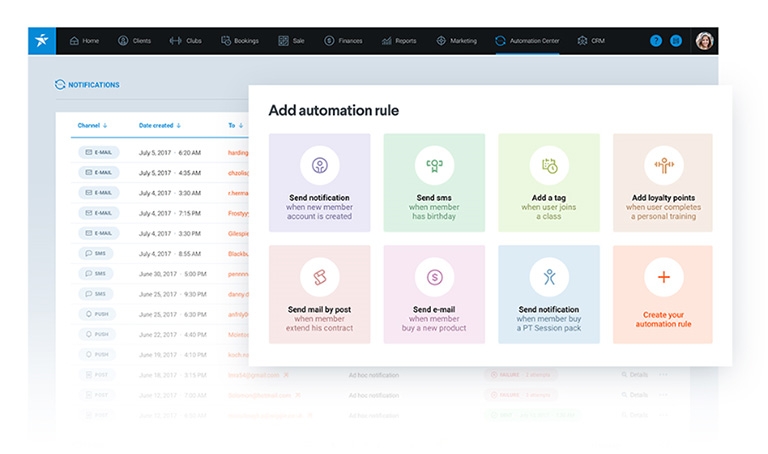 It's impossible to master the art of sending successful email campaigns to your prospective and current customers without gym marketing software. With Perfect Gym's Automation Center, you control who gets messages, how often, and how they receive them.
PerfectGym marketing and automation module allows you to harness the true sales potential of Black Friday. You can:
customize the look and feel of your emails
personalize your messaging for customer segments
add your log and branding
send coupons, vouchers, and one-off deals
create automation rules
5. Rescue abandoned carts
According to Campaign Monitor, the Email Marketing Benchmarks for the wellness and fitness industry are as follows:
19.2% Open Rates vs. 21.5% for all industry average
1.2% Click Through Rate vs. 2.3% for all industry average
6.0% Click to Open Rates vs. 10.5% for all industry average
0.4% Unsubscribe Rates vs. 0.1% for all industry average
These numbers look pretty grim, but the good news is that Black Friday deals come with much higher opening rates - almost double, at 34%! The Black Friday click-through rate is more than triple what it usually is, standing at 9%.
Image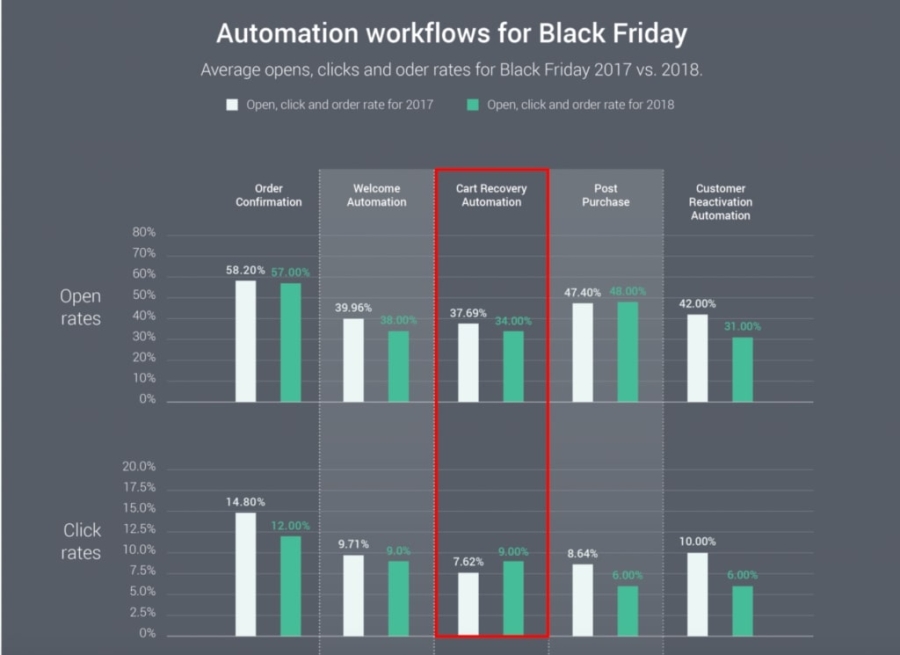 Source: Drip
On any given day of the year, that's even lower than the average for all industries. The good news though is that Black Friday emails see the highest number of opens and links clicked. Getting the attention back to your brand is a surefire way to spiking the company revenue.
6. Add free gifts
You can treat your customers with branded water bottles, protein shakers, towels, and other swag. This adds further value to the purchase.
7. Acknowledge your existing members
As you want to appeal to both members and non-members, design dedicated deals for both of these groups, so nobody feels left behind.
Offering member-only deals exclusive to your returning customers is a great way to show gratitude to them and further nurture loyalty.
8. Segment your audience for email marketing campaigns
A Klaviyo study found that "emails that were sent to a targeted group of contacts (between 1–25 percent of the master list) saw a 5.83 percent higher open rate than the remaining contacts. "
Image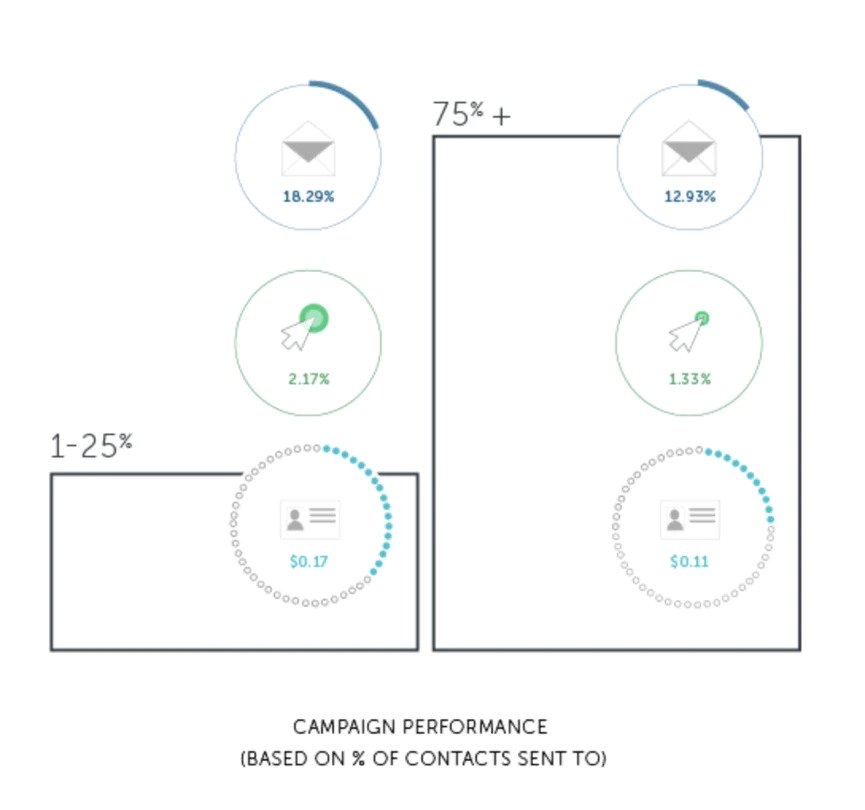 Source: Klaviyo via Shopify
Some of the most popular segments may include:
New customers
Returning customers
Seasonal shoppers
Gift givers
VIP customers - your highest revenue customers
"Legacy" customers - your most faithful group
Engaged but haven't purchased
Email ignorers
Recent openers
Consider offering:
Tiered discounts that apply when a given amount is spent to increase cart size (i.e. annual subscriptions as opposed to shorter contracts)
A percentage off every dollar spent
Try before you buy in the week leading up to Black Friday
To deliver various offers to your segments, simply create automation rules in the PerfectGym Automation Center.
Image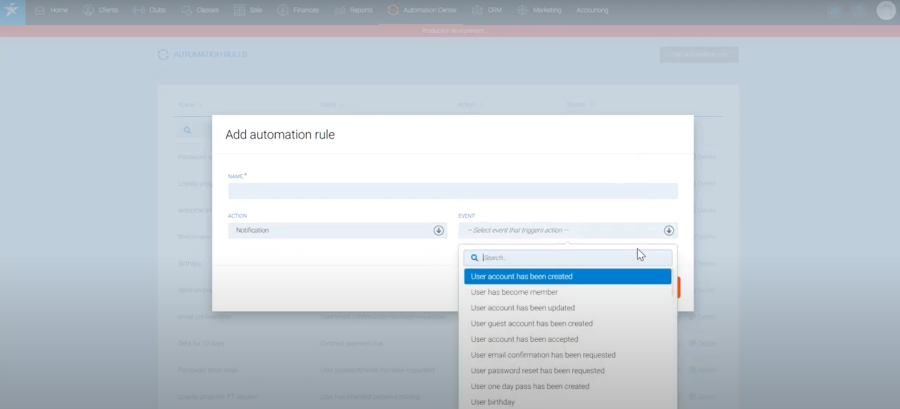 Remember to segment out members who have already purchased the product or service you're offering, such as "has not purchased in X number of days".
9. Get ready to manage your holiday season orders
As Black Friday approaches, many brands hire seasonal workers to manage the never-ending Black Friday and holiday stream of orders. Here's an example of a Rogue Fitness job ad posted in early October:
Image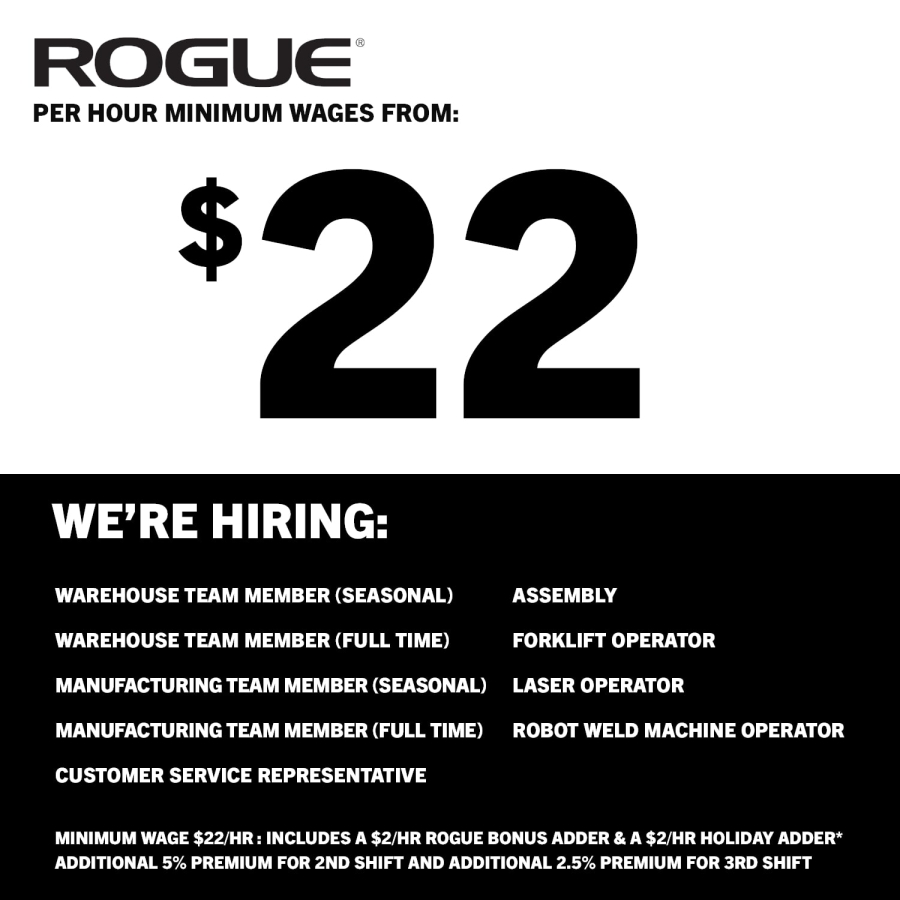 Source: Rogue Fitness on Facebook
Ways to make the most of Black Friday this year
Image
Source: Pexels
The key is to structure your offer the right way. The best Black Friday deals appeal to the following purchase triggers:
FOMO (fear of missing out) - the goal is to nudge the customer to act fast to avoid missing the offer
urgency and scarcity - especially efficient for must-have products and exclusive stock
additional value - i.e. free gifts
unfinished business - our brains are wired to seek completing actions as far as possible (Zeigarnik effect (also known as the cliffhanger effect). Sending "Almost there!" saved basket email reminders can help you close the sale
Black Friday gym membership deals
Here are five great examples of Black Friday campaigns from the fitness and wellness sector.
Buy now, pay later
Sandwell Leisure Trust utilized a number of offers for individuals and families with the added benefit of delayed payment.
Image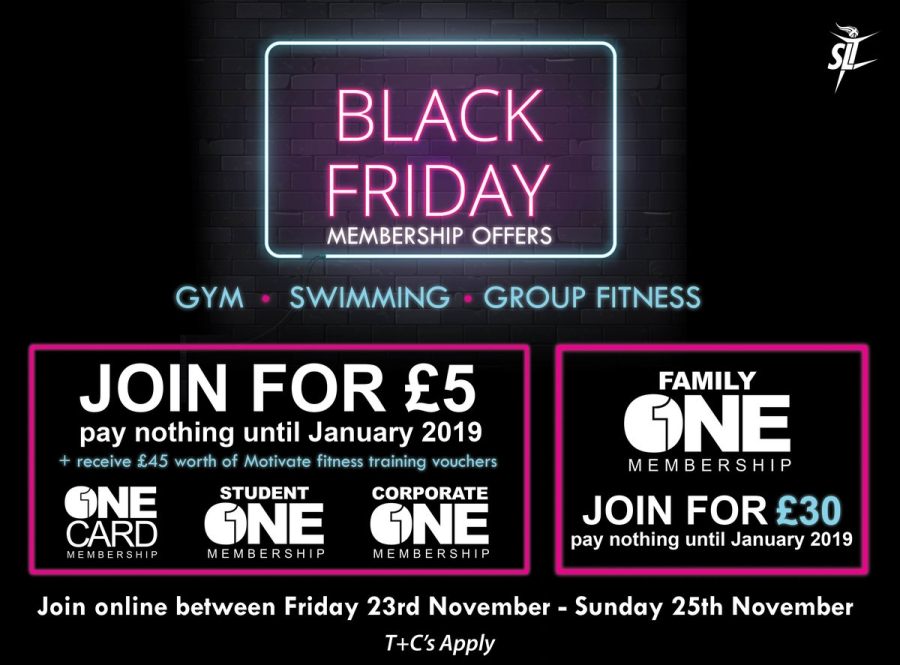 Source: Sandwell Leisure Trust
3-month membership discount
Image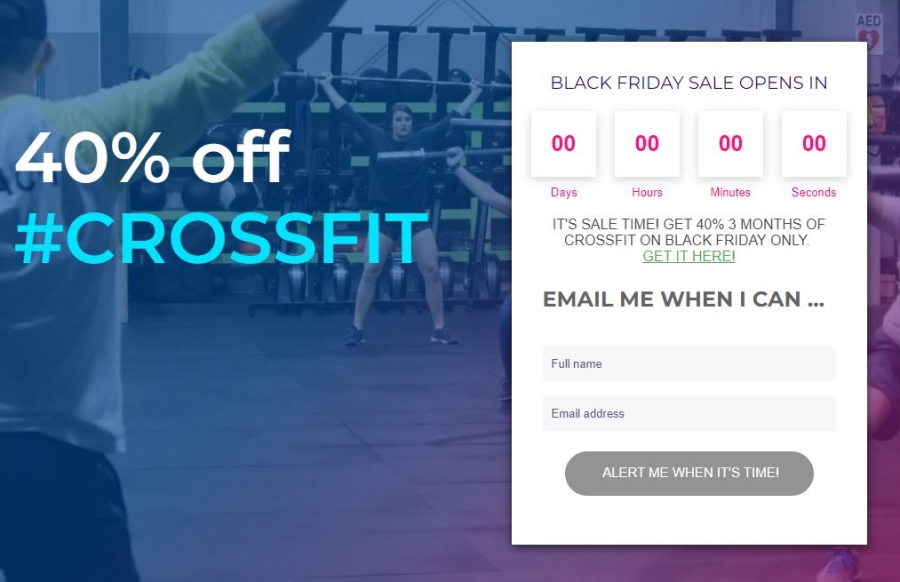 Source: Crossfit Lake Effect
Crossfit Lake Effect pushed the online sales of their 3-month membership packages by giving a 40% discount.
Group classes and PT discounts
Image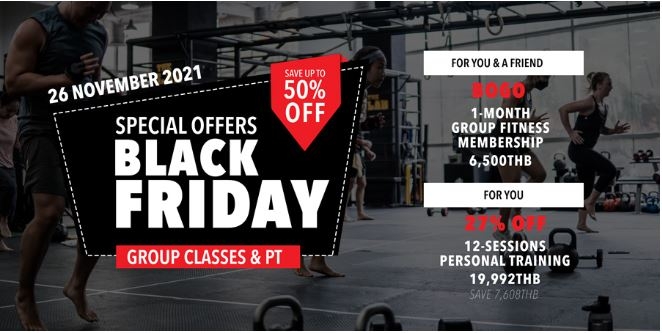 Source: The Lab Bangkok
In 2021, The Lab Bangkok promoted its group classes ad PT services, offering up to 50$% off to customers. They also advertised membership bundles to increase the cart size.
Annual membership discount
Image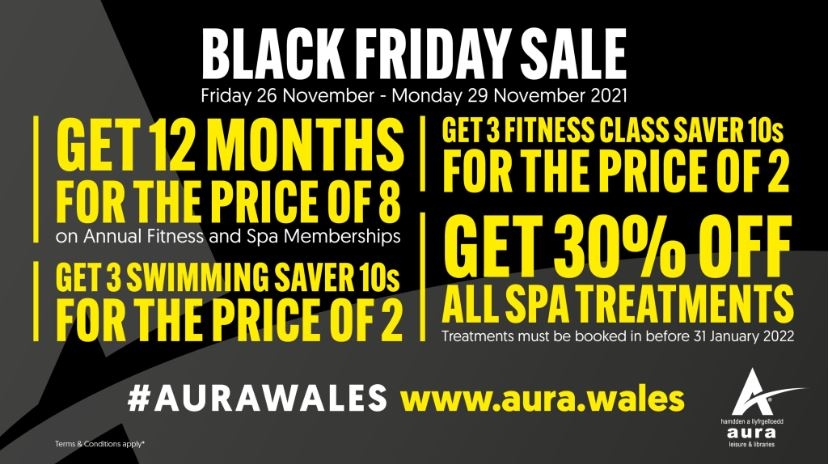 Source: Aura Wales
Aura Wales significantly reduced the price of their annual fitness and spa membership by giving 12 months for the price of 8.
The once-in-a-year sale
Rogue Fitness only has one sale every year dubbed "Matte Black Friday". The campaign is directed at people who want to choose from a huge selection of equipment for home gyms.
While they've recently been forced to double limit their discounts due to the rising cost of goods and freight, it's still one of the most awaited Black Friday fitness deals for home gym owners.
Black Friday gym equipment deals
Image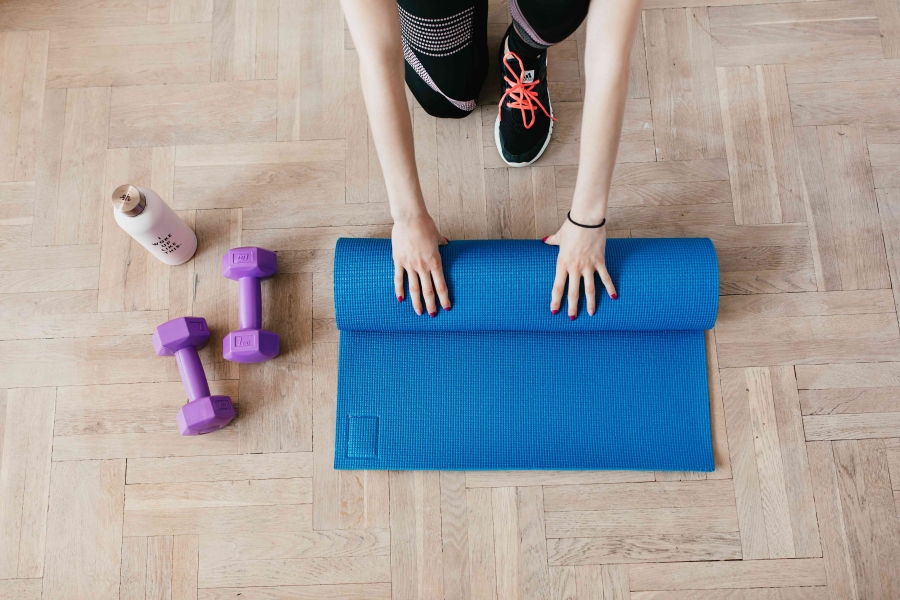 Source: Pexels
Many fitness enthusiasts eagerly await the Black Friday fitness deals to get the equipment or apparel they've been eyeing for a while. Some are purchasing costly home gym machines like stationary bikes, rowing machines, cardio machines, and other workout equipment. Space-saving equipment is another popular Black Friday fitness category.
Some shell out huge amounts of money to get specialistic equipment like deadlift pads, bumper plates, squat racks, power racks, workout mirrors, etc.
Black Friday sales price is also typically very attractive for budget-friendly home gym essentials which make excellent gifts, like the Arm Blaster, resistance bands, the glute ham slider set, non-branded dumbbells, yoga mats, Mighty Grip workout chalk, and more.
Other popular categories with hot deals are fitness trackers and massage guns like Theragun or Hypervolt. Black Friday is the biggest sale of the year for Theragun, and in 2021, their flagship massage guns were $200 off!
Image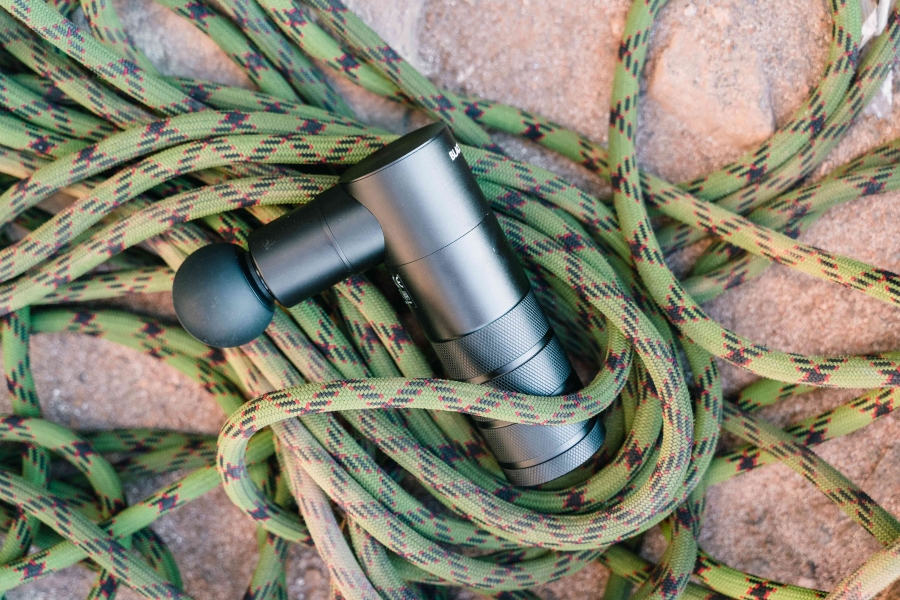 Source: Pexels
Conclusion
If there's one thing people expect during Black Friday fitness sales, it's huge discounts.
The beauty of Black Friday gym deals is that you can boost your revenue while helping people reach their fitness goals. Pairing an attractive offer with a well-executed marketing campaign is bound to bring you great results.