Harder is an excellent example of how taking the time to get acquainted with the Perfect Gym gym management system can lead to long-term benefits, increase in revenue and decrease in operational costs.
The Automation Center reduces the overall cost of running a business
With the help of Perfect Gym, Harder has automated the majority of the bureaucratic member-client interactions. With their no-strings-attached membership plans, Harder was able to successfully implement an automated sign-up form.
Members can either sign up via the website or the client portal within the club. As Harder operates on a monthly basis, members can sign up, trial and if they don't like it, leave without any hidden commitments.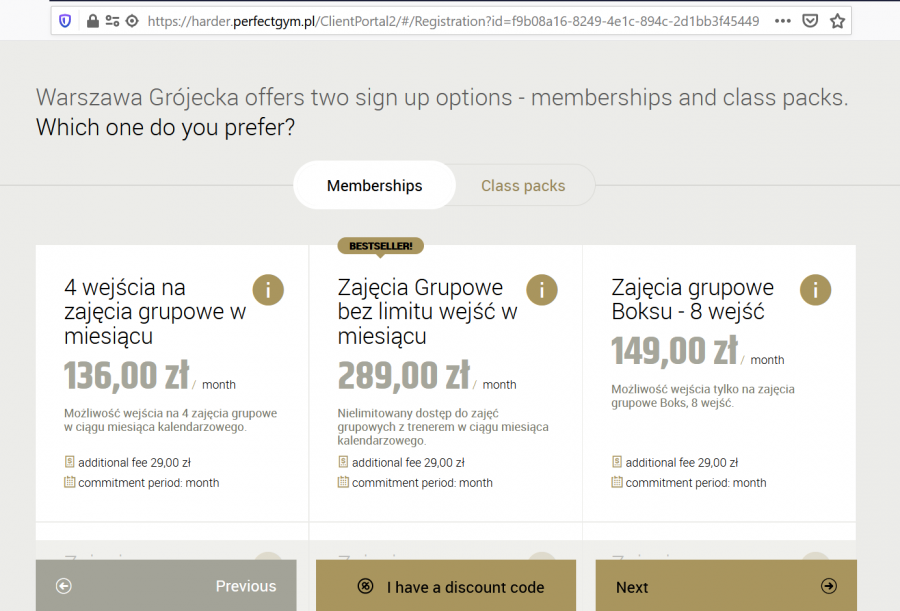 Perfect Gym's automation centre functionality has helped Harder reduce the overall costs related to running a gym without jeopardising customer experience. In fact, the automation functionality has freed up the staff to interact with members on a personal level. This helps cultivate a real community experience that is vital to boutique clubs.
A fully configurable gym management system is a must to automate client-member interactions
To successfully automate the client-club interactions, Harder needed gym management software that offered member portaI web integration. A system that could fully integrate with their website, without the need to be redirected to a new site negatively affecting the user experience. Perfect Gym's configurable system was able to meet Harder's expectations.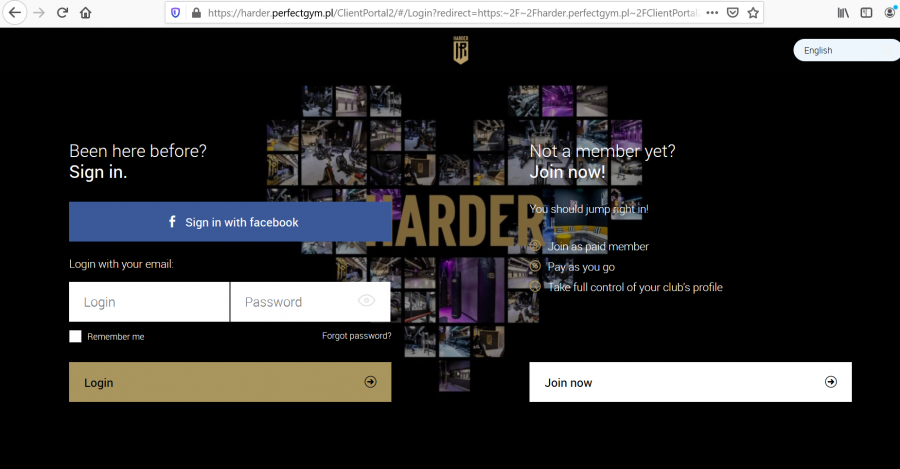 The introduction of QR code entry led to a 60% increase in member app interaction
Previously, Harder saw the Perfect Gym mobile app as a "nice to have" functionality, with only a 40% engagement rate. As Perfect Gym announced a new feature, the mobile app-generated QR code check-in, Harder was quick to implement it. All members planning on attending classes were required to check-in via the mobile app member profile. As a result, all of Harder's members downloaded their mobile app.
After making the mobile app an essential feature, Harder observed a 60% increase in member app interaction. As a result, more members were receiving club-related push notifications straight to their phones. Perfect Gym's mobile app helped Harder optimise client communications.
The Mobile app results in a 14% increase in in-class attendance
Previously, if a member was on the class reserve list, they would receive an email informing them of new available spots. This required members to regularly check their email, which not always happened, resulting in only 55-65% class attendance.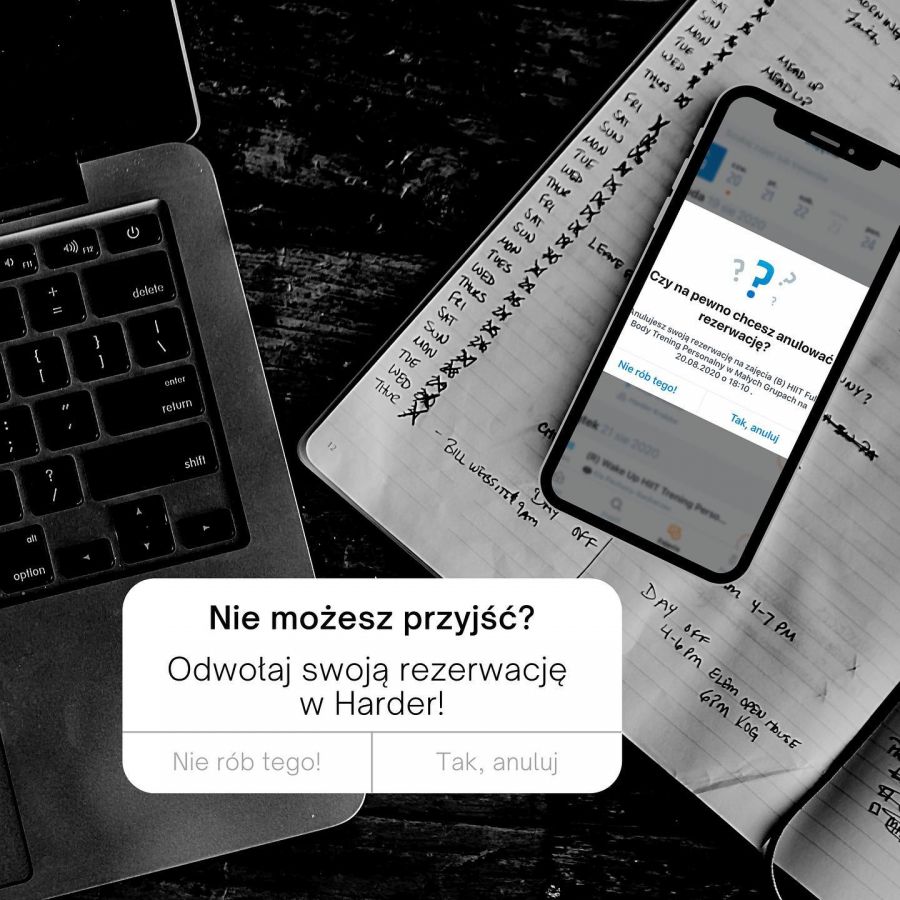 Now, with the Perfect Gym mobile app, Harder can send push notifications directly to members phones. Push notifications in the form of in-app or text messages have a higher chance of being read as they are received. In the case of Harder, this simple switch resulted in an increase of in-class attendance by 1.410 people.
"By implementing QR code entry, we engaged 100% of active members to use our mobile app. The immediate benefits we saw were quicker and more effective class bookings. By improving our communication channels, we were able to increase the average class attendance by 1.410 people." - Lukas Wolski, Founder of Harder
By digitally transforming their boutique studios, together with Perfect Gym, Harder was able to improve customer communication leading to higher class attendance resulting in increased monthly and annual revenue.
Account management is just a few finger taps away
The increase in class attendance is also a result of streamlining account management via mobile app. Through the Perfect Gym mobile app, Harder members can manage class bookings more efficiently. Just with few taps they can reserve, cancel and amend their reservations, resulting in higher class attendance. They can also purchase and pay for memberships.
Harder understands clients want to feel in charge. With Perfect Gym's mobile app and Client Portal, Harder can give members the freedom to manage their accounts without the need for staff.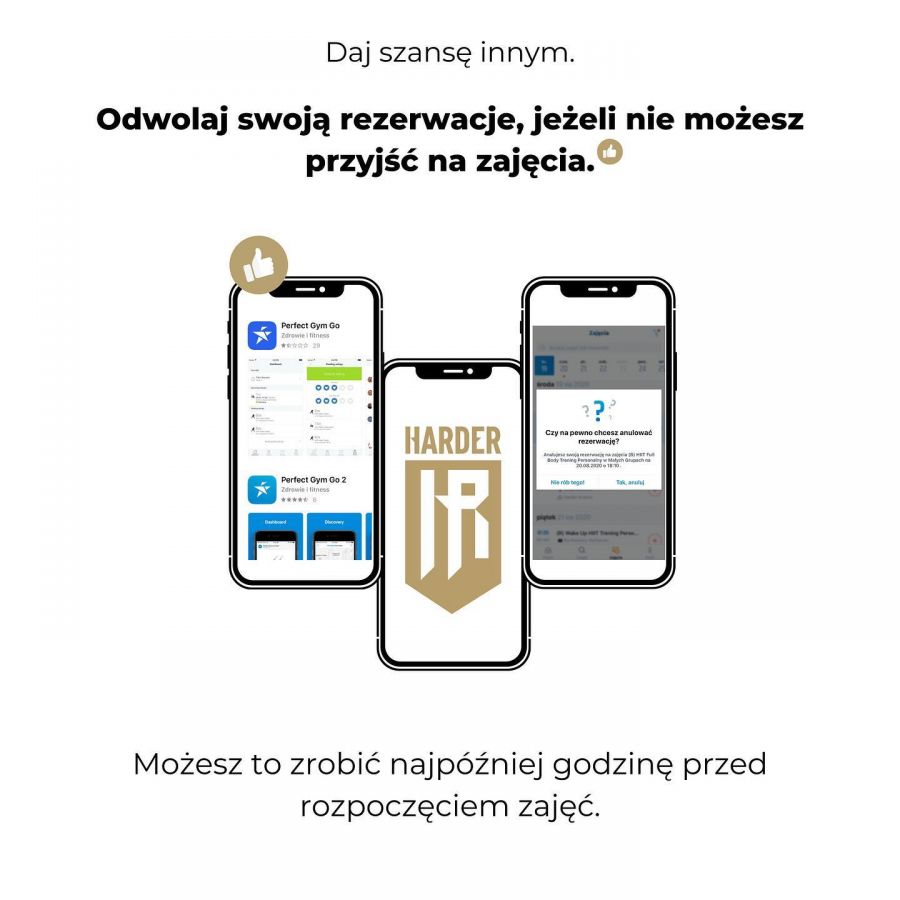 Through the mobile app, members can make and amend class bookings, purchase class passes, view attendance history, refer friends and much more. They can also view existing and past memberships, change payment details and view their membership documents all through the Client Portal.
As Harder automated all administrative interactions from day one, their members are comfortable with using tools available to manage their accounts. By catering to members need for control, Harder was able to increase the overall efficiency and satisfaction without the need for additional members of staff.
Since the introduction of the mobile app, Harder noted 4 times more feedback received
Feedback is an integral part of a successful business. It shows business owners what works and what doesn't. It allows them to be proactive rather than reactive. As a boutique fitness club that cultivates a community vibe, member feedback is highly valuable to owners of Harder.
Perfect Gym understands the importance of feedback to club owners and introduced new functionality. The 'rate my class' functionality embedded in the mobile app allows members to rate each class attended. After class completion, attendees receive a push notification asking to rate the attended class.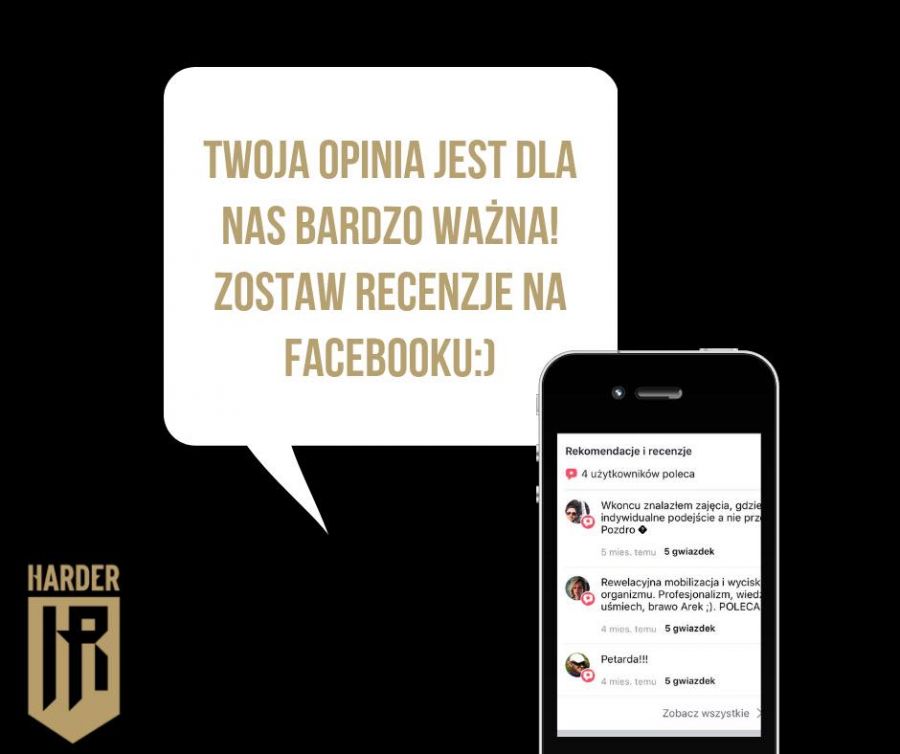 Since introducing the mobile app, Harder noticed the ammount of feedback received increased 376%. The increase in feedback allows owners of Harder to react operationally as and when the feedback is received. If members don't like a particular class, this can be addressed immediately without having to wait for indicating factors like drop in-class attendance.
With the Perfect Gym mobile app 'rate my class' functionality, members of harder have a real impact on how the boutique club is run. They feel valued and listened to, which increases overall member satisfaction and experience. As a result, Harder can cultivate a community of over 1,000 live members.
Harder's marketing campaigns increase sales by 7-9%
Perfect Gym's gym management system can give Harder accurate data on the number of engaged and unengaged members. One of the reports available identifies members that downloaded the mobile app but are disengaged with the club.
To re-engage members, Harder has designed marketing campaigns targeting such members. Members who have not used the mobile app and as a result has not visited a club receive a promotion code via the app. Lukasz Wolski reports that in the months they have run such campaigns, Harder has seen a 7-9% increase in membership sales.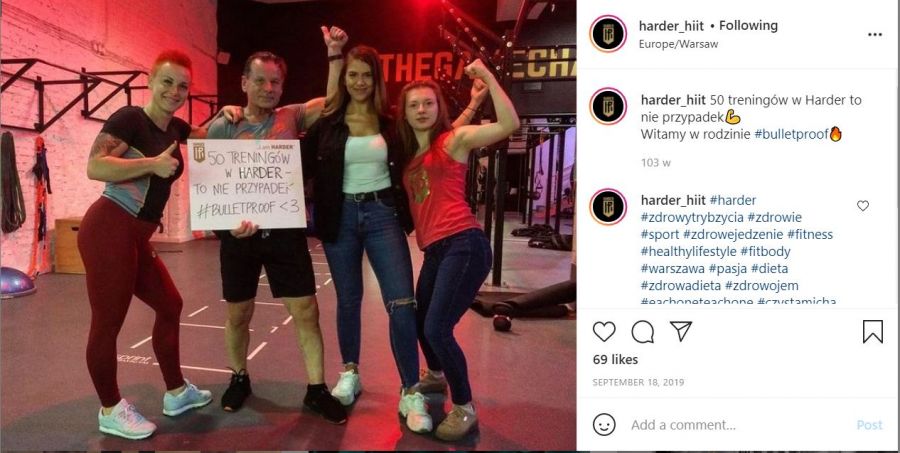 Harder's proactive approach with marketing campaigns helps keep members engaged with the club. By using the automation centre to run promotion campaigns, Harder is not only saving money on staff but also profiting from new memberships bought.
Harder's marketing campaigns success is not only down to Perfect Gym's automation centre and reports but also years of industry experience. Owners of Harder understand that a strong social media marketing calendar is a must. Members need a heads up on upcoming promotions or campaigns.
Upon signing up, Harder members are encouraged to follow the club on social media, Facebook and Instagram. It is there they will see all upcoming events and when to be on the lookout for promotions or campaigns.
No need for sales reps, Harder's referral program has a 20% conversion rate
With Perfect Gym's automation, Harder has been able to successfully operate with a reduced number of staff, reducing the overall operational costs. This is also true for sales reps. With the option to run referral campaigns within the Perfect Gym mobile app, Harder can use their client base as sales reps.
The Perfect Gym mobile app has a referral functionality embedded directly in the app. Directly through the mobile app, members can send direct invites to friends or families on WhatsApp. All it takes is a few taps.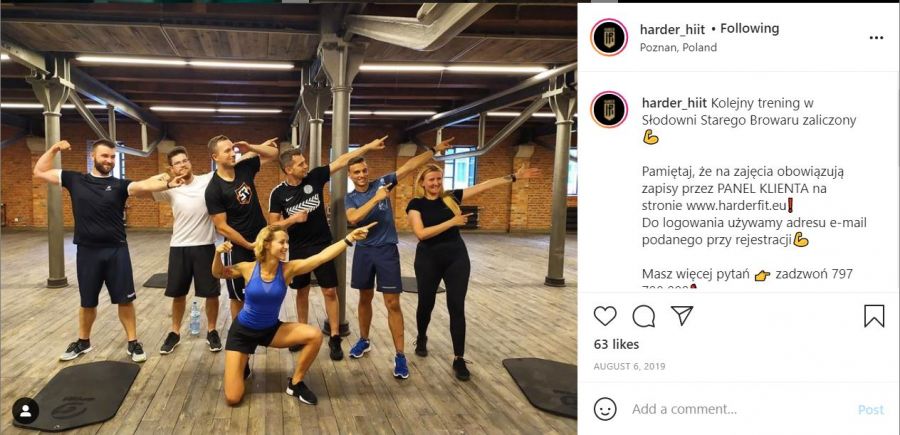 By streamlining the referral process, Harder has seen up to a 20% increase in conversions during their November referral campaign. That is essentially an average of 100 new leads a month per group for free. These leads can then be targeted with other campaigns to ensure members continue coming back.
Let's not forget, the best type of reference is a happy customer. If they are happy with the club, their friends and family are more inclined to come as well.
Concluding thoughts
Harder is fully embracing the currently ongoing digital transformation within the fitness industry. They are a walking example of how with the right gym management system, like Perfect Gym, they can increase revenue without the additional costs of staff upkeep.
By introducing the Perfect Gym mobile app, Harder has been able to reach 100% of all of their members. As a result, their marketing campaigns are more successful resulting in higher revenue.