#fitness. How many times do you think that hashtag has been used on Instagram? A million? 50 million? A 100 million? The actual number would be more in the area of over 331 million.
For that number we can thank the social media influencer. No doubt, fitness influencers are a force to be reckoned with on Instagram.
With their millions of loyal followers and getting paid thousands of dollars for sponsored posts, the hype they have encapsulated around wellness has transformed Instagram into a paradise for effective fitness club marketing.
Right now, there is a lot of engagement happening between users and brands on Instagram. According to locowise.com, 75% of users take an action, such as visiting a website, after looking at a business' Instagram post.
Which means there is a big opportunity for health clubs to organically gain more following and recognition for their brand. Many gyms are already on the Instagram scene. However just because you are on Instagram, doesn't mean people are jumping on your profile.
With over a billion users, it's a seriously saturated media platform. But with a well thought out strategy and some consistency you can manage to grab the attention of your followers, grow your brand online and create social media advocates for your fitness club.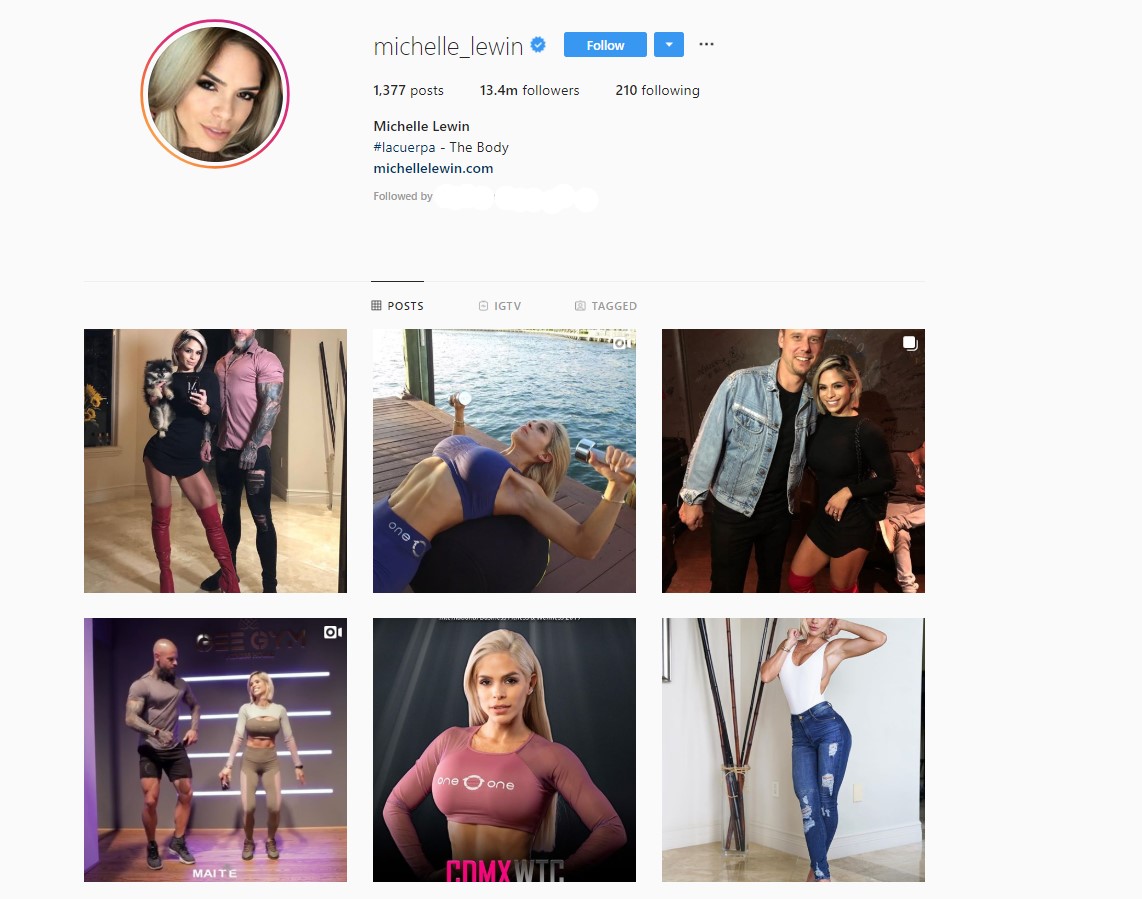 Step 1: Build a Insta-Strategy for Your Fitness Brand
Instagram is wide and varied and it can be very tempting to just start to churn out posts, sprinkle in some hashtags, cross your fingers and hope for the best.
This won't work for two reasons.
1. If you put out content on Instagram without really trying to engage anybody, no one will take notice.
2. Consistently creating content with no purpose is incredibly hard. Without knowing who you want to target or how you want to increase your following, your content creation is going to run out of steam and you'll most likely stop posting after a couple of months.
Therefore...
Choose Who You Want to Talk to
When growing your fitness brand awareness on Instagram, you need to pick a demographic to focus on first. This keeps your messaging clear and your audience tuned into your message.
Otherwise, you could gain many followers, only to lose them all because they weren't really interested in your brand, only the follow back you gave them.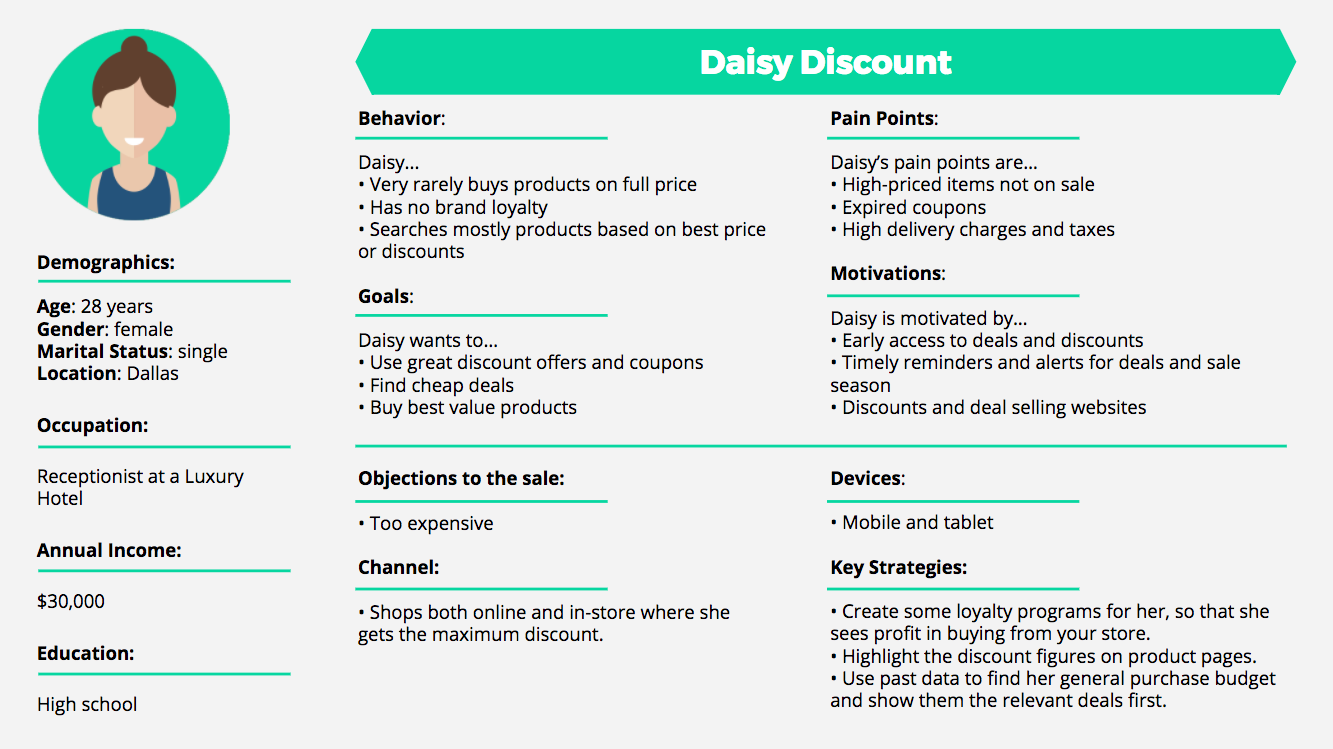 Source
Picking this demographic doesn't mean this is the only audience you can target on Instagram. You can go back and revise this strategy to keep pushing up your Instagram following.
When choosing your first demographic you should think about what your club is about; what is your brand message and who do you think you can help the most? Zadi boutique studio, built by 2 women named Diana Williams and Adala Bolto in Sydney, is a shining example of focused demographic targeting.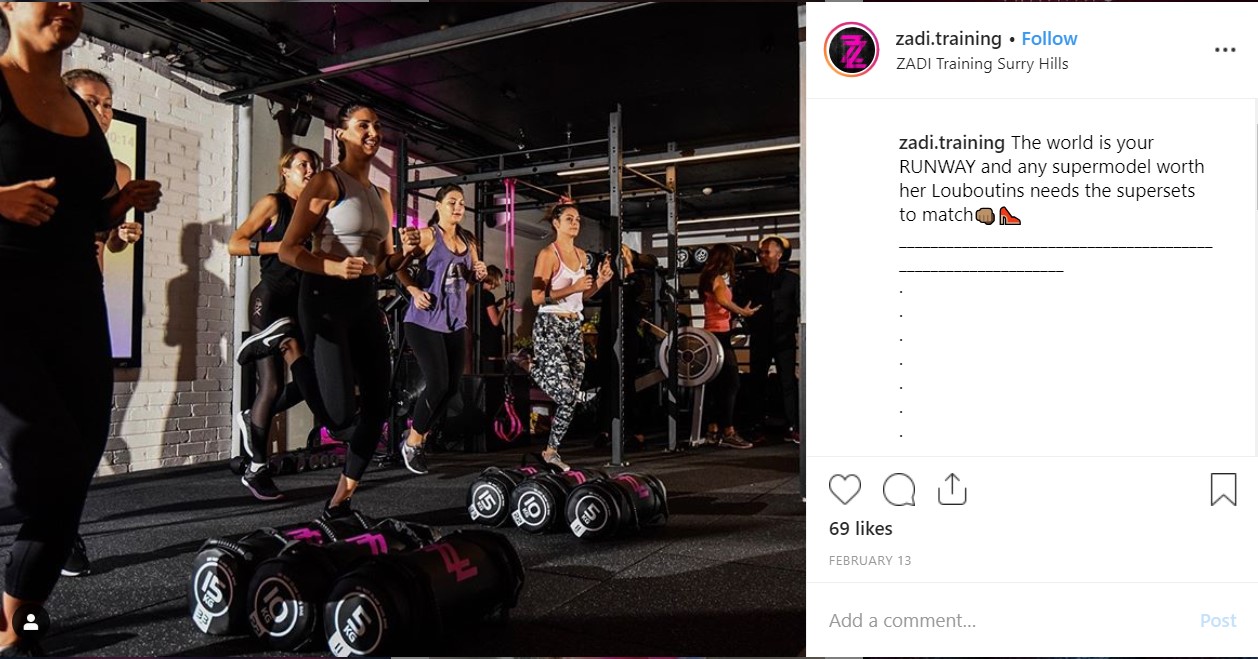 Their brand motto is 'Get Sh**t Done'. Their chosen demographic consists of ambitious urban women who are looking for community and exponential growth.
Zadi's Instagram focuses on this demographic by posting empowering captions and Instagram-ing about their fun 'nightclub/ girls night' workout concepts.   
Think about who you'd like to speak to on Instagram, what fitness pains they might have, and how your gym can solve them.
Demographic ideas to think about:
Age
Gender
Location
Job
Personality
Fitness level
Goals?
Interests
Fitness pains ideas:
Finds nutrition complicated to implement
Can't habit-form exercise
Lack of time
Lack of workout inspiration
No Motivation
Gym shy/ fear of judgment
Step 2. Conduct Instagram Research for Fitness Clubs
Now you know who you are going to target, you can delve into their Instagram world. Based on the list of pains your target audience might have, you can start looking at the top hashtags, profiles and posts which get the most love when you search for your target audience problem.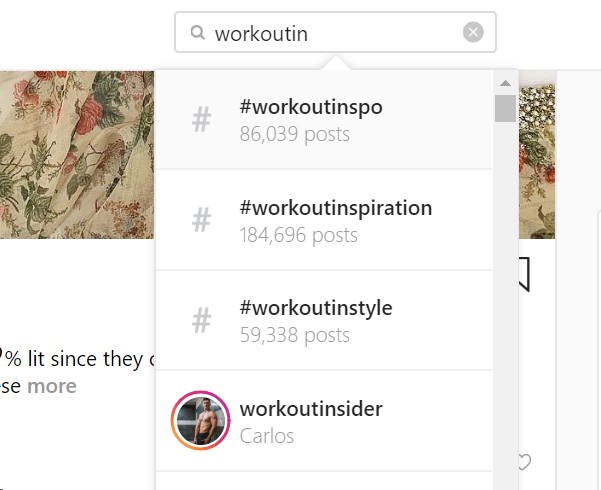 For example, if you are targeting young families or young mums wanting to lose weight, their main problem might be lack of time, in which case #fitnessmotivation, #healthydietideas, or #homeworkout might be terms you search for in Instagram.
On a wider level, you should also search generally for the top hashtags and fitness influencers, see how they interact with their audiences and what they are posting.
You might discover some inspiration or find some content niches that could really engage Instagram users and further boost your brand recognition.
3 fitness brands with over 20,000 followers:
CruchGym
SLT
Anytime Fitness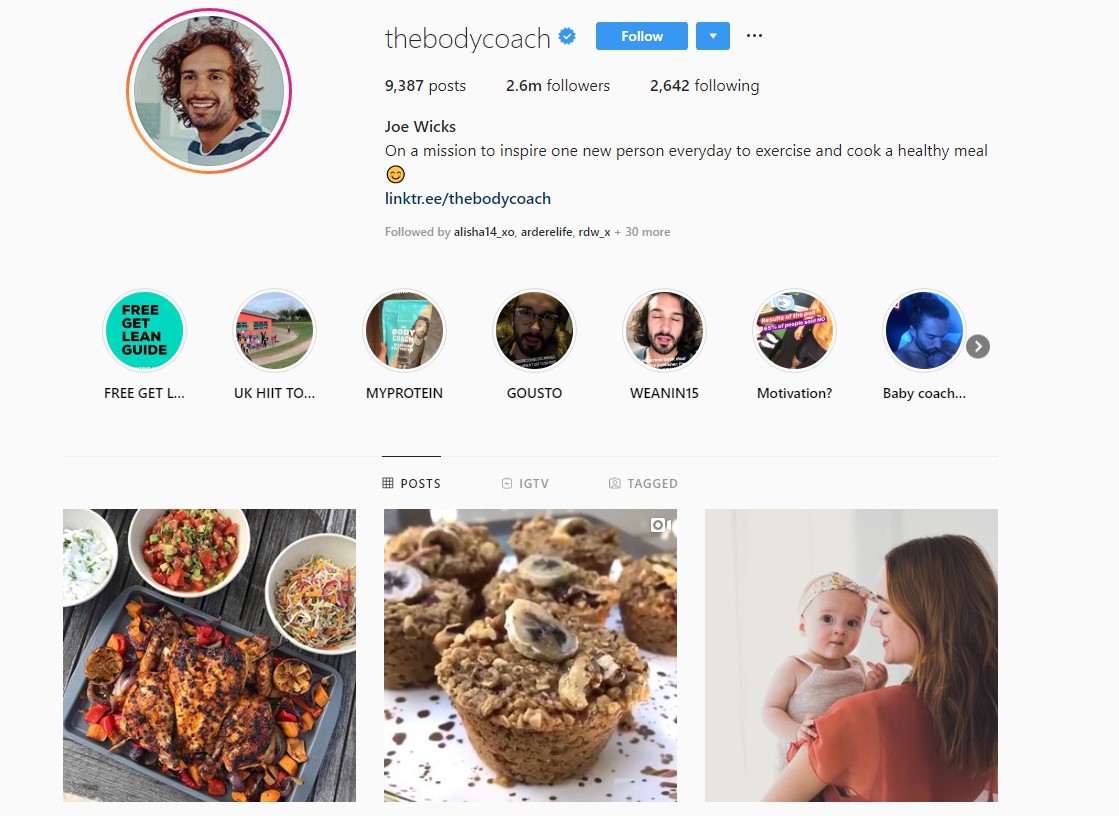 5 fitness brands with over 100,000 followers:
Kayla Itsines
The Body Coach
Obé
Crossfit
Gold's Gym
When you have done this research you should have a better idea about what content resonates and doesn't resonate with an audience.
You don't have to follow exactly what you see on Instagram, the important thing is to stay true to your strategy when creating your content, but looking around on Instagram can give you great ideas as to how to present said content.
Step 3. Plan your Brand's Instagram Posts
Having a content plan already in place will keep you accountable and ensure you are consistent with your Instagram posting and engagement. If you don't put anything out then you won't get anything back.
Just like a diary, your Instagram calendar will organize all of your creative ideas, allocate them to a certain day or time and ensure you don't accidentally double post something.
Without a calendar, posting on Instagram can get out of hand and quickly start feeling like an unfocused mess.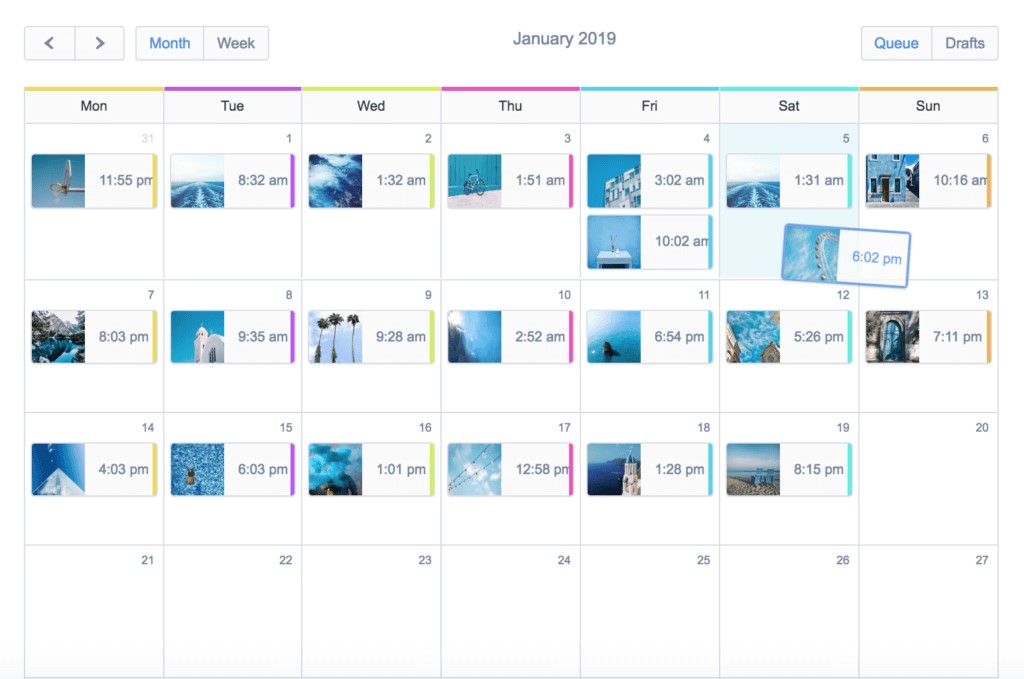 Source
Luckily, there are already several apps on the market which you can link up to your Instagram account that allow you to schedule posts ahead of time.
How detailed you want to make your plan is up to you. Some folks just put a topic and picture idea and leave the rest of the work when the day comes, others schedule the entire week of Instagram posts ahead of time.
If you are posting on Instagram in your spare time, then carving out some hours to set everything up for a week will help you a great deal.
What you put in your content calendar is up to you, but this is where your Insta-research and target audience work will come in handy. The best way to do this is to think about all the questions your target audience might have about fitness, then create posts which help answer those queries.
Here are 3 great scheduling apps for Instagram
Source
Keep a Bank of Quality Fitness-Related Content
Instagram is all about visually stunning photos and videos with witty captions to go with it. If you are taking grainy photos with an old camera phone and uploading them to Instagram, chances are they will not hook your users as they scroll through their insta-feed.
As a general rule of thumb, only post photos on your gym's Instagram that are well lit and dynamic. Also, according to OmniCore, photos with faces in them get around 38% more likes on Instagram.
When it comes to making a picture stand out, the angle and lighting can transform an ordinary photo to something much more intriguing.
You don't have to be a National Geographic photographer with every photo you post, but visually beautiful photos really do go a long way on Instagram.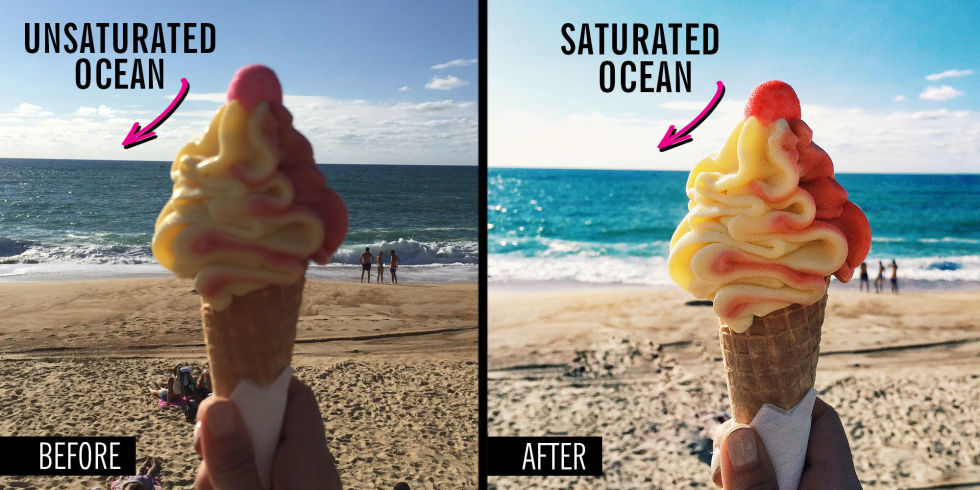 Source
Here are some great free mobile photo editing apps:
Vsco
Lightroom
Snapseed
Canva (for graphic design)
Pro Tip: Make use of carousel posts, too. This can be used for photos where you'd like to tell a bit of a story, rather than make a statement. For instance, you can show a carousel post showing the progress of a nightclub fitness class, before, during and after.
Fitness topics for your Instagram calendar:
Foodie Post
Fitness Post
Workout ideas
Day-to-day Gym happenings
Recovery/relaxation/wellness Post
Motivational Caption Post
Promotional Post about gym deals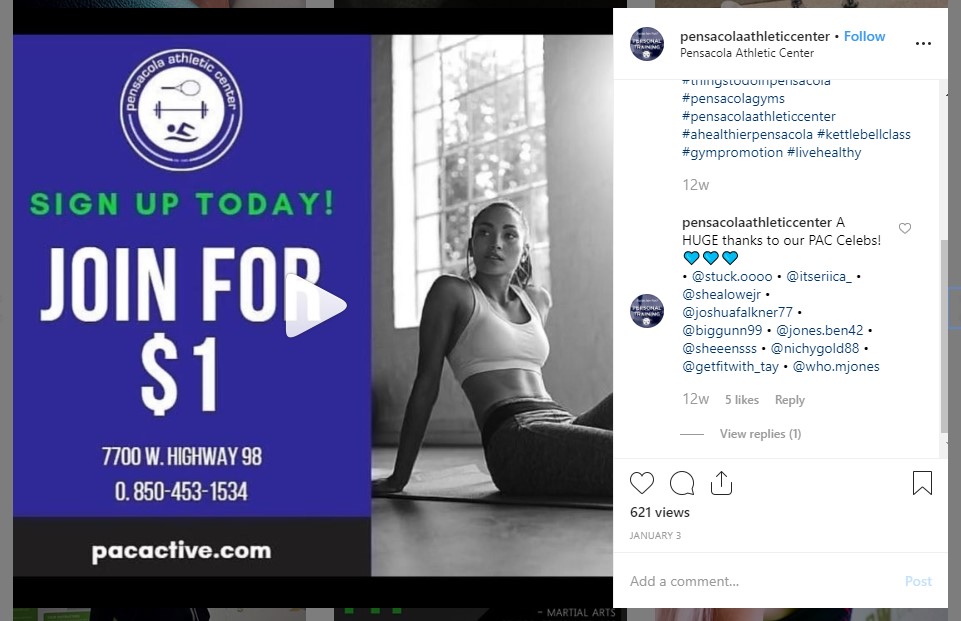 Step 4. Make your Fitness Brand Discoverable
Here is where most brands get stuck. Instagram's algorithm wants to give its users interesting content from relevant sources, like close friends. As a result, the intrusive, promotional business content gets shuffled to the back of people's news feeds.
However, there are still ways you can put your content in front of users. The two golden words to remember are Relevant and Interesting.
Here is how you can give your club's Instagram posts more reach.
Use Hashtags Responsibly
Hashtags are a way of categorizing your posts so people who search a certain tag can then see your content. The more hashtags you use, the more your content will be spread around Instagram and the more people will interact with it. But, there is a balance to be struck here.
If you aren't posting anything of value and adding a billion popular hashtags that don't relate to your content, then you will get nowhere.
First, posts like that look incredibly dubious and spammy and if users see your fitness brand posting like that they will associate your gym with being, you guessed it, dubious and spammy.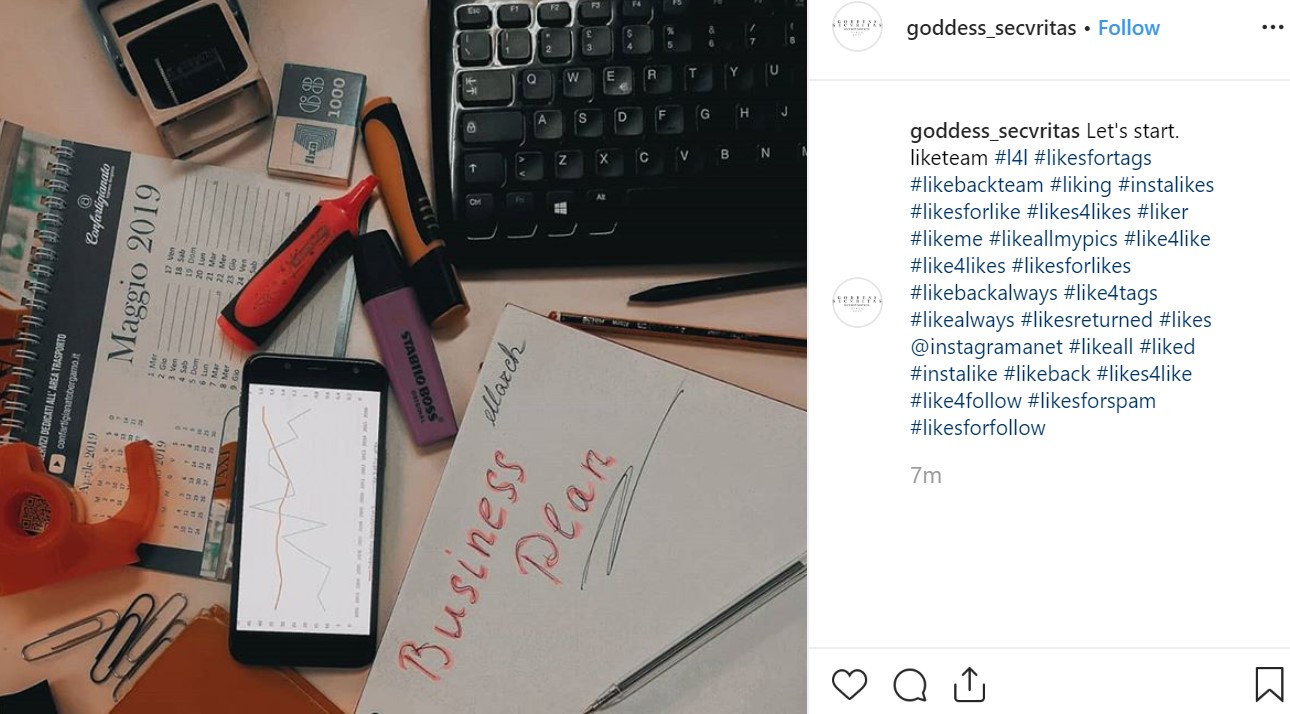 Second, the users who follow a profile based on a spammy post like the one above are not interested in your fitness advice, but more interested in the Instagram likes you can give back.
These are not loyal followers nor are they likely to become advocates for your brand. Third, Instagram's algorithm will sniff out what you are doing and start limiting your exposure. It's like karma: Insta-Karma.
For relevant hashtags stick to the ones which relate with your message, brand or content post. If your post is about a vegan recipe, don't start posting #girl, #workout, #squat. But stick to the topics of #wellness, #eatclean, #veganfitness. For an extra boost in Instagram searchability, add the top trending fitness hashtags too, so long as they are relevant to your post, you can add them.
Pro Tip: Make up a unique hashtag for your fitness brand which you use every time you post. It can be something unique which includes your facility's name, such as #PerfectGymTips. This way, as you grow your Instagram following other users will make use of that hashtag and your discoverability will rise.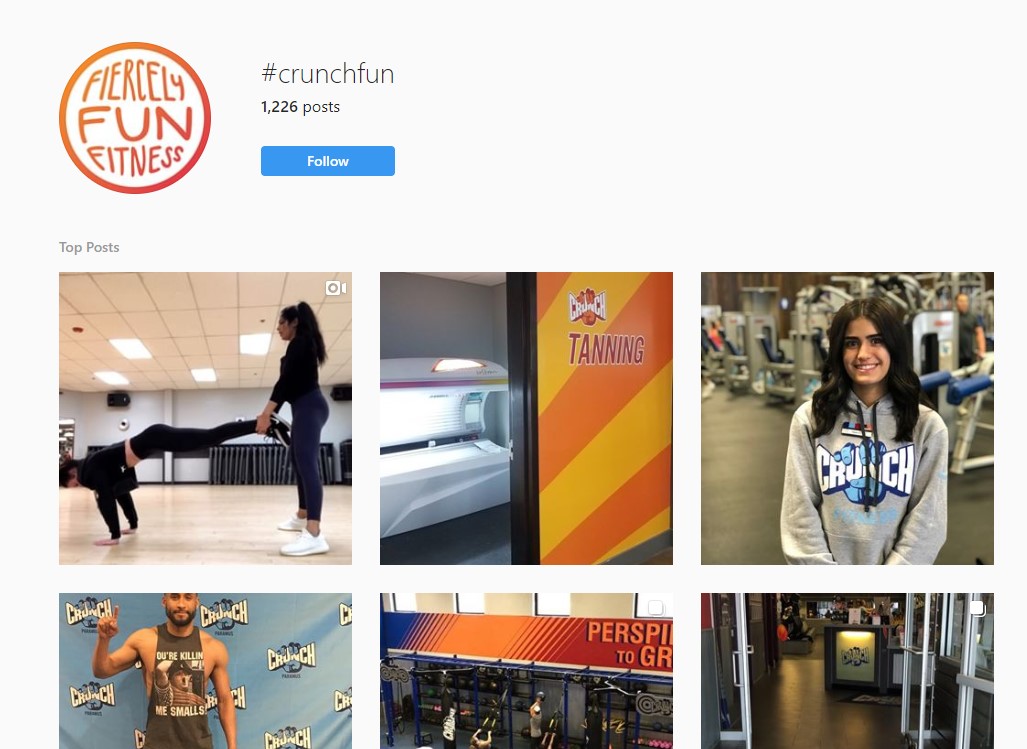 6 of the most used fitness hashtags on Instagram:
#GetFit
#Fitness
#FitnessMotivation
#GymLife
#Workout
#TransformationTuesday
Use Locally Focussed Hashtags
Making your fitness brand Insta-famous in Indonesia when your gym is in Kentucky isn't going to translate into much of a business impact for you. Therefore, use popular local hashtags. You can discover these by doing a simple google search of 'popular Instagram hashtags for xx city'.
This way, you can grow your presence on Instagram by making people in your area more aware of your fitness brand. Look at how Zadi training does it.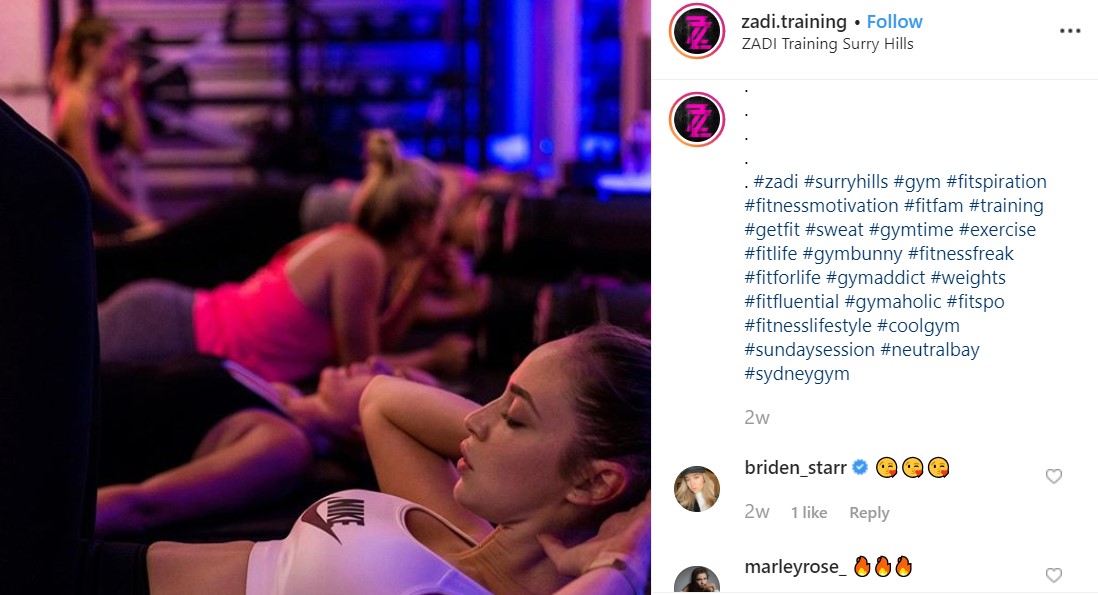 Leave Meaningful Comments
When using top fitness hashtags, you should also search those hashtags and see what the top and latest posts are in that category. Then go through and leave valuable comments to really engage with the popular users who use that hashtag.
By commenting, I don't mean just writing a 'Hi', or 'Nice' or leaving a fire emoji, I mean comment something you actually think about that post. It can be humorous, motivational or informative, so long as it gives a reaction.
It will make you stand out and people will want to engage with you and your brand on the same level. If you push quality comments out you will get quality engagement back.
You should behave the same with the users who comment on your posts, like your content, or tag you in their own posts. Give them attention.
People enjoy engagement on social media, you can grow your gym's brand by asking a question or offering a new perspective on a discussion. Give actual value and stay away from generic comments.
Instagram's algorithm tends to show the 2 most recent comments from verified accounts directly underneath the post's caption in a feed. But the algorithm can change that depending on the user's feed and their interests.
Pro tip: If it isn't already, switch your profile to a business profile. You can have access to business insights which will tell you when your posts are most liked, you can a add contact button and ad targeting.
Engage Community Leaders
Growing your brand on Instagram isn't just about reaching out to people, it's also about collaborating with others so you can gain as much exposure as possible. You can do this by building relationships with other fitness brands by commenting, tagging or reposting their content.
You can also start partnerships with local influencers, and be involved in trending social media movements.
Collaboration with other industry leaders doesn't have to stay strictly on Instagram with a follow back, comment or tag. You can start working with other brands in the real world, maybe team up with an influencer or another gym and set up a workout challenge, or swap workout class ideas.
You can use Instagram to document the collaboration and invite users to join in. Create a 'team-up' campaign that will engage users and increase your club's brand awareness.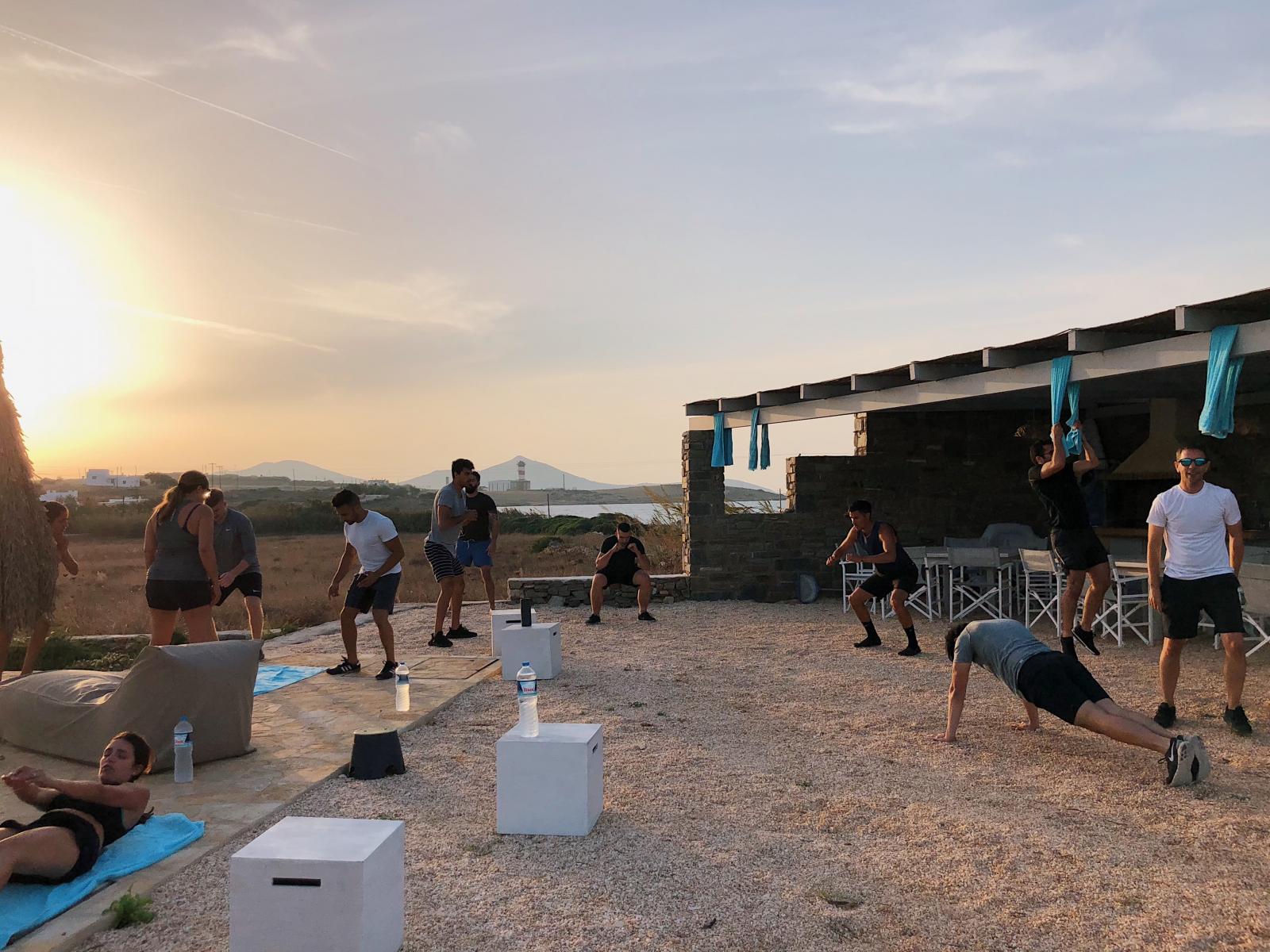 Also, by identifying similar businesses engaging the same demographic as you on Instagram, you can learn from one another about how to help your customers better.
Tag Locations of Your Gym
To boost your searchability, you should be adding geolocation tags wherever you can.
People frequently check their local area, or areas around them on Instagram to get a bigger picture of what is happening there.
If you can ask all of your team and members to use the same location tag when they post anything about your brand or facility, then you can quickly build an Instagram archive, of not just your posts, but everyone who has interacted with your brand in a certain location.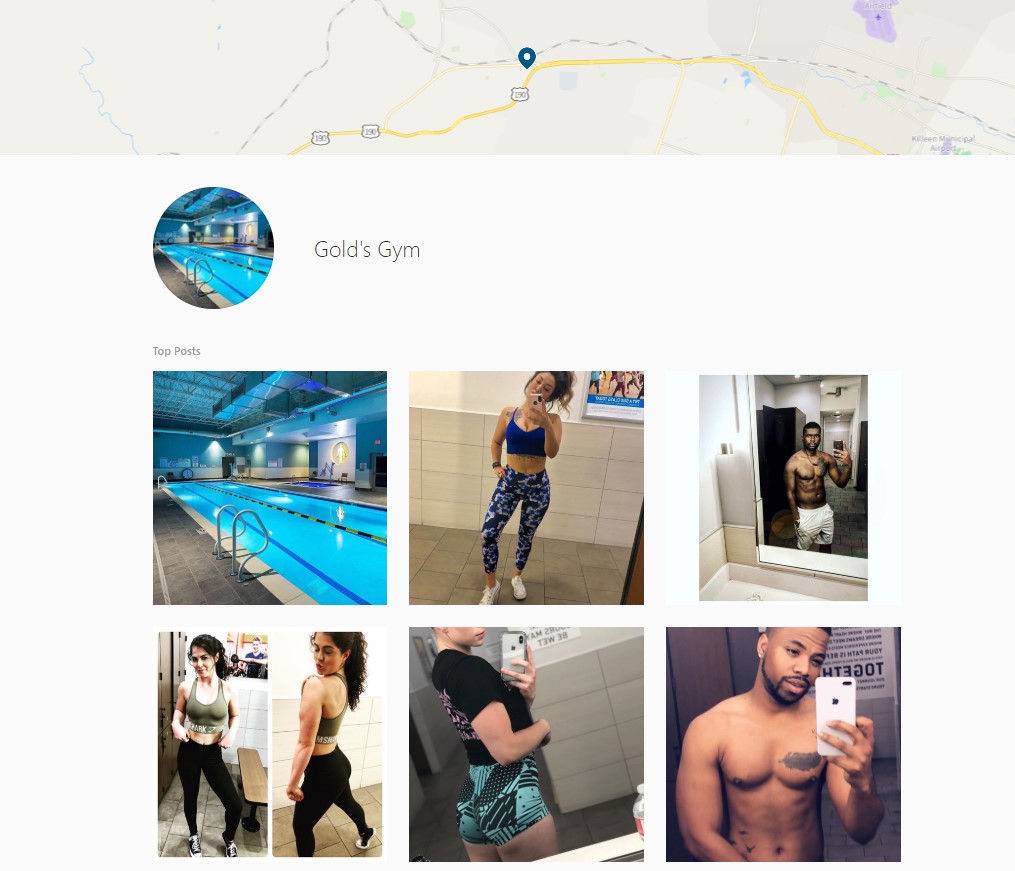 This helps your growth as people can accidentally come across your content when browsing Instagram posts in a certain area.
Pro Tip: On the flip side, any disgruntled customers may take to Instagram and tag your gym's location, so make sure you are monitoring this tag closely so you can resolve complaints as they unfold. You can do this by tapping on the search icon at the bottom of the screen on Instagram (mobile), tap the search bar, then directly underneath that, select the 'places' filter, and then searching your location.
Step 5. Make your Gym Recognizable on Instagram
You can be everywhere on Instagram, but if your brand message isn't clear or you don't have consistency with your brand creative, then no one will remember you and steps 1-4 will be for naught.
Post Consistently
To keep people interested in what your brand is doing on Instagram you need to keep showing up. By posting regularly, you can keep reminding Instagram users of your brand.
The consistent exposure will also score you points with Instagram, who will give your profile greater reach, thus helping your gym to gain more followers.
Stay Visually on Brand
Being consistent in your filtering scheme will also really boost your recognizability on Instagram. Using the same set of filters and color schemes (one or two) for all of your content helps you create and maintain a clear visual identity on your Instagram profile.
This makes your photos instantly recognizable on your followers' feeds, increasing your gym's brand awareness and getting you more consistent likes.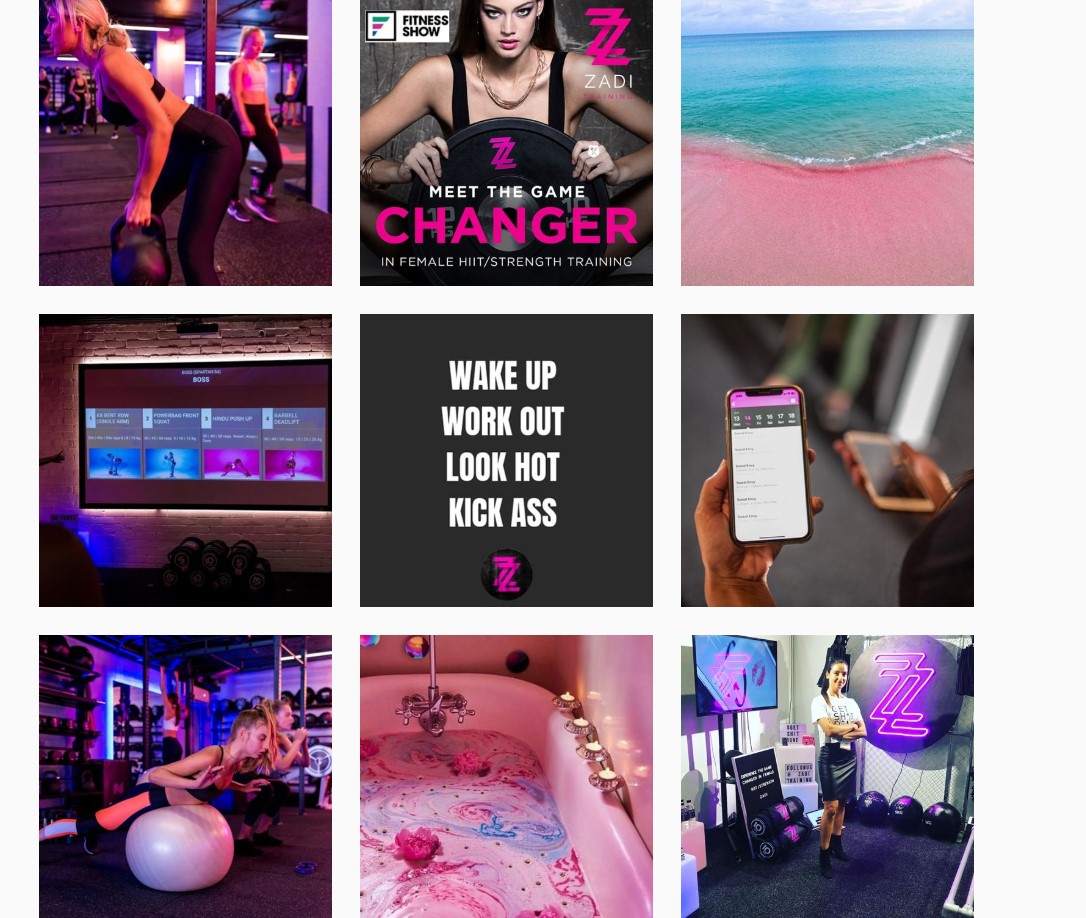 Again, using Zadi as an example, you can see from their profile their main colors are black and magenta with blue and purple as secondary colors. The filters used are quite dramatic and the contrast is heightened to make each photo visually 'pop'.
This is important. As people scroll on their Instagram feed your gym's post only has 2 seconds to get noticed. Vibrant, unique and recognizable brand posts will have more impact and staying power in your audience's memory.
Keep Messaging Clear
If your brand is about non-judgment and helping beginners step into the world of fitness then your Instagram has to reflect that. This should be clear in your bio, your captions, stories, comments, photos and video content.
By keeping an aligned branding voice people will figure out what your club is about quickly and if it resonates with them, they will follow you.

However, if you begin giving motivational hints about acceptance in your profile bio, but add a lot of 'tough love' spice to your captions, users will be confused about what you can offer them and in the end, you won't resonate with either demographic.
It's best to keep your brand message simple. This way it will be easier to focus on as you put out content.  
Step 6. Implement Unique Content Ideas to Grow your Gym's Brand
Inform and inspire your followers. Valuable fitness content will build trust between Instagram users and your gym's brand, this helps generate followers who will stick around for more of your brand wisdom.
With every photo, story, or video you post you should be inviting Instagrammers to have their say, like, tag or follow you.  Doing this will heighten your engagement and grow a loyal following in the long-term.
Instagram Stories for Fitness Clubs
Instagram stories work very much like a Snapchat story would. Users can piece together a 'content story' through using photos, hashtags, location tags, mentions, polls, videos and much more. There is much more room to be creative with an Instagram story than with a static Instagram post.
Instagram stories also only last for 24-hours before they are deleted, and they don't have to compete for attention in a users newsfeed as the stories are viewed by tapping icons at the top of the screen.
Because of their 24-hour scarcity and creative possibilities, Instagram stories are great opportunities for fitness brands to post fun, silly pieces of content. You can also engage with users on a more personal level with interactive polls and questions.   
For fitness brands trying to grow their reach on Instagram, using hashtags in stories will make that story visible to followers as well as the people who don't follow you.
What's even more exciting, you can add URLs to your stories, which means users simply need to swipe upward if they want to visit any 3rd party website you post about. This is a much more convenient means of getting users from Instagram to your website than using static posts with the 'link in bio' caption.
But, with so many features you can add to an Instagram story, it can make photos look too busy and confusing. Remember, users only get to view each piece of content for a few seconds. In this case, less is more, make each nugget of story visually clear, beautiful and to-the-point.
There are apps which offer great Instagram story templates for you to use:
Canva
Unfold
Adobe Photoshop
Pro Tip: Users have the power to mute your stories if they find them too irritating. Be aware of that when crafting the length of your story. If you post too many within the same 24-hour window it will take user's too many taps to get to the next account's story. Again, it makes your brand look spammy and hurts your fitness brand's growth.
Static Instagram Posts for Gyms
As the name suggests, static posts are immovable once you post them. Unless you manually delete them, they will stay on your gym's Instagram profile for everyone to see.
Which is why static posts have to be well thought out, high quality and visually beautiful. When users check out your past posting history on Instagram, it will say something about your business and ideas.
This is why it is important to ensure all your Instagram posts on your club's profile are visually aligned, it will make your brand look more professional, appeals and give the impression that you can offer quality fitness advice.
Speaking of which...
Ideas for engaging content include:
30-day challenges (+example) Which you can show in video form ask followers to tag a friend to do it with and post before and after videos, remember to include a unique hashtag for the movement.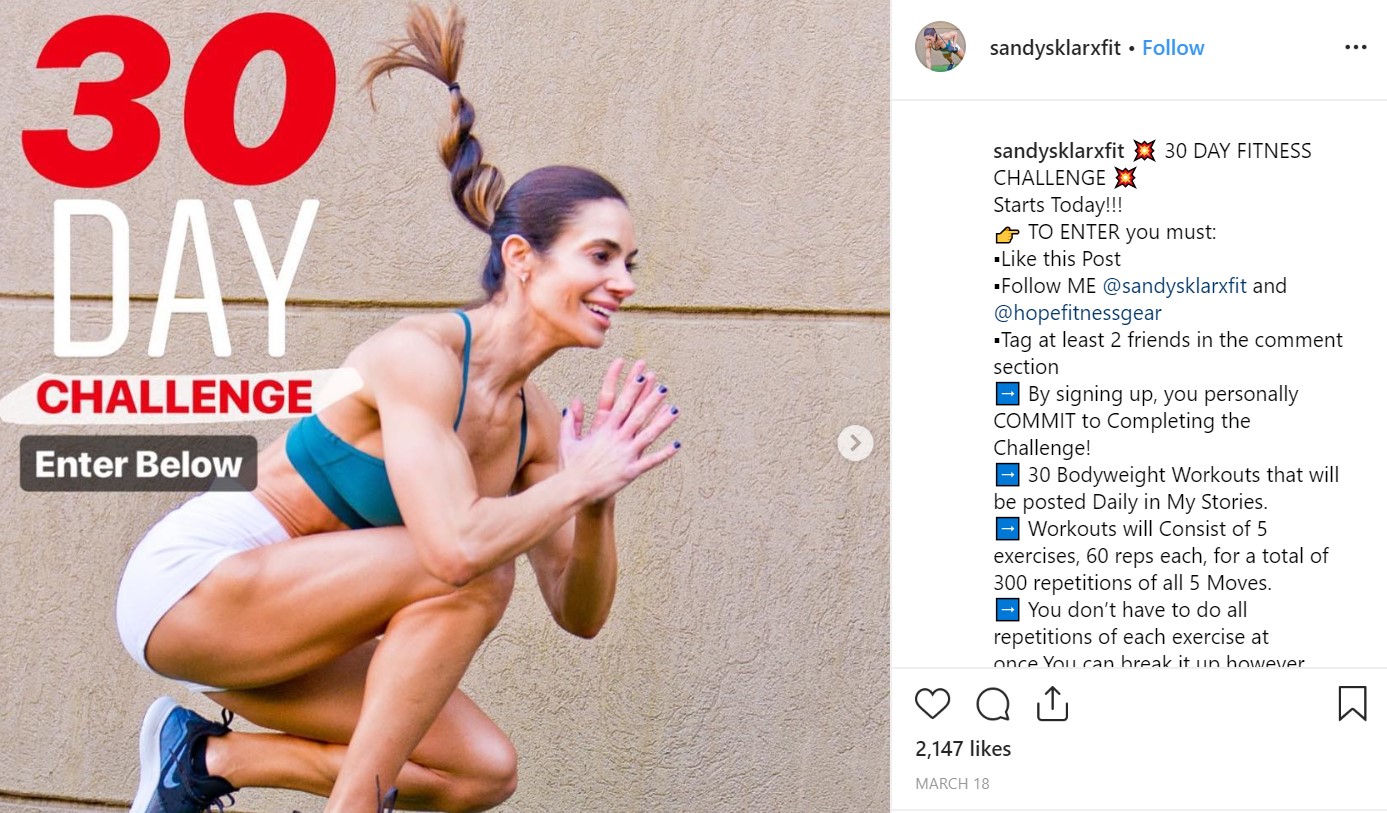 Diet and recipe advice. Ask them to tag a friend they would want to eat with.
Promotions, such as free guest passes or merchandise, just ask them to tag a friend and comment about their favorite workout. Then pick from the comments who will win the prize.
Member of the week: People love a story about triumph and beating the odds, which is transformation stories appeal so widely. Pick a member who has made great strides in progressing their fitness. They don't have to have a 6-pack, but if you see someone working incredibly hard, let them vocalize it and tell their story.
In a Nutshell…
Instagram can offer fitness club owners a platform filled with audiences engaging actively with wellness content and the benefits of this are huge. Implementing Instagram marketing for your brand can attract more local followers, higher online engagement and more opportunities for industry collaborations.
With Instagram's business profile you can track your gym's instagram growth and heighten brand awareness. Remember to keep your target audience simple and focused, though. This way you will build a bigger volume and higher quality of Instagram followers.
After you acquire them, try to encourage them to visit your page or sign up to a fitness club newsletter. This way you won't have to depend on Instagram to access your audience.