The world of fitness technology is undeniably booming, creating new opportunities in which fitness consumers have countless options, classes, gadgets, and applications at their service to help them reach their respective goals. Especially in boutique and high-end facilities, new-wave innovative equipment or personal devices seems to now be expected as part of the complete "modern fitness experience".
However, what most people do not realize is that modern fit-tech is equally, or even more so, responsible for driving the opposite end of the fitness facility industry: the budget club.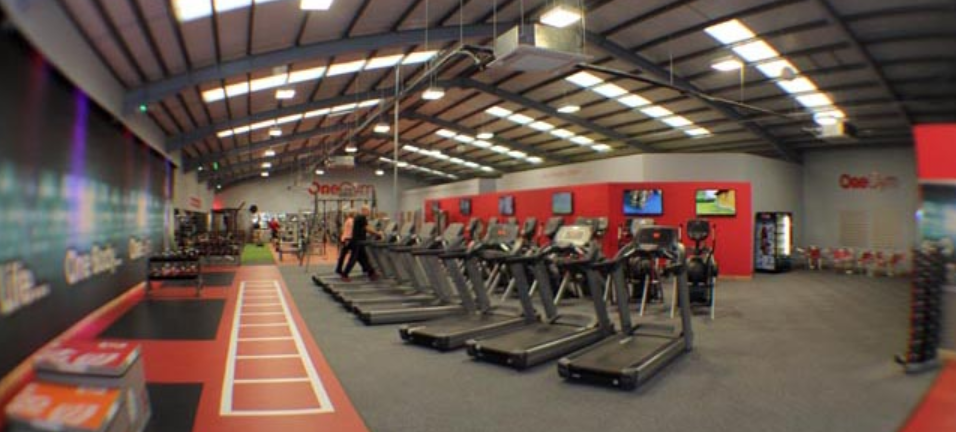 While the likes of Planet Fitness, Snap Fitness, and Pure Gym may not offer eucalyptus scented towels or virtual reality classes, the crux of their business models rely on being as digitally sophisticated as possible. These digital capabilities must cater so extensively to consumer convenience and accessibility, that these clubs must be essentially self-operational in order to succeed. 
The cornerstone of this engagement and interest with budget members relies on combining unbeatably low prices, contract flexibility, and elite digital services that provide for both members and clubs to autonomously operate.
With the budget club, or High Volume-Low Price (HVLP), segment continuing to expand, owners need to take advantage of every opportunity to attract and maintain members at the lowest cost possible. The best way to achieve this is to implement technology that can enhance the appeal of budget clubs: convenience, affordability, and member autonomy.
Facility Polarization: Race to High-end vs. Race to Bottom
The modern landscape of fitness facilities has undergone changes that advantage budget clubs. As the fitness industry dramatically expanded worldwide in the last decade, the fitness facility segment has become increasingly polarized. Consumer preference tended to opt for high-end/boutique clubs or budget clubs, which has led to a significant decline in mid-range segment of facilities. 
While budget clubs are nothing new, the low-cost segment differentiated itself when many clubs began to switch from the traditional budget club model to develop the new breed of HLVPs with a narrower focus.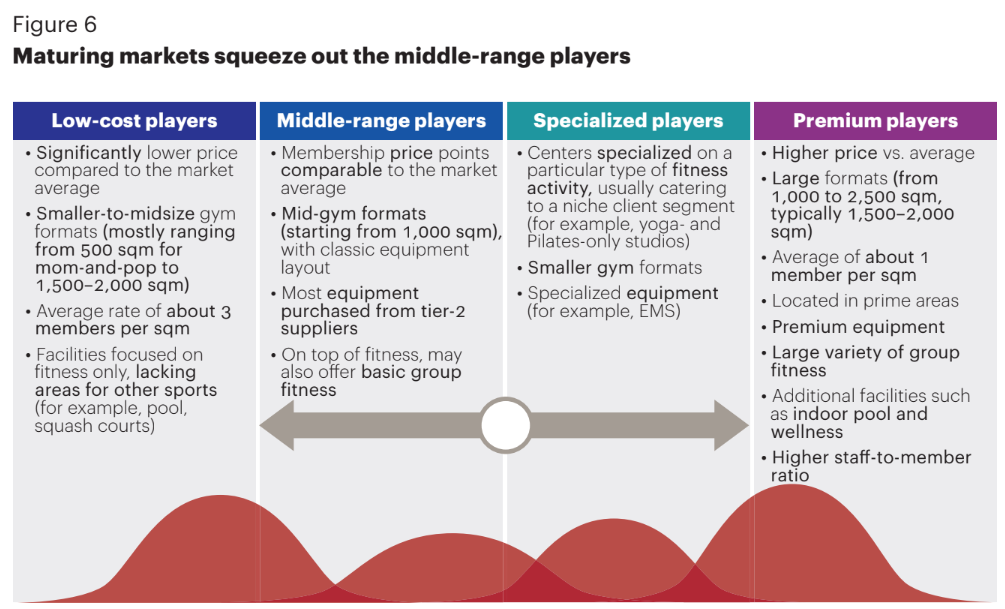 Roughly five years ago, most HLVPs offered a wide range of secondary services, like tanning beds, hydromassages, etc. Noting that their clients rarely took advantage of these offers, HVLPs dramatically reduced them in order to shift their attention to enhancing their exercise or fitness-based offerings instead. They focused on expanding equipment options, maintaining quality machines and facilities, and repurposing training space to maximize floor plans. 
These changes helped budget clubs address one of their most consistent problems: overcrowding and space optimization during peak hours. This exercise-driven transition helped budget clubs resurge in popularity with the public as they narrowed their focus to consumer interests: enhanced training capabilities at fractional costs. 
Why Budget Clubs?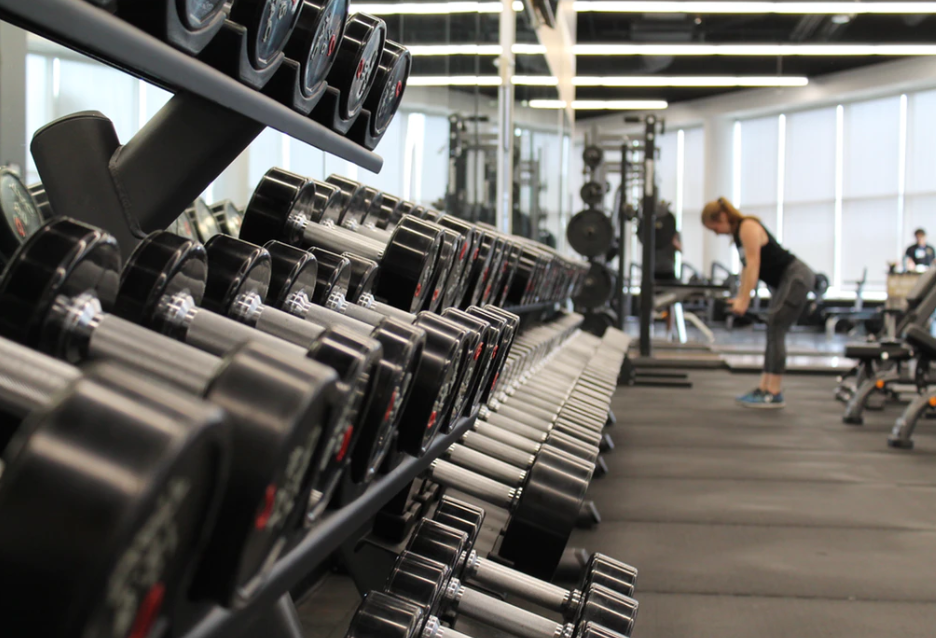 From an owner's perspective:
 The budget club option holds no shortage of appeal for management. Generally, budget club's require lower maintenance and overhead costs than operating a traditional club. 
Additionally, managing a budget club does not come with the same stress of consumer expectations that mid-high range fitness clubs do. 
In the age of extremely high customer service expectations, more expensive fitness facilities have had to pivot their services and continually find ways to cater to the unique needs of their clients. This puts extreme pressure on management to come up with innovative tactics to maintain high customer retention in the face of the hyper-competitive market of fitness facilities.
From a member perspective:
As price dictates this relationship of customer expectations, budget club members do not expect this degree of service. In fact, many opt for budget memberships because they want a no-frills gym experience where they can focus on their exercise routines.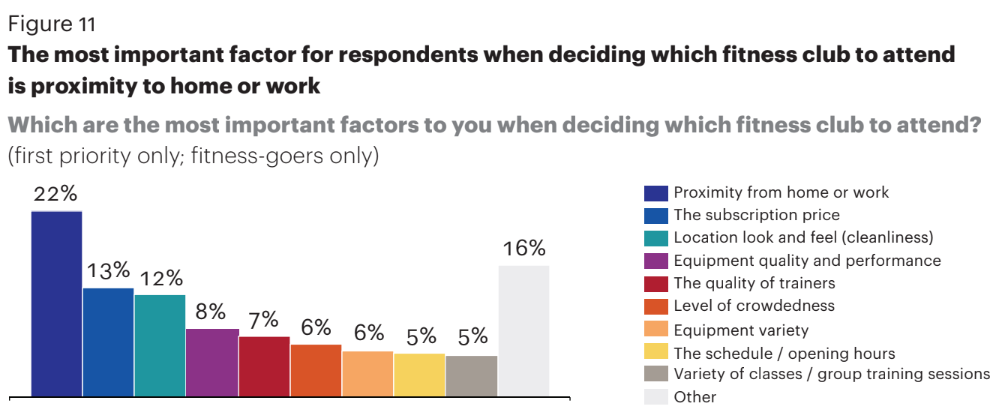 Like many others, HLVP members prioritize convenience and affordability over other factors considered before joining a gym.
In fact, 80% of budget club members have been members of gyms elsewhere, demonstrating that the majority are experienced with exercise and are likely to not need extensive help of trainers or staff compared to other gyms. Therefore, the common budget club member tends to service individuals who rely on their own exercise routines. It is also not uncommon for budget club users to attend other fitness clubs of the boutique or high end variety, but keep their low-cost membership for the sake of convenience. 
Budget Drivers
The largest driving force behind the success of budget clubs is rooted in their simplicity and transparency. Members can typically attend a number of different facilities at any time that is convenient for them. Members know these clubs are not coming with the all the luxuries expected at high-end facilities, and many prefer their lack of trendy nuanced services. 
Rather, budget club members are drawn to easy self-service and consumer friendly digital infrastructure. This should be present through every stage of the customer journey: acquisition through contract duration.
Sign up: Online Portals or Self-Service Kiosks
With low staff members in mind, sign-up procedures should work in tandem with online platforms to provide the most efficient and hassle-free process for customer acquisition. The popularity of online commerce channels are undeniable:
In 2018, an estimated 1.8 billion people purchased goods online, resulting in global ecommerce sales reaching 2.8 trillion U.S. dollars. Projections indicate that this figure will nearly double by 2021.
With many consumers opting for more e-commerce spending globally, fitness clubs should be incentivized to keep up with the trend. This should include digital sign-up procedures, membership maintenance, payment gateways, and contract cancellation. These procedures are most easily controlled through a gym specific client portal.
Members need diverse ways to sign-up independently, whether through online portals or with self-service kiosks at the facility. These portals should collect all important member data and payment information and seamlessly transition it into the member's profile of your management system.

The Beauty of Minimal Staff-Client Interaction
With self-service nature of budget clubs naturally encourages members to take an active role in controlling their memberships. This is facilitated by having easy, accessible, user-friendly digital tools for them to do so. 
Access Controls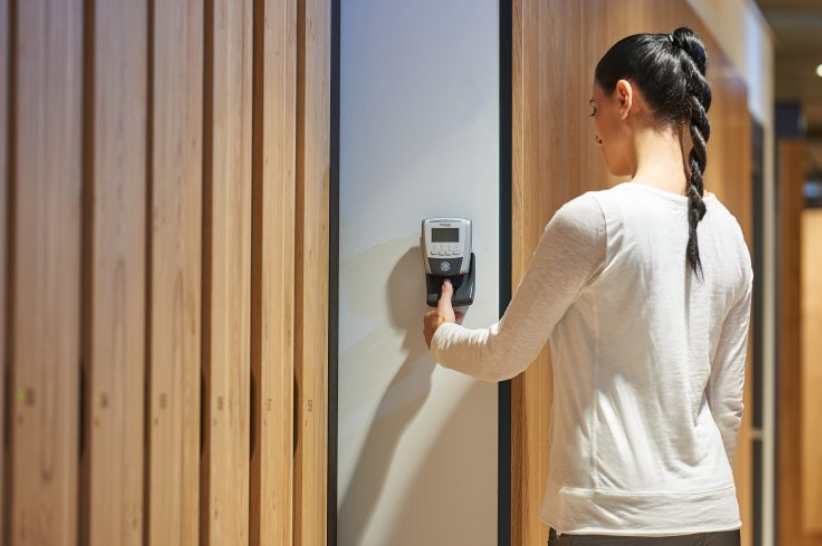 Source
With the necessity of 24 hour operating hours, a strong access control system to automate the flow of your club is imperative as a cornerstone offering of your club. Check-in procedures should be simple and efficient.
Access controls need to be sophisticated enough to safeguard the facility from fraudulent members from entering without contracts while simultaneously simple enough for an individual to use without the help of staff. 
Most fitness facilities utilize member cards or codes that deny additional use until the member has swiped out of the club. However, this does not safeguard clubs from allowing members to let non-members borrow their cards.
To combat this, many budget clubs have begun instituting biometric access controls to ensure the identity of a member. The most common biometric access measures include fingerprint scanning or facial recognition. Each of these controls come at a higher expense, but easily account for their price in protecting low staff fitness clubs from fraud or mismanagement. 
Infrastructure for Club Zone Management
Self operating clubs requires access controls to be sophisticated enough to restrict or allow access to certain areas of the club. Additionally, similar controls can automatically structure more complex access code regulations throughout your facility.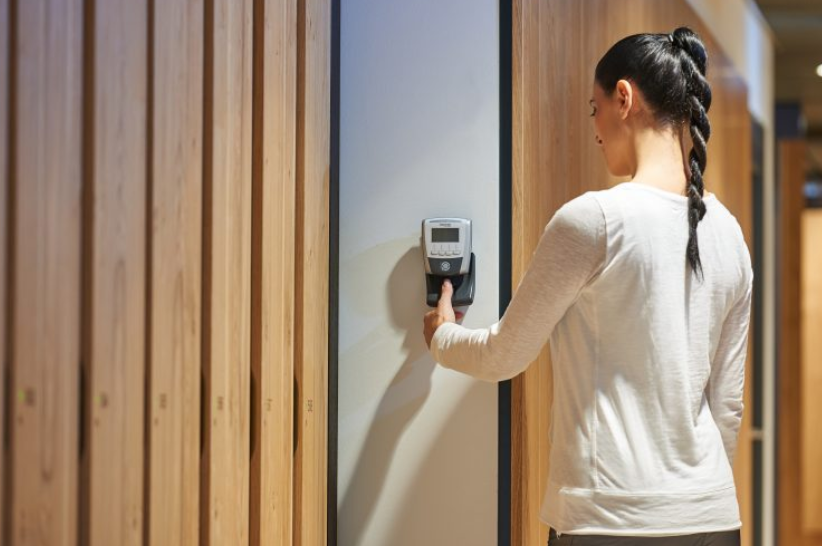 For example, if your club offers secondary services at additional costs, like spa, class packs, etc, access controls can permit only specified members into these areas of the club. More elaborate access control integrations can effectively replace staff control, enabling your club to regulate access permissions accordingly.
Automated Communication
With limited staff to facilitate client-management correspondence, automation tools are an essential feature for not only communicating important member and club information, but for maintaining positive relationships with your clients.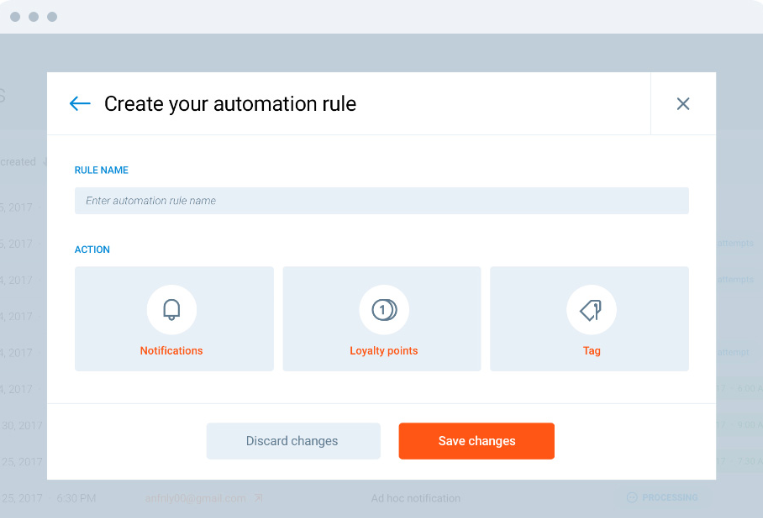 Whether you need to warn all club members about unexpected closures, offer club-wide discounts, distribute a newsletter, or send one member birthday wishes, an automated communication center allows a budget club to offer high-end club levels of client contact. 
Digital automation also provides the flexibility to send correspondence through various platforms: emails, SMS, and if applicable, via mobile app. These methods guarantee a higher probability that members will receive the message even if it does not get a response. 
The Necessity of Flexible Digital Payment Processes
Pricing Structure
Budget club members enjoy a simple member journey, starting from the prospect of self-service sign-up to cancellation of contract. Since budget clubs stress convenience on the customer, flexible month-to-month contacts are very common, which are often able to terminated automatically by the member as well.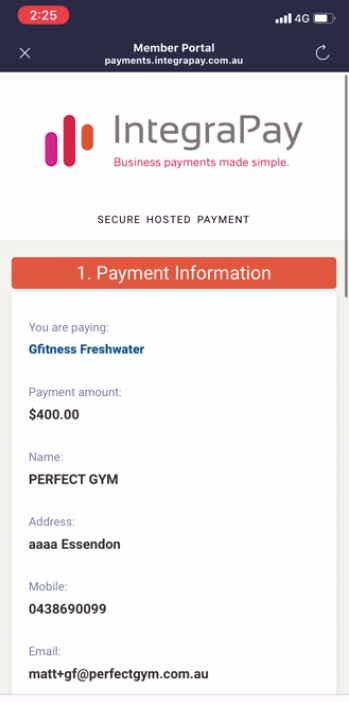 The top selling point of budget clubs unfortunately doubles as its most considerable flaw: flexible contracts. Budget clubs commonly experience high waves of new members not only due to membership affordability, but because they appreciate the non-committal freedom to cancel at any time. 
However, the flip side is extremely problematic: users are just as likely to sign up for a budget club knowing they can freely terminate their contracts as they are to cancel their memberships unexpectedly.
Without fixed contracts or commitment periods that are commonly utilized at more expensive clubs, budget clubs are at risk of having unpredictable revenue streams resulting from high member churn. 
Following suit with member self-service, payment procedures should follow a similar theme of member accountability. Payment procedures need to be automatic and streamlined in order to remove the pressure of collection off both management and members.
In order for budget clubs to maximize profit, many adopt the strategy of providing automatic recurring payment procedures that put the responsibility on the member to end their contract themselves.
Since most budget club members report that this membership is not their first with fitness clubs, they are experienced enough to know the basics as far as personal membership management.
With recurring payments, members are more likely to keep their memberships to budget clubs than to go through the effort to terminate their contracts. Especially since they stress affordability and convenience, many members will even opt to keep their budget memberships even if they join another gym.
This still provides the option of 24 hour access or more locations than are typically offered at medium to high-end facilities. 
Recurring automatic payments provide budget clubs with a first line of defense against customer churn, which can help them lessen the threat that comes with offering flexible and low-cost contract options.
Low Maintenance Secondary Spend Opportunities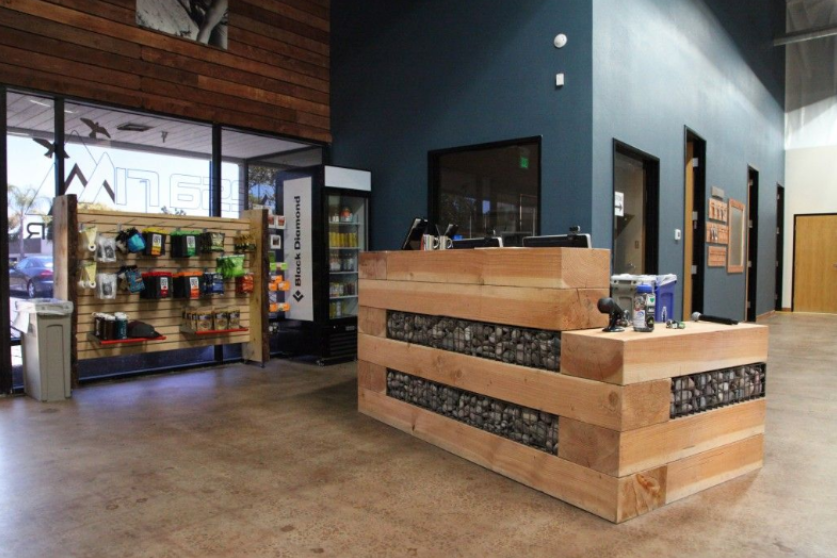 Budget clubs are not precluded from additional revenue opportunities available to customers at most fitness clubs. While middle and higher end clubs have redefined their business models based on add-on purchases for their clients, like private training, food and beverages, or merchandise, budget clubs can still create additional purchasing options for their clients. 
Since their clients are unlikely to opt for more expensive in-facility products or services, budget clubs can still profit from self-service machines for snacks, beverages, or supplements. 
Furthermore, many budget clubs also provide lenience in allowing freelance trainers into their facilities. As mentioned, as budget club members are not likely to pay for more expensive services like private training, the facilities can still profit indirectly off of less strict policies.
By allowing independent trainers and clients to use their facilities for personal training, they can still benefit off their sustained memberships.
Furthermore, with these trainers helping clients get closer to their fitness goals, they are more likely to remain long-term clients. Similarly, the more clientele these trainers can bring to your studio to build their business, they will unintentionally contribute to your customer acquisition.
Final Thoughts
As the fitness facility types continues to expand and diversify at exponential rates, the popularity of budget clubs will remain as a formidable force on the market. These clubs hold both a niche and widespread appeal to potential members spanning demographics and fitness objectives through their underlying x factor: technologically-backed convenience. 
With the proper fit-tech in place, budget clubs can achieve levels of self-operation that cater to both management wants and client needs.