With 2020 over, it is safe to say that the previous year has caused massive and irreversible changes to the fitness industry. During the last months, gyms had to come up with new, safer ways of providing their services. To help their club members keep their fitness routine, some gyms have innovated by moving outdoors. According to ISPO, outdoor classes are here to stay and are set to become one of the most important trends of 2021.
Benefits of outdoor fitness classes
Outdoor classes certainly bring back the childhood memories of playing outside and having fun with friends. Apart from this, they bring quantifiable and unquantifiable benefits to both club owners and club members.
Here are some reasons for your gym to introduce outdoor fitness classes:
Keep club members safe - with more space to exercise than a standard fitness studio and free air circulation, it is easier to stick to Covid-19 social distancing rules.
Keep operational costs in check - you do not need to invest in expanding or rearranging current facilities to hold new fitness classes. You are simply using publicly available spaces. Hence, your rental costs remain the same.
Almost no equipment needed - by using the local infrastructure for planned workouts, you may provide club members with unique fitness experiences and limit spending on new equipment at the same time.
Stand out in the crowd - outdoor classes that are a part of a daily class schedule are still a novelty on the market. Clubs that introduce these workouts soon will become the pioneers of the fitness industry.
As per club members, they are likely to enjoy outdoor activities for the following reasons:
A sense of community - when analyzing the biggest fitness trends of the decade in 2019, Forbes and LatentView Analytics were clear that a sense of community at the gym is a major motivator for members' attendance. This statement will likely continue to ring true in 2021. With a combination of outdoor classes and live class streaming, club members who are hesitant about attending fitness classes due to Covid-19, will have more opportunities to return to the gym.  
Additional health perks - spending time outside will give club members the opportunity to boost Vitamin D levels, relax fully and enjoy nature.
Getting your outdoor classes started
The very first step to introduce outdoor fitness classes to a sports facility is to lay the formal groundwork. You will need to obtain all the necessary permissions. Moreover, you should make sure that the classes will respect the local community.
Once the legal matters are settled, it is time to get things going. After all, just like a fitness class in a gym, outdoor fitness class needs to be properly managed. 
Ideas for outdoor fitness
Clubs are coming up with more and more creative ways to become a leisure destination rather than a purely healthcare facility for their clients. Outdoor classes can only help this mission by being a new, fun option in a club's offering.
Here are a few ideas for classes your gym can run outdoors:
HIIT
Bootcamps
Yoga
Pilates
As well as workouts in pairs and groups, for the times when social distancing is not a necessity:
Organizing outdoor classes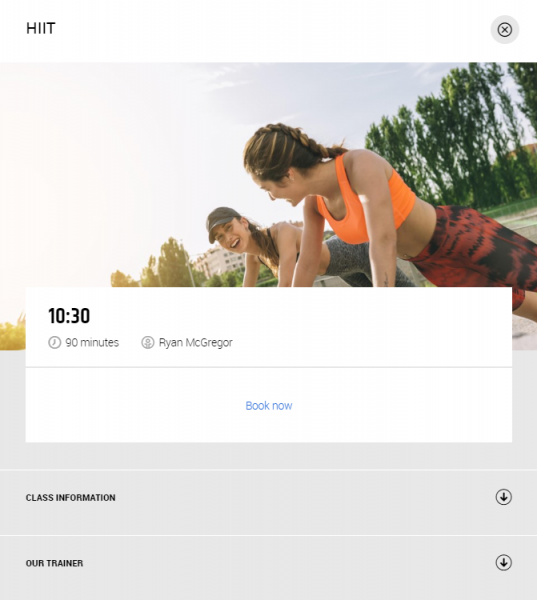 Adding outdoor classes to your class schedule
Just like with standard indoor classes, you can add outdoor group activities to a class schedule. You may also fill out the description of a class by adding information about workout, location and trainer.
Armed with a detailed class description, club members should have no problem in finding the spot where the class takes place. They will also be aware of what kind of exercises they will be performing outdoors and what they should take with them if needed.
Utilizing full capacity of outdoor classes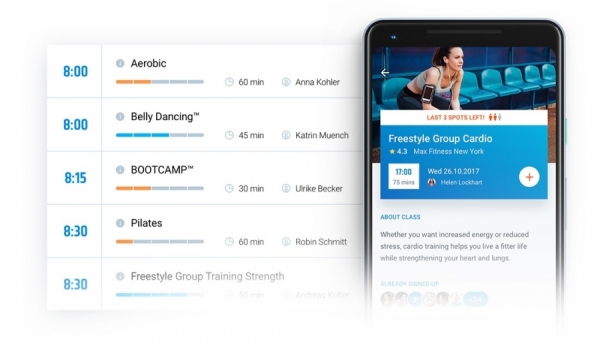 Outdoor activity space, for example, a city park, can host more participants than a fitness studio. Still, it is important to set a limit for the number of club members per session. By doing so, you are able to make sure that a fitness instructor can devote enough time and attention per participant.
To make sure that a class is full, you may introduce a waiting list so that club members who did not have a chance to sign up for a class can still participate if someone else drops out.
Checking attendance
To increase a sense of accountability in attendees, trainers may check which club members showed up for a session. They can do this by using a digital attendance list on the management platform.
Promoting outdoor activities 
Once everything in the back-office is set and ready to go, it is time to promote your outdoor classes. To make sure that the right target audience learns about an outdoor class, you can utilize tags. Would a frequent HIIT class participant be interested in exploring outdoor HIIT class in a local park? There is a good chance they would!
Furthermore, inactive club members, who used to be active fitness class attendees before Covid-19, may be keen on trying outdoor classes. They might not be ready yet to come back to the gym's building. However, they will be happy to join the gym's community in exercising outdoors. They will feel safer than in the four walls of a studio.
You can use tags to send automatic emails, push notifications or text messages.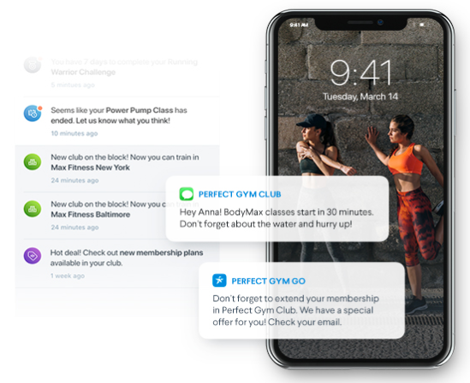 Ad hoc communication
Automatic messaging used for promoting a class will come in handy to inform participants about last-minute changes e.g. due bad weather conditions.
Engaging club members
To deliver more digital experiences to clients and let them play a part in shaping the offer of outdoor trainings, you may introduce:
Integrations with wearables - wearables and fitness applications are omnipresent. You may enable clients to combine using these applications with participation in outdoor classes.
Class rating - to be up-to-date with what club members think about the outdoor classes and improve the services they receive.
Goals -  to increase motivation in club members and introduce gamification factor.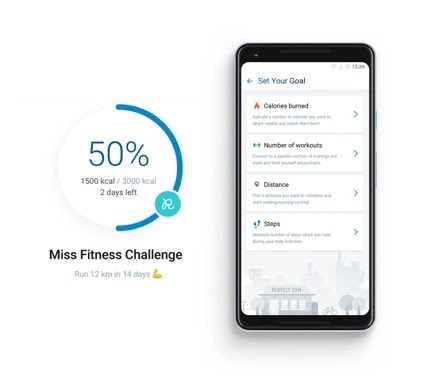 Closing Thoughts
In the ever-evolving world of fitness, outdoor fitness classes bring a number of advantages to clubs. They are an attractive way to keep the business running and have club members safe during Covid-19. Photo Credit: Dylan Gillis on Unsplash