Astoundingly, up to 50% of new members of fitness centres cancel their membership within half a year. Gym owners are obligated to have their fingers on the pulse to engage members and motivate them to train.
According to Statista, nearly 17 million Brits attended group exercise classes at least once a week in 2018. Small group training also found itself in the top 20 fitness trends from multiple countries in ACSM's 2021 Fitness Trends From Around The Globe.
The pandemic has changed how we approach group fitness; not everybody will feel comfortable going back to fitness classes operating near full capacity. Offering small group training will help facility owners to meet their customers halfway.
This article will give you the low-down on small group training, including the benefit's to gym-goers and for you as a business.
What is small group training?
Small group training sessions are essentially the same as personal training, but instead of being one-on-one, members work out in a group of ten or less under one trainer. It's a popular choice for many people because of its relative affordability and the fact you can train with friends. A small group training session consists of anywhere between four to ten people training together. It's best described as the quality of a personal trainer (PT), at a better price-point, with a small, like-minded community to share experiences and motivation.
Small group training is relatively fresh on the fitness scene, and its goal is to provide higher quality training than group classes. It allows the PTs to see that their clients will reach their goals safer and faster.
When seeing multiple people in a class, you may be forgiven for thinking it operates as a group fitness class. However, it is pretty different from regular gym classes because they're personalised for each participant. The exercises in a small group training session are tailored to each member's fitness and health problems, written and explained by the PT. The PTs act as a coach and help create nutrition plans to complement their group training sessions.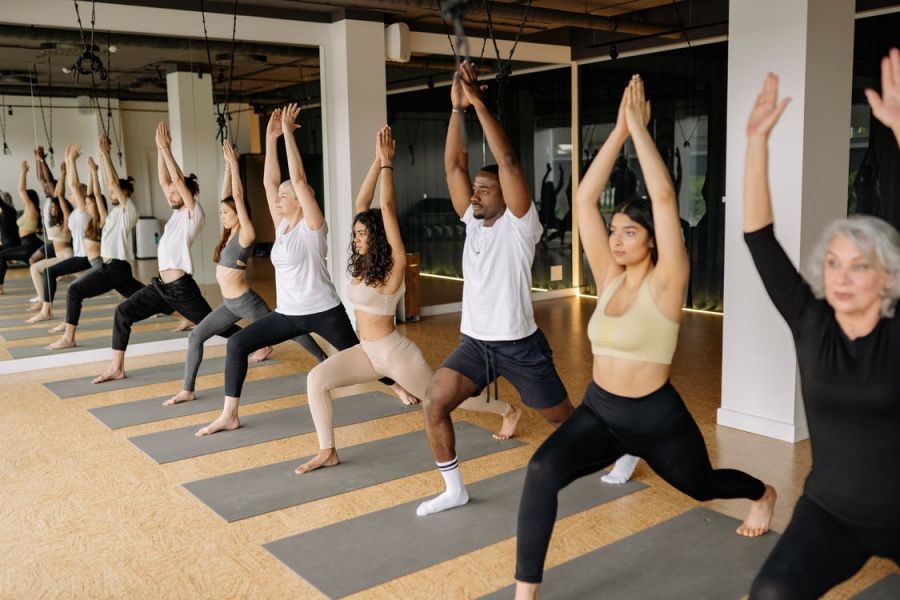 What is the framework of small group training?
Generally, an effective small group training program consists of less than ten participants. The instructor does not work out with the clients, unlike traditional group fitness classes.
A popular trend is large boot camps where high-energy instructors use high-intensity exercises to train their participants. The number of people can mask the instructor's knowledge, leading to negligence in personalised correction techniques. Sessions like this can provide a "hard" workout, but what does it matter? If it isn't part of something more meaningful to the client, you as a trainer have not provided any real or lasting change.
Small group training in groups of ten people or less is generally a fun social experience, and still intimate enough for instructors to retain a high-quality workout. Trainers can supervise the movement and make minor corrections along the way — the sign of a proper fitness professional.
Most small group training programs ideally last for around four to six weeks so members can see some visible results. This period is short enough for people to commit without schedule conflicts but still long enough to notice measurable progress. Sometimes, it may be better to run extended sessions. For instance, the timeline for a small group marathon training program could be eight to 10 weeks because preparing for this goal takes typically longer.
There are three general models of small group training: equipment-based, skill-based, or outcome-based.
Equipment-based small group training appeals to people who have preferences concerning the kind of equipment they like, such as kettlebells or suspension training devices.
Skill-based small group training is more for those looking for a targeted approach to individuals preparing for an activity or sport, such as kickboxing or mixed martial arts, marathon training, or ski conditioning.
Outcome-based small group training targets people looking for a specific physical result, i.e., weight loss, wedding preparation, fitting into "skinny jeans," etc.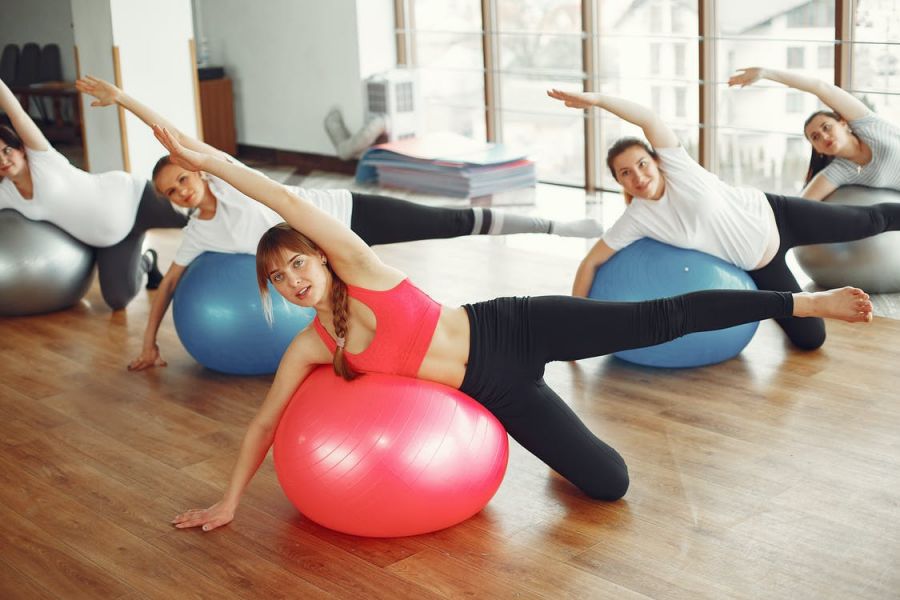 What benefits does a gym gain from offering small group training?
Ordinarily, small group training sessions last for several weeks. The intensity and exercises vary depending on each member's ability. Pre-pandemic, small group training sessions were typically conducted offline. But due to COVID-19, many gyms have pivoted to online classes, or a hybrid of in-facility and online classes.
As a gym owner, small group training can help you with the following points:
Increase membership retention rates
Keeping hold of members is something every gym owner needs to consider to survive as a business. If you can sustain a 5% increase in retention, you could see your profits grow between 25-95%. Commonly, members stop attending the gym because of personal commitments and pricing difficulties.
Hosting affordable group sessions can encourage your loyal members to train with their friends, thereby maintaining your cash flow. It can also reduce the risks of inactive memberships, and you may not need to go through exhaustive promotion drives during quiet periods.
Another strategy to drive membership is by using PerfectGym's Mobile App Referral Program. This integration allows members to send direct invites to friends or families on WhatsApp where they'll receive a discounted entry for making a referral.
An increase in profitability
Group training sessions can be more profitable for the business in the long run. By design, you have more people attending your gym and paying their fees in one go.
If your gym operates just with personal training sessions, PTs will be limited to training one-on-one for a portion of the day. Whereas if you host group sessions, you're able to offer the same PT but with several people at once, maximising your turnover of members in your gym.
Depending on your business model, think about offering flexible memberships to your members. With the ability to offer only SGT memberships, to full memberships that include one day of PT training, with PerfectGym customising memberships is super easy.
Helps to build a fitness community
A proper gym never allows its members to feel like just a number. The best gyms often have their "tribe" of members and employees who exist in harmony. It all starts with the staff.
Gym management software that enables you to make notes on members' likes, dislikes and training preferences can be a big advantage to break the ice. It can show members that you and your staff really care and listen.
Small group training sessions give people the chance to socialise while exercising and make your gym so much more than just a fitness centre. When members participate in these intimate group sessions, they will likely make friends with similar interests and develop a sense of belonging in your space.
Why? Because they're sharing something of a greater purpose amongst others. Additionally, a solid community can encourage newbies to want to experience it for themselves.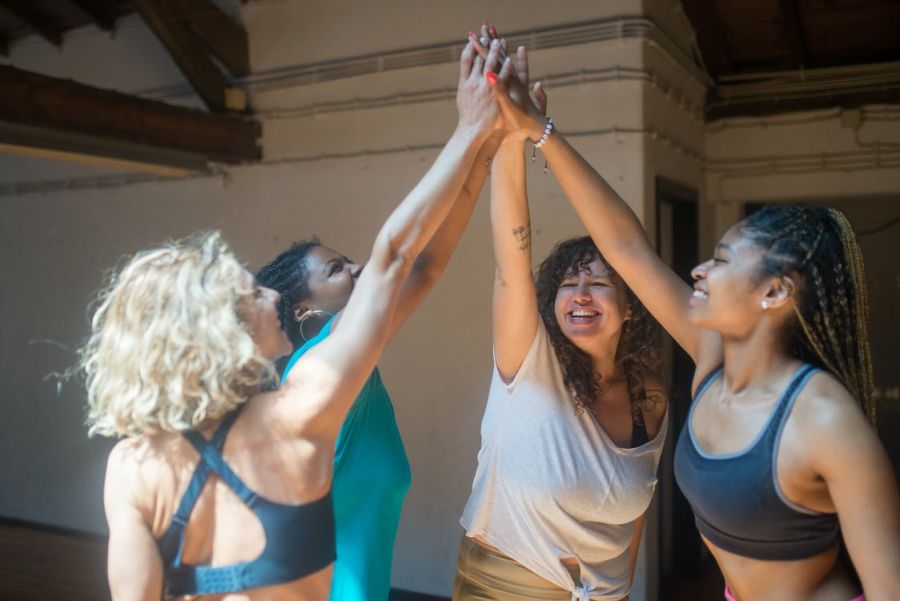 Stands out from competitors
To be on top of the game in the fitness industry, you're forced to innovate. One of the best ways to attract new clients to your gym is to have a diverse selection of services and fitness equipment. If your gym only offers classes and personal training sessions, it might look restrictive.
By offering small group training sessions, you could seem more inclusive to people from different backgrounds, allowing you to tap into a previously undiscovered market.
Creates a better environment
Others will want a slice of the action once you have an established community attending small group training sessions. Your fitness centre can become a happy place people enjoy coming to due to the physical, mental, and social stimulation. After all, smiling and happiness are infectious, and they can positively influence other staff and customers from enjoying the good vibrations.
Why not indulge in some shameless social media self-promotion of your fitness space's vibrant community environment to help attract new customers?
Encourages new members through versatility
Some people can attend the gym without problems, whereas others need a helping hand. Hosting personalised group training classes allows people who suffer from anxiety or nerves to feel assured by training with people they're comfortable around. 
With small group training, you don't need to worry about the type of sessions being held. Once you have your members' ambitions, fitness goals, and results logged, you can be versatile. Conducting tailored training to your member's goals online or offline is flexible and straightforward.
What benefits do members gain from small group training?
If you want to retain and recruit new members for your gym, all while improving the member experience, small group training is an excellent idea for many reasons.
They're better value for money
Gym memberships can be affordable, but a standard membership might not be enough to keep your members happy. Similarly, a personalised training session can be on the pricey side, discouraging some members from joining. A small group training session can be highly affordable — being somewhere in the middle.
More gym-goers will find that small group training sessions can fit in their budget and provide them positive results from their effort.
They're more individual and specific
In gym spaces, members are diverse and come from different backgrounds and a range of fitness levels. Members on the more inexperienced side may find it challenging to get results by just using standard equipment. At the same time, when attending group fitness classes, members are often exposed to different trainers and people each week, limiting their progress.
In small group training sessions, members have access to the same PT and specific, personalised plans. SGT classes are tailored to the participants' targeted areas of improvement, meaning there's a measurable and achievable goal put in place for everyone.
They increase personal accountability
The most burdensome thing in fitness is staying consistent. It is frequently a problem for all gym-goers. As opposed to a monthly gym membership, small group training sessions are usually paid altogether upfront. As a result, this pre-paid financial investment provides an added fiscal incentive to stay motivated and on top of training.
You'd hope there's more than just financial liability to motivate people; members will likely attend regularly due to the shared goals of their class peers. The additional support (also from their instructor) will make them feel more confident hitting their goals and continue training at your gym.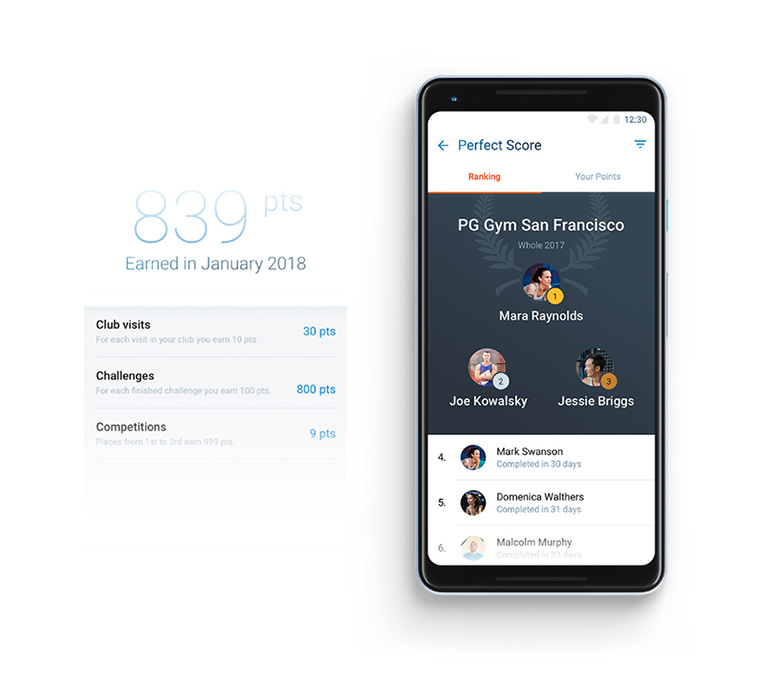 PerfectGym's 'Perfect Score' function is designed to help members stay motivated. Perfect Score is a mobile-app reward program where members collect points for achieving personal challenges that become progressively more challenging. They can also see how their score compares to other gym members.
They make fitness more enjoyable
Fitness is just as demanding physically as it is mentally. Fitness dictates that you have to plan your daily training routine according to your abilities and how you feel.
Members that have a busy professional life may not have the time to create a proper workout plan. A small group training program relieves the stress and pressure as the trainer organises it for them. All they have to do is turn up, work out and enjoy their training session.
The bonus of training with friends and achieving things together adds to the sense of community.
They are result-orientated
Group training sessions help keep gym members attending and putting in effort due to their outstanding results. The training sessions that the PTs conduct are scientific-based and designed to be customised to different fitness levels.
PTs track members' weights, dietary habits, and data regarding their fitness challenges. After few weeks, the instructors reflect on the member's progress, looking at the achievements and downfalls. This personalised, results-driven approach encourages members to keep attending and purchasing more sessions.
Conclusion
Small group training has a lot of benefits to you as a gym owner and also your members.
It helps you build a thriving community where members feel valued and are free to bond with one another. This community spirit eventually works for you because it can influence potential gym-goers to join.
In addition to this, small group training is inclusive, well-priced for members and most importantly, profitable for you, as you train many members in one go.
Most importantly, it emphasises your unique selling point as a gym, allowing you to have that extra edge over your competitors. If you haven't already, think about adding small group training to your services.