RaptorGym has been a Perfect Gym partner for over two years. Bartłomiej Żyguła, manager and PG Champion, delves into the cooperation and shares his experience of building a fitness brand in the Polish market. "I have worked with three different gym management systems so far. Perfect Gym provides a simple and intuitive interface with a wider range of functionalities to help businesses grow and satisfy customers."
Dive into this case study to discover how RaptorGym utilised the Perfect Gym system's capabilities to significantly enhance its business operations and performance.
Effective Marketing Campaign Led to 81% Increase in the Number of Members 
RaptorGym's 81% spike in club members results from carefully planned activities and strategies, which, supported by a modern club management system, has brought significant success. Primarily, the brand adopted an innovative marketing approach, blending online and offline initiatives. By engaging with potential customers face-to-face and leveraging the Perfect Gym Manager marketing capabilities, RaptorGym effectively expanded its member base.
Bartłomiej explains that "providing potential customers with weekly vouchers, granting them access to the club and the chance to enjoy exclusive member benefits brought in many new members."
The key to success in this case was the use of the Perfect Gym's Automation Module. This powerful tool enables RaptorGym to create intelligent and automated promotional campaigns along with generating personalised coupons and discount codes. As a result, the company was able to offer tailored incentives, run marketing activities effectively and track their performance. However, this is not the only aspect in which RaptorGym makes effective use of this module of the Perfect Gym system.
Image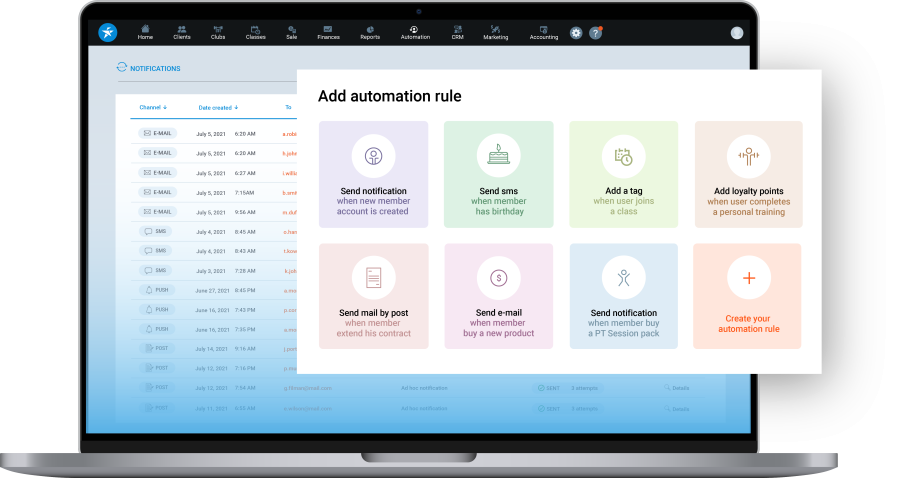 An Impressive 122% Visit Growth with Automation Centre and Referral Program
In the fitness industry, retention and keeping members active is a key element of success for sports clubs. Nurturing a strong and engaged community is just as important as attracting new customers. This is why many clubs are investing in a variety of retention strategies.
To achieve this goal, RaptorGym decided to tap into the potential of its club members and implemented an innovative referral system. "Perfect Gym enables us to build an amazing communication network. Our customers motivate each other, arrange joint workouts and recommend our gym to their friends."
Additionally, to ensure long-lasting memberships and maintain a high level of motivation, they use the Automation Centre to send relevant communication. Through personalised campaigns, activity rewards and a referral system, RaptorGym has achieved an impressive 122% increase in visits compared to last year.
Bartłomiej explains that "the ability to create promotions is crucial not only for attracting new customers but also for maintaining loyalty and re-engaging former club members. By utilising database filters to identify individuals without active memberships and sending them personalised emails or SMS with exclusive offers, we were able to inform these customers about our new promotions and re-establish connections with them. Thanks to the Automation Centre, we can also remind club members who haven't visited in a while that it's time to make a big comeback and lift some weights."
Image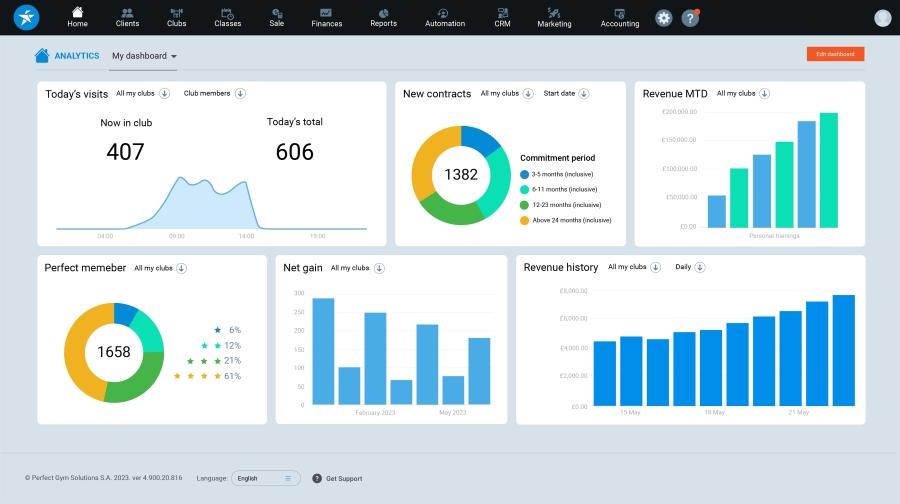 The success of RaptorGym in engaging its community is supported by the fact that 70% of members have earned the Perfect Member badge. This is awarded for commitment and regular visits to the gym. With a ranking system and the ability to set and monitor goals, the brand empowers its members to motivate each other and work towards happier and healthier lives together.
Image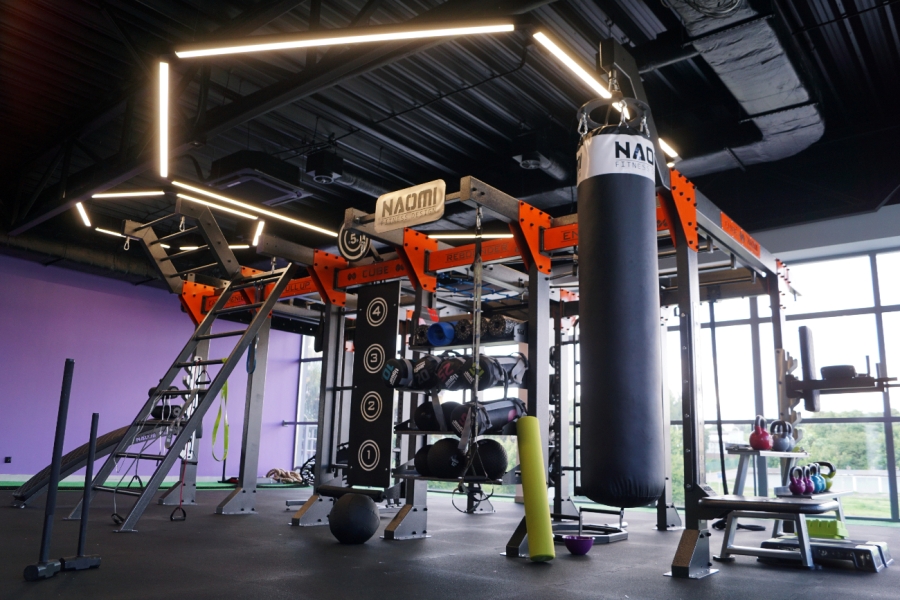 43% of Members Opt for Convenient Online Registrations
The ability for customers to register at anytime and from any device addresses the growing expectations of modern gym-goers. They look for more than just a place filled with fitness equipment. It should come as no surprise that nearly half of the new club members signed up via the user-friendly Client Portal when joining RaptorGym. This not only underlines the growing preference for self-management of personal data and membership but also demonstrates the need for fitness clubs to adapt to the ever-changing needs of their customers.  
Bartłomiej confirms that the ability to manage memberships independently, combined with a clear Client Portal interface, is not only convenient for customers but also has a significant impact on reception efficiency. Optimising time by reducing manual data processing allows RaptorGym's staff to focus on improving customer service, building brand experience and achieving the club's business goals more efficiently.
94% of Class Sign-ups via Mobile App
Image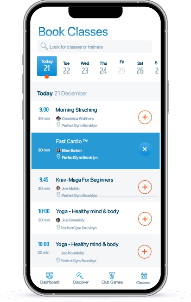 The PG GO mobile app provides club members with convenience and security. It allows them to manage all aspects of their memberships and easily book training sessions and group classes. They can also use the app's QR code to access the club without direct contact. For RaptorGym, the mobile app has proved to be a hit. A whopping 94% of group class registrations on the app underscore the critical importance of enabling customers to engage with the club on mobile.
"The app enables members to easily book classes, establish and track fitness goals, and make payments securely," confirms Bartłomiej. "It also provides convenient access to the club by allowing members to scan QR codes, eliminating the need for direct interaction with reception staff. This demonstrates how technology can enhance the experience of fitness club members."
Bartłomiej admits that the ability to manage all aspects of their membership on mobile significantly contributes to the high satisfaction levels among RaptorGym members. "Thanks to the user-friendly UX of the app and the Client Portal, members can manage their contracts on multiple devices. This is convenient for staff, especially during peak times when long queues form at the club's reception."
RaptorGym leverages the mobile app to maximise class capacity by ensuring that members remember about their upcoming classes. For Bartłomiej, "the ability to send push notifications via the mobile app enables members to receive timely reminders about their bookings, making sure that they never miss booked session or free up the slot early enough for another member to take advantage."
Perfect Gym's Payment Integrations Facilitated 71% Automated Billing
By offering customers convenient payment options, RaptorGym improves member experience and optimises staff productivity. Enabling users to safely link their debit and credit cards with their profiles and establish recurring membership payments streamlines administrative tasks and empowers members to concentrate entirely on enhancing their wellbeing.
69% of RaptorGym's members take advantage of recurring payments, allowing the membership fee to be automatically charged at the start of the month. As a result, the collection rate for July 2023 stands at an impressive 71%.
Image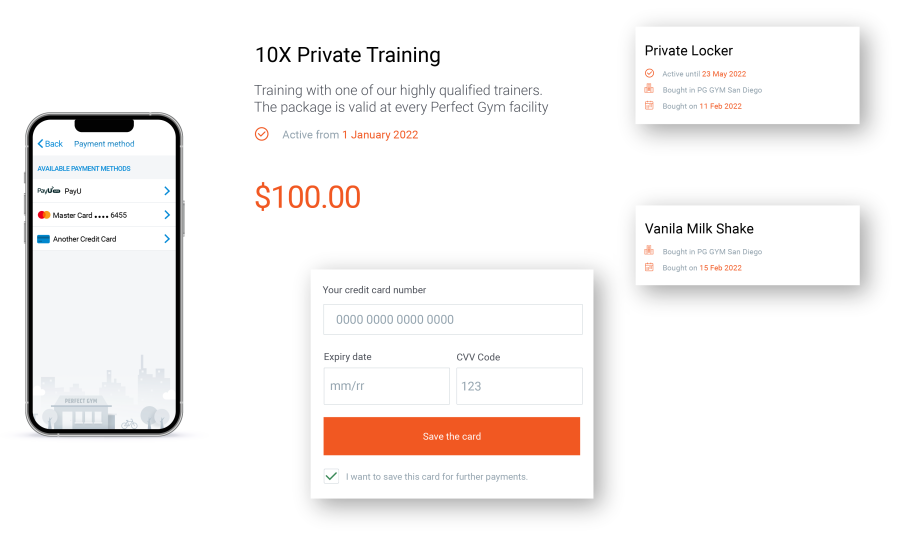 Bartłomiej admits that "the capability to link credit cards to an account and convenient payment integrations allows us to seamlessly collect debt from club members' accounts, which is suitable for us and our members. Additionally, the auto-renewal feature for contracts ensures a continuation of payments, allowing uninterrupted access to all club member benefits."
Concluding Thoughts 
RaptorGym's commitment to innovation, technology, and member satisfaction has not only fuelled the brand's growth but also created a strong and engaged fitness community. With Perfect Gym's support, RaptorGym is well-positioned to make a substantial impact on the fitness landscape in Poland. Bartłomiej Żyguła, manager and PG Champion at RaptorGym says their "goals for next year are to grow the company and motivate even more people to take care of their wellbeing. In the next five years, we plan to open two new facilities in Poland."
Do you want to scale your brand effectively? Schedule a free demo presentation and discuss with our expert how Perfect Gym can help you achieve better business results.