You may remember the days when there was an ongoing culture war on whether mobile phones should even be allowed in the gym, let alone if the club was going to encourage you to use one. 
But those times were different—people were having loud conversations during training, which doubled as an annoyance to others as well as a safety hazard to themselves.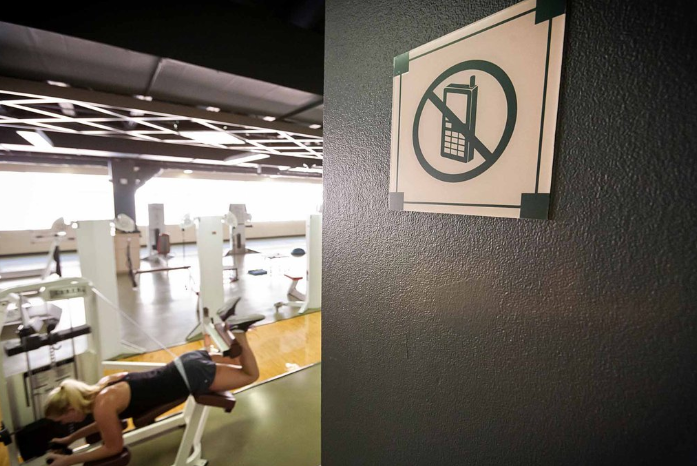 Then a lot of clubs not only wanted members to have their mobile app in the gym, but they also wanted them to be consistently interacting with it, using it to fuel their motivation and by consequence their workout. 
As time has gone on, the desired scope of that usage has focused into a desire for members to interact with your club's mobile app not only to help fuel their workout, but to also keep them engaged with the club overall, to keep them coming back. 
But what exactly are clubs doing to keep members engaged?
Here we'll go over 5 tips on how you can engage gym members with your mobile app. 
Club Games
If you're like me, you prefer to workout alone. 
Also, if you're like me, sometimes you need some 2nd party motivation to get into the gym and to push yourself. 
Where do you compromise?
With Club Games & Challenges of course! They have the dual benefit of allowing your members to get the extra motivation that's connected with competition without needing to rely on anyone else to workout with them. 
If you're using a mobile app that has these functionalities, then it's easy to set up club wide games within the gym to give your competitive members an extra motivational push. 
Image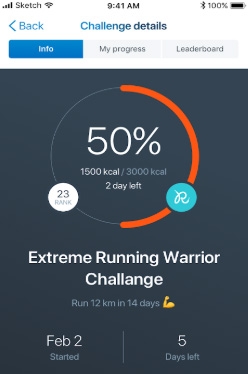 But what kinds of games will your gym members want to join? How will you engage them with things they actually like? 
You may not know it yet, but you probably have all the information you need in your club. 
First, you can see which classes are the most popular within your club. This information lets you know what kinds of fitness people most enjoy and what goals they're helping people reach (fat loss, muscle gain, toning, etc.). 
Then you need to implement some challenges or competitions which encompass similar benefits. benefits. 
For example, you can see that your treadmills are frequently in use. If you have Goal tracking embedded in your Mobile App, then you can create a Challenge for members to burn X amount of calories or run X distance in a week at the club. 
Your members are already doing these exercises, but the challenge or competition provides an extra layer of incentive if your members can see themselves on the leaderboard within the club.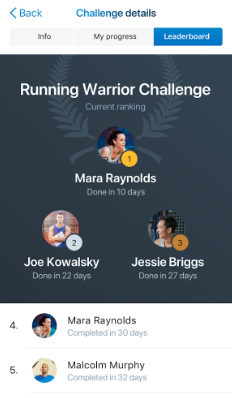 Another way to choose games is of course, the one-size-fits-all approach, in which you offer a variety of challenges to your members and see what they choose. 
Some games or competitions you might offer are who can:
Run the most distance in a specified amount of time
Run a 10k the fastest
Do the most reps of X exercise with Y amount of weight
Attend the gym 7x in a week for at least an hour
Refer the most friends or family in a month
From there, members can earn points and recognition for completing any of the games you set up.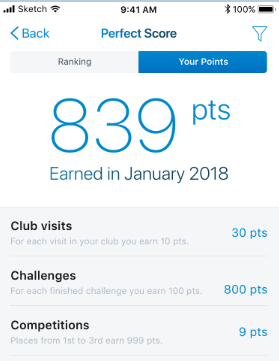 The amount of competitions and challenges you can implement are endless, but if you want to see widespread adoption, you'll need to reward those who participate and excel. 
Rewards
Everyone likes free or discounted things. When you couple that enjoyment with the prospect of getting fit, it becomes a win-win for everyone. 
If you've set up challenges or competitions in your club, you've already given your members the opportunity to showcase their results or progress on a large platform. 
But if you want to entice them even more, you can attach prizes to these challenges and competitions for participants who reach certain milestones.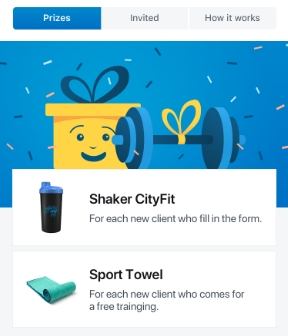 It's important to remember there is a direct proportionality between the difficulty of the challenge and the reward gained. 
For example, there is more to be gained from a business perspective for referrals coming in and buying a contract than there is if someone completes a 10k in 30 minutes. 
While the latter statement is a feat unto itself, it's better for the business' bottom line for new leads to be constantly entering the club. 
That's why you should equate the reward the with the value it brings your business. That means to not only reward the new lead with discounts or free stuff, but to reward the member at a proportionate rate. 
Motivation Notifications
Sometimes your members need a little push to get them into the gym on a day when they're thinking of skipping a workout. 
This is where your push notifications are crucial. They can be set up for a variety of functions like pushing deals, promotions or class reminders. 
But one very underutilized function is to keep your members reminded of their goals and to be the difference maker between a completed session and a skipped workout. 
You can automate push notifications to be sent for any and all kinds of situations. For example, if your member hasn't been to the club in a few days, you can send them a friendly reminder that you haven't seen them in a while and they should get back in to reach their goal.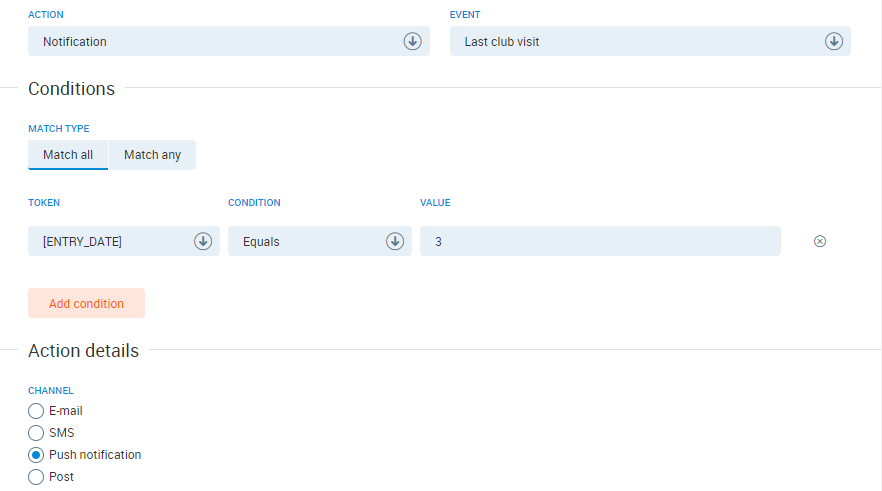 You can set these up at whatever intervals you choose, and your users will of course only be sent them if a visit hasn't been logged in the time you specify. 
We recommend A/B testing your messaging to see which messages get the most members to take the action you want. 
Reminders
People are busy. They have tight schedules and occasionally fickle memories. That's why you can keep them engaged with push notifications about upcoming classes, events, or offers in your club.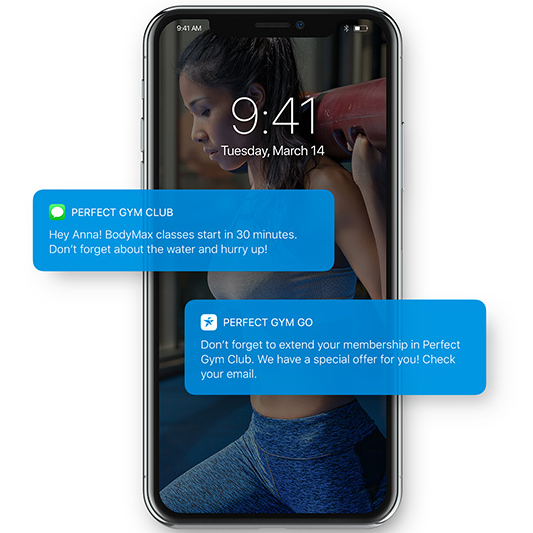 They are not only a good way to inform your members about their schedule or pending tasks, but to get your members to inform you by asking them to rate your trainers and classes. 
With just a quick tap on the screen they can give short star ratings and reviews and help you optimize your club operations. 
This also leaves members who haven't signed up for classes before with a good idea about how others have felt about them.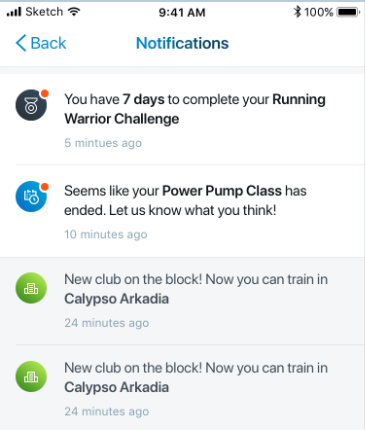 Whatever the issue is that needs action, you can automate these messages and have a nice flow of correspondence and updates ready for all of your members at all times. 
Think of the possibilities! 
Goal Tracking
It's embedded somewhere as a fundamental truth in fitness; without goals, clients are much more likely to stop working out. 
That's why it's an absolute necessity to have goal tracking within your club's mobile app or at least integrate with an app that does. 
Whether it's to hit a new personal best for squats or run a mile in under 7 minutes, there needs to be milestones that clients can work towards.
Goals help clients stay on track with progress they can not only visualize, but can feel as well. Weekly calories burned targets, for example, are a good way to ensure that members are getting into the gym the requisite amount of times to hit that goal.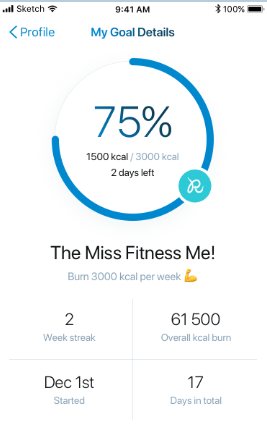 When clients state goals in the app, this can feed directly into the classes you recommend they take as well as assist in profiling for product recommendations and special offers. 
Members can also join challenges and competitions in the gym to help reach these goals. These help give them a variety of options not just on how to get fit, but to try out different methods and exercises. 
Conclusion
We've gone from a time where Mobile Apps were considered taboo objects inside gyms to their almost universal adoption as a way to connect with members in and outside of the gym. 
With a mobile platform that can engage your members in the ways described above, you'll not only retain their business, but you'll encourage them to take action in your club and help reach their fitness goals. 
But with every goal that is reached, a new one needs to take its place. Always be encouraging and challenging your club members to reach new heights.