As a swim school teacher, your schedule can sometimes look pretty hectic. Along with teaching swimming lessons, you also supervise children, herd classes from the locker room to pool, deal with the concerns of worried parents and motivate and soothe the fears of your students.
It can be tempting to skip proper swimming lesson planning and focus solely on conducting lessons, but doing so will only make your life harder as a swim school instructor and hinder the development of your students in the long term.
Image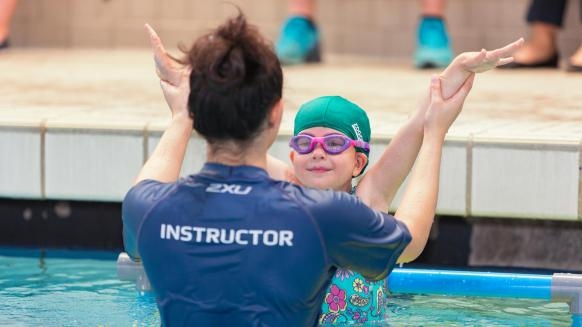 Instead, make a little time in your schedule to create effective swim lesson plans. Having a series of swimming lesson plans in your teaching arsenal will help lessen the pressure on you and your teachers as well as lead to:
Higher student motivation
More word-of-mouth referrals
Better assessment process
This article will give you tips and ideas on how to produce an easy swimming lesson plan. You will learn:
The optimal swimming lesson plan structure
Time management tips
How to choose effective swimming activities
Swim lesson games conducive to your lesson objectives
Creating swim lesson assessments
Swimming Lesson Plans Structure
Well prepared swimming lesson plans are a major factor in determining the effectiveness of your teaching. Creating lessons on the run can lead to gaps in swimming knowledge, disjointed teaching and confused and demotivated students. 
Image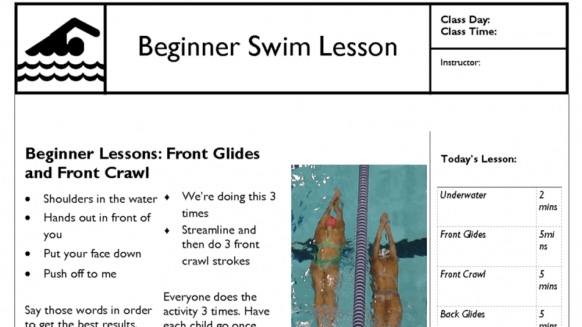 Having a lesson plan template in place before you put pen to paper will save you a lot of time planning. In addition to this, using the same lesson template and structure consistently throughout your school will also help make lessons more efficient because as time goes on, student and teachers will become instinctively ready for each lesson segment. By planning your swimming lessons in advance, you can estimate the class duration better and eliminate the issue of your classes running late.
At it's most basic form, a swimming lesson plan should contain: 
Lesson objective introduction/recap of the previous lesson 
Swimming skill development, including games, activities and teacher demonstration 
Lesson close/assessment
The time duration of each segment
Specific swim objectives should relate to what you'd like the direct outcome of your lesson to be. The most effective swim lesson objectives should be challenging, realistic to learn in the given time, and accessible for the skill levels included in your class. Having a clear cut lesson objective will also make assessing your students easier later on.
Image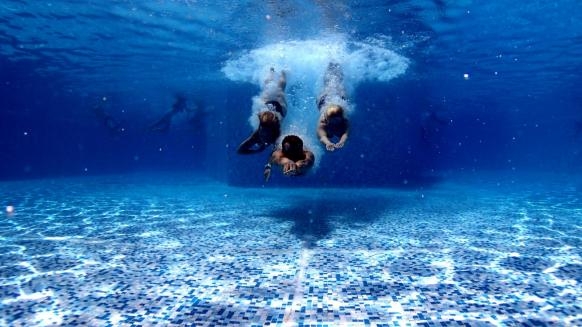 Clear objectives are the foundation of a productive swim lesson, as it helps keep your teaching efforts focused and also gets students in the right mindset for the challenges they will conquer at the start of the lesson. Having a clear goal in mind for each lesson can help push a swim class' motivation higher. 
A bad example of a swimming lesson plan objective:
To be able to breaststroke.
A good example of a swimming lesson plan objective:
To be able to demonstrate the breaststroke for 10m, unaided by floats, in shallow water.
Your end-of-lesson assessment is also a major factor for any swim lesson. By evaluating your students' skills, you can find out how well they have reached the lesson's objectives. This will provide the basis for the planning of the next swimming lesson. 
In addition, having classes or individual students who consistently fail their end-of-lesson assessments will highlight issues in skill-level-class match or teaching style. Having this knowledge makes improving your swimming lessons much easier, too. 
Time Management for Swimming Lesson Plan 
You should also include time in your swimming lesson plan for:
Communicating lesson goals: As the ignition for any swimming lesson, carve out some time in your plan for this, this will help you think more concisely about the way you communicate this goal to your students, to ensure the class does not run over its time. 
Adding a time buffer for questions, rules, and discipline: To reduce any surprises or hasty swim lesson activities, you should add a buffer time in your lesson plan. When things do change in your class, you can remain calm, knowing your class time will not need to be rushed, making for a much more effective teaching style and better student performance. 
Planning Effective Swim Lesson Activities 
The meat of any swimming lesson will depend on the activities and tasks you plan for your students in advance. To really maximize the time you have and the learning retention capabilities of your students there are a few criteria you can think about when choosing which swimming activities will be most effective in achieving your lesson objectives. 
Image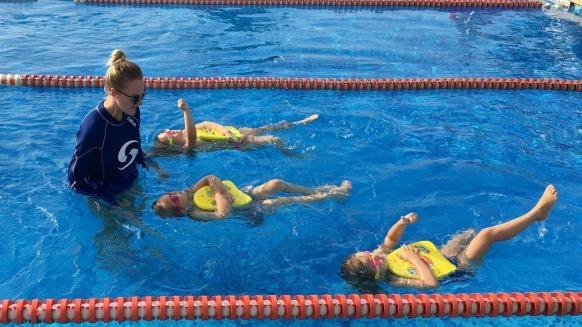 Develop Confidence
Ask yourself, will completing this task help my students develop their confidence with swimming? If the activity is too easy, or similar to other tasks they perform, students will not feel challenged. 
When writing your lesson plans, try to think up activities which will be new and difficult to overcome. Once your students manage to complete the activity, they can move onto the next part of the lesson feeling accomplished and have more faith in their own abilities. 
However, when it comes to swimming lesson planning, it is important to acknowledge that each student is different. While every swimmer-to-be needs to be challenged to gain confidence, the nature of the challenge may vary from student to student. 
With the activity segment of your lesson plan, try to select swimming tasks which respect and accommodate the differences between your students. The difficulty of the activity you choose requires some thought to get right. Creating a task too difficult will have a negative, demotivating effect if students can't finish the task. As a safeguard, ensure there is an easier modification of the activity to ensure all confidence-levels can complete the lesson. 
Have Fun
To keep your students fully engaged throughout the lesson, the swimming activities you plan should add a degree of fun to your lesson. Of course, this will vary on how old your students are, but never underestimate the effect fun can have on a learning a particular swimming skill. 
Image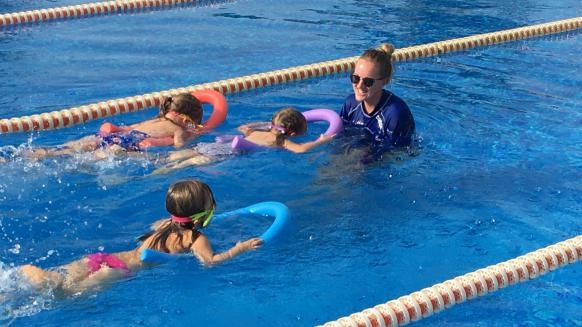 For the more unwilling members of the class, adding a fun game can draw them into the class and help members forget the physical effort of swimming. Fun activities are a great ice breaker for all classes, helping build a more open relationship between instructor and student. As a teacher, you need your class to feel like they can approach you to help them fully with their swimming lessons.  
Improve Interpersonal Skills
In your swimming lesson plan, try to choose activities which will give your students a chance to interact with one another. For younger students, this helps them develop their interpersonal skills, which are hugely important in later life. 
On a broader scale, adding swimming activities with which your class can interact with each other means your class can progress, help and support each other. Learning how to swim can be very daunting and isolating, which is why it is important to plan swimming tasks that will foster a 'tribe' spirt in your class.  
Image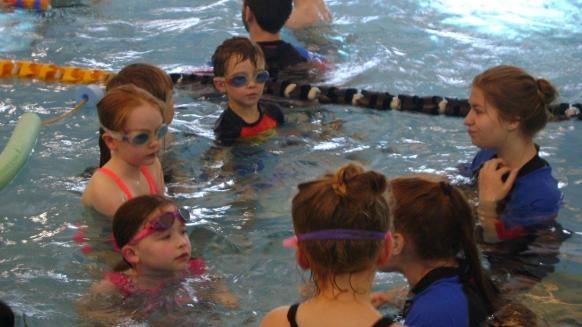 Improve Fitness
Adding activities which help elevate the physical fitness of your students can be just as important as teaching them swimming skills. Working a little by little on their fitness will ensure your students will be strong enough to complete water safety and survival courses and go on to accomplish more advanced swimming challenges. 
Swim Games: Why they are Important In Swimming Lessons 
Swimming lesson plans should also include a segment of time dedicated to game time. This time does not have to be exhaustive, but it should be included. 
Games play an important part in developing water confidence and the skills necessary to master swimming. In addition to this, adding games to your lesson can inject some healthy competition in your class and promote teamwork as well as covertly allowing an opportunity for students to practice multiple swimming skills at once. 
Image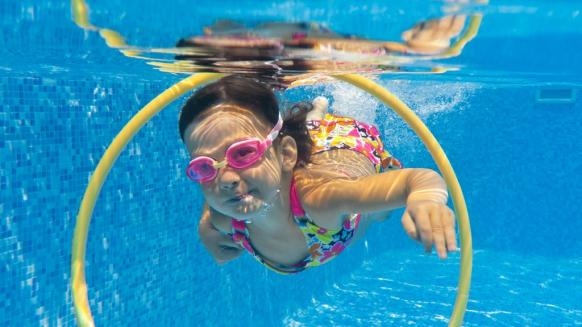 When students focus on the game, the swimming skills they use to participate start to become second nature, helping students increase their swim progress without realizing. 
For the best learning results, you should have a range of fun activities incorporating skills including floating, submerging and kicking. 
Pro Tip: Games make a great 'warm-up' or 'fun finish' and ideally only require a few minutes of each lesson.
As well as being fun, the best swim lesson games will be: 
Simple and use little or no toys 
Age-appropriate 
Relevant to learning the swimming skills being taught 
Achievable and make students feel successful
An opportunity to provide a challenge for more confident students 
Image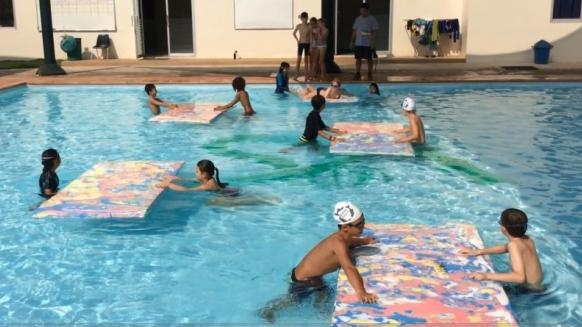 How to Create Effective Swim Lesson Assessments 
Along with clear lesson objectives, assessments are also an integral part of any swim lesson plan. 
For effective lessons and real student progress, you must track your class's performance. This will put you in a better position to give executable feedback on how they can improve their skills. 
Swim assessments are especially great for understanding a student's strengths and weaknesses, for the student, assessments present an opportunity to put their newly learned skills to the test in a controlled environment. Successfully passed assessments can heighten swim students' motivation and help push them harder in the following lessons. 
Image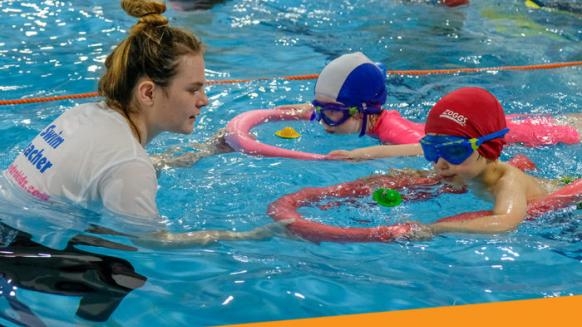 However, creating a fair and trustworthy assessment can be tricky to nail. Therefore, when you are planning your swim assessments you should follow these criteria. 
Valid: Your assessment verdict must be based on the skill level you saw during the entirety of the assessment, rather than only focusing on parts of the assessment.
Educative: Your assessment must relate back to the learning objective skill set at the beginning of the lesson. In addition to this, you should, after an assessment, be able to give clear and direct feedback about a student's performance.
Explicit grading: You should set a clear swim grading criteria by which you abide for each student. This way you can also easily explain where the student fell short in the assessment or where they excelled. Each time you have an assessment and give feedback, you should encourage the student to reflect on their learning and skills. 
Fair: Every student in your class should have a chance to demonstrate their skill at the end of the lesson. Assessment should be receptive to differences amongst students. 
Comprehensive: For swim grading to apply to a students' full ability, judgments about the final grade must be informed from a variety of tasks which have been repeatedly carried out over time. 
Swim school management systems are invaluable when it comes to tracking your student's scores. With a modern system, you can input each assessment score in your student's profile. This gives you the freedom to track and analyze the overall performance of your class. 
Having such a broad overview can also allow you to isolate the high performers from the weak swimmers, making grouping new classes a much easier task.   
Image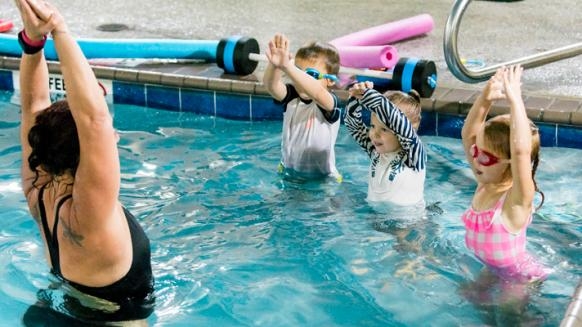 In a Nutshell…
Swim school managers should work with their instructors to carve out time to produce effective swim lesson plans. Forgoing such an integral aspect of swim teaching, in the long term can harm your swim schools reputation, hinder your student's swim progress and slowly increase your school's churn rate. 
Having one formula for swim lesson planning in your school will make your students' progress easier to improve and assess by ensuring that all instructors are on the same page when judging the aquatic skills of your classes.