The fitness industry is a vibrant and ever-evolving domain that encompasses a wide range of activities, products, and services aimed at promoting physical well-being and healthy lifestyles. It is pivotal in meeting the growing global demand for improved health and fitness.
In this blog post, we will navigate through the following key sections: an overview of the fitness industry, the latest fitness trends driving its transformation, compelling industry statistics, the influence of the COVID-19 pandemic, and provide insights into fitness demographics.
Whether you're a fitness enthusiast, a professional in the industry, or simply curious about the latest developments, this article will provide a holistic perspective of the latest fitness trends and statistics. 
Key Trends and Statistics Driving the Fitness Industry in 2023
An evergrowing global emphasis on health consciousness and the pursuit of an active lifestyle dictates that the fitness industry will continue to see stimulated growth and transformation over the coming years.
Despite experiencing steady growth in the past decade, with a nearly 30% increase from 2009 to 2019, the fitness industry has faced challenges due to the global pandemic. 
In 2019, global industry revenue totalled $96.7 billion worldwide. There were more than 205,000 clubs with over 184.6 million members (IHRSA).
Estimates indicate a decrease in market share from $96.7bn to $81.5bn in 2023, representing a 15.7% overall industry decline. However, niche sectors, such as online training and home equipment, experienced significant growth.
According to European Health & Fitness Market Report 2023, in Europe, there was an industry revenue of €28 billion with 63.1 million members attending over 63,830 clubs.
Image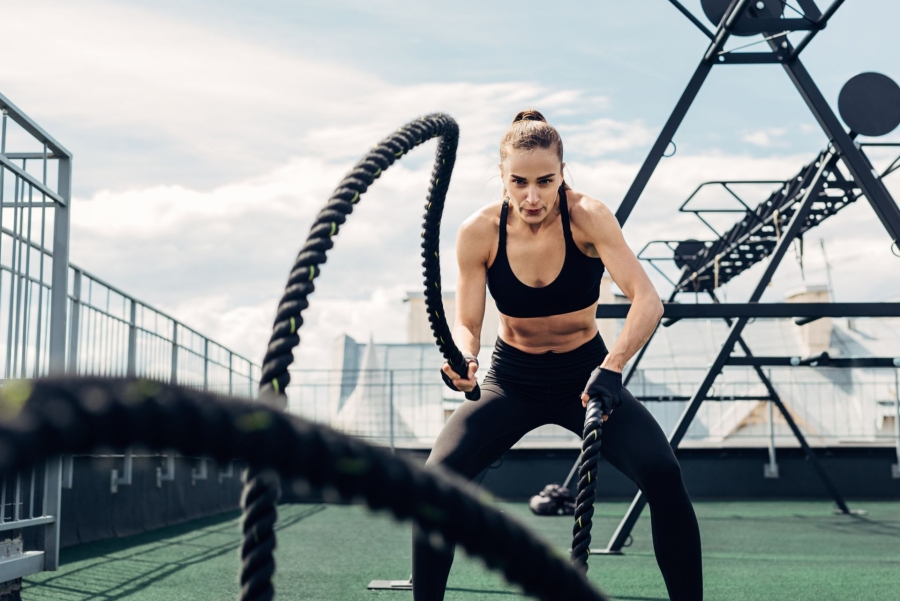 What are the Key Drivers Behind the Growth of the Fitness Industry?
One notable trend in the fitness industry is the increasing integration of technology and digital innovations. Fitness apps, wearable devices, and online fitness platforms have revolutionised how people engage with fitness and wellness activities. The accessibility and convenience offered by digital solutions have opened new avenues for individuals to participate in workouts, access professional guidance, and track their progress, regardless of their location or time constraints.
Moreover, the COVID-19 pandemic acted as a catalyst for the industry's digital transformation, as lockdowns and social distancing measures compelled fitness enthusiasts to seek alternative ways to stay active and engaged with their fitness routines. Virtual fitness classes, live-streamed workouts, and on-demand fitness content gained immense popularity, with fitness providers swiftly adapting to offer online services.
The fitness industry also embraces diverse exercise modalities and specialized training approaches to cater to the varied preferences of individuals. From traditional gym workouts and group fitness classes to yoga, Pilates, dance-based fitness, and outdoor activities, there are many options available for people to choose from based on their interests, fitness goals, and personal preferences.
Furthermore, the industry has witnessed a growing emphasis on holistic well-being, with an increased focus on mental health, mindfulness, and overall wellness. Fitness centres and studios are incorporating services such as meditation, mindfulness training, and wellness coaching to address the holistic needs of their clients. This shift recognises that physical fitness is intertwined with mental and emotional well-being.
TOP 23 Fitenss Industry Statistics You Need to Know
Millennials are considered the "wellness generation," with 79% of Americans aged 26-40 stating health as the most important thing in their lives, second only to family. For this reason, Millennials have caught the attention of boutique studios, wearable developers, and equipment manufacturers. (Sanford)
The projected fitness industry CAGR between 2021 and 2026 is 7.21%. As countries lift strict restrictions, the fitness world is getting back on its feet. The main driving factors for this industry are the growth of disposable income now that the job market is recovering, increased health awareness, and the possibilities for safe exercising on location. (Mordor Inteligence)
According to IHRSA, as of July 1, 2021, 22% of gyms and studios had permanently closed their doors. This number is likely much higher now as the pandemic raged on through the end of 2021 and equated to millions of job losses and billions of revenue losses. (IHRSA)
Post pandemic the industry decreased to approximately 200,000 clubs globally, serving 184 million members. Down from 205,000 in 2019. However, this data is restricted to health clubs only, so doesn't account for boutique studios, community recreation facilities, or gyms located in other venues such as hotels. (Wellness Creative)
44% of the fitness industry workforce lost their jobs in 2020. These fitness industry statistics are unfortunate, and the industry employee count dropped from 3.2 million to 1.8 million. This affected small-business owners as well, and with extended restrictions, some of these job prospects may never recover. (IHRSA)
The Asia Pacific region (APAC) is projected to experience the highest growth rate (CAGR of 8.1%) in the fitness equipment market by 2030. This statistic emphasizes the immense potential of the Asia Pacific within the fitness equipment market. (DataBridge)
Inflation accelerated remarkably across the EU in 2022. Sports goods and services were no exception. In 2022, the prices for equipment for sport, camping and open-air recreation grew much faster than in the previous years, with the annual rate of change standing at 3.8%, +2.5 percentage points higher than the year before. (Eurostat)
In 2021, 1.37 million people were employed in the sports sector in the EU, representing 0.7% of total employment. At the EU level, the number of people working in sport in the EU recovered after dipping during the height of the COVID-19 pandemic lockdowns (1.37 million employees in 2019; 1.31 in 2020). (Eurostat)
Image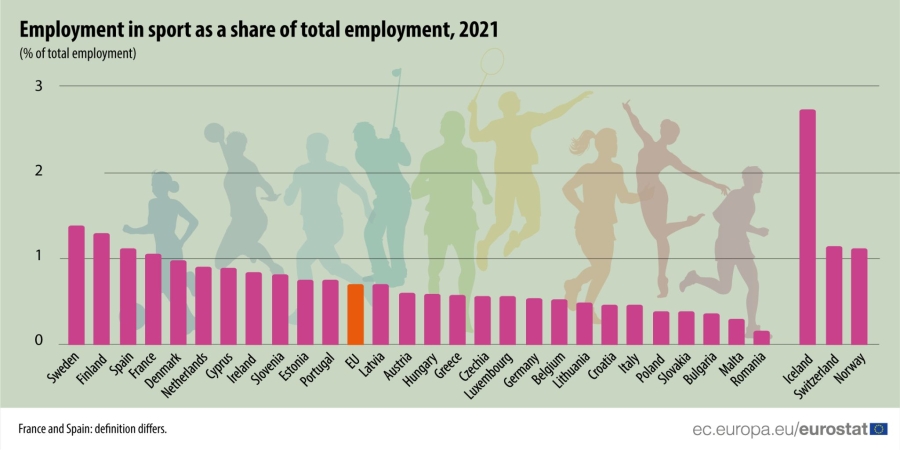 Millennials use fitness apps more than other age groups, with women using them twice as much as men. 46% want as much quantifiable data about their health as possible, and 54% are likely to buy a body-analyzing device. (Statista)
Global Pilates & yoga studios market is expected to grow at a CAGR of 10% from 2021 to 2028. This statistic is a testament to the increasing popularity of Pilates and yoga studios worldwide, indicating that the global fitness industry is on the rise. (ResearchDive)
Amsterdam has been crowned the world's fittest city. The city boasts the highest number of individuals who cycle to work, at nearly 46%, and a large number of gym fanatics, nearly 17.5% of the population. (Helsinki Times)
Norway and Sweden boast the highest proportion of avid gym-goers globally, with 22% of their respective populations regularly attending gyms. Following closely behind is the United States, with 21.20% of its population engaging in regular gym visits. (Helsinki Times)
Regarding the number of gym members, the United States, Germany, and the United Kingdom take the lead, with 64.10 million, 11.66 million, and 10.39 million members respectively. These countries also recorded the highest revenues within the gym industry in 2019, as reported by RunRepeat. The United States secured the top spot with a staggering revenue of 35.03 billion dollars, while Germany and the United Kingdom generated approximately 6.17 billion dollars each. (RunRepeat)
Recreation and sport government expenditure per inhabitant was above €200 in six EU Member States in 2018: Luxembourg (€500 per inhabitant), Sweden (€254), Finland (€226), France (€204), the Netherlands (€202) and Denmark (€201). In contrast, the lowest recreation and sport expenditure per inhabitant was recorded in Bulgaria (€11), Romania (€30) and Slovakia (€31), followed by Lithuania (€35) and Croatia (€39). (Eurostat)
Image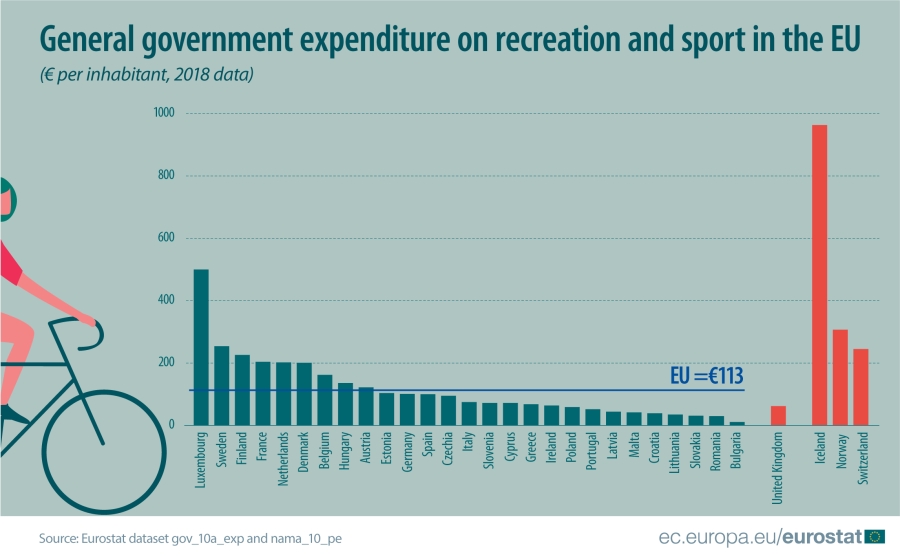 38% of Europeans play sport or exercise at least once a week or more, while 17% exercise less than once a week.  Up to 45% of Europeans never exercise or partake in physical activity. (European Commision)
In a typical week, just 20% of the EU population exercised for up to 2,5 hours, 14% for between 2,5 and 5 hours and 18 % for 5 hours or more." (European Commission) 
Image
Among gym members who actively use their membership, 63.3% go to the gym at least twice a week, while 16.34% go to the gym at least once a week. (Finder)
12% of all new gym memberships happen in January. (IHRSA, 2020)
Most gyms lose 50% of their new members within 6 months. (IHRSA, 2020)
8% of male gym members and 14% of female members quit their gym membership after a year. (CouponCabin)
Member retention starts from the onboarding process. 87% of members who experience a positive onboarding process still remained active after 6 months. (IHRSA) 
The average length of gym membership lasts about 4.7 years. (Statista) 
Reasons Why Gym-Goers Continue Their Membership: 50% like their gym location, 45% received positive interaction with gym staff, and 38% like the equipment. (IHRSA)
Image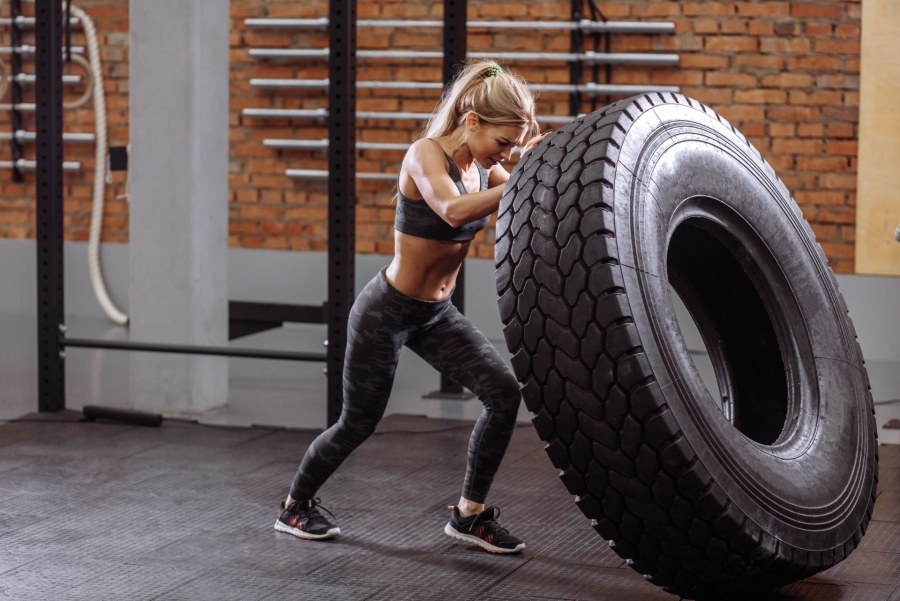 Fitness Industry Statistics by Demographics
Understanding the demographics of individuals who engage with fitness services and products is crucial for the fitness industry to effectively target its offerings and cater to the diverse needs and preferences of its clientele. Let's explore the gender, age, and geographic distribution of fitness enthusiasts and how these demographics have evolved over time.
Gender
The fitness industry has shifted towards greater inclusivity, with men and women actively participating in fitness activities. However, certain trends and preferences may vary between genders. According to the 2022 IHRSA Global Report, women constitute a larger share of gym membership in most regions, accounting for approximately 57% of gym-goers globally.
Age
Fitness is embraced by individuals of various age groups, highlighting the industry's ability to cater to a wide demographic range. The Eurostat data from 2022 indicates that physical activity levels tend to decline with age, with younger age groups being more active. However, there has been an increasing focus on encouraging physical activity among older adults, recognizing the numerous health benefits it offers. As such, fitness programs and facilities are adapting to accommodate the fitness needs of older individuals better.
Millennials comprise the largest share of fitness and health club members in the US, at 35%. Gen X and Baby Boomers are the next age groups that are frequent attendants of fitness and health clubs at 22% and 21%, respectively. Gen Z and the Silent Generation comprise 16% and 6% of all gymgoers. However, fitness industry growth statistics show that the last two are among the most growing age groups attending health clubs.
Geographic Location
The interest in fitness and physical activity is not limited to specific regions, with people worldwide prioritizing their health and well-being. The fitness industry's growth is evident globally, although regional variations exist. According to Statista, the Asia-Pacific region will have the highest fitness market value in 2023, followed by North America and Europe. This highlights the global reach and impact of the fitness industry.
In recent years, there has been a significant increase in the adoption of fitness activities and products among individuals of all genders, age groups, and geographic locations. The COVID-19 pandemic further accelerated this trend as people sought to maintain their fitness and well-being from home. The accessibility and convenience offered by digital platforms have broadened the demographic reach of fitness services, making them accessible to individuals across diverse locations and lifestyles.
Businesses must consider these demographic factors when designing fitness programs and marketing campaigns to create more tailored and inclusive fitness experiences that resonate with individuals across genders, ages, and geographic locations.
Top 10 Trends In The Fitness Industry In 2023
The fitness industry is driven by emerging trends shaping how people engage with fitness and wellness. In this section, we will explore the latest trends sourced from leading fitness authorities and discuss the future trends that will likely influence its trajectory.
Wearable Technology
Wearable devices, such as fitness trackers and smartwatches, have become increasingly prevalent in the fitness industry. These devices enable individuals to monitor their physical activity, track metrics like heart rate and calorie expenditure, and set goals for their fitness journey. 
Wearable technology has long been the top global trend since it was added to the 2016 survey, save for 2018 when it was #3 and 2021 (#2).
Image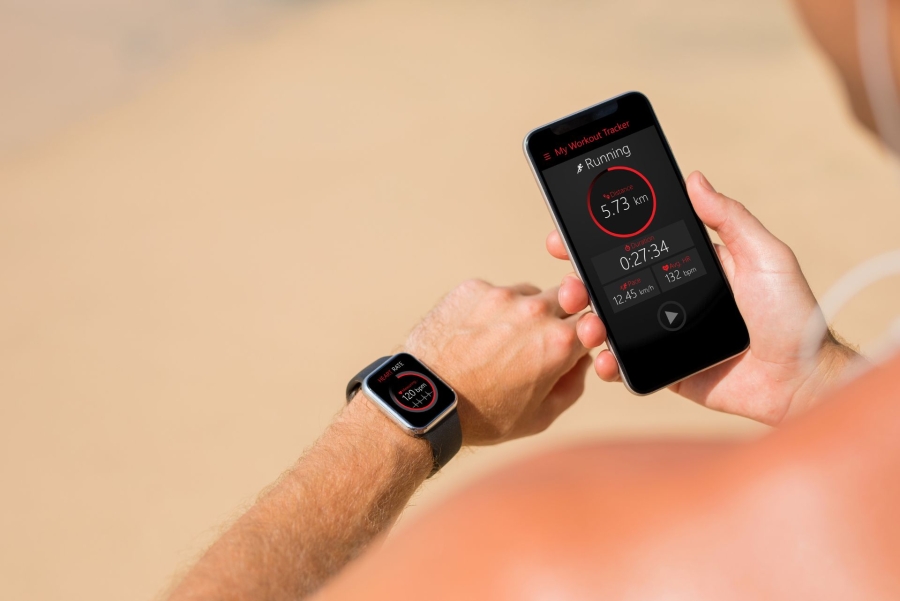 Strength Training With Free Weights
Free weight strength training focuses on improving or maintaining muscular fitness using barbells, dumbbells, kettlebells, and other equipment. 
In terms of popularity, training with free weights ranked #4 in 2020, dropped to #8 in 2021, and then climbed back to #4 in 2022.
Body Weight Training
A combination of multiplane body weight and neuromotor movements with body weight as the primary resistance defines this trend. Body weight training uses minimal equipment and space, making it an inexpensive and functional exercise method. 
It appeared for the first time on the trends survey in 2013 (at #3) and was #2 for 2017, #4 for 2018, and #5 for 2019 before dropping to #7 for 2020 and then rebounding to #3 for 2021. Although bodyweight training has been around for a long time, it did not appear as a survey trend option before 2013 because it only became popular (as a defined trend) in gyms worldwide within the last decade.
Image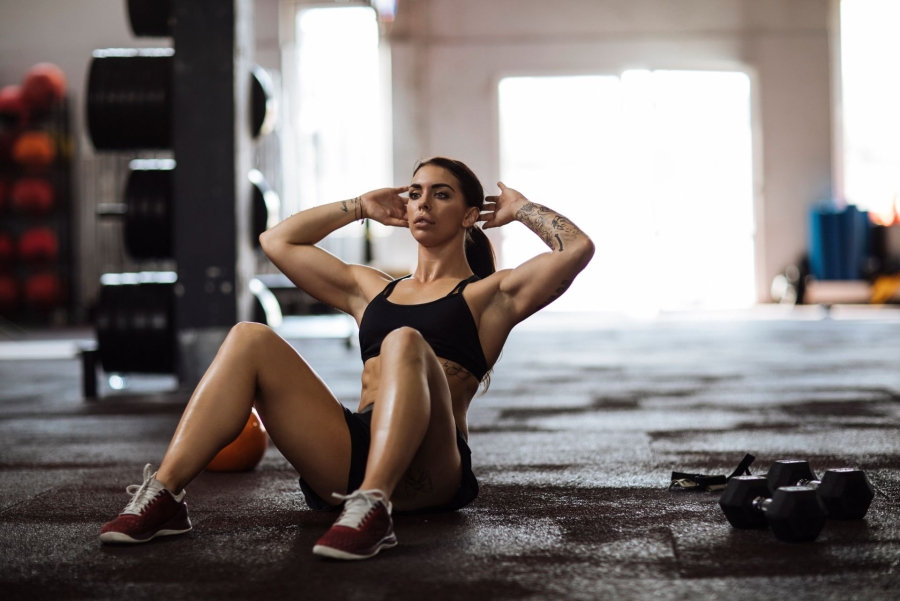 Fitness Programs For Older Adults
This trend emphasizes and caters to the fitness needs of the baby boomer and older generations. People live longer, work longer, and desire to remain healthy and physically active. 
This trend returns after being in the top 10 in 2007 (the #2 trend) and dropping to #11 in 2017. The baby boomers (and older generations) have more discretionary money than their younger counterparts do, and fitness clubs may be able to capitalize on this growing market. Changing the atmosphere (including lights and type of music) of gyms to be more older generation friendly during the traditional slow times of the day is a trend that is catching on in commercial clubs.
Boutique fitness studios have gained popularity recently, offering a unique atmosphere and a strong sense of community. Home workouts were also heavily popularised as the COVID-19 pandemic further accelerated this trend. 
At-home training experienced a significant surge, jumping from the #26 position in 2020 to claiming the top spot as the #1 trend in 2021. However, as the world gradually returns to pre-pandemic social interactions and exercise routines, online training subsequently declined to the #9 spot in 2022 and further dropped to #21 in 2023.
Outdoor Activities
The popularity of outdoor activities (including group walks, bike rides, hikes, and more) has seen an upswing, possibly driven by the COVID-19 restrictions and the desire for open-air experiences. In 2021, outdoor activities ranked #4, and in 2022, it climbed even higher to #3. Participants gather in local parks, hiking areas, or bike trails, often led by designated leaders. The trend of offering outdoor activities by health and fitness professionals emerged in 2010 when it ranked #25 in the survey.
Functional Fitness Training
Functional fitness training is another popular trend in 2023 that focuses on improving balance, coordination, functional strength, and endurance to enhance activities of daily living. Functional fitness training primarily targets older adults but is also applicable in clinical populations, emphasizing strength training to improve balance, coordination, muscular strength, and endurance for daily activities.
Image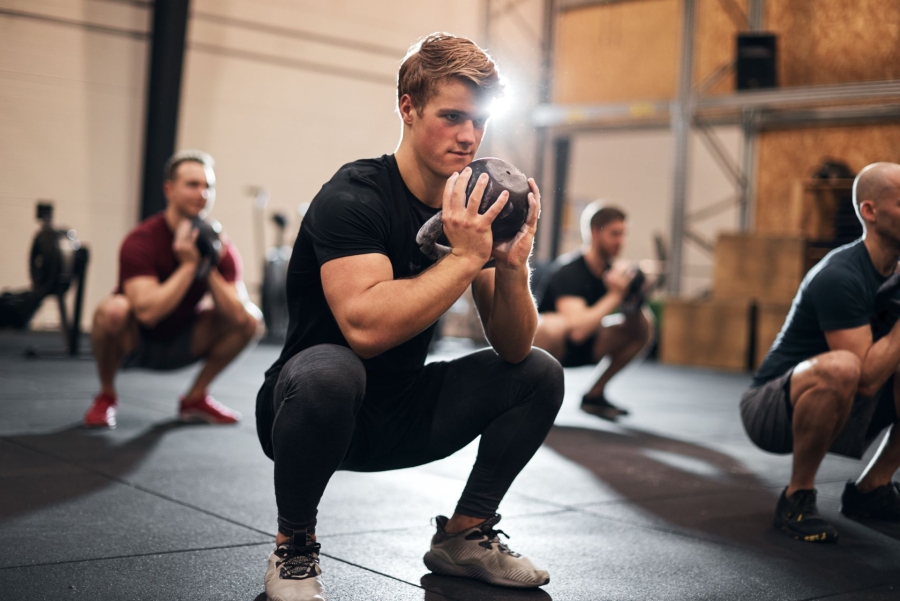 High-Intensity Interval Training (HIIT)
Last year, HIIT fell out of the top five rankings for the first time. It had previously held the top spot in 2014 and 2018 but now sits at number seven. HIIT sessions can involve various exercises such as dumbbells, cycling, bodyweight workouts, and stair climbing.
Exercise for weight loss
Weight loss programs combined with exercise have consistently been among the top 20 trends. In 2022, it held the fifth position but has now slipped to eighth place for 2023. The resurgence of this trend in 2022 may be attributed to the quarantine measures imposed due to COVID-19, leading to perceived or actual weight gain. Many diet programs recommend incorporating exercise into daily routines to account for the calories burned through physical activity.
Personal training
Personal training has consistently been a popular trend since the survey's inception in 2006. Although it reached the third position in 2008 and 2009, it has now settled at the tenth spot. One-on-one training remains strong as personal training becomes more accessible online, in health clubs, at home, and in workplaces. Personal training involves fitness assessments and goal-setting, with trainers working closely with clients to design tailored workouts based on their individual needs and objectives.
Looking ahead, the industry's focus on holistic well-being, mental health, and self-care is expected to gain even more prominence as individuals prioritize comprehensive wellness in their fitness journeys.
Image
From Crisis to Innovation: Impact Of COVID-19 On The Fitness Industry
The COVID-19 pandemic had a profound impact on the fitness industry, disrupting operations, challenging business models, and transforming the way people engage with fitness and wellness activities. As governments implemented strict measures to control the spread of the virus, gym closures, social distancing guidelines, and restrictions on indoor activities significantly impacted the traditional fitness landscape.
Closures and Financial Challenges
Gym closures and the temporary cessation of in-person fitness classes and services were among the most notable consequences of the pandemic. The shutdowns disrupted the revenue streams of fitness establishments, leading to financial challenges for many small and independent fitness businesses. According to a IHRSA, the impact on the industry includes 1.5 million jobs lost until December 2021, 20.4 billion dollars in lost revenue, and 25% of fitness clubs and studios closed in the same period. 
Swift Digital Adaptation
To adapt to the challenging circumstances, fitness businesses swiftly embraced digital solutions. Virtual fitness classes and online training platforms became the new norm, allowing fitness enthusiasts to continue their workouts from the safety of their homes. This digital transformation helped many fitness businesses stay afloat and retain their client base during the pandemic. According to a Statisa, the number of health and fitness app downloads globally increased by 46% in the first half of 2020. 
Image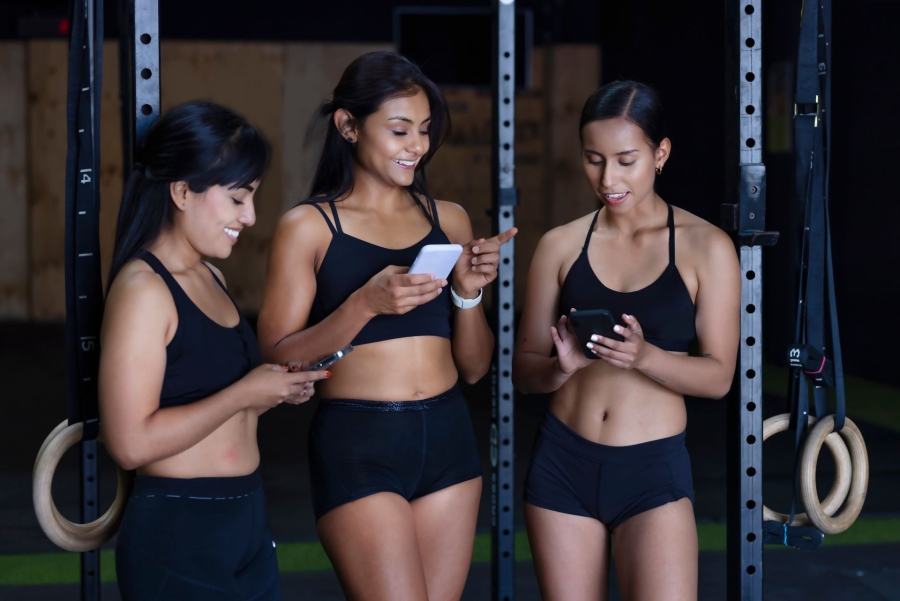 Rise of Hybrid Models
The pandemic also accelerated the adoption of hybrid fitness models, where fitness centres and studios offered a combination of in-person and virtual services. This hybrid approach allowed businesses to cater to both local clientele and a wider, geographically diverse audience. The increased reliance on technology and virtual platforms may have long-term implications for the industry, as it has expanded access to fitness services beyond traditional brick-and-mortar establishments.
Surge in Outdoor Fitness Activities
Social distancing measures and health concerns led to a surge in outdoor fitness activities. People turned to outdoor workouts, such as running, cycling, and outdoor group fitness classes, to maintain physical fitness while adhering to safety guidelines. The pandemic highlighted the importance of outdoor spaces and their potential for fitness and well-being activities.
Lasting Implications and Future Outlook
Looking ahead, the COVID-19 pandemic is likely to have lasting implications for the fitness industry. Consumers' increased familiarity and reliance on digital fitness platforms may continue even as in-person activities resume. Hybrid models that blend in-person and virtual offerings may become more prevalent, providing flexibility and convenience for individuals.
Furthermore, the pandemic has underscored the importance of health and wellness in people's lives, leading to a greater emphasis on preventive healthcare and the pursuit of active lifestyles. The fitness industry is positioned to support individuals' physical and mental well-being as they strive for better health outcomes and resilience.
Conclusion
In conclusion, the state of the fitness industry in 2023 reflects a dynamic landscape filled with challenges and opportunities. The COVID-19 pandemic has undoubtedly left a lasting impact, forcing gym closures and necessitating the adaptation of fitness businesses to new norms and social distancing measures. However, as the world gradually returns to pre-pandemic interactions and exercise activities, the industry is witnessing a resurgence.
The industry statistics reveal the global scale and growth potential of the fitness industry. With increasing revenue, a rising number of facilities, and a significant workforce, the fitness industry continues to thrive. Notable trends have emerged, such as the popularity of virtual workouts, wearable technology, and community-minded exercise. These trends, along with the focus on mental health and self-care, reflect the broader health and wellness movement driving growth in the industry.
Overall, with ongoing innovation, adaptability, and a focus on meeting the diverse needs of fitness enthusiasts, the industry is poised for a prosperous future. Possessing a strong foundation and a commitment to meeting the changing needs of consumers, the fitness industry is well-positioned to embrace the future and contribute to a healthier and more active society.