Wearable fitness technologies
Wearable fitness technologies are becoming a new norm. For example I know more people who own a wearable than those who don't. So it didn't shock me when I saw that the Global Wearable Technology Market is valued at approximately USD 28 billion in 2019. The trend is not stopping anytime soon, as it's predicted to continue to grow by 15.51 per cent in the next six years.
Wearable tech or 'wearables' are electronic devices that are worn as an accessory. They track users' physical activity, such as steps taken, calories burned or even workout intensity. So, wearables contain a wealth of data about their users activities and overall health condition. The most common wearable fitness technologies are fitness trackers and smartwatches. But what's the difference you may ask?
Fitness trackers are intended to help their users understand their daily activity. They allow users to measure how long they train for, their average heart rate and how long they've been sat down for. Users can sync their fitness tracker with another device to see any patterns or trends in their activities. They range in models from the most basic ones like a belt or shoe clip to wristbands or bracelets. The most common fitness tracking tech is Fitbit with 16 million devices sold worldwide as of 2019.
Smartwatches are devices that can be synced with users' smartphones, whether it be an iPhone or an Android. Users can check their notifications without having to pick up their phones. What's more, the majority of them also offer the same capabilities as fitness trackers. Members can track their sleep pattern, active time or track heart rate. The models available depending on the user';s phone model. With 7.6 million worldwide shipments, Apple Watch is the most sought after fitness technology for iOS. Samsung is behind Apple with 2 million shipments of wearables.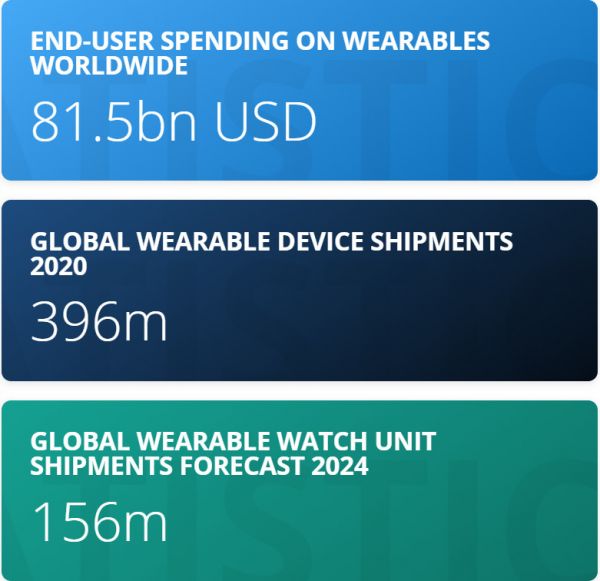 Why is it important to integrate fitness technology with your gym?
Your members are results-oriented, if they don't see results, they can become demotivated and leave. To keep them motivated you need a fitness tech that will track their progress for them. These small devices know their users better than the users know themselves. This is why you shouldn't underestimate their power.
Wearable fitness technology tracks members' workout progress, monitors their heart rate and provides a post-workout summary. This will not only hold the members accountable but also give an insight into their fitness journey. This makes it that much easier to create a tailored fitness plan for them that will guarantee results. As members begin to see results, they become more involved in their fitness and are more likely to become loyal to your facility.
UFIT Personal Training, New Jersey, wasted no time at the opportunity of using wearable technology at the studio. "My clients definitely feel more accountable when wearing a heart rate monitor or other forms of wearable technology. This is especially true when they are doing workouts on their own. The technology helps them keep track of their progress." - Shawn Potocki, UFIT owner.
Hard work...then smiles!! Patti Lyons Megan Lee Laine Ivan Santoro

Posted by UFIT Personal Training on Sunday, 22 December 2019
Main takeaway
As you can see wearable technology is here to stay. So, to digitally transform your gym do consider introducing fitness technology at your facility. It can help you stay ahead of the game, and take your business to the next level.
Smartphones and your club app
Whether an Apple or an Android it doesn't matter, we all own a smartphone which does a million things for us. If the phone can't do it, there is an app for it. This is why smartphones made it to our list. Some of your members may not be keen on splashing out a couple of hundred quid on the latest wearable fitness technology. But, they may have their smartphone and that's enough if you know how to use them.
How can mobile apps digitally transform your gym?
To stay on track on their fitness journey members can use the MyFitnessPal app. This app allows members to input the food they ate each day to keep track of their calorie intake. What's more, they can input the activities they did each day. The app then calculates how many calories they should be eating to achieve their goal. This will help members understand their eating habits and understand the basic food nutrition.
Don't forget about your club and your club's app. If the last year has taught us anything is that a club needs an app to prosper. Having members download and engage with your club's app will give you valuable insight. You will be able to market new services and keep your members up to date with club news.
Perfect Gym mobile app makes it easy to track workouts, their goals as well as class attendance and purchase history. With this information you will be able to optimise your member experience to ensure members stay loyal to your club.
Club Towers understands the link between customer satisfaction and retention. Happy customers are less likely to churn. Perfect Gym three-in-one integrated solution offers a unified member portal, mobile app and operating system. With this solution, Club Towers is able to send out personalised and tailored messages to their customers. They can also send reminders about upcoming events and classes. Such fitness tech strengthens the bond between members and Club Towers.
Main takeaway
Integrating smartphones and apps to your business plan can help you gain a better understanding of your members. It will give you a glimpse into their lives which otherwise may be hard. What's more, automated personalised messages can help you build a relationship with your members. This relationship can be the deciding factor between a member leaving or staying.
Look into the Internet of Things fitness
The Internet of things (IoT for short) redefines how devices and people interact and connect with each other. It technologically enhances fitness equipment to help members get the most out of their workout. Generally speaking, every type of exercise equipment has a smart version, from jump ropes to treadmills.
IoT is a hot trend that is gaining in popularity. Members' workout expectations are growing, as is their disposable income. So, the fitness industry is experiencing a shift towards more digitised fitness. In just 3 years the number of IoT health and fitness units sold have doubled.
The real-time analysis of your members' workouts can make your fitness facility stand out amongst the competition. It will help you optimise your members' workout, helping them achieve their goals quicker. The initial cost of smart fitness technology may be high, but long term benefits such as reducing staff.
What benefits can IoT bring to your business?
A studio in Moscow has introduced Pendex machines in their facility. Pendex fitness tech offers smart solutions that bridge innovation and fitness. Offering 12 different machines with sensors, AI-powered data processing units, mobile apps for coaches and customers.
Pendex is able to remember members by name, offering a more personalised approach even though it's fitness equipment. The fitness technology also offers tailored-made training programs. The biomechanical diagnostics and feedback-led training allow the machine to correct specific imbalances. Thanks to Pendex the Moscow studio is able to have one instructor supervise 20 personal training sessions per hour.
PENDEX | Simply Ingenious from Leisure Media on Vimeo.
Main takeaway
Introducing fitness technology like Pendex will come with a high cost. But, looking at the long term investment, it becomes clear that it will turn into profit. This is due to the sheer number of members you'll be able to serve at the same time and the quality of the exercise you will be able to offer.
Artificial intelligence is the new norm
Artificial intelligence (AI) refers to technology that is capable of processing information like humans. AI can range from simple customer tasks like class bookings, automated messages to more advanced settings like churn analysis. Machine learning is an integral part of AI. It is capable of analysing real data and learning from it, helping you run your facility better.
Why should you incorporate AI into your fitness facility?
Wearables are a great way of gaining insight into your members' lifestyles. But in reality, there is a wealth of information available to you at your fingertips if you have the right gym management software. Perfect Gym Solutions will help you gather accurate member data and with machine learning analyse it for you, producing easy to read raptors. With Perfect Gym you will be able to increase retention, reduce member churn and transform member data into actionable insight.
Main takeaway
To digitally transform your fitness facility you don't need to rely on external fitness technologies. You can also update your operating system to artificial intelligence which will optimise your fitness facility. It will give you the valuable data you didn't think you ever had. If you're interested in finding out more, request a demo and find out how Perfect Gym can digitally transform your facility.
Join the post-pandemic life with live-streamed classes
The pandemic has altered the way we work out. Many members have gotten used to working out from the comfort of their own home. It's estimated that "9 in 10 Americans who plan to return to the gym will continue at-home workouts". So, it wouldn't be such a crazy idea to offer live-streamed or on-demand classes along with standard memberships.
Using online platforms to build your club's social media presence by offering live-streamed or on-demand classes will help your club gain a wider audience. It will give users a feel for your gym, what the trainers are like and whether they can see themselves being part of your legacy. Publishing new content can create a buzz around your fitness facility, which can translate into more followers and members.
According to Global Market Insights, the Online Fitness Market has exceeded USD 5 billion in 2019. What's more, the market is expected to see a 30 per cent growth in the next 5 years. This is no surprise when we look at how much online content there is from 9.79M subscribers to Yoga with Adriene on Youtube and Michelle Lewin 13.8 Instagram following. That's not all, 72 per cent of fitness facilities are now offering some form of online content to their members.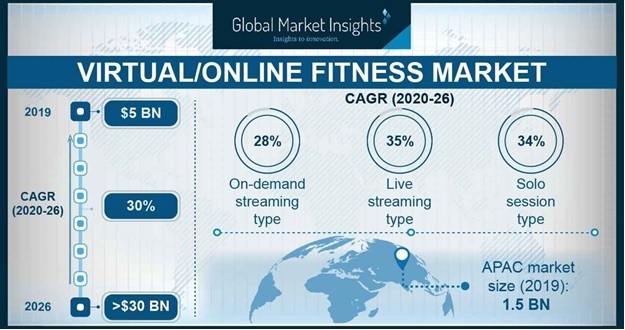 What are the benefits of all-in-one streaming platform
"Most of the fitness studios and gyms that we talk to, if not all, have made it clear that their online business is not just a band aid solution...but is a long-term safety net for their offline businesses, with or without COVID" - PJ Taei, Founder of Unscreen. 
If you decide to offer live-stream or on-demand content keep in mind your members will want easy access to it. Using platforms like Youtube, Facebook or Vimeo will require a lot of communication from your side with links and class schedules. This can result in your communication being filtered as spam. 
Perfect Gym's streaming platform, PGTV, will make publishing content online easy. Having a dedicated platform will reduce the number of communications sent to the members. Members will also have easy access to pre-recorded or live-streamed classes directly through client portal or mobile app.
Main takeaway
Digitally transforming your fitness facility can be easy. Catering to different member needs will show that your facility does care about their members. Not all members may return to your gym. By offering online content you are reaching out to them. This allows you to ensure that those who won't return still stay loyal to your fitness facility.
Virtual reality is gaining popularity
Virtual reality fitness is innovative technology that immerses users in a virtual workout environment. Depending on the experience chosen the member can be expected to throw punches or play an epic arena. The main benefit of introducing virtual reality to your fitness facility is that it will make working out fun. Members will immerse themselves in the virtual reality fitness tech and forget they are working out.
Virtual reality gym, is it even possible?
Black Box VR, is a virtual reality gym operating in 6 locations across the USA. Members can choose from virtual resistance training, HIIT, cardio and gaming workouts inside a VR castle defence experience. By integrating VR with gamification members get sucked into virtual reality and forget they are working out. This increases member engagement and leads to more visible results.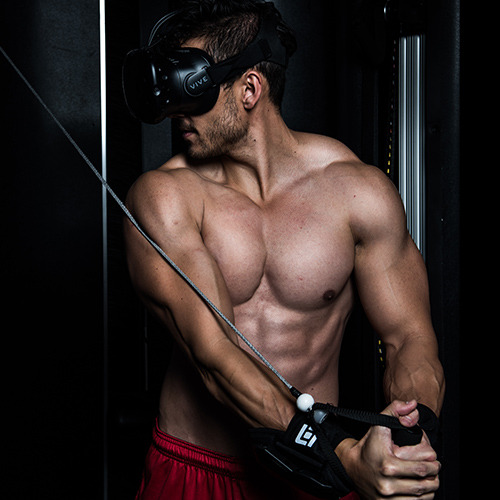 Main takeaway
In the 21st century, the sky's the limit. Almost everything is possible, especially within the fitness industry. Virtual reality will definitely digitally transform your facility, making it stand out from your competitors. It will make working out fun, getting members to workout for longer and harder resulting in better results.
Les Mills - an example of a fully integrated ecosystem
All these elements are important on their own but when integrated together they take your club to another level.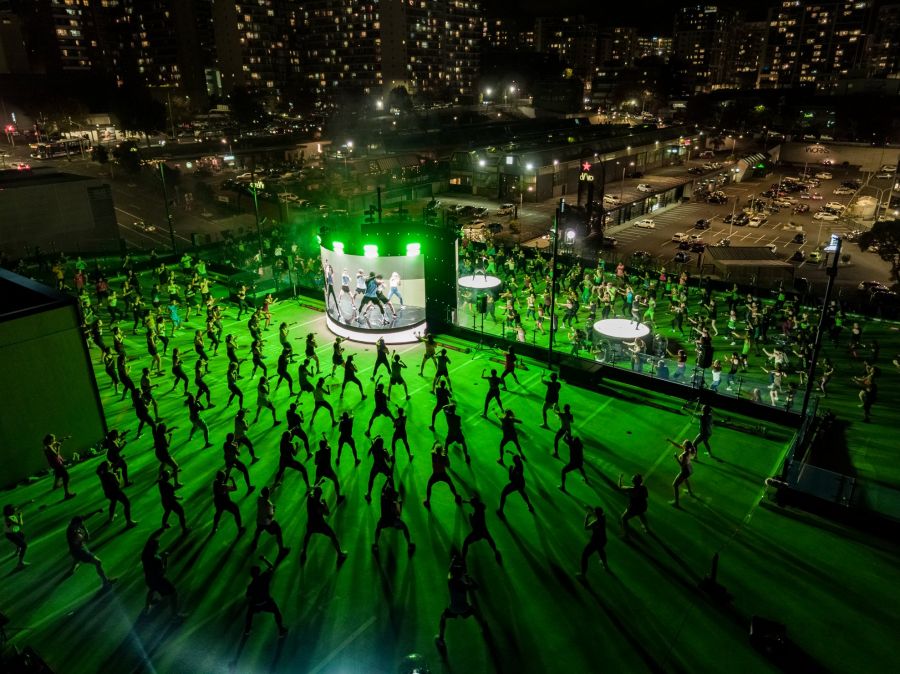 If you're still not convinced have a look at Les Mills. Les Mills is an all-in-one fitness facility. They have clubs in 105 countries, offer at least four different apps, on-demand classes and IoT equipment. Since the pandemic they have stepped up their social media campaign, encouraging people from around the world to join their online classes. This has increased their presence and following, which is especially useful when some people are not planning on returning to gyms. By fully digitalising Les Mills has ensured that they will continue to be market leaders. 
Concluding thoughts
As a gym owner, you should consider digitally transforming your fitness facility. Technology is making its way into every aspect of our lives. It will also make its way into the fitness industry sooner or later. It's already slowly creeping in, so it's better to get ahead of the competition by digitally transforming your fitness facility now.