This post was written by guest author PJ Taei. PJ is the founder and president of Uscreen, an all-in-one video monetization and OTT platform that empowers video entrepreneurs and creators to monetize their content and build thriving businesses around their videos.
While the fitness industry is booming and generating over $27.6 billion in the US alone, it's not getting any easier to run a successful fitness business. Research shows just over 28% growth in the number of new clubs between 2008 and 2017. Although slow and steady, it's proof that opening and running a successful fitness business is no simple feat.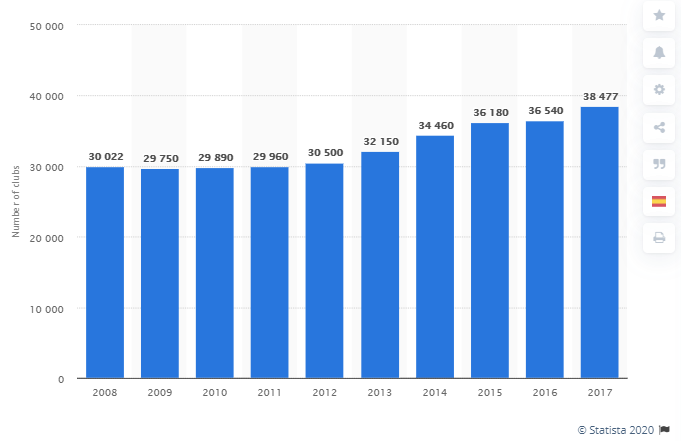 While more competition introduces challenges, that's not all fitness businesses have to contend with. Old struggles like attracting and retaining members are still very real. Especially considering the changing landscape of the fitness facility industry, finding new tactics for brand marketing and providing helpful content for your current member base is considered necessary to combat client churn.
But there is a solution at hand. Video marketing could be the answer. 
Why Video and Why Now?
Video has become the must-have content marketing tool. It was identified as the fourth most used content format by brands in 2019, showing that it's definitely in the arsenal of many a marketer.
And as a medium, it's perfect for marketing your brand. Video incorporates visuals, audio and allows for storytelling that's far more engaging than text. If you create the right videos for your fitness business, they act as sales and marketing tools that are available and working to grow your brand 24/7.  
Video is also everywhere. Did you know that Facebook receives over 8 billion video views per day, while Twitter gets over 2 billion?
And did you know that as much as 500 hours of video are uploaded to YouTube each minute? That's proof that more people and brands are using video as a viable marketing tool.
 If you're not using it to position your fitness business in front of a video-hungry captive audience, you're missing out on the opportunity to grow your brand.  Video content has established itself as a stronghold within the fitness world and  its digital online community. 
 In regards to the overwhelming popularity of the fitness segment on social media, fitness-based content continues to grow in kind.  This influx of fitness or health based video content available to the public has standardized it in terms of audience consumption. Audiences are likely to interact or respond favorably to video content produced by your brand. 
But how do you use video to grow your gym or fitness brand?
How Fitness Businesses can use Video to Grow
Like other content types, video is used to market a specific message to an audience. When used strategically, you can attract and retain members, and create more rewarding member experiences.
That said, you should see video as a tool for guiding members along a journey to achieving their health and fitness goals.
Video can be used to introduce people to your fitness brand and culture, share insights and thought leadership that positions your brand above the competition. In fact, video can also be used as an alternate revenue stream (more on this later).
By seeing video as a gateway to your brand, you'll be able to position your business as a real solutions provider. After all, while members pay for access to your facilities, they are actually striving towards a more personal accomplishment. 
Types of Videos You Can Create
If you're new to the idea of using video to market and grow your business, the following ideas will help ease you into this new space. As you'll see, video is versatile. It can be used in various ways to market your fitness business. 
Here are eight types of videos you can create to get your brand out there.
Get to Know Your Staff
While this may feel like an almost uncomfortable human experiment, it's more of a powerful brand-building exercise. Introducing your team to prospective members addresses one of the most common and undesirable experiences new members have when joining fitness clubs: meeting new people. 
With gym intimidation still being a very real concern for many before joining a gym, bridging this gap with available staff videos can help engender to member to your club
Transformational Gym created a very simple yet helpful video that showcases each team member. In their video, each member shares why they chose the fitness industry, what they specialize in and how they can help you.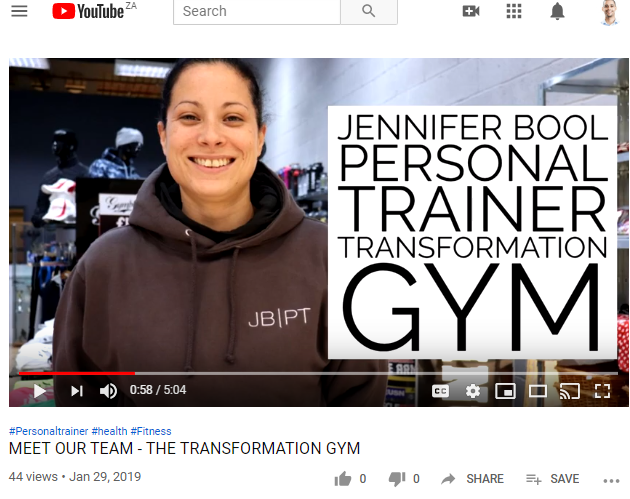 Tips from Your Team
Achieving fitness goals, like any other endeavor, requires planning. For gym members, generating results based on more than just the right workout routine. 
Diet, rest, technique and mindset are aspects of a well-planned fitness program. And when you consider that fitness clubs offer the facilities that help people accomplish their fitness goals, offering fitness tips makes sense. These videos can provide a fair amount of range in topics, you can detail how to use your specific equipment, promote specialized classes, or highlight club-wide challenges your member can get involved with. 
In this video, Athlean-X explores six mistakes they've seen beginner gym-goers make. It covers the importance of using a full range of motions, using too much weight, what lazy training is and why it's detrimental to your progress, and more.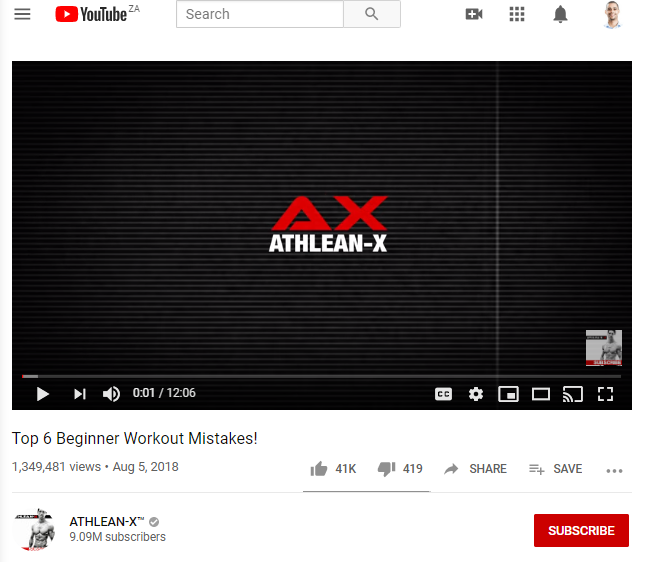 Show Off Your Facilities
Joining a new gym can be daunting, especially if you've never set foot in one. Creating a walk-through of your facilities is the perfect solution. It shows prospective members exactly what your gym offers, what your gym looks like, and more. These videos can be especially helpful in terms of identifying niche or respective type of fitness facility. 
For example, for any style of gym (traditional, budget, boutique, etc), what can you offer to distinguish your classes or equipment from the countless other options nearby.  Video provides an platform to give prospective consumers a realistic account of what they can expect at your facilities that other forms of media fall short too. 
Showcasing facilities can also easily extend to introducing clients to classes. Weight training isn't for everyone, which is why various exercise classes are so appealing to members. But like most things, if prospects and members don't know what your class is all about, or how they can benefit from it, it's can be difficult to fill.
Barbell Brigade used their walk-through video to really show-off their gym. Co-owner Geo Kwan starts outdoors and shares a bit about where the gym is based. She explains how being in an industrial area is perfect because it allows Barbell Brigade to play music load, without complaints from neighbors.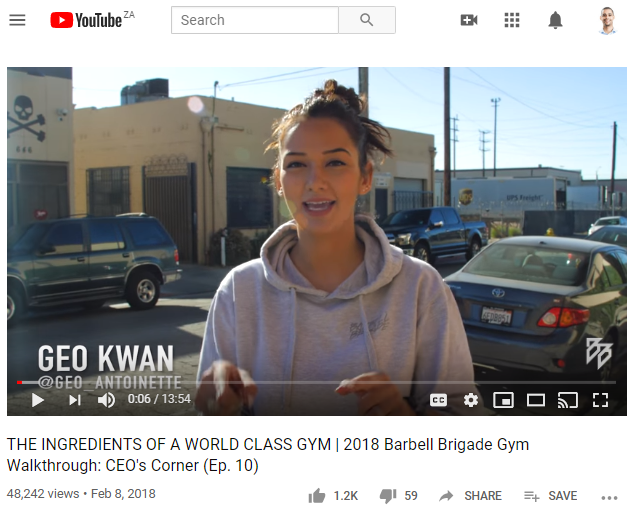 Highlight Reasons to Join Your Unique Gym
Fitness industry growth hasn't just meant that more traditional gyms are being established. Today, boutique fitness clubs are on the rise and they appeal to niche clientele looking for more personalized experiences. Additionally, gym models are constantly evolving or merging to create new excitng offers or variations of fitness.
How do you entice people to join your gym? Create a video that highlights what makes your establishment unique. This can be used to highlight an exact unique function or service of your gym!
Club Fitness has over 20+ locations throughout the US. While there are other gyms with national footprints, their video showcases their facilities (including a free kids club), equipment, team, and that each gym is employee-owned. If you're in search of a gym that's as welcoming and able to accommodate your kids while you workout, Club Fitness is sure to make your shortlist.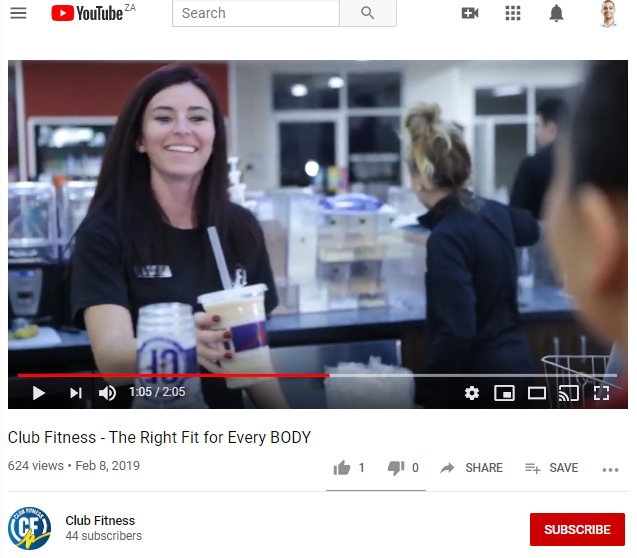 Testimonials
Testimonials are some of the most powerful forms of proof you can offer prospects. They are personable and highlight how your brand has helped people reach their fitness goals. Not only can these be great sources of motivation or incentive to come to your gym, but they also can be very impactful in fomenting relationships with your members. 
Client appreciation content can create a deeper sense of community many desire within a fitness club. Showcasing client success stories and fitness journeys can also encourage others to share their own stories, bringing more publicity to your gym.  
Take this testimonial from Marcia at Full Force Club. She shares her story and how Fusion Fitness is the perfect environment for her.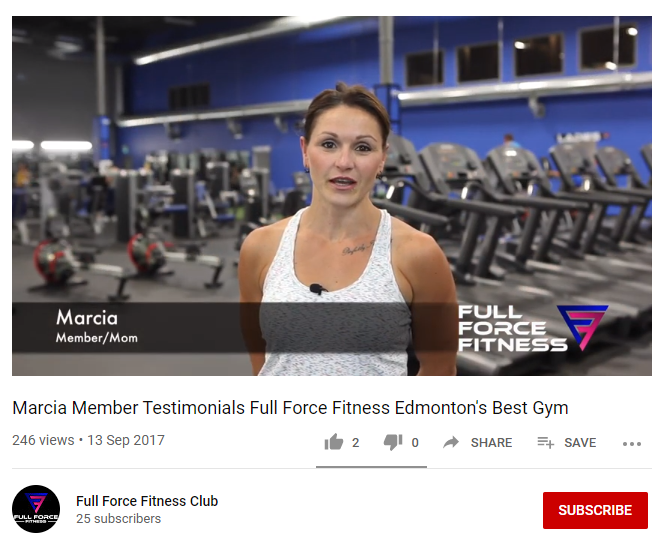 How to Use Equipment
Using equipment is another uncomfortable experience for new members. Often, a lack of education and a sense of alienation leads to poor decisions about form and technique and can lead to unnecessary injuries.
How-to videos go beyond just preventing injuries, they position your fitness brand as more resourceful. These videos can be further customized by using equipment specifically offered in your gym as opposed to just exercise movements alone. Members looking for instructions are able to easily gain what they need from you, and when part of a series, your how-to collection can win a large audience of loyal fans. 
David Duncan shares a complete workout with how to use various equipment. In it, he performs various exercises and narrates his workout. This is a relatively easy video to produce but can be helpful for many members.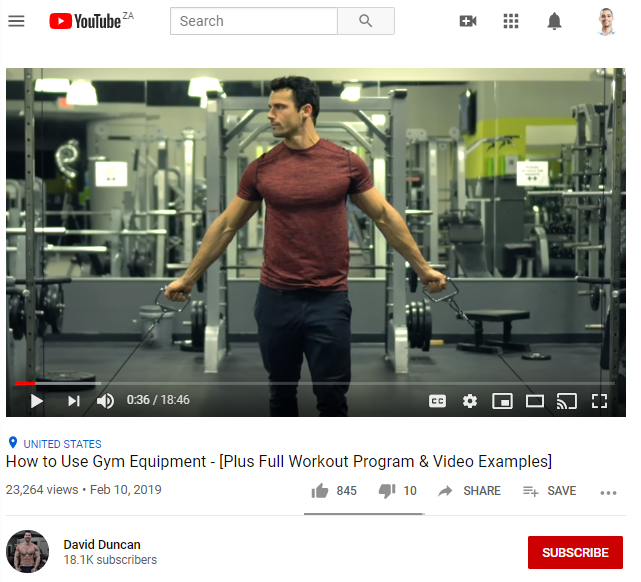 Personal Workout Videos
Like how-to videos for various types of equipment, personalized workout and class videos can give members and prospects an idea of what to expect from your gym. 
They also help make the experience of chasing a certain health and fitness goal more tangible because they can see what is required to generate results.
Personal workout videos can also be produced as a series and shot in-gym. This way, members can take their mobile phones to the gym and follow each exercise. They can also be used to create unique programs or challenges for your gym members to participate in and earn rewards for. 
Ashley Conrad's series of workout videos spans over 27 days. It covers everything from strength training to cardio and core exercises.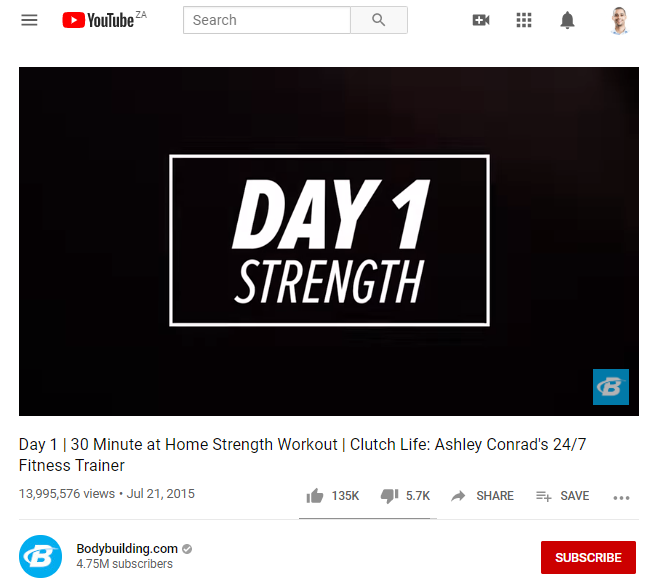 Using Video as an Additional Revenue Stream
Creating videos can be resource-intensive and time consuming, but the good news is that they get to live online for as long as you choose. The other good news is that you can also package your videos and sell them as fitness programs.
Today, the idea of launching a complete online business to make more money in the fitness industry isn't unheard of. Video-on-demand platforms offer services that allow fitness businesses to upload, market and sell videos to viewers from across the globe. Viewers are also able to watch videos on fitness OTT apps.
Shell Shock Fitness is the brainchild of Shellie Blanks Cimarosti. She's a sixth degree black belt and daughter of Tae Bo creator Billy Blanks. She offers specialized cardio kickboxing, strength training, standing bags, TRX fitness classes and personal training. 
While Shell Shock Fitness is a complete fitness studio, Shellie realised the potential of capturing an online audience. Today, you can sign up for a monthly subscription at $12.99 and gain access to a complete catalogue of her fitness and training videos on-demand.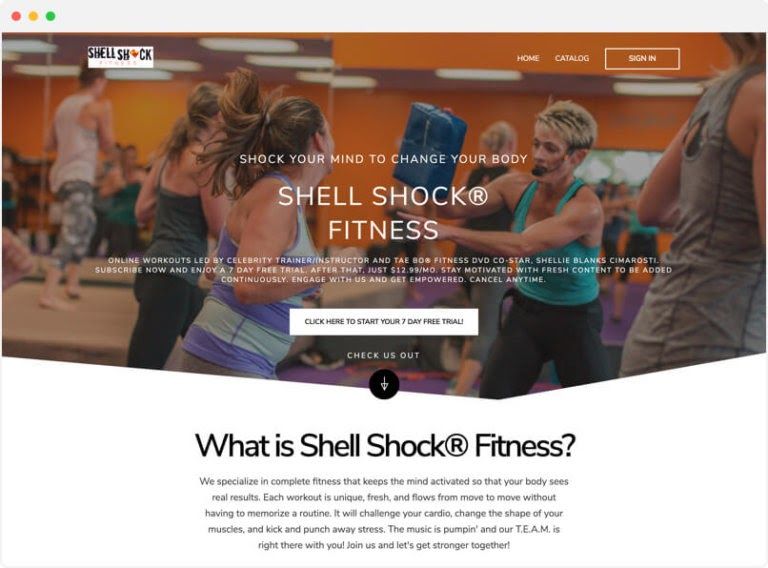 Conclusion
Fitness businesses can use video to grow their brands and bottomline, but brands must think about video as a tool for selling fitness accomplishments and not memberships. 
Using content designed to enhance the experience of being a gym member, like tailored content that informs and educates, fitness brands make it easier for members to access and use facilities and stay focused on their fitness goals, which can also help your business generate more linear revenue growth.