Gold's Gym - Digital with a human touch
Generation Iron, a digital network delivering health and fitness content ranked Gold's Gym in the top 5 gyms in the world. Founded in 1965 as a small bodybuilding gym in Venice Beach, California Gold's Gym evolved into a dynamic fitness legacy. The biggest names train there, including Dwayne Johnson, Jessica Alba and Keanu Reeves.
Nowadays, Gold's Gym caters to the most demanding fitness enthusiasts. They offer everything anyone needs to reach their fitness goals. Members can choose from strength workouts to cardio equipment and group classes.
Gold's Gym went digital in 2017, launching a music-driven coaching app. The app featured hundreds of pre-recorded video trainer routines and built-in music streaming service. Since then Gold's Gym digital presence has significantly expanded. 
They now offer members access to live and on-demand workouts through the online platform. Members can virtually travel and train with Gold's Gym trainers from around the world. They can also choose to train with athlete stars like Chris Gronkowski. By crossing borders virtually, members can add variety to their workouts. 
To help members with their fitness journey, Gold's Gym also offers one-to-one sessions with DigiCoaches. DigiCoaches are LIVE personal trainers who offer virtual consultations and PT sessions. A live trainer will supervise training, correct stance and give feedback where necessary. As part of DigiCoaches members can also receive a personalised nutrition plan. Together with the live virtual trainer, Gold's Gym helps members achieve fitness goals faster.
Main takeaway 
An all-in-one digital ecosystem has elevated Gold's Gym member fitness experience. Your fitness club can too achieve the holistic digital experience by upgrading your club management software to Perfect Gym solutions. Perfect Gym offers an all-in-one platform, integrating member profile and mobile app which will allow you to upload and manage your online content. Sign up for a free demo now.
Tonal - The future of fitness experience is digital
Tonal's innovative artificial intelligence and patented digital weight is revolutionising the fitness industry. As one of the first fully automated machines, the equipment learns from every workout. Tonal is programmed to provide real-time performance data analysis. The smart technology is then able to adjust the weights accordingly helping users get the most out of their at-home workout.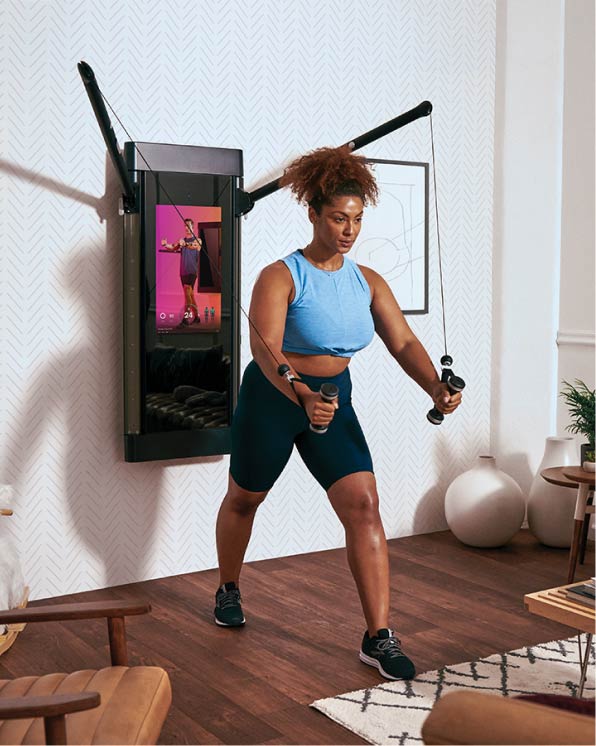 Tonal offers the personal training experience at your home without the personal trainer. By performing thousands of calculations per second, the equipment can adjust the weight according to where you are in your fitness journey. The machine learns from every workout completed and increases weights exactly when you can handle it.
With spotter mode, lifting weights on your own becomes safe. The equipment monitors your workout and is able to detect signs of struggle or fatigue. It then adjusts the weight when you lift so you can push harder and finish your set instead of giving up. 
The equipment is set to analyse the entire workout, including the users' form and technique. If the user is not maximising their range of motion, they will see clear guidance on where and how far to get the most out of each move. 
Main takeaway
Tonal has secured its spot as the future leader of the fitness industry. Get in touch with them to find out how you can add their equipment to your facility to set yourself apart from other fitness clubs.
Equinox - a luxurious ecosystem
As a self-proclaimed temple of well-being, Equinox positions itself as a luxurious gym brand. With the best minds in the industry, Equinox fitness programs are optimised to get the most out of their members. Their seamless integration of the facility and Equinox+ secures them a place within the ecosystem.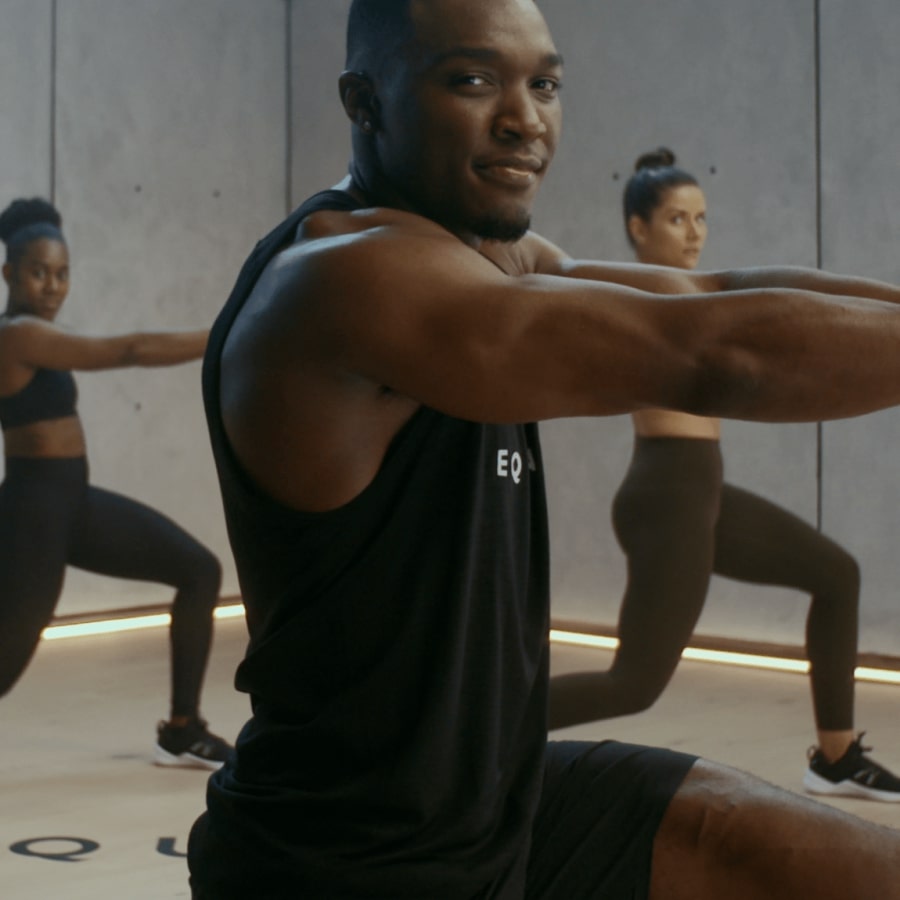 Equinox+ gives members unlimited access to live and on-demand workouts. Members chose which experience they would like to immerse themselves in, whether that is SoulCycle or TB12. Each on-demand class transports members to the front row of their favourite studio. This helps Equinox maintain a strong bond with members.
To elevate the at-home experience Equinox has now introduced the SoulCycle at-home bike. The bike includes an inbuilt screen from which the members can join live or on-demand classes led by their favourite instructors. If the member doesn't want to follow a class they can also dictate their own ride with Free Ride.
Like Gold's Gym, Equinox also offers virtual personal training sessions. The sessions range from 30 to 60 minutes, and no gym setup is required. All members need to have a device with camera capabilities and be connected to the WiFi. Before the session, a PT will create a bespoke training program for the member. Through the session, they will train with them and provide feedback on their progress.
By seamlessly integrating with the digital sphere Equinox is able to grow its legacy. They are planning on expanding into London and the Middle East in the next couple of years, so watch this space.
Main takeaway
To elevate your members' fitness experience consider where your club sits within the ecosystem. If you find that the technology being used is a bit archaic, look for an integrated software solution that will allow you to do everything under one management software. Remember to ask whether the software you're considering will allow you to offer live virtual PT sessions.
Third Space - redefining fitness
Third Space has redefined fitness with their luxurious health club. Two factors set Third Space apart from other fitness facilities.
- There are in total six Third Space facilities around London. Each one unique in style and offers a different experience, from UV lit-up swimming pools to a 750sqm climbing wall. It goes without saying that each facility is also kitted out with the latest performance equipment.
- Third Space has teamed up with Myzone, a heart rate tracking system. With Myzone members can monitor their heart rate and see whether they're pushing their body to its full potential.
Third Space has introduced Myzone in Sweat X, a signature treadmill and conditioning class. As soon as the workout begins, members can see their fitness data projected on the treadmill screen. This helps the members see their full body potential and push themselves in each class.
Myzone allows personal trainers to pull data from members' between session workouts. The data gathered gives personal trainers insight into members daily workout. They can see whether the member is really pushing themselves and hold them accountable for their fitness journey. No longer will a member be able to lie about efforts put into a workout. In turn insurers members stay on track and commit to improving their fitness.
With the Myzone integration, Third Space is able to utilise hard data gathered to elevate member experience. By displaying real-life data, members can see their fitness progress. This in turn leads to member engagement and loyal members following.
Main takeaway
If you're considering introducing Myzone to your club, you may also consider upgrading your management software. Opting for a gym management software that is integrated with Myzone will allow members to store their progress on your clubs app. This in turn will elevate the overall member experience.
Les Mills - on a digital mission to create a fitter planet
Les Mills began as basic strength and cardio training that has since evolved into a worldwide fitness brand. As a world leader in group workouts, Les Mills offers an all-encompassing fitness experience to its members from around the world. Offering an integrated workout solution, virtual classes paired with on-demand streaming workout experiences help members fit fitness into their busy lives.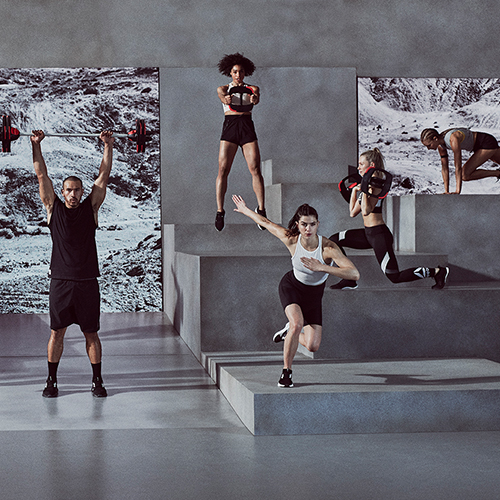 Les Mills has fully integrated itself with the digital ecosystem. They offer on-demand classes, a virtual bike as well as smart tech. The smart tech equipment helps members achieve better results in a shorter time. Led by research and years of experience Les Mills is able to produce equipment which improves muscle activation and results. Due to its effectiveness the equipment is finding its way into facilities around the world. 
To help achieve a fitter and healthier planet, Les Mills has teamed up with Polar. Polar fitness watches use Les Mills sport profiles to help members keep track of their workouts. What's unique to Polar is that it also tracks users recovery time, ie. their sleep. Based on the data gathered, smart technology is able to suggest daily workouts that optimise results.
Main takeaway
If you want to introduce Les Mills fitness equipment, you can simply order it online. Through their website you can  view equipment b  program or view all. But, what makes Les Mills stand out is the fact that they have fully integrated with the digital ecosystem with their streaming services. So you may also want to consider integrating your software management system with a streaming service.
F45 Training - digital fitness and more
F45 Training is a global fitness community focusing on high-intensity group workouts. According to F45, the workout has to be fast and result-driven with an emphasis on team training. Training in groups ignites accountability within members, making the fitness transition easier. F45 offers both in-class and at-home workouts where members can join challenges and compete with each other.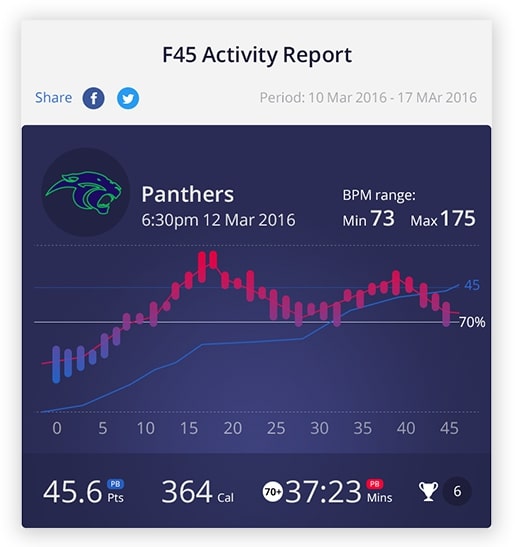 Members have the option of in-person training or watching classes on-demand. If they're training online, they can log their progress on the online portal. With access to dashboards, they can see how they are ranking compared to their peers. Promoting friendly rivalry helps members stay on track and working towards their goal.
Keeping up with other fitness brands, F45 has introduced the LionHeart wireless heart rate monitor. Alongside the heart rate, the monitor collects unique points based on users performance. To complete the ultimate workout, a member has to score 45 points. Keeping with the friendly rivalry the score is displayed on the studio's TV for everybody to see.
Main takeaway
Digital transformation can not only benefit your gym but also your members. Having an all-in-one system that allows you to track and sync member progress and display it across your facility. Igniting the competitor within helps them get more from the daily workout.

Concluding thoughts
Like it or not, the fitness industry is heading towards digital technology. Members want to optimise their workout, achieving their results in a much shorter time. Fitness technology can help you help them achieve it. So it's better to jump on the trend now, and make a name for your fitness facility before it's too hard.