We are here to help you navigate through fitness business ideas, and help you decide. To do this, we will look at the most popular, creative and futuristic fitness business ideas for 2021.
Optimise class size with a hybrid fitness model
At-home workouts have dominated 2020, and it looks like they are here to stay in 2021. A survey carried out by Beachbody revealed that 9 in 10 Americans will continue with at-home workouts after live resumes to normal. So, it's safe to say "at-home workouts will become a part of the fitness ecosystem" says Simeon Siegel, the BMO analyst.
A hybrid model is worth considering as a fitness business idea for 2021. It offers live streaming of classes where members can choose to attend class in person or online. It's estimated that depending on their location, fitness facilities will have to operate at a limited capacity when restrictions are lifted. Limited capacity and social distancing can result in fewer members attending your facility. So opting for a hybrid fitness model will allow you to manage class capacity. This will also allow you to ensure all your members can attend classes, either in person or virtually.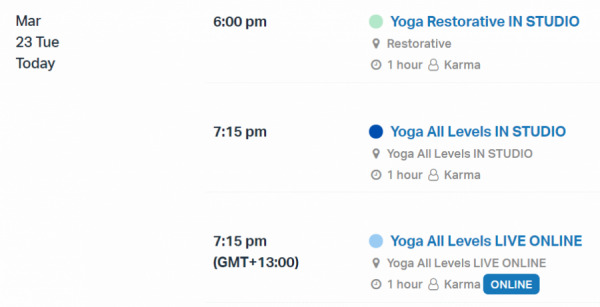 Yoga studios offer a small, intimate space for their members to exercise. When social distancing was introduced, to ensure member safety Yoga by Karma decided to offer both in-class and live online classes. A limit of 8 in-studio members was introduced. We all know 8 members is a very small number of participants to keep a studio going. So, Yoga by Karma offers 6 extra online spots for each yoga class. This ensures members can practice yoga socially distancing.
Online fitness classes to fit around members busy lives
After spending a year in lockdown, a lot of us have gotten used to at-home workouts. We have developed unique fitness routines that are unique to our own lifestyles. It's no surprise, online training has been hailed as the number 1 fitness trend of 2021. This is why considering offering online classes is a great fitness business idea. It is an idea that will give your fitness facility a unique edge over competitors.
Do think about the type of member you want to attract to your fitness facility and online classes. This is important because a generational divide exists between fitness industry customers. Millennials and Gen-Z are more likely to engage in live-stream and pre-recorded workouts than boomers. And with Millenials and Gen-Z making up 80% of all gym goers, this would be a significant target audience for your fitness business.
Brand attachment is becoming more and more popular. No longer do members want to just be associated with the facility, they're looking for the overall brand experience. They're looking for a brand that will offer studio experience at home. By offering online classes to their members, brands are able to stay connected with their members outside of the facility.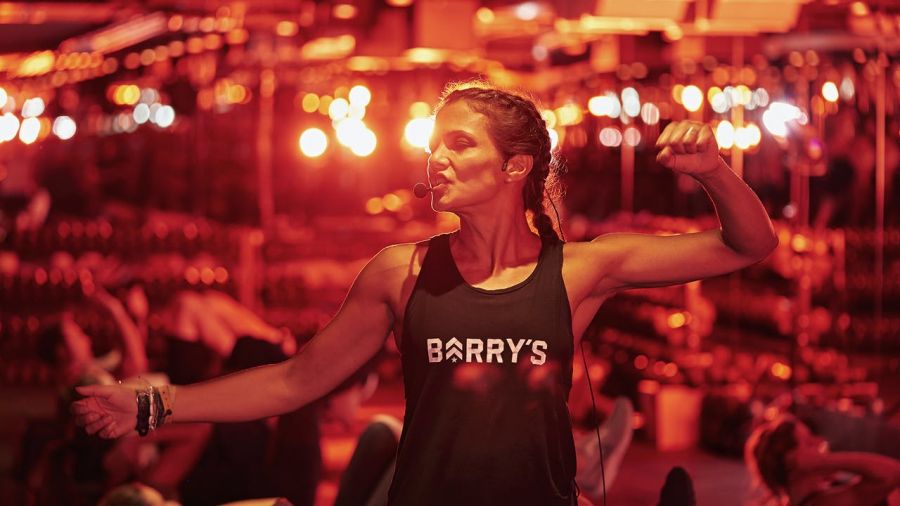 Barry's Bootcamp understands that innovation will help them stay ahead of their competitors. When the government announced lockdown, Barryy's Bootcamp created a new membership; Survival. Following the in-studio timetable, members could sign up for daily 30-minute workout videos. Online workouts offer trainer guidance and are paired with high energy to keep members engaged. The key benefit of online classes is they are easy to access. Barry's members can access class videos whenever they want. This allows Barry's Bootcamp to adjust to their member's unique lifestyles.
If you're thinking of adding online classes to your fitness business, check out Best Streaming Practices for Gyms for guidance. It will provide you with a great overview of how to successfully stream content and monetize from it.
Digital ecosystem; where will your facility fit?
We are living in an era where digital evolution is growing at an immense speed. Every aspect of our daily lives is becoming digitalised. We now have fitness and wellness apps on our phones that tell us when to exercise and what exercise we should do. Wearable technology tracks how many steps we took, and what our heart rate is. This is a trend that is expected to see significant growth in the next few years.
So, do think about your business's place within the ecosystem. Your members will want more from you than just a traditional membership. Integrating your fitness facility with a fitness app is a worthy fitness business idea.
Creating an online community will motivate our members to regularly exercise. Leaderboards are a good way to encourage your members to compete with each other. This will motivate and push them to their limits. The online community can give your business valuable insight into your member's daily activity. Through this, you will understand their approach to health and fitness.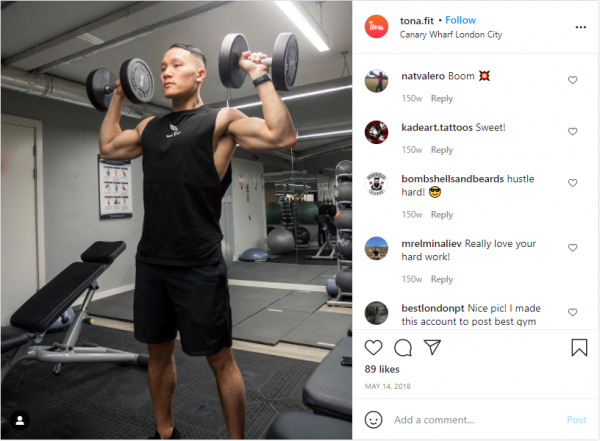 Record. Connect. Compete. Repeat. This is the slogan of Tona, a fitness app aimed at gym users and gyms. Anyone who downloads the app is instantly connected with a social network for gym goers. With the app, members can compete against each other. They can also find their competitive match that will motivate them to regularly exercise. Daily, weekly and monthly achievements help users strive for their personal best. Such approach will help you keep member engagement high.
Don't let four walls limit your facility, get creative
Social distancing and capacity limitations can negatively impact your business revenue. But if you're creative with your space, it doesn't have to. Moving your classes outside of the four walls of your facility is a viable alternative. Offering HIIT sessions in the car park of your facility or moving yoga classes to the local park will help you navigate around the ever-changing rules.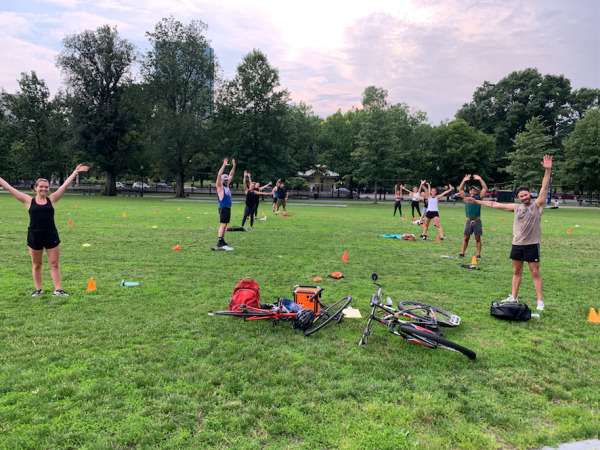 BornCore understands just how important physical exercise is to their members' mental health. So, they didn't want to stop all classes when the pandemic started. Before the pandemic, BornCore Fitness offered both indoor and outdoor bootcamps. Since the pandemic, the "12 Foot OUTDOOR" bootcamp has gained in popularity. Following the restrictions, participants are spaced 12 feet apart (that's 3.6 meters for non-Americans). Before each class, members receive a text with their spot location. This allows BornCore to ensure everyone's safety. To add a bit of humour, at the end of every bootcamp each member receives "liquid gold": a squirt of hand sanitiser.
Remember to check whether group gatherings are permitted in your area before organising outdoor classes.
Unlock the competitor that's hiding in your members
We all know at least one person who has signed up to a gym but never stepped foot in it. Such members are at risk of terminating their membership very quickly. This means loss of revenue for your prospective business model. So be creative with ways of holding your members accountable for their commitment.
Here are a few suggestions of how you can improve accountability:
Fitness challenges
Leaderboards
Rewards

GO MORE. GET MORE. This is the phrase used by Nike Run Club App to motivate its users to take part in the five months, five challenges. It's a simple, yet effective way of engaging members with their app. By participating in monthly challenges, users become eligible for monthly prizes. There is also a Grand Prize waiting for those who persevere for five months.
Go beyond the conventional fitness business ideas
Think about expanding your business outside the traditional fitness norms. Consider offering a unique fitness experience that your members can't find anywhere else. Since the lockdown, people started focusing on themselves, broadening their horizons and skills. So, hosting regular virtual classes that will focus on members wellness is an option. Offering regular cooking classes, meditation or nutrition webinars are just a few suggestions.
BodyX is a gym that understands that nutrition is just as important as fitness to overall health. They offer a wide range of fitness classes that get their members to work up a sweat. But what sets them apart, and got them on this list is their 12-seat kitchen classroom. This classroom is used to present cooking demos to promote healthy eating. They understand that to see results working out is not enough. Classes cover popular diets, trends and cuisines and are led by local and celebrity chefs. To get the word out, BodyX also hosts cookbook author series and book signings. So you see, a fitness facility doesn't have to conform to the standard norms, it can be anything you want it to be.
Workout to Take-out, consider offering meal kits as an add-on to membership
We are all looking for an opportunity to gain more time. Whether that is hiring someone to clean our house or ordering a takeaway for dinner. But, takeaways don't always mean a healthy and balanced diet. This is why more and more people are turning to pre-cooked meal kits as an alternative. So, it's no surprise that the meal kit industry is expected to grow to around 7.63 billion U.S. dollars by 2025.
A partnership like this will help your members maintain a healthy diet alongside their fitness journey. It will offer your business a competitive edge over other fitness facilities.
CrossFit New England is a perfect example of such partnership. Twice a week, Paleo Power Meals deliver freshly made breakfast, lunch and dinners to the gym. Members can choose from a variety of healthy, all-natural meals that are stocked in the club's fridges. Their members can also pre-order their favourite meals and pick them up after they've worked out.
This caters to the fast-paced life we are all living. Thanks to this option, members don't have to worry about rushing through their sets to have enough time to cook. Or worse, having to undo all the hard work by ordering a takeaway. This is a trend that is gaining in popularity. So it's better to get on the hype before anyone else does. Being the first will help you build your brand without any major competitors.
The future is digital, so consider virtual reality fitness
Half of your fitness business success will come from understanding your target group. Millennials and Gen-Z make up 80% of health club members. They also account for 89% of total users of online or app-based workouts. They are known for their love of all things tech, whether that is apps, social media or wearables. So, it might not be such an outlandish fitness business idea to go down the virtual reality path for your fitness facility.
Source
Viro.Fit understands that virtual reality is the future of fitness. Their business model centres around offering fitness gamification for gyms and health clubs. Gamifying fitness is proven to captivate users for longer. If a member engages in a workout for longer, they are sure to see better results. They also understand that competition motivates users. So, once a year a VR Fitness World Championship is organised and hosted. Virtual reality is still somewhat futuristic. So, using VR would set your facility apart from other fitness facilities.
Don't be afraid to experiment, try enhancing the fitness experience with AR
After the boom in popularity of Pokémon Go, it would be wrong not to finish this article with augmented reality (AR). If you are wondering what augmented reality is and how it is relevant to the fitness industry, keep on reading. AR is an interactive experience of a real-world environment. Players can interact with computer-generated objects and sensory modalities. Still not sold on the idea? No worries, we've got hard numbers to back us up. The AR market is expected to reach 60.55 billion USD by 2023.
So, how does AR incorporate into a fitness business idea you ask? Just have a look at ValoClimb, the world's first augmented climbing wall. This wall contains a variety of games, modes and levels to match each player's level. The wall is not only interactive, it's also multiplayer. The AR climbing wall is so captivating that it's impossible for your members to resist it. This could be the feature that hooks members of all ages to sign up to your fitness facility.
Concluding thoughts
As we enter 2021, we can see a light at the end of the tunnel. As the number of vaccinations goes up, we will see more and more restrictions lifted. So, opening up a fitness facility isn't such a crazy idea after all. I hope the fitness business ideas will help you gain a competitive edge and lead to a very profitable year.