Recent events have brought to light some crucial elements of gym and fitness facility management that are often taken for granted. While business strategy, facility services, and management procedures tend to be the most commonly discussed aspects of gym management, ultimately, nothing is more important than the health and safety of your members and staff. 
Gym owners must hold themselves to the highest standard when it comes to:
Public safety
Gym cleanliness
Facility-member communication
Offering support of gym community
Fitness facilities must ensure members and staff that their safety is of utmost importance at all times, both during regular operations and in extreme situations.
Gym Cleanliness
Image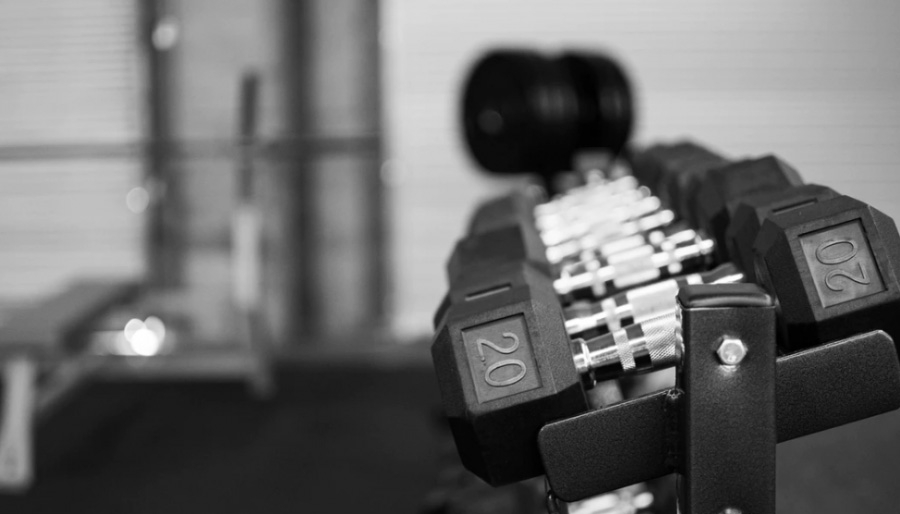 On any given day, gyms are unfortunately at the top of high risk locations for germs. A study conducted by a fitness equipment company tested common equipment at three different gyms found the following conclusions:
"The free weights had 362 times more germs than the average toilet seat.
The treadmills had 74 times more bacteria than a tap in a public bathroom.
The exercise bikes had 39 times more bacteria than a tray from a food court."
Among the laundry list of safety factors, strong gym hygiene practices are also necessary for business strategy and management. Consistently cleaning facilities and equipment is the easiest way to maintain them and reduce costly replacements.
Customer expectations for cleanliness are common ground: outstanding gym maintenance and hygiene is expected at all categories of fitness clubs from high-end to budget.
Gym cleanliness ranks among most important factors in member happiness with services as the opposite associated with high member churn. According to a survey conducted by IHRSA: If a gym was considered unclean, customer satisfaction ratings fell from 83% to 43% and retention rates fell from 90% to 52%.
Image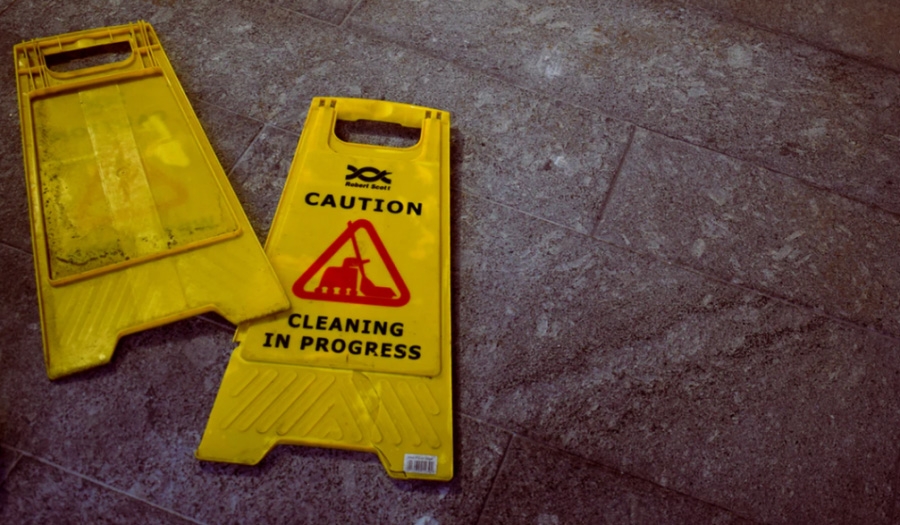 Gym standards of hygiene and cleanliness, though expected, are rarely discussed as a top management concern. With no universal or standardized cleanliness rules to follow (apart from common sense), establishing protocols are difficult to both create and maintain.
Therefore, fitness facilities must institute their own cleaning procedures for staff and members to follow. 
For Members
Golden Rule: Avoid attending the gym when you are sick.
Above all else, members have a responsibility to your gym community to take care of themselves and be responsible for the health of others. As a member, you must understand the importance of self-discipline and respecting this community. If you feel sick, be proactive and avoid the gym. 
Image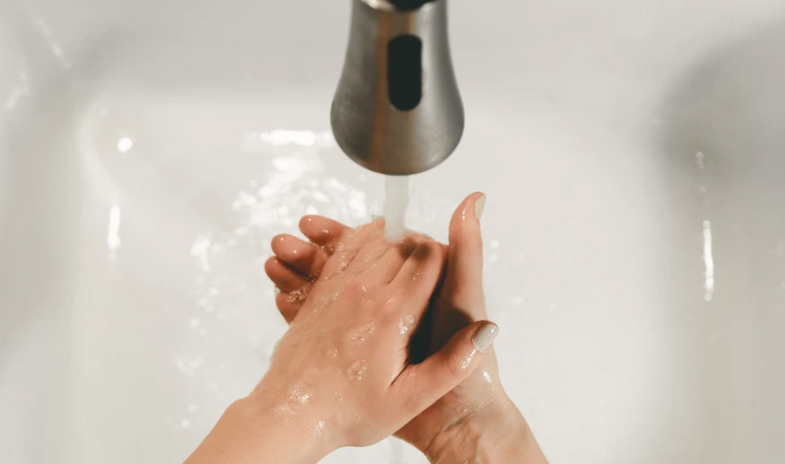 Simple ways members can keep gyms clean:
Wash hands upon arrival and before leaving
Wipe down machines before and after use
Never use a mat with cleaning prior or laying down a towel
If your gym does not provide towels, make sure to bring your own
If changing at the gym, bring a plastic bag to separate sweaty clothes to minimize the risk of mold
If showering at the gym, bring appropriate footwear and avoid shaving, which could expose you to different types of infection
For Facilities
Golden Rule: Avoid attending the gym when you are sick. 
Your staff and management team are just responsible as your members for maintaining a safe gym environment. If anything, they need to lead by example for your members. Every individual must be held to the same rules and expectations to respect the health of your gym's community
1.  Integrate Hygiene in Your Gym Design
There are several structural ways you can implement hygienic measures into the actual design of your gym. You should strongly consider installing ventilators and humidifiers to improve air quality.
You can also strategically position hand sanitizer and materials to clean equipment throughout the club so members do not have an excuse not to. 
Image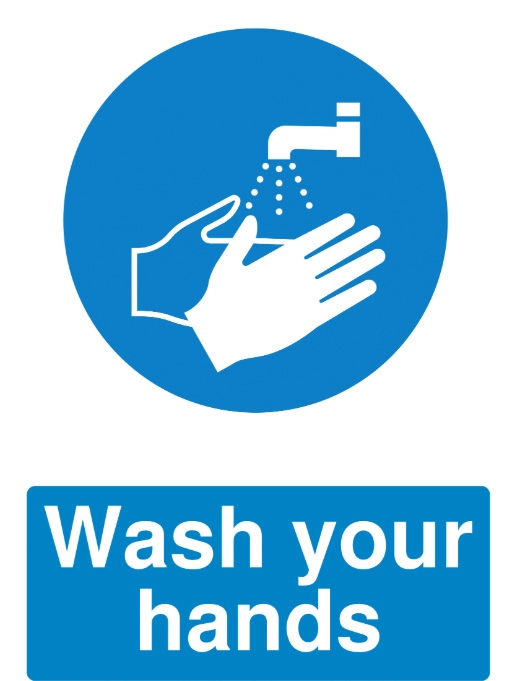 Gyms should also recognize that many members may not simply remember to take part in their own personal cleaning and hygiene responsibilities. An easy way to solve this is to post signs throughout the club (bathrooms, locker rooms, by equipment), reminding members to do their part. 
2. Establish A Strict Cleaning Schedule
The best way to ensure that your facilities are exceeding cleanliness expectations is to establish a strict cleaning schedule that staff, (cleaning, maintenance, and others) follows thoroughly. This schedule should assign specific tasks that must take place at an exact time throughout the day.
Not only does this give your club structure instead of relying on loose schedules where jobs can be overlooked, but it will ensure cleaning is tracked by frequency, not by employee judgement (ie: if staff sees someone use certain equipment). It also can provide a simple format for management to check that jobs have been completed. 
These schedules should not be limited to exercise rooms and locker rooms. Maintaining the same cleaning standards for less frequented places, like staff working stations is equally important. Do not forget to include: front desk, computers, check-in stations, or access control devices like turnstiles. 
To consistently enforce the importance of these hygienic measures to your staff, you should schedule on-going trainings that highlight proper cleaning techniques or new relevant information. 
3. Institute Stricter Procedures for Locker Rooms and Showers
Image
Locker rooms inevitably tend to be the least sanitary room in fitness facilities. Especially if your facility offers showers or a sauna, they naturally will create more bacteria faster for you members to spread in a confined space.
The damp atmosphere and steam encourages germs to grow while your members are often changing sweaty clothes or bringing their own biochemistry to your showers. 
In addition to following the most strict cleaning schedules and procedures in this area, installing a high-quality ventilation system is great for reducing air-borne germs. Require your members to act responsibly, like wearing shower shoes and properly disposing of towels or personal products.
You should also research the strong cleaning products and tools specifically intended for functions of a locker room, sauna, and/or showers. 
4. Encourage and Educate members to Uphold this Standard
Image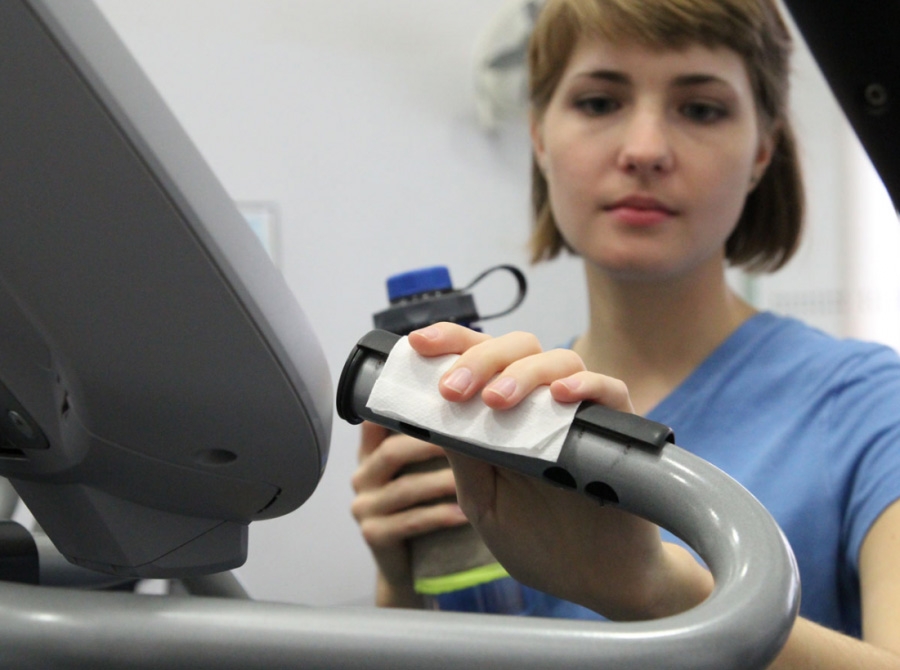 While members should take accountability for doing their part, it is ultimately the responsibility of the gym to enforce them. As mentioned above, gyms need to remind members with signs and provide accessible cleaning materials throughout your space.
Staff should lead by example and distribute information to their members often about the importance of their cooperation to keep this clean environment. 
Additionally, do not be afraid to directly hold members accountable. Despite appearances or cultural norms, there is nothing wrong with verbally reminding members to clean their equipment or wash their hands.
These practices should not be considered rude or poor service. 
Also consider, since your members only spend a relatively small percentage of their time at your gym, they are probably unaware of the extent of your cleaning practices. Openly communicate these measures to your members.
This will boost their confidence in your management capabilities and influence them to be more mindful on a personal level.
In Case of Extreme Circumstances: Be Prepared
In light of the recent global situation, having a plan in place for emergency measures is crucial. Not only will these guidelines avoid management panic, but they will comfort your members and ensure them that you are 
Your gym's procedures for emergency situations should obviously be specific to your facility. There is no one-size-fits-all solution. However, here are some common measures that can be undertaken:
Boost cleaning practices and schedule into overdrive
Limit class opening of gym capacity to 50% or less than usual. 
Require hand washing before access to equipment
Encourage members to bring own materials for specific classes (weights, mats, etc)
Stay Informed
On the management end, prioritize staying as informed as possible of legal regulations for gym operations and about trends from other facilities. If most other nearby gyms are temporarily closing, it can be responsible to follow their lead. Pushing opening hours, while initially may please some clients, runs the risk of making members feel as though you do not prioritize their safety above all. 
Image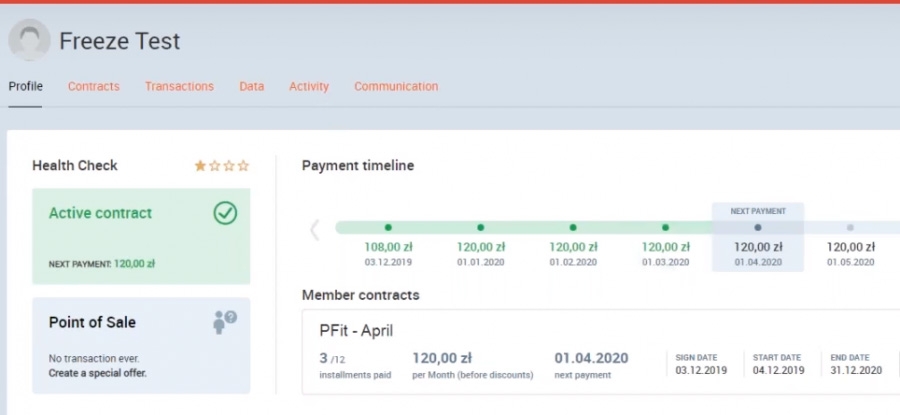 Also consider allowing temporary lenient policies for member privileges, like class cancellations or membership freezes/termination. This is first extremely important for public safety. Secondly, the temporary revenue loss is nowhere near as important as long term client satisfaction and trust for your flexibility and concern for their well-being. 
Think about how you can keep your  hourly staff taken care of with work opportunities, whether they are responding to client communication or working to better different aspects of your facility in a safe and contained environment.  
Be Proactive
In this extreme event, knowing how to enforce a temporary mass closing is crucial. As business will temporarily halt, you will need to be aware of how to shut down operations. You should know how to:
Operate mass member contract freezes
Disarm access control systems
Disable new online sign-ups
Adjust timetables, like trainer availability or class schedules to limit classes
For Management: Use This Time Wisely
Image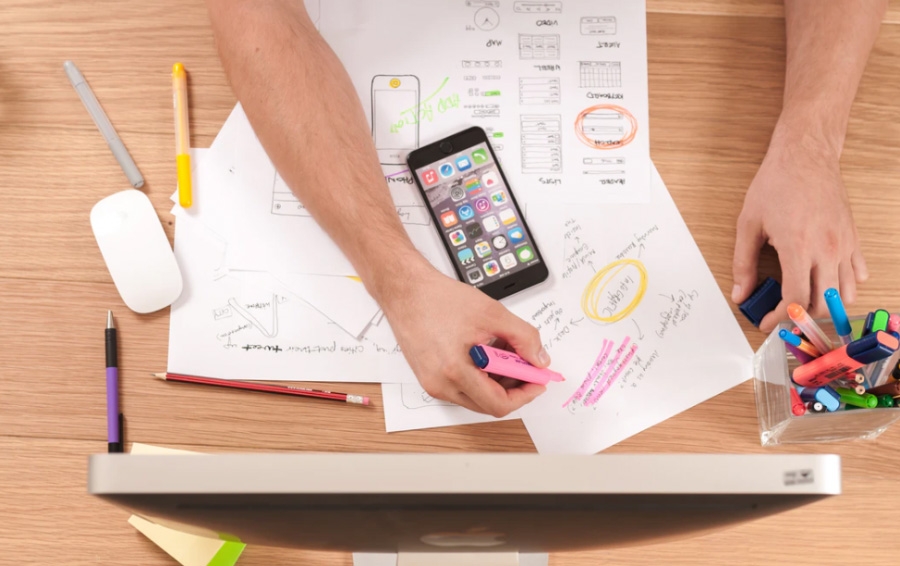 As an owner or manager, take advantage of this time. With this rare break from the constant stress and overseeing thirty things at once that comes with operating a fitness facility, this small break offers a great opportunity for evaluation and improvement. Take the time assess your business strategy, the strengths and weaknesses of your services, and create an actionable plan to address them
Protocols for Member Communication
While establishing firm lines of communication with members is vital for many reasons for the modern fitness club, streamlined correspondence about their personal safety and wellbeing is the most important. 
Communication with members in extreme circumstances should achieve the following:
Take initiative to try to inform them as quickly as possible
Communicate circumstances with complete transparency
Reassure and empathize with members by showing concern and offering support
Communication regarding an extreme situation or facility restrictions/closures should be consistent and often for as long as necessary. Consider updating members daily or at the minimum every few days.
Especially in the event that your members have any risk of exposure to something that could hurt their health or others, you must inform them immediately and take all possible precautions and keep them informed about your actions. Keeping clients current and informed will be instrumental in minimizing the stress of inbound questions and concerns. 
Image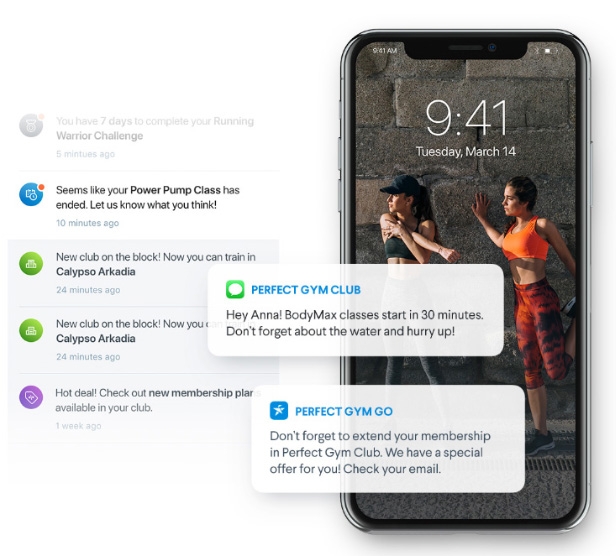 You must have simple tools to facilitate communication with members. Considering the severity of the situation, an omnichannel modern approach would be most effective. Your facility should be able to easily send mass emails, SMS, or push notifications via mobile app to notify about new gym regulations or closures. 
To make this process as simple and streamlined as possible, your gym software should be equipped with easy features to create mass messages and send automatically on a defined schedule. This will remove the issue of repeating the process manually everyday.
Image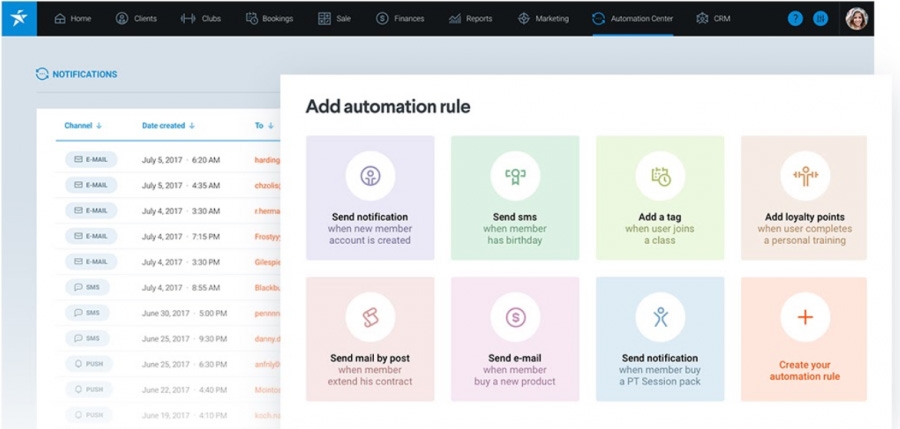 For timely ongoing situations, sending mass newsletters are a great way to provide in-depth information and updates to your members for the coming weeks.
Image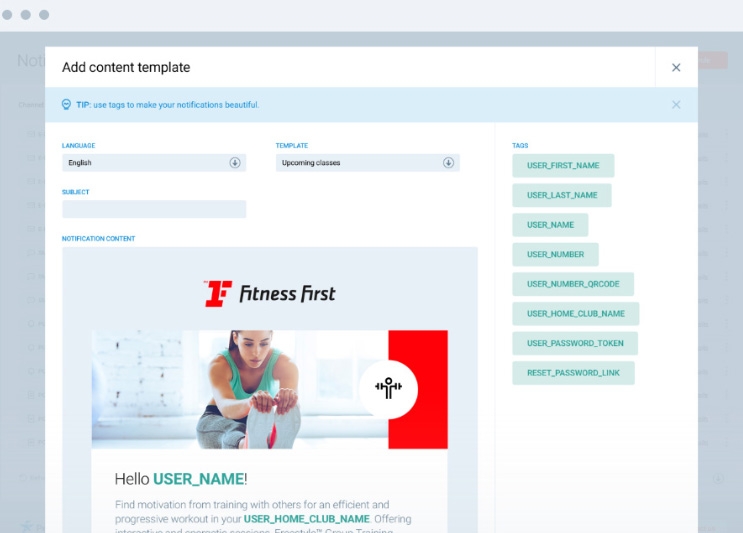 Finally, ensuring your members can easily initiate communication with you is of equal importance. Make sure you have straightforward omnichannel methods for members to contact you. You will also need to prioritize your response times for the benefit of your members and staff. Poor communication lines can easily lead to messy backlogs, which could cause members to panic or feel mismanaged. 
Lean on Gym Morale and Community 
Image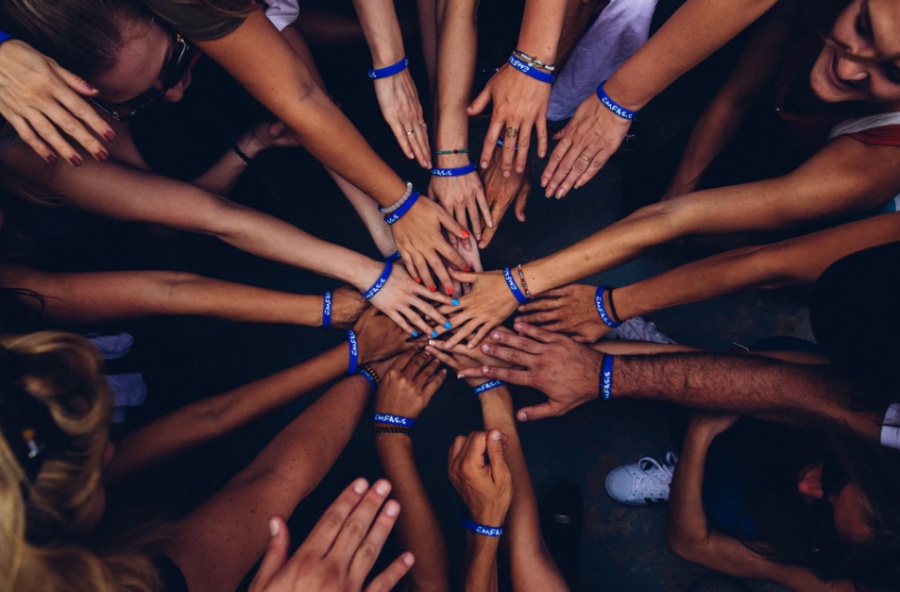 Most importantly, like any other community, a gym should offer empathy and understanding to its members and staff alike during unexpected difficult situations. Your lines of communication are just as important to support your members emotionally as they are to keep them informed about your operations.
In case of closures, use your expertise and resources to help your members stay active and healthy for the time being. Use your communication lines to share simple and effective at-home workouts or easy-to-make recipes. Your trainers can design daily schedules/virtual training content or simply send a motivational message to stay on track.
 If you do not have the resources to create your own, share your staff's favorite fitness mobile applications, databases, or Youtube videos. You can also advocate your members to use this period to take time to focus on themselves and their mental health by sharing resources for meditation or relaxation. 
Image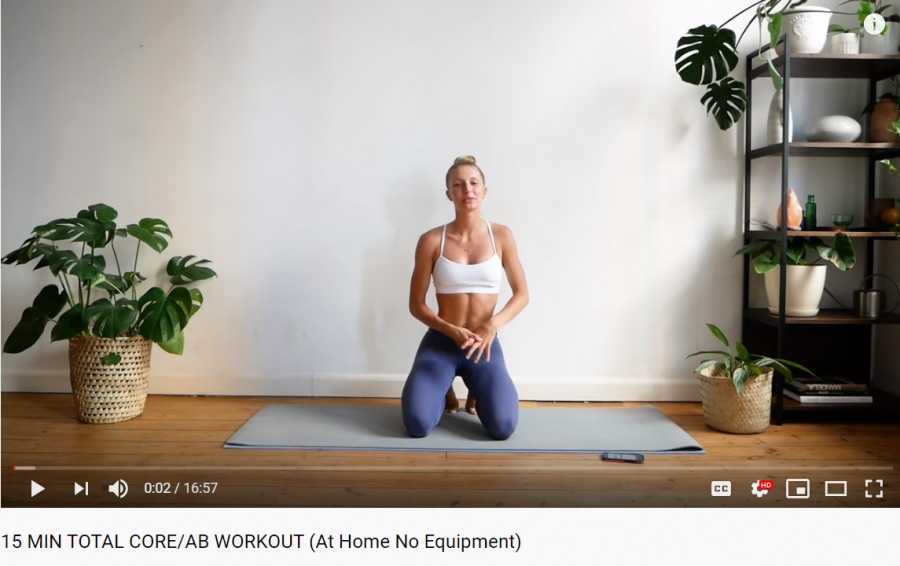 Do not underestimate the importance of showing your members you care. Use the power of social media to create groups and forums for your members to communicate and share their own workouts, recipes, or goals.
Maintaining this strong communication will let your members see your club as more than just a place to work out, but a concerned community built on inclusion and encouragement. 
Now more than ever, we need to lean on each other. Be kind, be patient, and be responsible. From all of us at Perfect Gym, we're with you. 
Image