From a business perspective, parents on the hunt for gyms with childcare will naturally gravitate toward the most secure and cost-effective option for them and their family.
After all, aside from the gym's location, the two biggest considerations for parents are the safety of their child, and also for their budget. 
As gyms reopen, they will need to provide extra flexibility to customers in order to remain competitive.
A service such as free childcare can be a great additional offer that allows gym-going moms and dads to concentrate more on their fitness and less on their babysitter. 
In short, adding childcare services to your gym or fitness studio is bound to increase memberships. Our goal is to give you the information you need to help you to take that next step to getting started. 
The important role childcare services play in your gym 
A decrease in physical activity as people transition to parenthood, particularly for mothers, is well-documented.
Parents face numerous barriers to physical activity (e.g., lack of time, guilt, lack of energy, etc.) but none are more physically demanding than childcare. Gyms that offer kids clubs amongst other services have critical roles to play in their communities. 
Over 70% of mothers work outside of the home. A combination of work, household and childcare responsibilities leaves little time for personal leisure activities. 
Interestingly, participation levels in physical activity have not changed substantially since 2013. But the amount of those who never exercise has sadly increased, and this is a continuation of a gradual trend since 2009.
Herein lies the opportunity for fitness centres. They can diversify and provide a service which is beneficial for both the customer and the business, childcare services that can double as babysitting services when the parents workout or attend fitness classes.
For fitness operators to succeed, removing barriers which can discourage members from exercising is key to staying competitive and afloat. 
Image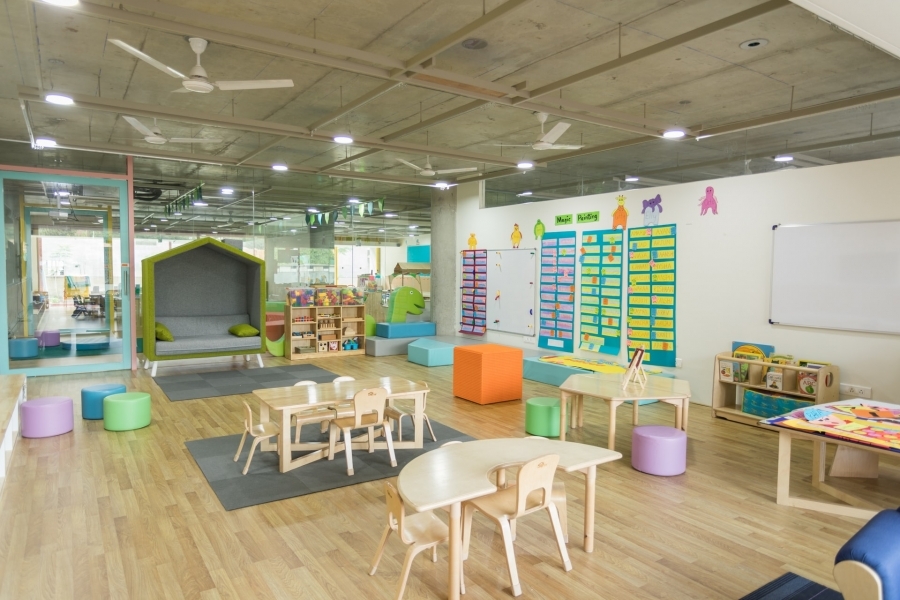 Source: Gautam Arora on Unsplash
The benefits of gyms with childcare
There are a number of reasons why adding a childcare or kids club element to your fitness center can be a boost to your venture:
Gain a competitive advantage
Gyms that offer childcare services are generally associated with a more premium brand. Not only that, but they can serve as meeting points for families, work colleagues, and friends who want to work out together.
Generally, the services that are provided by these fitness centres are more in-flow with the modern lifestyle.
You'll also notice the family-friendly atmosphere and community spirit that exists in gyms with childcare facilities. This provides opportunities for fitness businesses to explore alternative customer sources and gain a leg-up on their competitors. 
Attract a wider and more diverse customer pool 
People who may not have considered your gym before will now be motivated to try it out.
Adopting a childcare scheme will make your gym attractive to a different portion of the market, and increase the diversity of your customer base. Word spreads fast in parenting circles and as a result, your gym's target demographic will become a whole lot wider. 
Increase in business revenue 
It is little surprise that a host of new customers translates to an increase in earnings, but that's the result!
Moms and dads understand that childcare services at gyms cost money. But it's at your discretion as to what to charge.
The cost of childcare at gyms is perceivably less than at a designated childcare provider, so that's already in your favour.
Keep in mind, it's possible to increase your bottom-line revenue by developing new pricing structures and offering package deals for existing clients with a reduced membership fee.
With PerfectGym's family plan function you'll be able to manage an entire family of members under one account, including any childcare reservations.
Being creative with childcare price plans can incentivise a lot of parents. It could be the difference in choosing your gym over another. 
Child care doesn't necessarily mean babysitting services, you can get creative and offer as add-on age-appropriate fun activities like:
Kids Club
Summer Camp
Day Camps
Kids Academy
Sports leagues
Children's Classes
And for older kids, an induction to personal training with a trainer to ensure they are working out responsibly.  If you're going to let teenagers work out and use gym equipment, don't forget to set age restrictions as to which sections they can access.
Including these fun activities in your offering also mean additional revenue, you can create custom gym memberships aimed specifically for the younger members.
Not as difficult to manage as you think
Offering childcare facilities at your gym isn't complicated as it may seem.
Most gym goers spend an average of an hour for each session, so it's not as stress-laden as a professional childcare service.
The child's parents are always in the vicinity, which often renders the child easier to manage.
What will matter are children's ages, as there are guidelines on the ratio of childminders to children in some countries like the UK. You might only need to hire one person to supervise the children, depending on what ages you choose to accept.
You can even do this yourself if you don't have the funds for another hire. Lastly, if the gym is secure, you can leave the children unsupervised in a general play area.
If you do decide on including childcare services in your offering, remember to perform a background check on the childcare staff. After all, children are one of the most vulnerable groups and additional measures need to be taken to ensure their safety.
Start-up costs won't break the bank
The space you require for your childcare area needs to be secure, but that doesn't mean the layout will cost you a fortune.
If you don't have an extra room for the children you can erect a child-proof fence that will work for any supervised or unsupervised area. You will need to equip the space with toys and activities for the kids, but they're not obliged to be brand-new and expensive.
Hiring friendly staff to mind the children will become a consideration, their wages will likely be on a per-hourly basis. 
The drawbacks for gyms with childcare 
On the contrary, some of the following reasons are why you might second-guess the importance of childcare services in your gym: 
The cost of hiring childcare staff 
The cost of hiring a supervisor might be an investment a lot of gym owners are not willing to make. The average salary for a childcare worker in the UK is £26,581 or £13.63 per hour.
But there are ways around employing a full-time member of staff. You could offer a time slot for childcare services only in the mornings, or directly after work. This way you'd only have to employ a staff member casually instead of a salary-based contract. 
The liability and insurance considerations 
Another stumbling block for gym owners is the liability side of childcare. Because gyms deal with children they are obligated to purchase additional insurance coverage.
Offering childcare increases the premiums on business liability insurance as a result of being held liable for the safety of children. If a child gets injured or goes missing from the gym's premises, the parents could well press charges.
The importance of gym management software 
If you've decided to add childcare to your gym, then you'll need the right software to manage it professionally. 
Our club management software allows you to manage all of your member data in one place including their account information, payment history, attendance, contracts and more.
PerfectGym offers streamlined ticketing and facility booking software that functions with POS stations and website integrations.
The software offers simple visualisations about zone or facility capacity and time slots to ensure that you're never overbooked, especially for gyms with childcare. 
Image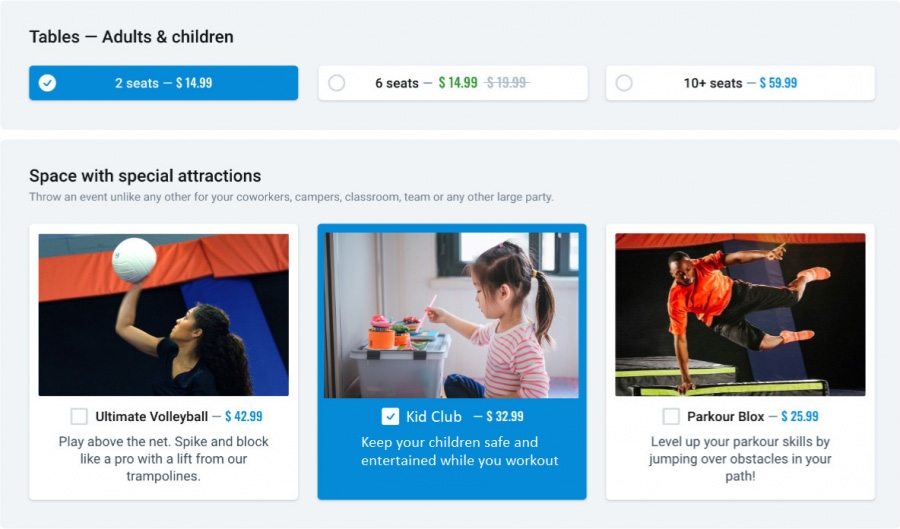 It also allows your members to reserve facilities and zones online such as tennis courts, childcare, spa rooms and birthday zones.
Our Client Portal enables members to sign up for their favorite classes, facilities, or personal training sessions with just a few clicks.
For gym members, PerfectGym software is mobile friendly meaning your customers can have a fully-immersive, engaging, digital experience — all in the palm of their hand.
Clients can add products and services to their shopping carts and head directly to the payment gateway for simple payment processing.
For gym owners, PerfectGym software is super customisable and full of integrations. For instance, you could set the childcare zone to door reader access based on whether the member has a creche subscription.
You can also choose from over 160 unique reports ranging from sales and access controls to warehouse inventory to gain actionable insights for improved analysis and strategy development.
What's more, we can also help you to configure everything according to your health club's business model. From customized membership plans and contract commitments to automatic renewals and product packages.
Parting words 
Offering childcare service in your gym can significantly boost the value of your fitness space. Especially in a world where childcare is becoming more expensive and increasingly difficult to find, gyms offer a fantastic opportunity to diversify the market.
Yes there are costs involved, but the impact it will have on your business itself, and the wider community will be worth it in the long run. 
By using the right software to manage your gym daily workflow, you can spend more time personally engaging your staff and membership base to build your gym's cultural atmosphere. The true goal for any passionate health club professional.