When you think of going to the movie theatre, what's the first word that comes to mind?
It's probably entertainment, but if I were to press you further to give me a few more, you'd probably hit "comfort" eventually.
And when we talk about comfort, it's not just the cushy recliner seats. It's the accompanying "comfort food" as well: the buttery popcorn, huge sodas and plentiful sweets too.
You see, movie theatres can't exist alone on ticket sales; they need to supplement them with secondary or ancillary revenue they get from selling concessions.
By supplying moviegoers with the additional bonus of comfort food with their entertainment, it's become a virtually seamless part of the cinematic experience that the average consumer doesn't even think about it anymore.
Modern fitness clubs are no different. Gyms are no longer places where individuals work into their routines to get an hour of exercise: they provide full experiences for their members. And with those experiences come additional opportunities for members to either become involved with their gym's community or take advantage of in-house services.
Different aspects of the wellness industry, like nutrition products, exercise technology, and activewear, are becoming so commonly available at fitness facilities that it would seem odd if gyms did not have them.
With these new amenities comes a wealth of earning potential. Fitness clubs can not only satisfy their members but also earn additional income apart from membership dues. Just like your local cinema relies on those comfy seats and popcorn to pull some extra money, gyms rely on the added features to pocket some extra profit.
Enter: the secondary spend.
Secondary spend, or ancillary spend, is any additional revenue generated within a fitness club that stems from these 'bonus features'. Regardless of what business model your club uses, secondary spending can not only generate additional revenue, but can also be equally important in cultivating your brand, reputation, and ultimately positive member experience.
What is Secondary Spend?
Image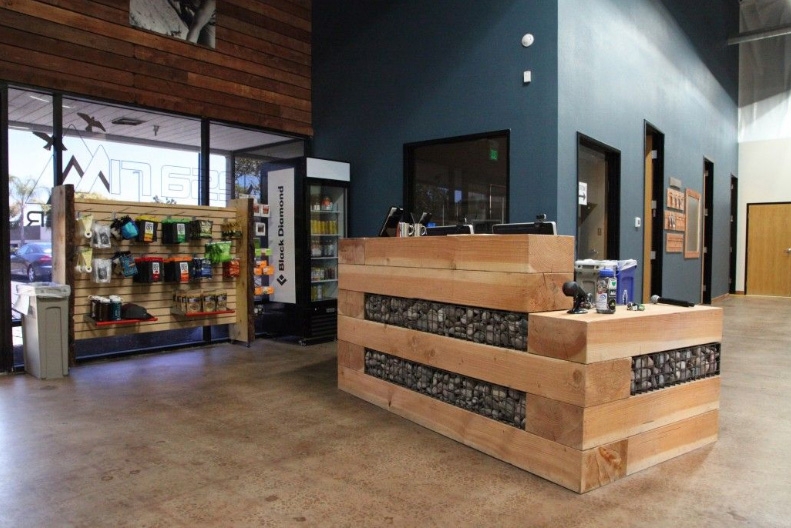 The most common products and services that comprise secondary spending have traditionally been nutritional supplements, retail, facility extras like towels/lockers, and private training services.
The profitability of secondary spending has become so commonplace that many clubs now depend on it for considerable margins of their monthly revenue. Since clubs are also becoming increasingly digitized, many have opted to provide secondary spending opportunities both in-house and online as well.
Image

As clubs are continually adding to their services, opportunities for secondary spend have exhibited similar patterns of expansion. For example, given the buzz surrounding body scanning technology right now, many clubs have purchased scanners in which users can pay small fees to get a full BMI report. Other clubs have opted for other new age opportunities, like VR Fitness classes, or personalized diet plans to drive additional revenue.
In order to gauge the impact of your club's secondary spend, your central club management system should regulate inventory, revenue, and projected sales in the future. These measures can be instrumental for you to analyze what products and services are financially bettering your club, and what should be replaced with a product with higher earning power.
Club owners have shifted their mission to transform the typical experience at a fitness club to encapsulate much more.  According to IHRSA, clubs that have higher secondary spend generally have higher retention (IHRSA 2018 Global Report). This figure directly correlates with degrees of member "buy-in" or how much their clients feel a personal level of connection with their gym.
By extension, this connection with a fitness club helps develop a community and sense of customer loyalty, making members less likely to churn.
With this overall goal in mind, the role that secondary spend plays in driving revenue can vary dramatically between types of fitness clubs (budget, luxury, boutique), and accordingly, business strategy should be tailored to match the needs of each style.
Budget Clubs
Image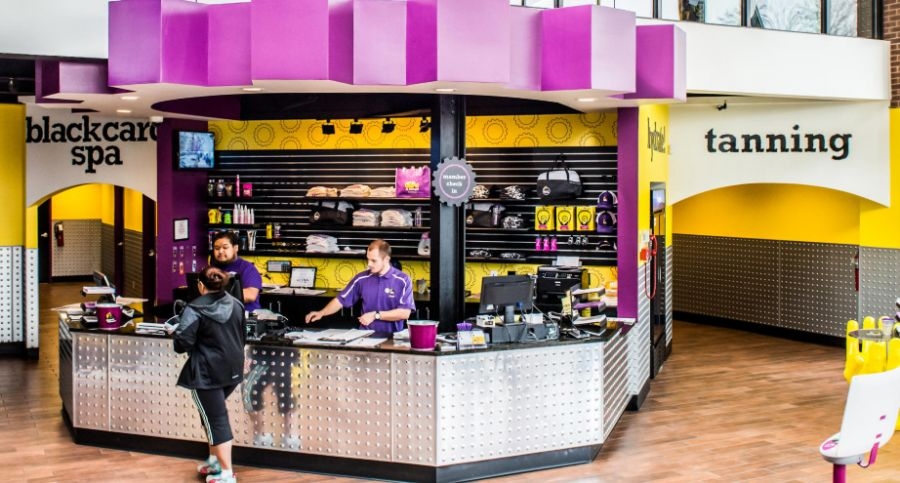 Due to the low cost of memberships and unpredictable retention rates, budget clubs cannot always depend on stable financial projections. Most budget clubs offer month-to-month payments with flexible contracts to attract as many prospective members as possible, which inevitably leaves them susceptible to high churn rates.
This unpredictability causes these facilities to rely on generating a small portion of their monthly revenue on secondary spend channels. Although this statistic is not pervasive, its availability is still crucial.
Secondary spend in budget clubs is subject to certain limitations due to their typical client demographics. The majority of budget club attendees are looking for the basics at an affordable price: no frills, no additional services, no personalized experience. Accordingly, overly sophisticated or high-end options are not likely to be utilized by the typical clientele.
Since budget clubs' target customer base is not likely to spend excessively, their secondary spend strategy is typically based on selling supplements, protein bars, or small-scale branded retail items like shakers, water bottles, towels, etc.
The most reputable budget clubs, Planet Fitness, Energie Fitness, PureGym etc, all follow the "keep it simple" formula. They do not offer personal training services and any additional classes are typically included in monthly membership dues. Secondary spend channels do show degrees of variability between clubs but are primarily limited to self-service vending machines, post-workout refreshments, or discounted options to bring friends.
High-End Clubs
On the other hand, high-end fitness clubs rely extensively on secondary spend opportunities to not only bolster in-house revenue but to create an image affiliated with their club's reputation reflected in its services.
Similarly, these elite clubs also have to be careful of what privileges should be included in their higher membership fees as compared to what distinguishes itself as a clear additional expense. Regardless, luxury clubs report that ancillary services comprise about 30% of their monthly revenue.
Private Training
Image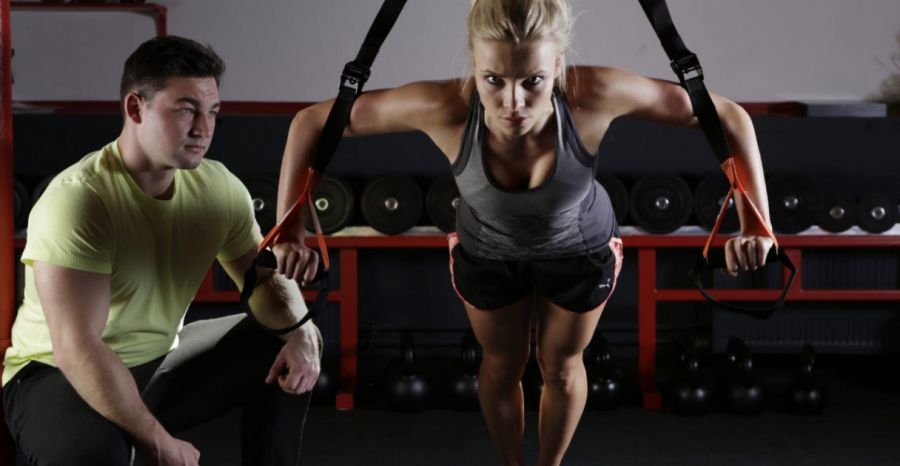 Easily the most common source is high-caliber private training packages. Luxury clubs are revered for employing highly trained and experienced trainers to either teach individual classes or offer private training services.
Private trainers are expected to be as adept in hospitality as they are in fitness instruction to ensure your client's experience exceeds expectations. Given this level of professionalism, private training packages can typically be charged high hourly rates that bring in higher profits even after paying the trainer.
Similarly, high-end clubs also can outsource training classes, like CrossFit or F45, so members can pay by class to participate in these workouts. This symbiotically advantageous relationship benefits everyone: you develop professional and profitable relationships with competing businesses and your members get to sample different styles of fitness while still staying loyal to your club.
Secondary Spend as Wellness Incorporated
Apart from training options, high-end clubs have also diversified revenue streams that reflect other areas of the health and wellness industry. In addition to providing nutritional snacks, many clubs have added juice/shake bars, small-scale cafeterias, or even full-scale restaurants at luxury facilities.
Additionally, clients are likely to trust fit-food brands if they are endorsed by their gym, which innately creates an ideal customer base out of their members.
Image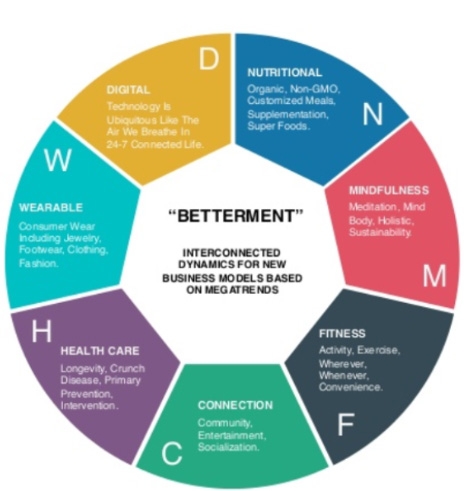 Since fitness clubs stand as a pillar of the wellness industry, these subcategories of wellness all present viable options for high-end clubs to take advantage of. For example, supplying products from a luxury spa or skincare lines, apparel companies, or even fitness technology will both create more opportunities for profit as well as naturally align your brand with the mission of these partnering companies.
Industry Example: Equinox
One of the most prestigious and well-known luxury facility brand names, Equinox, has effectively solidified its brand through its implementation and ultimately reliance on secondary spend. Considering the ranging costs for memberships depending on the location of facilities, the average Equinox member will spend about $160-$230 a month on membership dues, totalling roughly $1900-$2880 spent per year.
However, Executive Chairman of Equinox Group, Harvey Spevak, disclosed that on average, Equinox members spend $3,500 annually on all included services. This disparity in generated revenue speaks to the importance of secondary spend within Equinox's business model.
Not only are Equinox members accustomed to top-tier amenities from the locker room to the weight room, but members are also privy to additional services that rival the quality of an elite business. Equinox offers a complete luxury spa experience, laundry service, and a shop that is chock-full of high-end athleisure apparel branded with the Equinox logo.
Image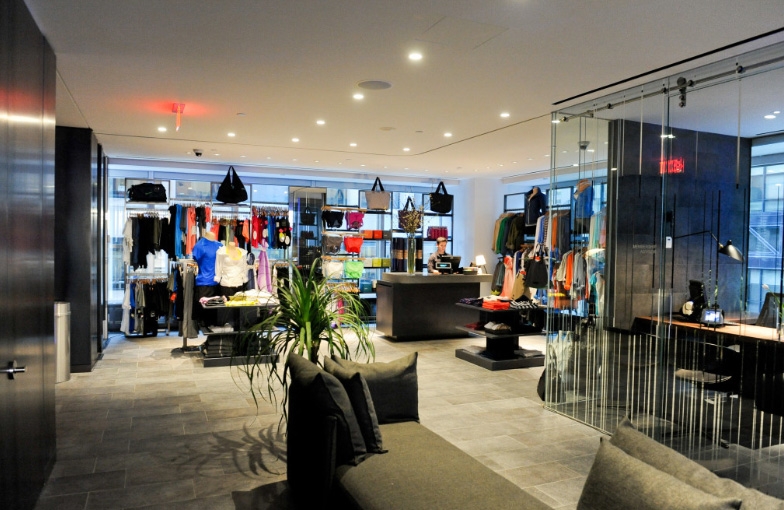 Equinox's Shop is stocked by strictly premium retailers like Lululemon, Alo, and Spiritual Gangster, which has continued to help the brand build its clout. In addition to these clothing options, Equinox also offers products like artisanal personal care products, high-quality gym bags and purses, and temperature-controlled water bottles.
Innovation in Secondary Spend
In addition to pleasing your current customer base, secondary spend can be a must-have channel for outreach and drawing in new clients as well. High-end facilities, primarily following the direction of Equinox Fitness (proprietary owner of Equinox, SoulCycle, PURE Yoga, and Blink Fitness), fitness clubs have pursued nontraditional methods to diversify their reach while simultaneously bolstering brand awareness by association.  
Equinox/SoulCycle Management Agency
Capitalizing on the current popularity and earning potential of the fitness influencer marketplace, Equinox Fitness launched an agency that specializes in grooming fitness influencers to maximize their digital presence. Since influencer marketing is projected to grow exponentially in the immediate future, developing in-house influencers will diversify acquisition channels and speak to new client bases.
The immediate goal of this agency is to transform current Equinox and SoulCycle employees into profitable and well-known influencers. The long-term goal is to extend the Equinox brand with more partnerships and sponsorship opportunities through digital exposure.
Equinox Project
Image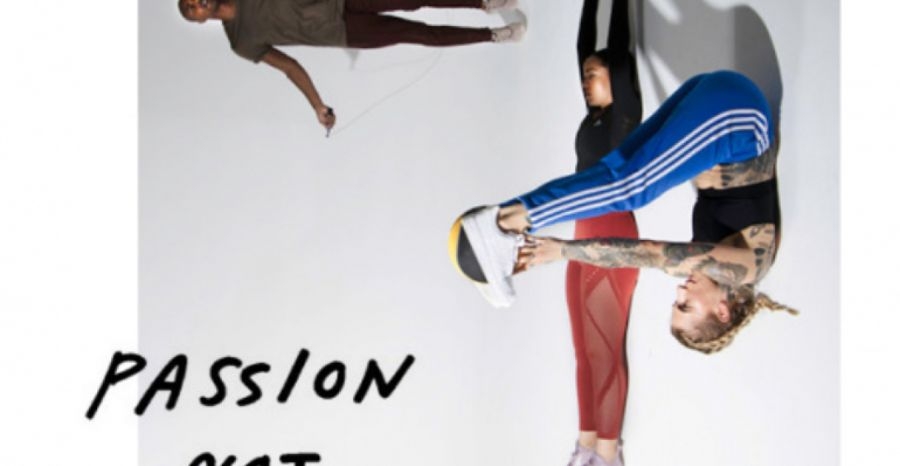 Taking this initiative a step further, Equinox NYC launched an extremely successful side venture titled Project several months ago. Project allows Equinox members and non-members alike to take part in what they have termed a "fitness think tank".
The classes are a constantly revolving door of styles and big-name instructors, and most attendees do not know what type of class they signed up for until the class begins.  
Participants can either pay by individual class or by class pack to attend workouts designed by industry leaders. These unique classes are filled with new material these esteemed instructors have not used at their home studios, therefore encouraging experimentation with different styles of classes and exercise.  
It's this high-level of innovation that companies like Equinox are taking control over the secondary options they provide for revenue generation to stay ahead of the competition. The project, among other things, is an incubator for fitness experiences that look to find new ways to get people interested and hooked on fitness.  
Boutique Clubs
The pricing models of boutique fitness clubs prompt a different dynamic and environment for secondary spend. Since membership and/or class fees in boutique clubs tend to be more expensive than in traditional gyms, these clubs do not rely as much on this additional revenue as part of their expected monthly revenues.
Although secondary spend is less imperative as an income channel, its value in terms of branding and cultivating club identity cannot be understated.
Image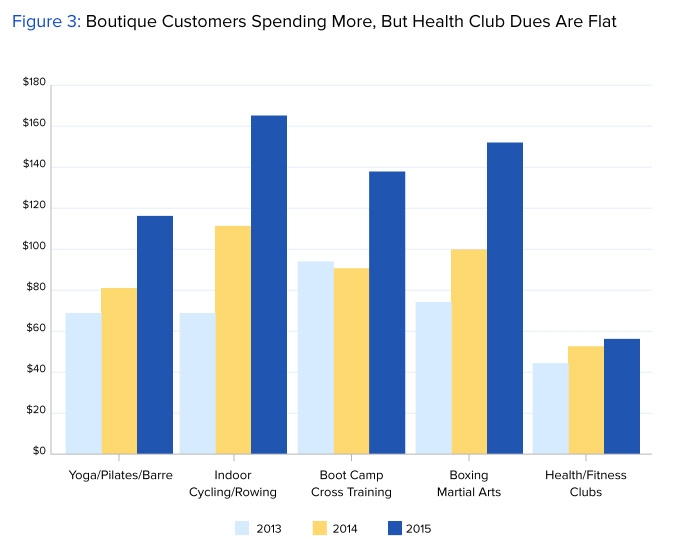 Since boutique clubs' business models are predicated on unique personalized experiences, they rely on instilling a strong sense of community in their members. For example, Crossfit and its unmistakable "fitness as a lifestyle" branding is a brilliant example of the impact environment and community can have on the success of a fitness studio.
A central aspect of cultivating this experience can be created through secondary spend on merchandise like clothing and accessories.
Furthermore, boutique clubs expect more from their personnel. They groom their staff to expertly build their brand through their strong retailing skills. The staff are trained to present their elite products and services without obvious pushing or upselling, allowing their clients the time to browse and come to their own decisions. Boutique clubs thrive off making their brand just exclusive enough to prompt sales from their client to buy in organically.
Image
The big players within boutique fitness clubs, SoulCycle, Orange Theory, F45, etc., have all launched large-scale merchandise campaigns with great success. More important than the sales themselves, this merchandise (apparel, water bottles, fitness accessories) doubles as self-sustaining and organic exposure and marketing as clients wear them outside of the fitness classes. The stronger the community and member buy-in associated with the club, the higher ROI these clubs will have on secondary spend opportunities.
Image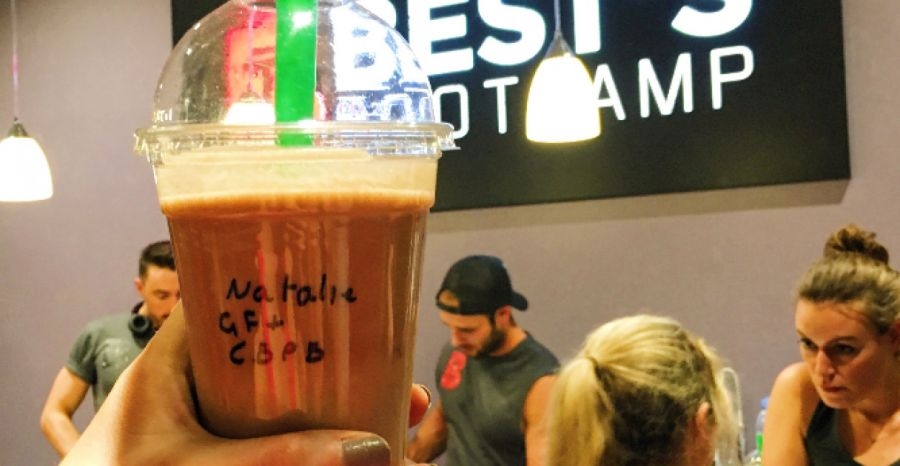 Other boutique clubs have pivoted their strategy for secondary spend in more creative ways. For example, NYC based Best's Bootcamp has become revered for its high-end shake and juice bar, which is responsible for roughly 80% of its ancillary income. To incorporate an element of client appreciation and community, Best's features one member a month to create their own shake to add to the menu.
Similarly, 1Rebel fitness studio in London has followed in SoulCycle's archetypal example by creating a clothing line that seamlessly integrates on-brand merchandise with high fashion. Co-founder James Balfour describes their secondary spend strategy as, "Our clothing gives us brand advocacy, and loyal customers like having a 'look' that represents them and their connection with our brand….1Rebel clothing is also available at selected concessions, so there are people sporting our 'industrial luxe' look who don't necessarily work out at our studios. That's fine with me: we're rebellious and disruptive!"
This strategy does more than just develop brand awareness; it can create an authentic culture which results in your club's widespread notoriety and earned reputation.
Final Thoughts
While membership dues will undoubtedly remain as the primary revenue source for fitness facilities, the added benefits of secondary spend options host so much more than just financial potential. The rise of the fitness and wellness industry as a whole provides the ideal climate for gyms of all makes and sizes to expand their reach and services to their members.
In order to get the most out of these additional revenue streams, utilizing club management software to organize and streamline secondary spend is crucial. The software can provide the basic framework to maximize your profit while minimizing stress or additional tasks to your workload.
Just as the concession stand is an inseparable part of the complete movie-going experience, secondary spend opportunities will continue to build your brand while also completing your members' experiences.