Data has become the most valuable commodity in the world. In fact, many experts have dubbed data as the new oil of the 21st century. It is everywhere in your gym, just waiting to be tapped (not too unlike oil). Unfortunately, data is useless unless it is stored and analyzed correctly. That's where fitness analytics comes in. 
Data is central to your gym's future success, and fitness analytics is the key that will help you unlock its value. In this article, we will explore fitness analytics in greater detail. 
We're also going to cover:
What does it mean to become a data-driven gym?  
Big data and Machine Learning: what do they mean?
Fitness analytics is the future
Fitness analytics with the Perfect Gym Business Intelligence & Analytics Module
How have fitness studios used analytics to add business value
Image
What does it mean to become a data-driven gym?
Technology has developed at immense speed in recent years, with little signs of slowing down. These advancements in technology have created vast amounts of data that is readily available to anyone. Data has created a huge opportunity for gyms to adopt it into their business model. In fact, data-driven organizations are 3x more likely to report significant improvement in decision-making. 
So what does this mean for you?
The fitness industry is perfectly poised to capitalize on the data revolution. Fitness and technology have a long history that will only continue to strengthen over time. There are countless technologies at your member's fingertips that provide unique data points for your business. Whether that is mobile applications tracking attendance rates or equipment that measures usage, there is an infinite amount of data that can be used to your advantage.
To capitalize on this opportunity, data adoption needs to be at the core of your business. Fitness analytics is the vessel that will help you to realize this potential and become more data-driven. As you will learn in this article, fitness analytics will help you set KPIs and accurately forecast key benchmarks such as revenue, membership, and churn rate. This data is then converted into digestible insights that are easy to understand and interpret.  
Big data and Machine Learning…what do they mean?
Unless you've been living under a rock for the past decade, you have probably heard the terms Big Data and Machine Learning thrown around. Although they're both mainstream now, we'll wager that many of you reading this don't fully understand what either of them means. This fear of the unknown is precisely why so many avoid adopting new technology and practices at their gyms. 
To put your mind at ease, here are two quick definitions of Big Data and Machine Learning:
Big Data: Refers to the large, diverse sets of information that grow at ever-increasing rates. It encompasses the volume of information, the velocity or speed at which it is created and collected, and the variety or scope of the data points covered (known as the "three v's" of big data). (Investopedia)
Machine Learning: Machine learning is a branch of artificial intelligence and computer science that focuses on using data and algorithms to imitate the way that humans learn, gradually improving its accuracy. (IBM)
Fitness analytics encompasses both Big Data and Machine Learning. To put it more accurately, Big Data is the fuel that powers Machine Learning and fitness analytics is the broader term used to describe these practices and techniques. 
Fitness analytics is the future.
Technologies like Big Data, Machine Learning, and AI are powering the way we do business. In fact, organizations that leverage customer behavior data outperform other businesses by 85% in sales growth. 
Image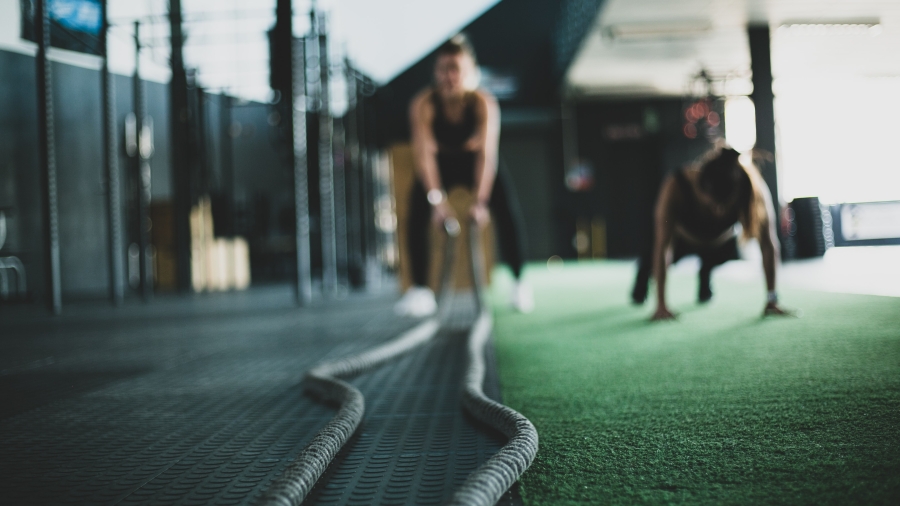 The fitness industry is no different. All fitness facilities generate data, be it gyms, boxing studios, or even hot yoga classes. The problem is that many of these facilities are still using outdated methods to drive business objectives, set sales forecasts, and measure KPIs. To harness the power of data, you need to move away from the spreadsheet model and adopt fitness analytics. Fortunately for you, there are many solutions available that will help you become more data-driven, and Perfect Gym is one of them.
In this next section, we're going to take a closer look at the Perfect Gym Business Intelligence & Analytics Module to show you how it can help power your business forward.  
Fitness analytics with the Perfect Gym Business Intelligence & Analytics Module
At Perfect Gym, we've been helping our customers better understand their members by finding correlations in behavioral patterns and data. We then use this data to create sales predictions, product recommendations, and sales forecasts. Fitness analytics is at the core of our product, and below you will find some of the unique features that will help your gym to be successful.
Image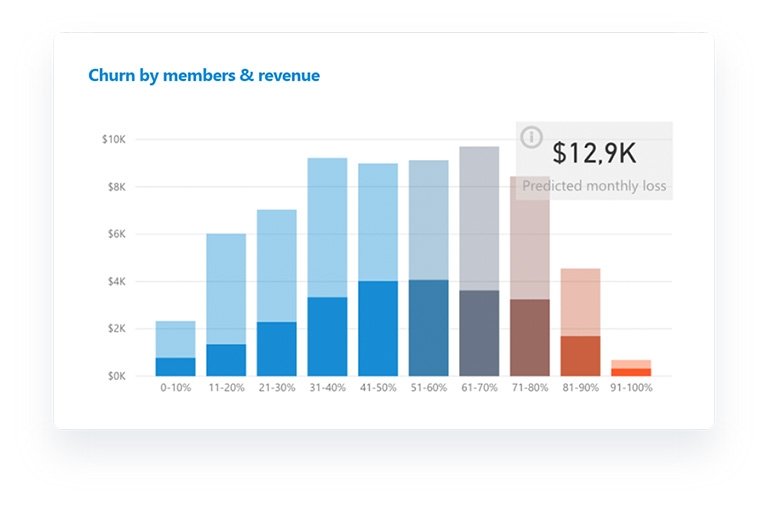 Churn Forecast 
Membership retention is a critical metric that impacts your annual revenue. In fact, a study by Invesp concluded that increasing retention rates by 5% increases profits from 25%-95%. In the past, it was nearly impossible to forecast if and when your members were likely to churn. The unpredictability of membership churn made it very difficult for gym owners to do sales and revenue forecasts. With Perfect Gym's Churn Forecast, you can accumulate data to predict retention and churn rates for individual members or more specified groups. 
Client acquisition 
Client acquisition is a huge priority for any gym owner. With that said, the fitness industry is a highly competitive one, so gym owners often face an uphill battle while trying to acquire new clients. 
The Perfect Gym Business Intelligence & Analytics Module can help. With client acquisition, you can better understand your best members and use that data to create smart, targeted marketing campaigns. Craft lookalike audiences based on existing member data and target similar prospects to achieve better results from marketing and social media campaigns. 
Image
Sale Predictions
Budgeting is one of the biggest headaches for gym owners. This process can be challenging because projecting revenue for the upcoming year depends on various factors such as member churn and unknowns like the number of new members that your gym will likely acquire. Fitness analytics is an approach that solves this problem. 
A huge component of fitness analytics is using past data to set accurate forecasts for the future. With Perfect Gym's Business Intelligence & Analytics Module, you can utilize past sales results at your gym to predict future revenue numbers. Once you've compiled the data, you can use it to make more informed business decisions and set an accurate budget for the year ahead. 
Image
Attendance predictions
Attendance rate is another critical metric that you need to keep track of as a gym owner. Predicting member attendance helps your gym in a variety of ways. Firstly, it's important to keep attendance levels reasonable so that you are never over-capacity. This point is particularly important during times of restriction brought about by the COVID-19 pandemic. It is also crucial to measure attendance rates to see which of your members need some motivation to get back in the gym. A member that is attending your gym less and less is all the more likely to churn when their contract runs out.
The Attendance Prediction feature is built into the Perfect Gym Business Intelligence & Analytics Module. Past user attendance data will help you accurately estimate how many members will be in your gym at any given time. Use this data to keep track of your busiest times and identify members that are lagging behind. 
Image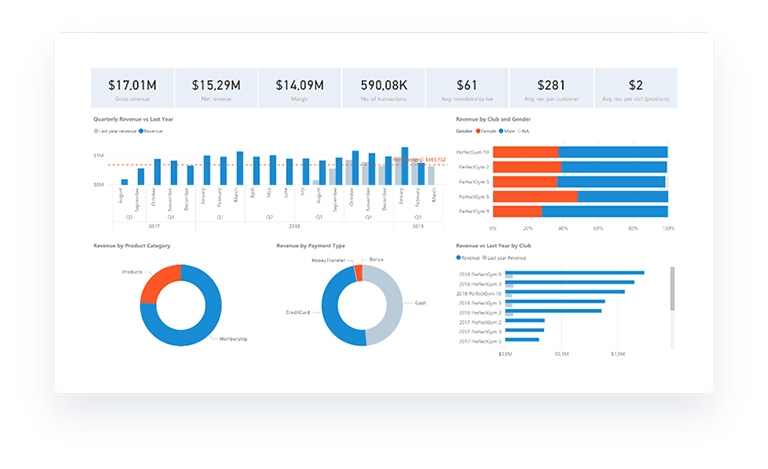 Product recommendations 
Most gym owners would agree that if they could just read the mind of their customers, their jobs would be so much easier. Sadly, unless you are telepathic, this is likely never going to happen. Fortunately, you don't need to be a mind reader to understand your customers' minds better. 
Fitness analytics uses technology to understand the behavioral patterns of your customers. The Perfect Gym Business Intelligence & Analytics Module can help identify correlations and patterns between purchased products and member behavior. Armed with this data, you can create enticing promotions for products that resonate with your members.
Image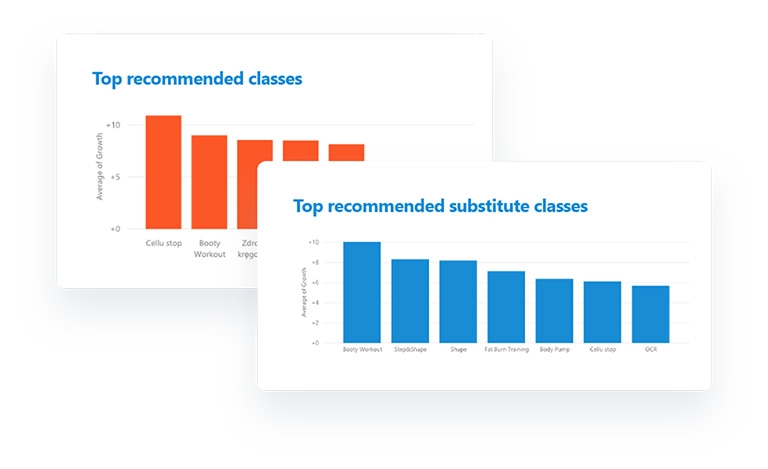 Class recommendations
Classes are a key ingredient to any successful gym or fitness studio. Offering the right classes can literally make or break a potential client's decision whether or not to sign up for your gym. Furthermore, people are feeling more confident than ever about returning to the gym following the COVID-19 pandemic. You need to be ready with the suitable classes on offer to capitalize on this opportunity.
Class recommendations is a built-in feature of Perfect Gym's Business Intelligence & Analytics Module. The module will monitor member behavior, likes, and other attributes and set recommendations for class substitutions. You can then use this information to boost class attendance and engagement. 
Detailed Drill Down 
A successful gym owner understands the importance of measuring, reviewing, and quantifying their data. Failure to do so will result in suboptimal results that harm profitability. Data analysis is at the very core of fitness analytics. While we have outlined some of the individual features of a fitness analytics solution like PG's Business Intelligence & Analytics Module, one must still regularly keep tabs on their gym's overall performance.
The Detailed Drill Down features helps you dig deeper into your data to determine exactly which products or memberships are driving the most revenue. This information will help you understand which products to sell, classes to offer, marketing campaigns to run, and much more.
Summing up
Data is everywhere. Technology advancements and our willingness to accept it into our daily lives means that more and more data will continue to become available. As gym owners, you need to seize the opportunity that data provides for your business.
Fitness analytics will help you make sense of the data that your gym generates and use it to your advantage. The Perfect Gym Business Intelligence & Analytics Module is one such solution that will help. With the Business Intelligence & Analytics Module, you can predict churn rates, acquire new clients, set sales and attendance predictions while only scratching the surface of its full capability.
If you want to learn more about the Perfect Gym Business Intelligence & Analytics Module or any of our other products, get in touch with us today!