The equipment you chose will vary depending on what kind of gym or fitness facility you'd like to run. It's important you find your niche early on, unless you're interested in opening a standard gym. However, there are some essentials every gym needs, even if there is only one piece of equipment. For member satisfaction it's important to have a variety of equipment.
Free standing weights
Recently we've observed a shift within workout preferences from pure cardio to a mixture of cardio and weight lifting. The great thing about free weights is that they can be used standalone or incorporated into a number of workouts. So, its vital for every gym to have at least one set of weights available.
Dumbbells
Dumbells are gym essential. They can range from very light (.5kg) to heavy (50+kg) and vary in type. Made from a cast iron core with a thick rubber coating and a knurled grip, they are durable and easy to use.
Fixed dumbbells are the most common type used across the majority of gyms. As they are a fixed weight, they provide additional user safety and can easily be switched during reps. The downside of fixed dumbbells is that they can take up space in your gym as they need a horizontal or vertical free-standing rack. It's estimated that a weightlifting setup requires at least 213cm by 243cm (84" by 96") of free space.
Adjustable dumbbells on the other hand are great for smaller spaces as the weight is adjusted via plates. As the plates need to be manually adjusted and secured by a pin they are more prone to damage. They also pose a bigger safety risk, as you're relying on members to safely secure the weights in place before using them. If you decide to chose adjustable dumbbells, pay close attention to how the plates are secured in place. Ask yourself the following question, will this safety pin wear off in a short time or will it last. The last thing you want is plates flying off during reps!
Barbells
Barbells are generally longer dumbbells that can be used alone or in combination with a squat rack or bench press. They can have removable or set plates depending on your in-facility space and budget. If you decide to focus on weight training, specialised Hex Bars can be purchased. They are ideal for heavier training, designed with bodybuilders and weightlifters in mind.
Image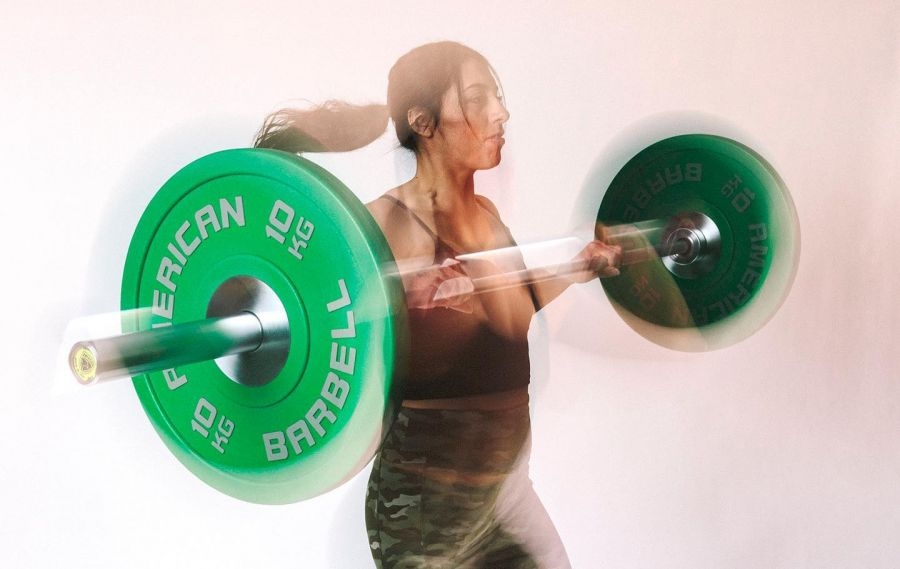 Kettlebells
Kettlebells although targeting a slightly different muscle group, offer an alternative to weight training with dumbbells. In recent years, they have grown in popularity, even resulting in a kettlebell shortage back in 2020. As such, it might be worth investing in some basic kettlebells to ensure your members will find the equipment they need to get a good workout at your gym.
Training Bench
So you've kitted out your gym with free standing weights, that's great! But don't forget to put in few training benches to give members space to do their chest press. Keep in mind that members may be pressing 50kg dumbbells, so the last thing they'll want is a rocking bench. That's just an accident waiting to happen. When choosing a training bench look at its structure, does the frame look sturdy?
Image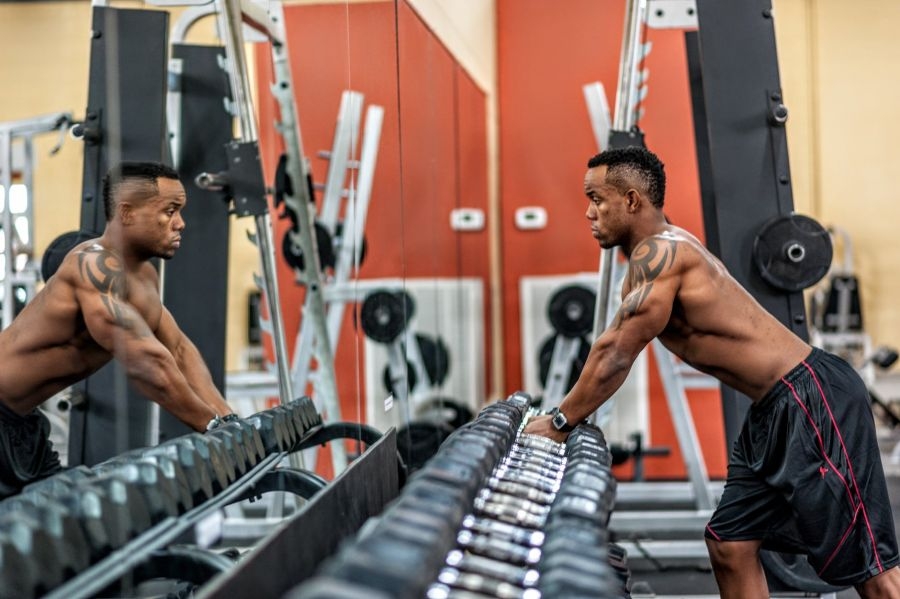 American Barbell
With over 35 years of experience on the market, American Barbell is the leader when it comes to free weights. Their equipment can be found in the biggest clubs, from Orange Theory to Planet Fitness. American Barbell manufactures dumbbells, barbells, kettlebells and pretty much any other kind of weight your members may need. By choosing a reliable brand you can be rest assured the equipment will last. What's more, they can help design your space, ensuring the layout is intuitive, user friendly and space is optimised.
Summing up free weights are a staple. Every gym should have at least a basic set to cater to members needs. Good quality free weights are durable and will last years, so it's the equipment you do not want to skimp out on.
Cardio
To help members achieve their fitness goals it's wise to include few cardio machines. Cardio can be a great way to help members burn those stubborn calories. It's also a way members can either warm-up before their workout or cool down post-workout. So below you'll find a gym equipment list you'll need to consider.
Treadmill
Depending on your budget and facility size you may only be able to afford or fit one cardio machine. If that is the case, the treadmill is the one. Treadmills are universal, easy to use and maintain. Members can choose from walking, incline walk, jog and sprint based on their abilities and preferences. The most basic treadmill should at least have varying inclines and speeds. Members would also benefit from observing their heart rate if they want to get the most out of their run.
Image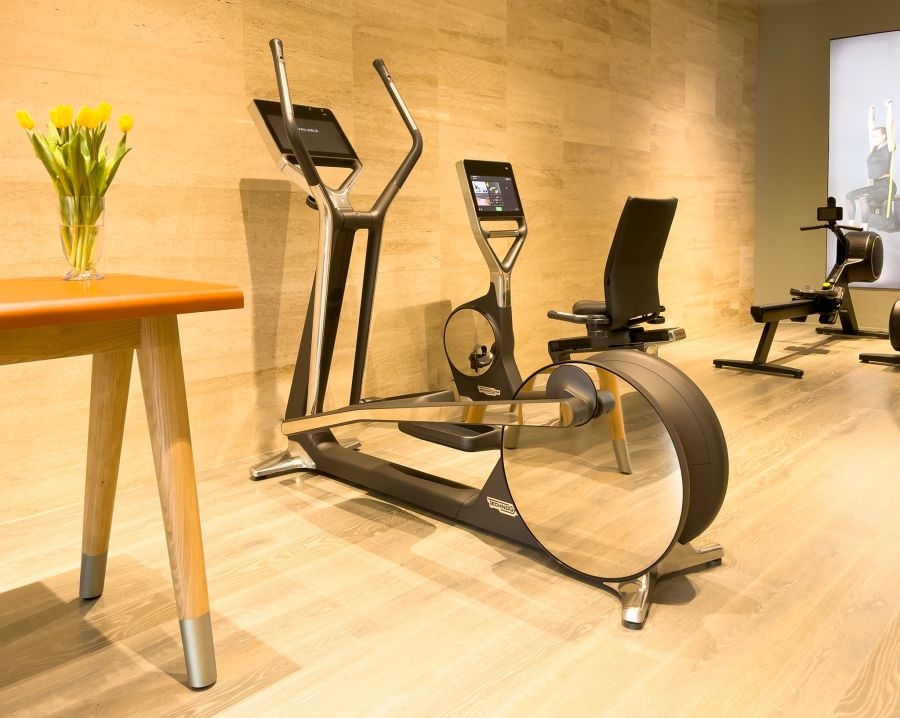 If your budget allows for something a bit more snazzy, then you can look for treadmills display screens that live-project user stats. Technogym treadmills offer 'Biofeedback' such as stride length, right-left balance and even running power, all to help runners improve their form and minimise the risk of injury. Technogym has made its way into many luxurious fitness and leisure clubs like the Ritz-Carlton and Lagardère Paris Racing.
Stationary Bike
The stationary bike offers a low-impact cardiovascular endurance alternative to a treadmill. If space permits its a good idea to have both treadmill and a bike as not all members may feel comfortable using a treadmill to warm up or exercise. There are three options when it comes to stationary bikes, recumbent, upright and indoor cycling bikes.
Indoor cycling bikes imitate outdoor bicycles but are not designed to improve user endurance. So although it may be appealing to have a realistic-looking bike at your gym, remember that if a member fails to see results, they are more likely to churn.
Recumbent bikes are great for users who want lower-body exercise. Unlike indoor cycling bikes, recumbent bikes are effective in helping achieve fitness goals. An additional plus is the fact that the seat is placed at the back of the bike, so whilst exercising users also get to stretch out their legs whilst working out.
Upright bikes resemble cycling bikes. What sets them apart is the fact that they are loaded with user-friendly features that help users get the most out of their workout. The most basic features include a heart-rate monitor, speed, time, distance and calories burnt. Being able to see real-time progress can help members push themselves and get the most out of their workout.
Image
Precor is a leading brand when it comes to supplying gyms with stationary bikes. You get reliability, easy to service and modern design. Depending on your target members and the type of fitness facility you want to run you get to chose from upright to recumbent bikes so you can ensure your equipment is representative of your facilities vision.
Rowing Machine
If your space permits, purchasing at least two rowing machines can be beneficial to your member's workouts. Rowing machines, when done correctly offer a head-to-toe workout. It engages the lower and upper body as well as your core, helping members burn calories and stay toned. Whats more, rowing is low-impact cardio that can be sustained for long period or alternatively shorter, high-intensity workouts.
Image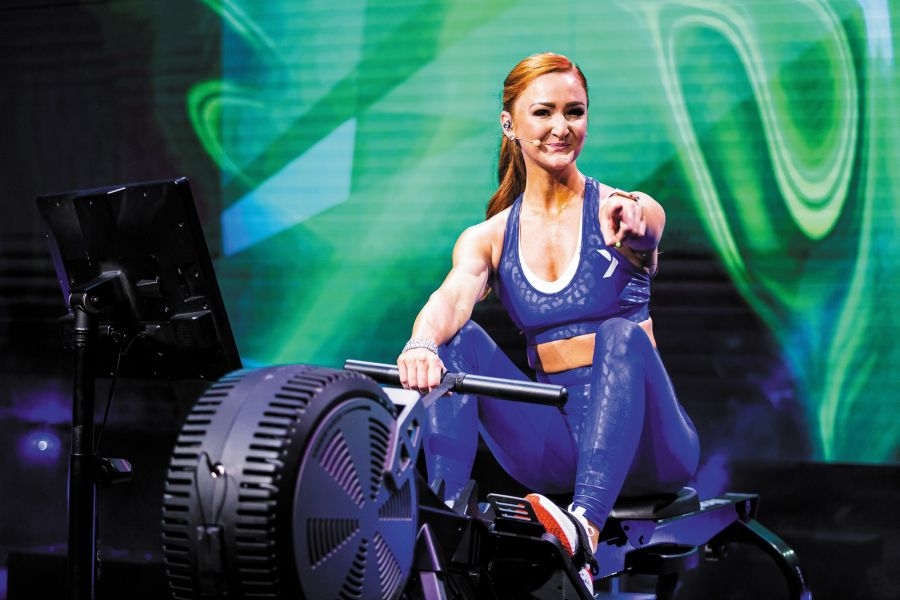 NordicTrack is one of the market leaders when it comes to fitness equipment. Their rowing machines have been ranked as number one by Mens Health Magazine in 2021. With over 25 years of experience, you can rest assured that the quality of machines is high. The basic rowing machines have a display screen that shows users their metrics to help them keep track of their rowing efforts. For a more unique experience, the Nordic Track RW900 Rower comes with a 22-inch touchscreen. The touch screen allows to join online classes and automatically adjust the resistance as per instructions.
To sum up cardio equipment is good for warming up, cooling down or helping memebers move that stubborn fat. So, every gym should have at least one treadmill, if not few cardio machines.
Concluding remarks
Opening a gym takes a lot of planning and preparations and can seem overwhelming at the start. We want to help each potential gym owner fulfil their dreams, so we've created a "how to guide" to ease that process. In terms of equipment, sure you can purchase more, especially cable lever machines but they are not essential. This gym equipment list is a must-have. Before you spend money on anything else, ask yourself these two questions:
Who will my members be?
What kind of gym do I want to run?