Despite recent surges in popularity, trampoline parks are still tasked with the daunting challenge of transitioning from a novelty one-time experience to a repeat-business model.
While it goes without saying that the best strategy to build your trampoline park business is to let your stand-out facility and services bring customers back wanting more, trampoline parks can benefit from other creative techniques to acquire to customers, and most importantly, retain them. 
The best ways to accomplish this feat are:
Effective diversified marketing initiatives
Simple online ticketing platforms and client portals
Incentives and opportunities for repeat business
Marketing: Bringing Your Two Audiences Together
Given the unique nature of trampoline parks, you must consider that you are marketing for two different types of consumers. One type of consumer will be the typical trampoline park user: someone who wants to plan a single visit for recreation or a specific event. The other type of consumer is one who is looking to attend a trampoline park regularly. While ways you can appeal to these different demographics may differ, you should focus marketing initiatives on turning one-time customers into consistent attendees. 
Customer Acquisition Marketing
Trampoline Parks should seek every opportunity to put their business on the radar of their potential customers. Since trampoline parks are considered a unique experience, businesses should consider appealing incentives to get customers to their door. 
The best ways are:
Special Event Packages
Since trampoline parks have already established their place in the niche "event" industry, use this notoriety to your advantage. You can offer "party packages" that take the burden off your clients by planning their party for them. In addition to renting the space at the trampoline park for the event, you can also offer food, beverages and party entertainment for one convenient price.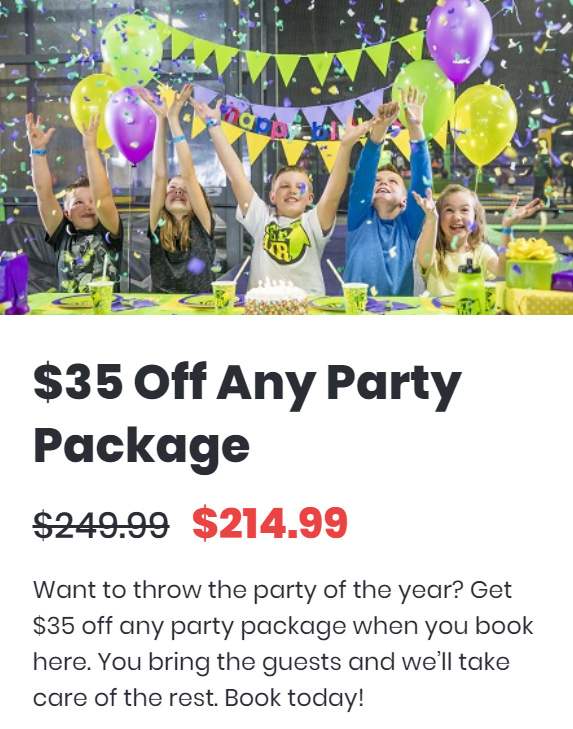 Also, target your marketing offers for all types of events instead of just birthday parties (the most common trampoline park event). Offer unique packages for events like: graduations, engagement/bridal parties, family or school reunions, etc. The more specific of an event package you can create, the more inclined customers will be to use your services. 
Discounts for First Time Visitors
Everyone loves feeling like their getting a bang for their buck. With this in mind, offering discounts for new clients is a great incentive to get them to try an activity as unique and adventurous as trampolining. 
Referral Programs
 Reward recurring and new members alike with a referral program. Current members are more likely to bring their friends and family if there is a reward for doing so. Offering benefits to members to bring friends brings your park the exposure it needs to cultivate a thriving community that traditional gyms have focused on building in the last several years. 
Gift Cards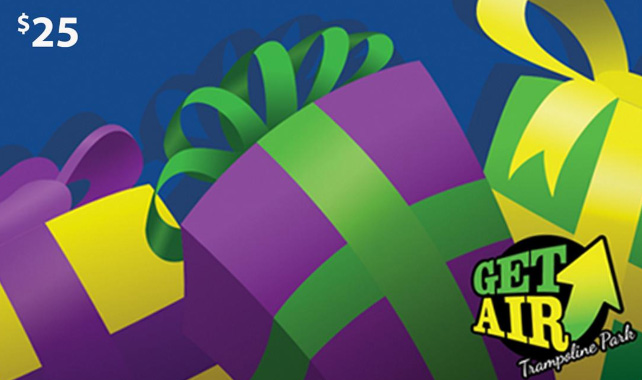 Offering gift cards is another effective way to draw attention to your business, especially to customers who may fall out of your target audience. Gift cards can serve several purposes: 
They provide creative gifts instead of more traditional gift card offerings, making them appealing. 
They naturally serve as trusted referrals: whoever purchased them as a gift is vouching for your services to the recipient
They are likely to bring new clients who may have never considered attending a trampoline park in the first place.
Priority Marketing: Memberships
In order to transition the perception of trampoline parks from a novelty to consistent experience, trampoline parks should also focus their marketing initiatives on selling memberships instead of one time visits or events. Trampoline parks can benefit from paralleling customer access options used by famed theme or adventure parks, like marketing client membership packages that permit recurring visits instead of just one-time entry tickets. 
Consider the example of Disneyland in Anaheim, California. Disneyland expanded its reputation as a one-time "bucket list" attraction from visitors worldwide when it began to consider options for increasing visits from local attendees.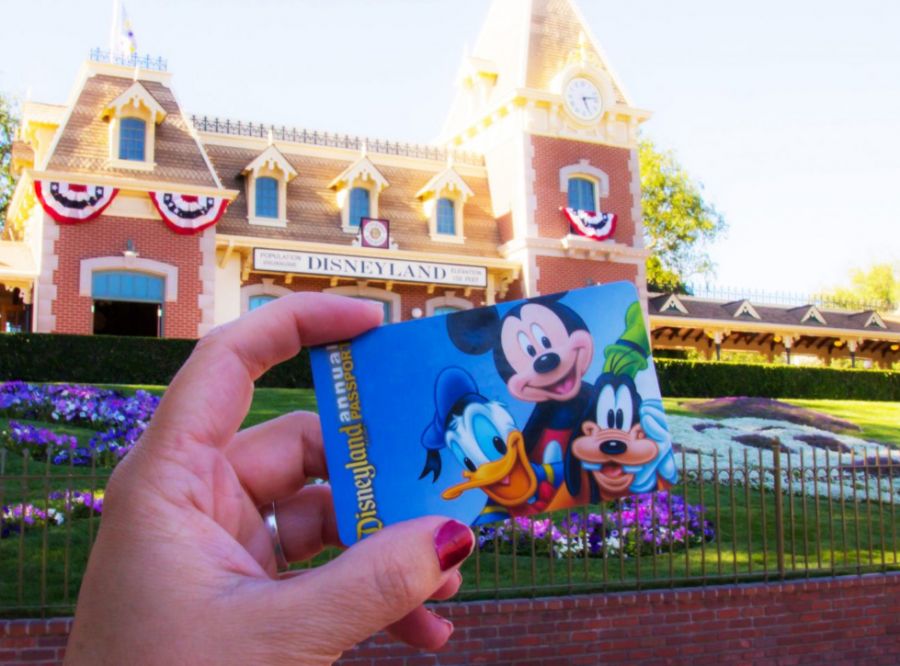 In 2004 the park began offering the Southern California (SoCal) Annual Passholder ticket, which was exclusively available for visitors located in the southern California area. Even at extremely high prices, the SoCal Annual Passholder ticket remains so popular that it still sells out every year, even with notable price increases. In fact, Disneyland has had to downsize on SoCal memberships sold just to help with crowding measures. 
With the Disneyland SoCal Passholder options currently range from $399 to $1,949 a year (depending on black out days and additional incentives), the pass brings 1000s of repeat visitors who otherwise would not attend. 
Though not paying full admission per visit, these members bring a wealth of profit-driving benefits: they bring friends and spend generously on auxiliary items that complete the Disneyland Day experience, like Mickey Mouse ears and Minnie Mouse ice cream sandwiches. Since the cheapest membership option only provides for admittance on low crowd days, like weekdays during the school year, it keeps the park attendance at higher capacities. Disneyland estimates that when factoring ticket sales and additional spend, local SoCal Passholders still drive a substantial portion of their annual revenue. 
Trampoline parks can experience similar success  by creating different tiers of memberships for its clients ranging from complete all access to restricted number of visits. Providing membership options that vary in price will likely appeal to more members when considering their diverse needs.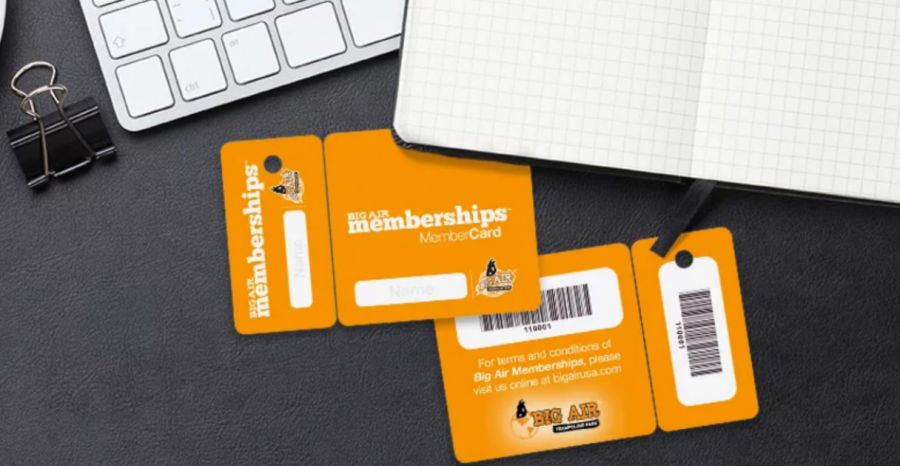 Since memberships will bring more lifetime value, marketing initiatives should prioritize showcasing membership offers and opportunities to your target demographic. Pricing strategies should also be tailored accordingly so consumers will feel like their purchase will pay for itself. 
Memberships should also be marketed to all users. This can be achieved by offering discounted prices on memberships to clients after their first visit. Encouraging repeat clients can be crucial for building public perception of your park as well as driving revenue through secondary spend purchases these visitors are likely to make on their future visits.
Convenient Purchasing Platforms
Nowadays, online accessibility is vital to every degree of sustaining a customer-facing business. Consumers expect easy to use digital platforms to first learn about your business, and more importantly, to interact with it. Trampoline parks' first line of offense in customer acquisition needs to be simple, convenient, digital means for customers to access their facility.  
The current "novelty status" for trampoline parks sets a different mindset for customers: visits are typically planned and coordinated in advance as opposed to popping in after school or work. Therefore, providing user friendly e-commerce platforms for customers to reserve tickets in advance is crucial to get visitors to your doors.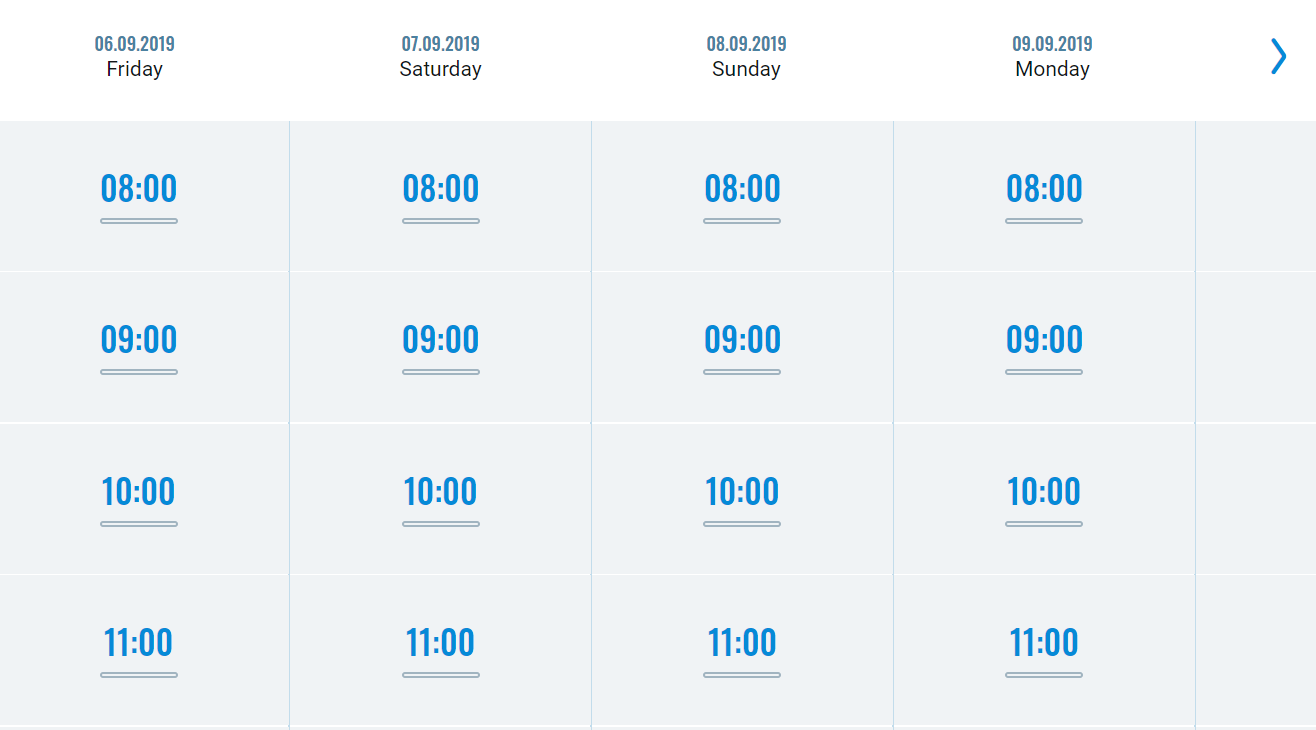 Ordering tickets online in advance provides guaranteed, predictable visits and revenue to your facility as well as increases the likelihood that new patrons will select your facility compared to others where you need to buy tickets upon arrival. Clients can easily select from available time slots that accommodate their schedules as well as help them plan their visit accordingly. 

Your ecommerce ticketing platform also has the added benefit of planning accordingly for guests. Walk-in visitors can come unexpectedly, but purchasing tickets online allows you to prepare your facility properly for the number of visitors. This can help you manage crowd control early or set up activities in different rooms of your facility to keep all visitors entertained, therefore enhancing their overall experience. 
User Friendly Client Portals
The especially customize your ecommerce platforms, you can add the option of a client portal. Client portals are essential for simplifying the repeat customer's buying experience by streamlining payment information and cataloging purchase history. On your end, client portals provide a simplified automated mechanism for managing return visitors without any additional stress or responsibility on your staff.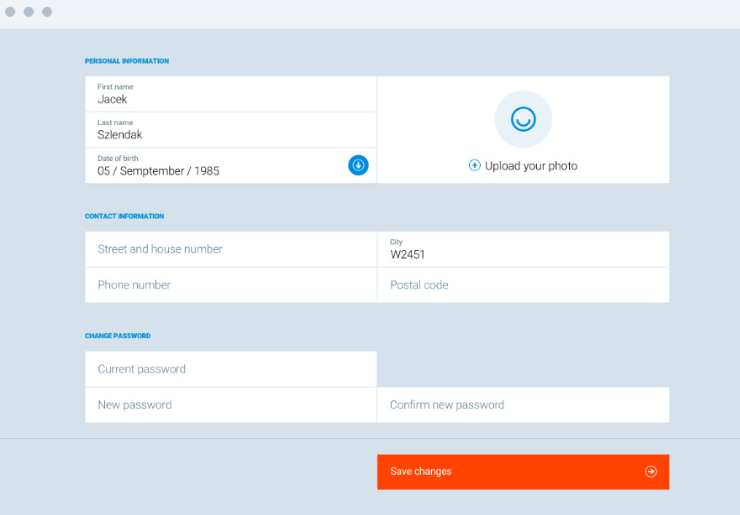 What's more, client portals allow you as the facility direct access to your best customers purchase preferences and habits, which you can use in turn to enhance your offers. With customer satisfaction expectations at unprecedented highs and continuing to rise, establishing a direct line of correspondence with your clients with easy, traceable client portal records is an excellent way to meet this expectation. 
Capitalize off Secondary Spend
Like other theme or adventure parks, revenue streams from services or products besides ticket sales are crucial for trampoline parks' overall profit.  Secondary spend opportunities are one of the easiest ways to bolster club revenue with minimal effort needed from club staff itself as it can be easily cataloged in your management software.

Most trampoline parks offer or even require clients to use provided gear, like grip socks or proper clothing. This creates a unique opportunity to diversify revenue streams by upselling diverse products at reception, or more conveniently, on the same e-commerce platform used to sell tickets.
Like any check out platform, online or in person, providing access to last minute Add-On purchases can be extremely effective in earning sales. In fact, providing products as "impulse buys"  during checkout has shown to have a psychological effect on the customers that encourages purchasing. The logic underlying this tactic speaks to how your customers are already prepared to buy, and therefore the likelihood of adding another small or discounted purchase are significantly higher.
Buying products online and picking them up in person is as close to a no-hassle form of income your management can have. Additionally, you will take advantage of how sometimes the most effective sales driver can be making the product as accessible to the customer as possible for them to make their own buying decisions. 

Common products trampoline parks can offer are:
Clothing specific to trampoline park safety requirements

Food and drinks

Branded merchandise and clothing items

Work out gear like resistance bands, etc.

Health supplements like protein shakes or nutrition bars 
In-House Offers for Repeat Visits
In order to break the novelty experience barrier, trampoline parks need to become accustomed to offering specific services that will garner repeat customers. 
Specialized Fitness Classes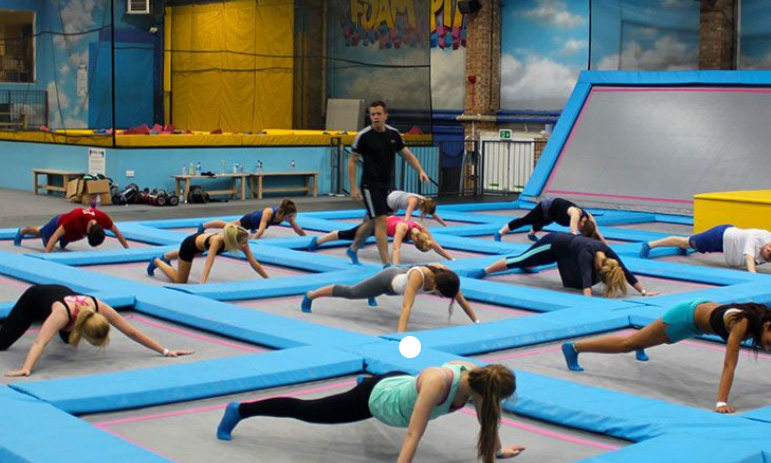 According to NASA research, incorporating trampolines into fitness routines can maximize your workout: roughly 10 minutes of trampolining burns the same calories as a 30 minute run.
With boutique fitness classes at an all-time highs with public interest, trampoline classes are situated to draw consistent crowds by creating unique classes centered around them. There are also great advantages inherently provided with trampoline-based fitness classes. For example, the low impact on joints and ligaments makes them suitable for all ages and fitness levels, widening your demographics. 
Given the dynamic structure and equipment available at trampoline parks, you can offer various classes to entice different demographics. Trampolines can be incorporated in core and balance building exercises just as easily as they can be used for advanced high intensity interval training classes.The fun youthful draw of trampolines perfectly accommodate child and adolescent classes while their low impact anaerobic exercise appeal is perfect for older members. 
Refining your classes and finding elite instructors will transform how patrons view your trampoline facility: they can alter the image of your trampoline park to a full-scale boutique fitness club. What's more, offering these boutique-style fitness classes can bring more inherent value to your park as they tend to attract consistent repeat customers if they gain traction.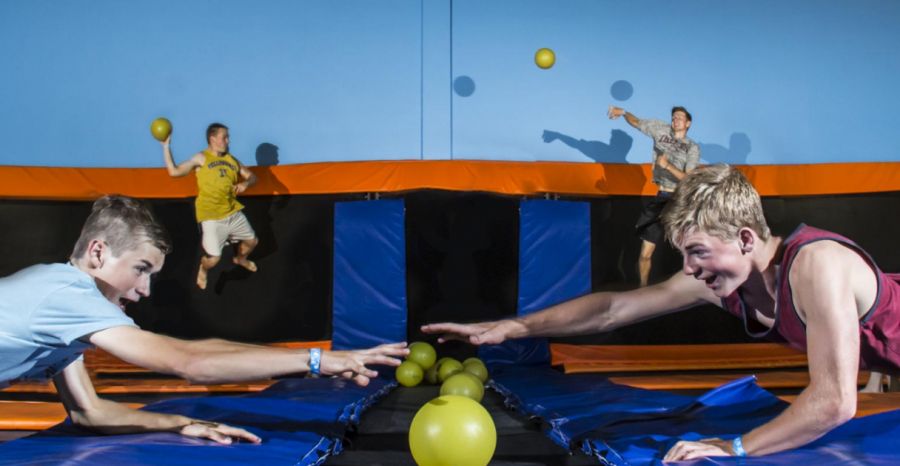 Specifically for children's athletic classes, consider adding regularly scheduled sports-based games to your trampolines, like basketball and dodgeball. Since many trampoline parks already have playground favorites like balance beams, monkey bars, rock climbing walls etc, consider making unique regular classes structured around these pieces of equipment. Not only can these classes be great ways for children to get in regular exercise, but they naturally incorporate a socialization element for children to make friends ar a venue outside of school. 
Final Thoughts
Widespread consumer interest in trampoline parks has led to the rapid growth of the industry, but now trampoline facilities must transform their reputations to continue to prosper. Trampoline parks can easily adapt effective strategies cultivated by theme parks and fitness clubs to draw in new customers and keep them as loyal members. Using digital purchasing means, like online ticket platforms and client portals are excellent strategies to give your business a leg up on the competition.