What exactly is a hybrid fitness model?
A hybrid fitness business combines online classes with in-class experience. This is achieved by offering a live stream of a real-time class to members at home. Depending on local restrictions, you can offer some in-class spaces along with live-stream/on-demand spaces. If, as a way of adapting to the pandemic your club has offered online classes, you are halfway there already. You have the materials and knowledge needed for the hybrid fitness model to succeed. Introducing one is simple. There are only steps:
Step 1: Check your local restrictions, see at what capacity (if any) your club can operate? Plan how many in-class spaces you can offer. Think about your digital capabilities. How many online spaces can you offer without compromising quality?
Step 2: Think about the content you want to offer your members. Live streaming, on-demand or both? Once you know this, set up the appropriate channels like Zoom, Vimeo or Youtube that will allow you to deliver this content.
Of course, this is in a nutshell. There are other factors you have to consider as well that we will look at in this article.
Why should you offer a hybrid fitness model?
There are few good reasons why you should consider a hybrid fitness business model.
Online training is the future
Throughout the pandemic, people have adjusted their fitness routines to fit the new norm. According to the Worldwide Survey of Fitness Trends for 2021 online training has been the number 1 fitness trend in 2021. It's no surprise that the number of available fitness apps increased by 5.66 per cent from 2019 to 2020. As of 2020 there were over 49,890 fitness apps available. It's safe to say there is plenty of workout content online, from fitness apps to Yoga with Adriene on Youtube that has 9.79M subscribers and Instagram fitness influencers like Michelle Lewin with 13.8M followers. It's no surprise that this trend is here to stay. Some people find it easier to fit in training around their busy schedules if they workout from home. So the sooner you capitalise from this, the better.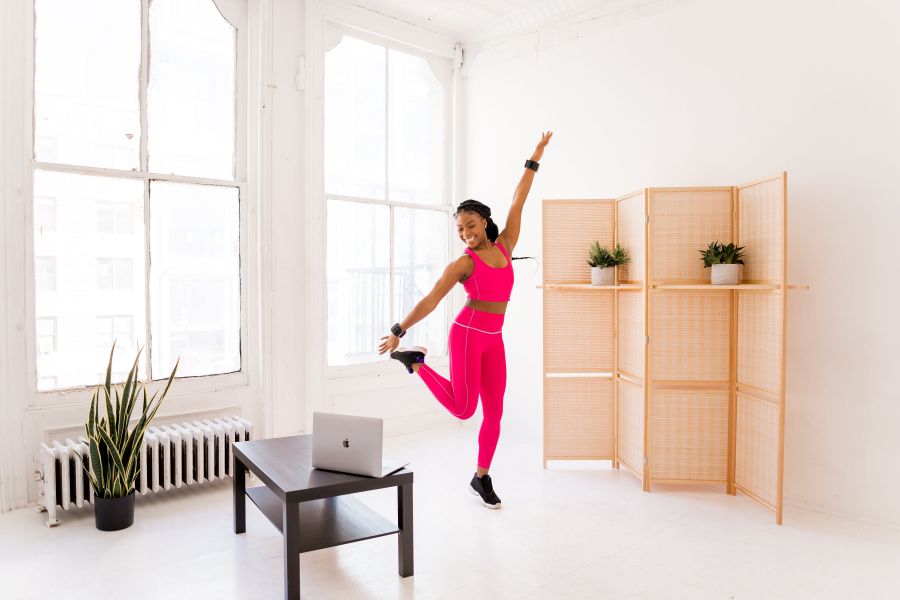 DanceBody, an NYC dance studio offers live streams of in-person classes. When reserving space, members can see which classes will be streamed on DanceBody Live. Through this, anyone from around the world can join DanceBody classes. Members can pay for either a single class or a monthly online subscription to DanceBody Live. Members can also include add-ons like pay-per-view classes or 30-day programs. By offering such a wide array of platforms DanceBody is catering to all of their members' needs.
At-home gyms are gaining in popularity
Statistics don't lie, 9 in 10 Americans will continue at-home workouts after normal life resumes. There are many reasons for this, one being that people have invested in at-home equipment. For example, sales of exercise bikes grew by over 2,000 per cent and weight benches by over 4,000 per cent. The pandemic has driven the at-home equipment sales, helping at-home workouts secure their place in the fitness ecosystem. Once your members invest in at-home equipment, they will want to continue using it.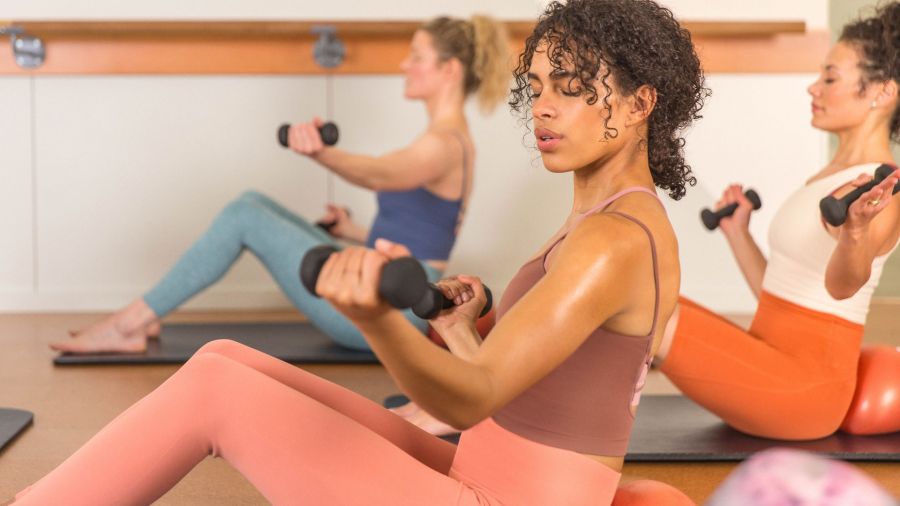 Barre3, a full-body balanced studio and online platform offer a variety of workouts. They were quick to recognise the added business value of incorporating at-home equipment into their workouts. The workouts range from 10 to 60 minutes and need some equipment. Members chose from a variety of workouts including a mix of strength conditioning, cardio and mindfulness. Most exercises need some equipment like resistance bands, dumbbells or core balls. Barre3 understands and caters to their members who want to use the equipment they've invested in.
Minimise the financial constraints of limited capacity with a hybrid model
Regardless of where you are in the world, the probability of your gym reopening at a full capacity is very slim. Most governments are allowing gyms to reopen at 50 per cent if not less. This can mean significant losses for your business. A hybrid fitness business will allow you to address these financial losses. Through this model, you will be able to offer more class places in a safe environment.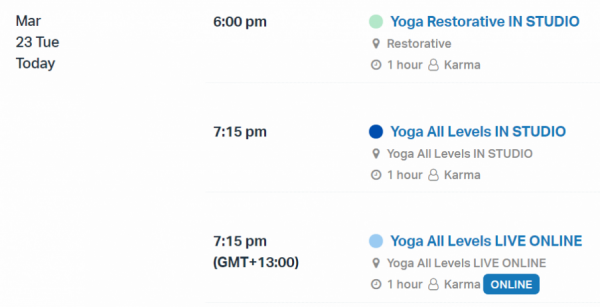 Generally, yoga studios offer an intimate and serene environment for their members. As a result, yoga studios operate in small spaces. The capacity limitations can have a real impact on their revenue. Yoga by Karma understands the limitations brought by the restrictions. To ensure the studio continues to bring in revenue it offers in-person and online spaces. Members can choose which option suits them better.
Hybrid fitness can help retain membership
A hybrid fitness business model can also help you keep your members. Members who are at risk of curing may reconsider if they have different memberships to choose from. Live stream or on-demand memberships may be cheaper. They also give them more flexibility to work out from home. Sometimes more options are better than a few. Offering hybrid fitness will help them fit fitness into their busy schedules. This will help you ensure your members engage with your brand.

Flow Fitness Seattle offers three memberships, classes/gym, strength camp and personal training. Those memberships are further split into three levels fit, strong and power. The price of the subscription varied depending on the subscription and level. A monthly fee for classes/gym membership at the lowest level cost $59.99. To help members stay active during the pandemic, Flow Fitness began to offer virtual memberships. Although there is less flexibility in the levels, members can choose from classes/training, virtual personal training 1 and 2. The price difference is noticeable, the classes/training monthly fee is $19.99. This helps them ensure members will be more inclined to keep their subscriptions.
Gym anxiety
Don't dismiss gym anxiety. Out of 2,000 Americans "31 percent admit to feeling anxious when thinking about trying to get into shape". Some members may have not stepped inside a gym for over a year now. What's more, some may have not even had the opportunity to work out at home. So, they may be feeling anxious about re-entering your fitness facility. A hybrid fitness model can help them regain their confidence. They can get the in-class feeling from the safety of their own home until they feel ready.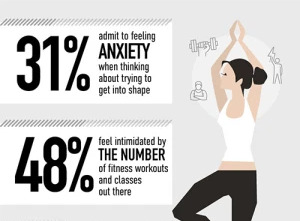 Members need to engage
Pre-recorded content is great, but some members may need to connect with others. This is something pre-recorded online content lacks and can lead to member disengagement. A hybrid fitness model offers the opportunity to connect with other members. Members are also given the opportunity to connect with their trainer. Working out together can ignite the competitive spirit encouraging members to push themselves. This in turn leads to more visible results which will further drive your members.

AKT on Demand offers Anna Kaiser on-demands full-length workouts. With a membership, users can access a library of past workouts as well as get two new workouts a month. What makes AKT special, is that new members get a 15-minute trainer consultation. This allows them to discuss their goals and the best way to achieve them.
Give your club a further reach
The hybrid fitness model allows anyone to join your live stream or on-demand classes. This gives your club further reach as you can have subscribers from around the world. If your club is located in London, UK you can have members from as far as California. This can help your club gain a worldwide following, where your brand is recognised.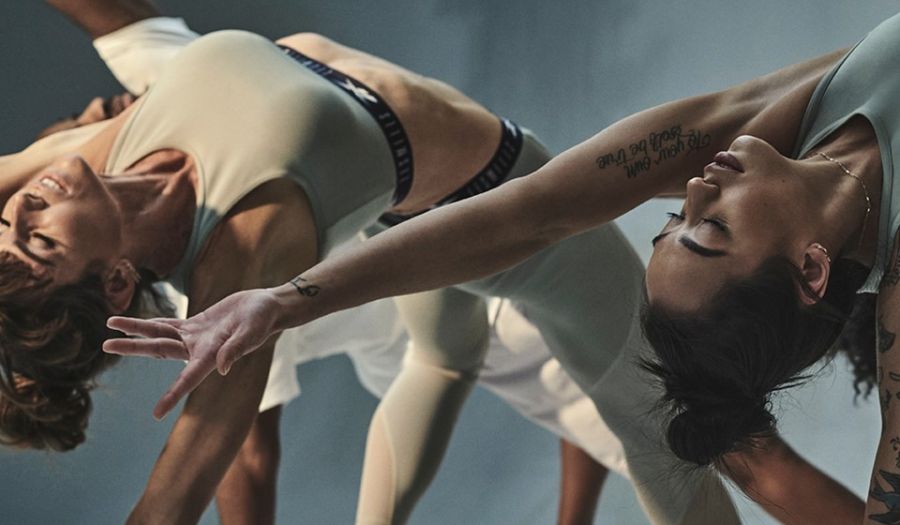 Les Mills, a New Zealand-based group fitness company, understands the importance of this. Their advertising is targeting people around the world. It encourages people to sign up to their live-stream or on-demand classes. They saw the opportunity in the pandemic. The opportunity to spread their reach further across the world.
How to prepare your gym for a hybrid fitness model?
Okay, I may have exaggerated when I said setting up a hybrid fitness business model only takes two steps. This plan will need some more brainstorming but should be smooth sailing once it's done.
Think about your facility capacity
As mentioned earlier, each country has introduced different capacity restrictions. Most facilities are required to operate at a limited capacity of 50 per cent or less. So, you and your staff should find out how many members are able to attend your classes in person. Once you know this, you can then add online spaces.
Based on the restrictions and the size of your classes you will be able to limit the number of attendees. Perfect Gym member management system allows gym owners to set class limits. Through the member portal, members can see how many spaces are taken. This will help them decide whether to book an in-class or online spot. Requesting members pre-book classes will help you manage capacity. What's more making capacity visible will reduce the number of enquiries the front desk receives.
Live streaming, on-demand or both?
Do you want your hybrid fitness business model to offer on-demand, pre-recorded or both? The hybrid fitness model is flexible, you can shape it to fit your business and brand. Here are few things to consider:
Live-streamed classes
Live streaming classes will help your members connect with the group and instructor. The member can awake their inner competitor and compete with their friends. Live streaming creates a community, strengthening your members' attachment to your brand. They are streamed on schedule, giving your members a real gym experience at home.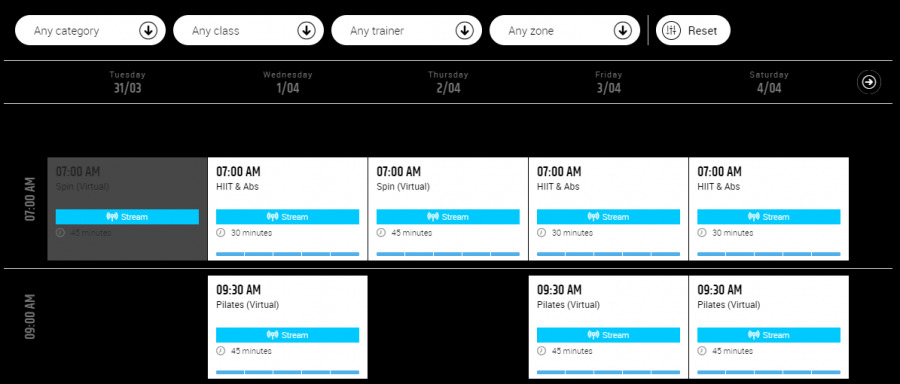 With PerfectGym TV - Live Streaming you can stream and distribute clubs live stream or on-demand content. Members can access content through the online portal or mobile application. What's more, you can set rules for who can access your online content. For example, members can access all live-streamed classes or can only access on-demand depending on the membership.
On-demand classes
On-demand classes give more flexibility. Gyms can release pre-recorded classes at specific times to represent normal class times. After the class is finished members have 24 hours to view this recording before it's taken down. When considering quality, on-demand videos allow you to perfect them. They can be slowed down to show the technique which can be forgotten during a normal class.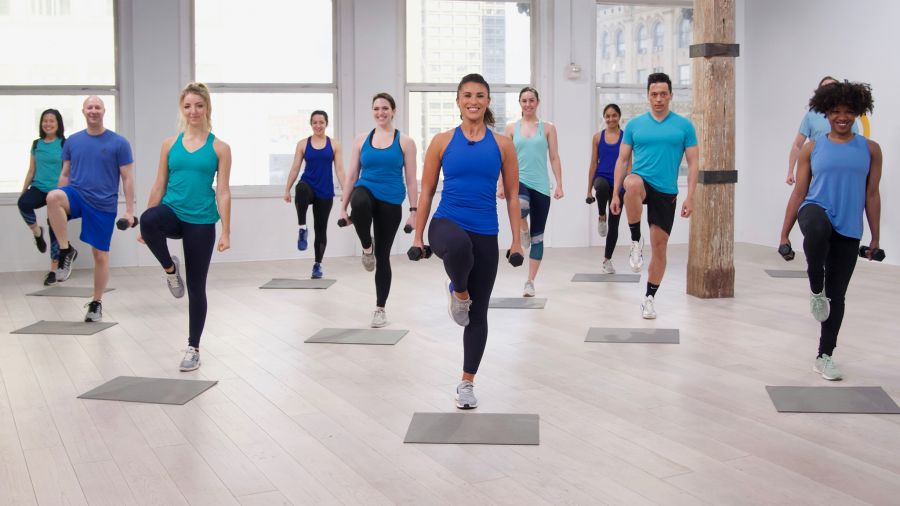 Daily Burn 365, live streams their 30-minute workout every morning. Those who can join the 9 a.m. class live stream, do. For those who cannot, the recording of the class is available for the rest of the day on on-demand. Premium members can also access archived classes. This allows them to work out with their favourite class whenever they want. Daily Burn 365 caters to all their member needs, from offering the community feel to accommodating to their busy schedules.
There is no right or wrong answer, each practice has its strengths and weaknesses. We've got a great article about best streaming practices for gyms if you're interested in finding out more.
Spice it up a bit
When you run a traditional fitness business, you have to cater to your member needs. This may mean that sometimes the out-there ideas may not generate revenue. Transforming your business to a hybrid fitness model will allow you to get creative. This is because your classes will be available online. As a result, your club will have a better reach than the traditional fitness model.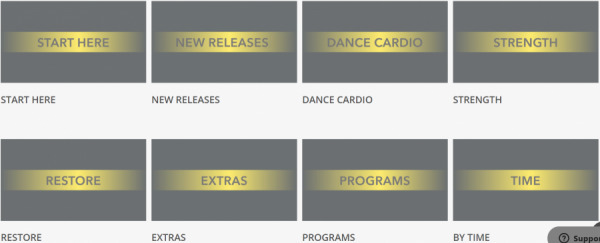 Jazzercise helps members channel their inner pop diva. Blending dance with pilates, yoga kickboxing and strength training works up a sweat. This is a very unique type of fitness, a fitness that will cater to the few. So, if the studio is in a small town, it may not have as many members as in a bigger city. Offering on-demand and live-stream classes help them reach their wider audience.
Concluding thoughts
We don't know when things will return to normal. What's more, even if they do, many people may not want to return to the old routines. They have realised that workout out from home has many benefits. So, as a fitness business owner, you should consider converting your business to a hybrid fitness model. This will help your business generate larger revenue by having a much wider reach.