To help you choose the right marketing tactics, we've created this in-depth guide featuring:
buyer persona research
website design
local SEO activities
content marketing
social media marketing
clear, actionable CTAs
search marketing tools
email marketing and automation tools
Business Intelligence and Analytics tools
What is digital marketing for gyms?
As Ann Handley of MarketingProfs said, "In a world where marketing is increasingly about listening to your customers and meeting their needs, you need to find a way to both do that well and do it efficiently." This quote perfectly explains the way modern-day marketing works, especially in the context of fitness marketing which comes with its unique challenges.
That said, gym marketing relies on technics and tools many modern marketers use in their daily work. Here's what's really worth trying.
How can I market my gym online? 6 proven steps
Creating high-quality content and posting it on social media platforms just doesn't cut it anymore. Here are the 6 proven strategies to grow your club.
Image
Source: Pexels
1. Get to know your target audience with buyer persona research
Let's start with the often-overlooked basics. To get to the right audience, you need to define your buyer personas.
Buyer personas reflect whom your product or service is best suited to, as well as who is most likely to purchase and continue to use it. They are key to crafting messages that resonate with your audience. While it may be tempting to assume that as a gym or health club owner you are only addressing one persona (someone aiming to reach their fitness goals), it's just the tip of the iceberg.
To unlock the key to your personas, it's best to follow the methodology of Adele Revella of the Buyer Persona Institute.
Image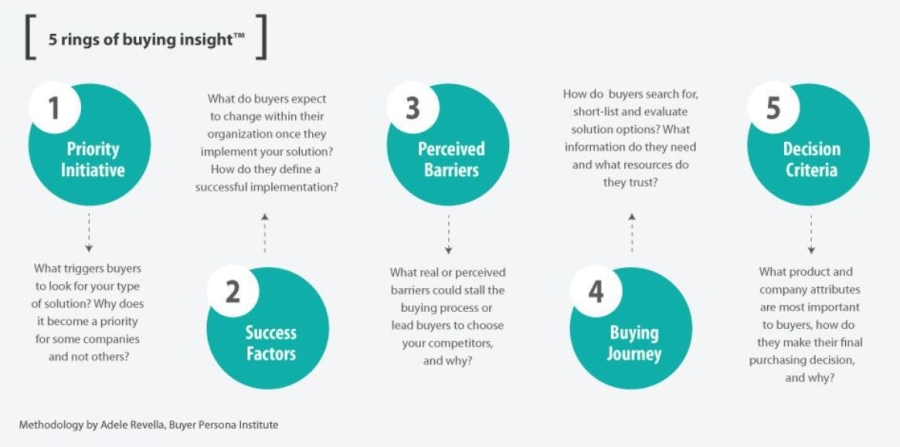 Source: Pinterest
Her approach is based on the five rings of buying insight:
- Priority Initiative - Why someone has decided to take the action to purchase? What triggered them to look for your type of service?
In the case of gyms and fitness centers, these factors can be pretty straightforward like moving house or changing jobs which can be jointly treated as "location" change.
- Success Factors - What do buyers expect to change once they purchase? What do they see as success metrics?
- Perceived Barriers - What was stopping your potential customers from taking action? What were their concerns?
- Buying Journey - How do your prospects look for information about your type of service? How do they shortlist vendors and what information do they use to do so?
- Decision Criteria - Which attributes of a company or service prompt customers to make a purchase decision?
Keep in mind that without your personas defined, you're less likely to select the right digital marketing strategies for your club.
2. Build a killer website
Your website is the centerpiece of your online presence. While users check your social media channels to get a feeling of your vibe and community, most conversion to trial or paid happens directly on your page.
For both usability and search engine optimization purposes, you need a user-friendly website that is:
intuitive
easy to navigate - a responsive website these days is a must as a high percentage of users access your site from mobile devices. Studies show that 51% of people have discovered a new company or product while searching on their phone
providing information on your gym location, opening hours, and all information your potential clients may be looking for
linking to your social media accounts so that people can easily do their research
integrated with your member portal for easy registration and log in
Image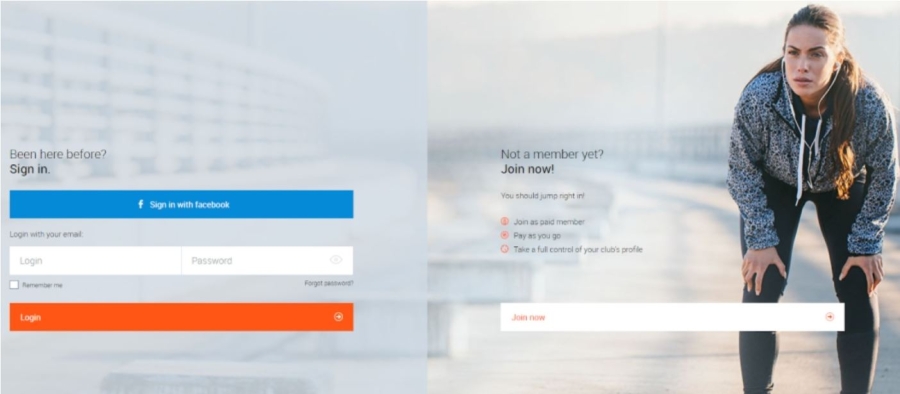 aesthetically pleasing, with photos and videos. Try experimenting with video content to make your page more appealing - a good example of this is Gold's Gym.
3. Leverage local SEO
Local SEO is one of the most important digital marketing strategies for acquiring new gym members.
Local SEO aims to improve your online presence to get more clients from local searches. There are two types of results triggered by local searches:
map pack results - these indicate that a given query has local intent

Image

Source: Google
the "10 blue link results" (the traditional format of search results)
46% of the searches on Google have local intent, with 35% of local mobile searches ending in in-store visits. In fact, "86% of people look up the location of a business on Google Maps".
A good example is people using keywords like "gyms near me" used by 2.2 million users globally every single month!
You can incorporate in-demand parts of your gym offerings, such as "Crossfit gyms near me", "gyms with childcare near me" or "24-hour gyms near me". Other frequently used phrase is "gyms in [city name]", "fitness clubs in [city name]", and so forth.
Though highly relevant to your service, these are extremely competitive keywords, so you need to work hard to increase the likelihood of ranking. Sadly, in SEO, there are no guarantees.
To increase your chances of ranking locally, you'll need to:
use local keywords in your content
get a Google Business Profile (formerly Google My Business) complete with your NAP (name, address, and phone number). Setting up a profile is completely free of charge
have consistent NAP across your website, social media profiles, and local citations. Avoid address variations!
list a local number instead of a toll-free one
get multiple local citations (mentions of partial or complete company name, address, and contact details of a local business)
upload quality business photos
get positive reviews from your users
4. Drive organic website traffic with relevant keywords
Once you have your target customer defined, think about creating content that really resonates with your audience. How can you compete with other gyms in such a saturated market?
A lot of value can be provided by covering the right keywords on your website or fitness blog. You can publish evergreen content, such as instructional videos, form tips, inspirational success stories, as well as nutrition tips, nutrition plans, and healthy recipes. Remember to write with your target audience in mind and optimize your content for SEO before publishing.
Keep in mind that you need to cover various keywords to address different kinds of user intent, such as:
informational intent - including education
navigational intent - people looking for a specific website
transactional intent - mostly customers who are already at the vendor selection stage and want to buy right away
commercial investigation - researching products and services to buy in the near future
local intent (discussed in detail in section #3 above)
While "how to deadlift" or "HIIT program" type of keywords reflect educational intent, "gym NYC" or "personal trainer London" are typical of users who are already at the vendor selection stage of their online journey. Make sure your site is prepared for both.
5. Design clear CTAs
A Call to Action (CTA) is a direct instruction to the user to perform the desired action. While CTAs aim to bring prospective customers closer to making a purchase, given the complicated nature of the purchase journey, they tend to move visitors down the sales and marketing funnel and not necessarily always push to buy.
Image

Source: PureGym
In the screenshot above, you can see two CTAs pushing for purchase and logging in.
In the case of fitness and health clubs, CTAs typically encourage users to:
sign up for a free trial or guest pass (designed to attract potential members)
get a demo day
download ebook or resource
log in/sign in (with the aim to keep current members engaged)
book a class
CTA architecture usually looks like this:
Join now
Sign up now
Learn more
Get a free ___
Contact us to ____
Download ___
6. Build a social media presence to connect on a personal level
Digital marketing cannot exist without social platforms. Though paid advertising, search engine optimization, and backlink efforts can help you expand your advertising, they don't create long-term value for your gym community.
Here are some tactics you can try out.
use social media as a conversational tool
create social media ads targeting your neigborhoods
feature your members to show off their success

Image

Source: Power Hour 360
regularly post on your fitness blog or YouTube channel
create a Facebook group to help members support each other
educate your trainers to use social media to share their top tips - many of the tools are free or come at a low-cost
work on getting reviews on social media and your business profile. Make sure to always respond to reviews in a polite manner
Fitness marketing strategies for gyms and how to leverage them
Google Search Console
Think about the many ways people can use search engines to find you online and build landing pages covering these keywords. You can find the exact queries people use to find your website in Google Search Console. The data can also be segmented by device type which is of special interest to companies trying to attract new members from their neighborhoods.
Image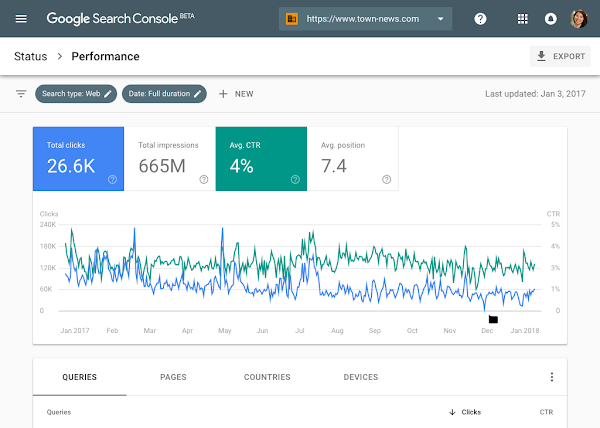 Source: Google Search Central
Ahrefs
Ahrefs comes with amazing SERP-related features. You can:
check the global and local search volume
get keyword suggestions
track your rankings
see how you compare to competitors
Image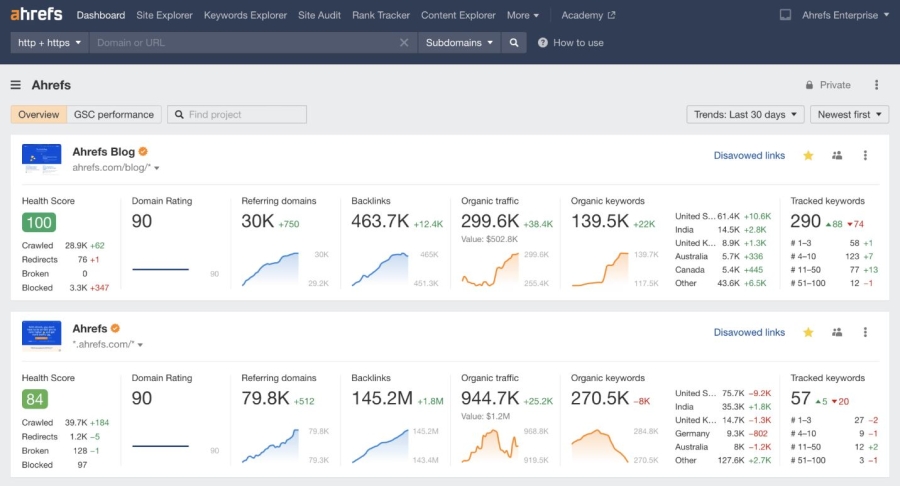 Source: Ahrefs
Perfect Gym software with email marketing and automation capabilities
Image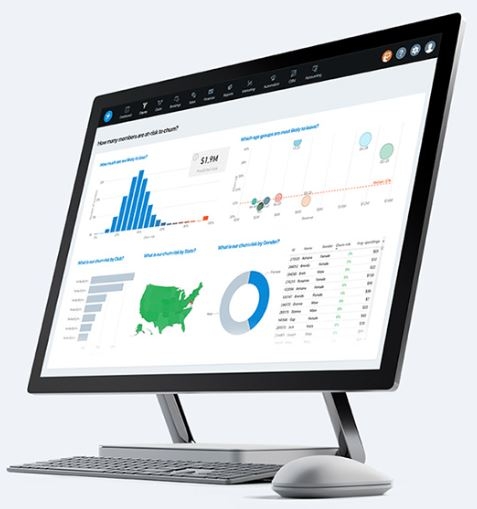 Gym marketing software provides multiple capabilities designed to increase the effectiveness of your sales and marketing campaigns, as well as your daily operations. These include:
email, push notifications, and text alerts
customer segments and tags
Automated Smart Campaigns
coupons and vouchers
newsletter templates
trainer and staff notifications
Image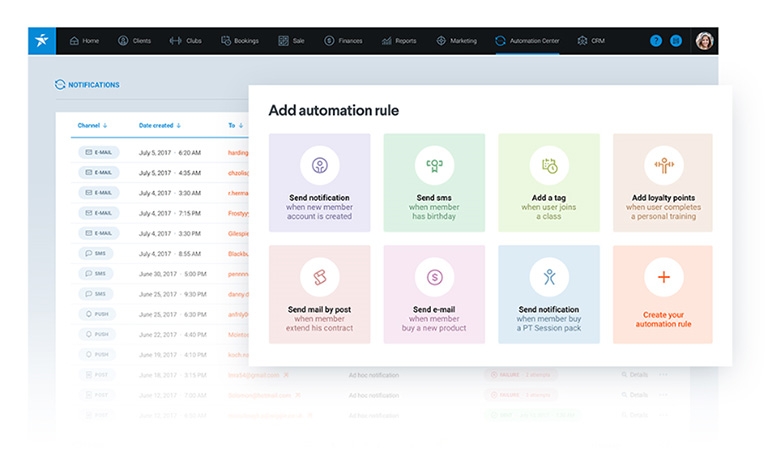 Gym digital marketing campaigns can work wonders when it comes to activating your members. However, as a small business gym owner with a few staff members, you're likely heavily involved in the daily operations, with marketing being only one of your hats. Utilizing automation to operate and market your business saves you a great deal of time.
Keep marketing to current customers with dedicated digital fitness campaigns
Retention NEVER stops. As customer churn is a major challenge for fitness businesses, working on your current clientele should always be a priority.
Retention campaigns are more complex in nature because they have to be:
reactive to client actions
targeted
personalized
You can group members using member tags in your gym automation software, such as contract type, class type, attendance frequency, products purchased, workout experience, training goals, and many more.
You can also send motivational reminders, event invitations, challenge invitations, and exclusive promotions for existing customers. To learn more about retaining customers with automation, make sure to read our guide.
From the business standpoint, the cost of acquiring a new customer is much higher than that of retaining one. Thus, your aim should be to always listen to your customers and reward them for staying with you.
You should also leverage the value of their networks with a referral program.
Business Intelligence and Analytics tools for gyms
The best gym marketing software comes with built-in BI & Analytics modules which you can leverage in a number of ways.
As an example, identifying customers at the risk of churn with machine learning increases your chances of successful re-engagement.
Perfect Gym is able to accumulate member behavioral data to predict retention and churn rates for individual members or detailed groups.
Image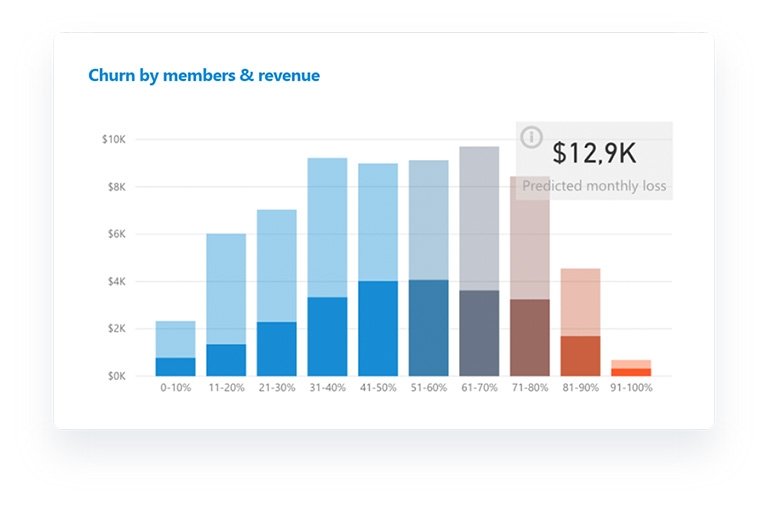 Our solution is also able to break down your member data by age group, gender, and time period. This data can be used to create a dedicated marketing campaign for any segment.
Image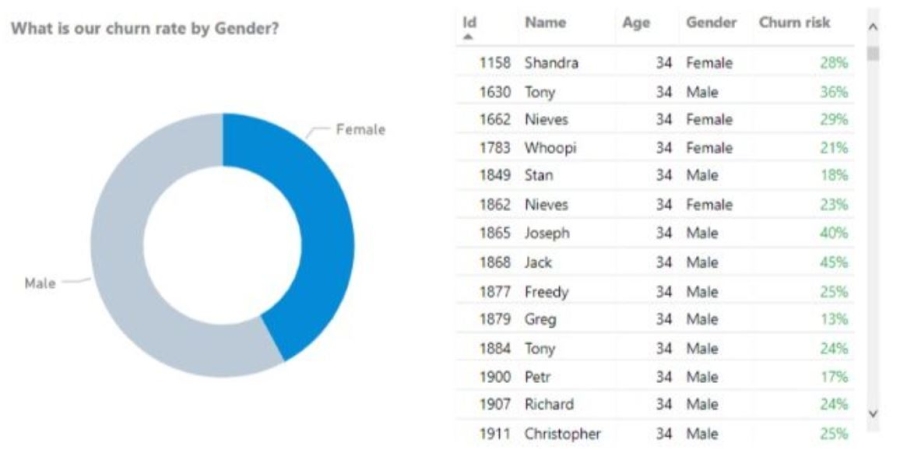 Fitness digital marketing strategies: closing thoughts
The fitness industry is not an easy one due to the high level of competition. Without a robust online marketing strategy, your local business is doomed to fail.
Not sure matter which digital advertising efforts you should focus on first? Increasing the effectiveness of your campaigns in your club management software is a great place to sta