In today's digital world, most forms of advertising are met with a few degrees of skepticism. 
As the late David Foster Wallace once said, advertisers are creating ads that "are supposed to create an anxiety relievable by purchase". 
But this is where the fitness industry can and should differ. You are promoting and advertising a healthier and happier life. And one of the fitness industry's most viable marketing channels doesn't need to be television, radio or social media; it can simply be those that are undergoing the positive change that your fitness club helps facilitate. 
According to Nielsen, people are 4 times more likely to buy a product when it's referred by a friend. Tapping into that kind of acquisition potential should be at the forefront of any gym's referral marketing strategy. 
Here we'll dive into the steps needed to create an effective gym membership referral program. 
Why You Need a Referral Program
Gym referral programs are a great way to acquire new members at minimal cost. The only expenditures you will need to make are on whatever you use to reward the referrer. 
You can also incentivize the new member with the same offer you gave the referrer, but we'll get to that in a moment. 
Also, members are also more likely to stay members of your gym if they have more people they know attending the same club. 
It's a win-win for everyone as your current clients can become on the best cost-effective channels for marketing your fitness club!
However, many of the pitfalls of fitness club referral programs stem from the channels they use to communicate to their existing members on how to execute a referral and reap the rewards. 
But never fear! We'll go through some tips and tools for you to use on just how to make your gym referral process as seamless as possible. 
Referral Channels
Ask yourself one question: how do you normally communicate with your members? Is it via email, mobile app push notificaitons, phonecalls or in-person? 
Whatever the answers are, their probably the same channels you'll want to use to inform your members about your referral program. 
More importantly, you'll want to make the process of redeeming the incentive for the referral as simple as possible, as the easier it is to claim a prize, the more your members will refer their family and friends. 
Mobile App Referrals
If your club has or is in the market for a mobile app, it's always a good idea to use one with built in marketing functionalities such as an easy-to-use fitness club referral program. 
For example, our Gym Mobile App has a built in referral feature embedded right into the app! 
All your members need to do is to select "Invite a Friend" and they will select a channel for which to send the invitation on their mobile device. 
From there they can text, email, or social media message the invitation to their friends and family. Those that receive the invitation will click the link and be taken to a short sign-up form to complete and once completed they'll be given their free day pass to try out the facility. 
Image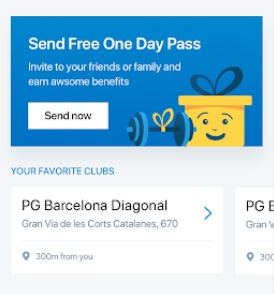 These free passes can come in the form of barcodes, QR codes, or discoutn codes created in the back office app. 
Once they're sent the relevant information, they'll appear in the "Invited" tab in the mobile app so members can keep tabs on their customer journey. 
Image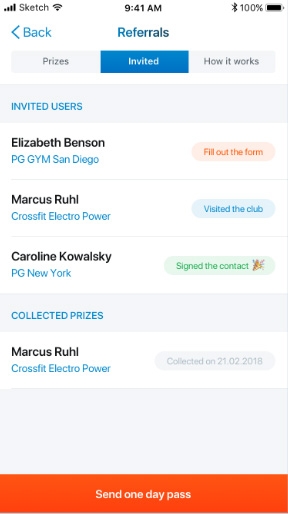 Once a referral signs a contract with the club, the member can then collect their reward! 
Image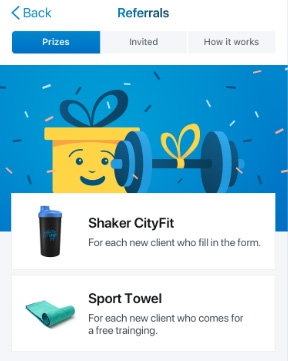 An extremely simple and effective way to put marketing power in your members' hands. 
Email Referrals
Another way to tell your members about your referral program is through emails. You can simply send out a gym newsletter with a link to the form and then have your members send the link to whomever they want to invite. 
Also, you can set discount codes for your members to give to their friends or family to redeem at the gym. 
Just create the discounts in the back office app and then send them out via email. 
Image

Then the prospective clients can redeem their contract discounts on the client portal. 
Image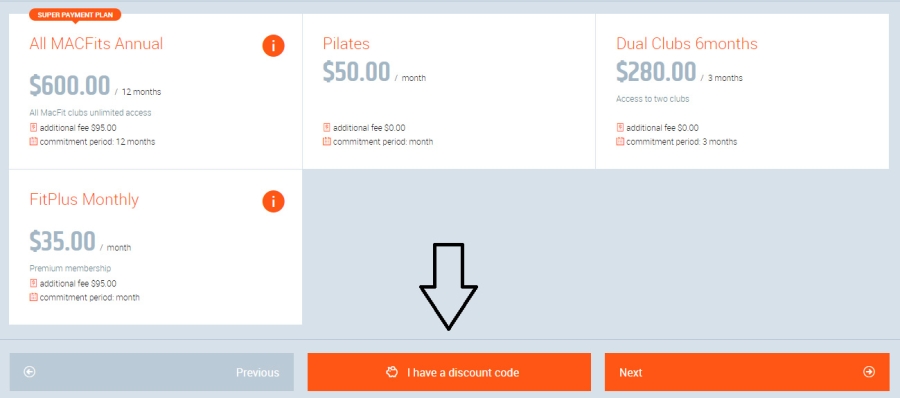 By notifying and providing your members via email with the tools for their friends or family to easily redeem free passes or club discounts, you'll increase the likelihood that you turn your gym members into your brand advocates. 
Posters
Not completely digitized yet at your club? Putting posters in and around your gym is also a good way to let members know that you have a gym membership referral program.
Image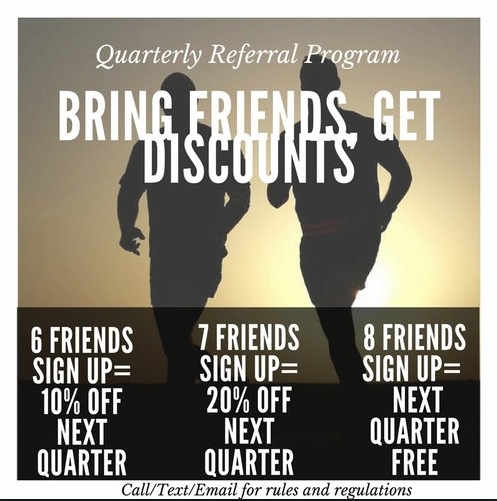 It may result in some additional questions from your members about how they can reap the benefits of referring a friend or family member, but the message will be the same: your referral program exists and there is a benefit. 
Referral Cards
You can also issue a number of referral cards to your members to give to family or friends. Simply leave room on the back for you to put the club members' name or email so that when a friend or family member redeems it, you know who to credit for the referral. 
Image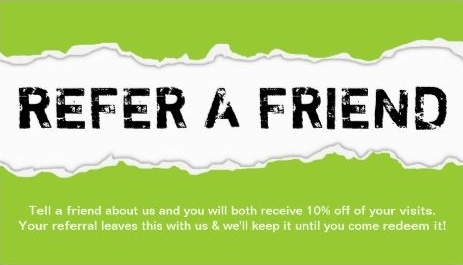 These are less cost effective as you'll need to print cards and issue a certain amount to each member; however, they can be effective as they are quite easy for your members to fit into their wallets and give them to potential leads. 
Before you let your members know that your fitness club has a member referral program, it will be time to come up with ways to incentivize them to take action. 
Incentivize Your Members
The rewards you use to incentivize your members should be in line with the reward that the new prospects will attain if they decide to buy a membership. 
If you're giving 20% off an annual membership, this incentive doesn't need to exactly match what your members will receive by referring someone; however, they should receive something for their referral. 
Some incentive ideas include:
Discounted percentage off their membership
Free gym swag
A free or heavily discounted pack of personal trainings or classes
Free or discounted products
Whatever you use to try and get your members to promote your gym to their friends and family, it needs to be something that's attractive enough for them to do so. 
Not sure which to offer first? A/B test different incentives each month and measure by the amount of referrals or inquiries you get from your members. 
You can also A/B test by creating two different discount codes (with the same discounts) and splitting your audience in half. Each half gets a different code and then you can measure by seeing which code was used more. 
When you find a winning formula, you can stick with it until you find new ideas for incentives to test. 
Audience Targeting
You may think that membership referral programs fall under a one-size-fits-all methodology. However, depending on the system you're using, it might be more cost effective to stagger your offers to certain clients. 
For example, if you have a member that infrequently comes into the gym, maybe they need a higher reward than the member who is there day after day. 
It doesn't mean you need to make the incentives drastically different, but you should be aware that higher rewards have a dual effect—the inactive member may suddenly become active again while also bringing you another client. It's the double-edged sword of acquisition and retention. 
Thus, you can create universal discount codes in the system, run them through your automation center, but differentiate the reward in the messaging. It's just a few extra email's you need to differentiate content for. 
Collecting Rewards
If you want to create a seamless referral process, you'll need to hold up your end of the bargain by making it extremely easy for your current members to redeem their referral reward. 
Here are a few ways you can communicate how your members can collect their rewards:
There are numerous ways you can account for the source of referrals when they come into the club, its just a matter of setting up a mechanism to make it as simple as possible for your gym members and for your club's staff. 
Conclusion
Creating a gym member referral program doesn't need to be over complex. You simply need to:
Decide on an incentive
Choose a channel to inform your members (or several)
Create an easy way for your new leads to collect their reward
Create an easy way for your members to collect their reward
And then your done! We would recommend that when deciding on a referral program that you choose a system that has all the functionalities you'll need to make creating a program a few-step process that can be done in just a few hours. 
Good luck!