For your gym to succeed, it is imperative to provide cutting edge technology for your clients. So what does the best gym mobile app look like? And what features should it include to win over your clients?
In this article, we're going to cover:
Why does your business need a gym mobile app
The must-have features of the best gym mobile app 

Ability to track progress and set goals
Easy communication
Push notifications
Branding and design
Member account admin
Class booking
Capacity management
Wearable integrations
Engagement initiatives
Referral program
Let's get started!
Image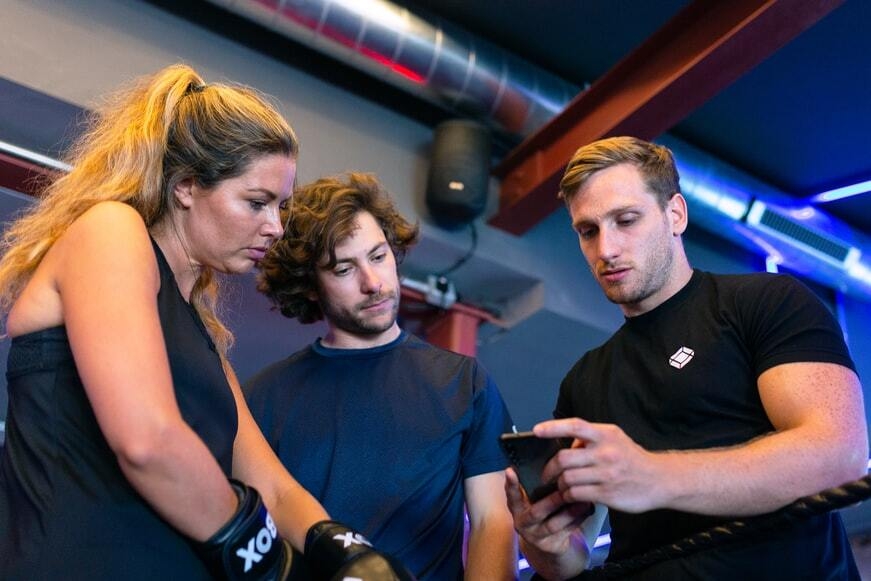 Source: Unsplash
Why does your business need a gym mobile app?
In recent years, mobile technology has exploded. More than half of all internet users now prefer their mobiles over a desktop to browse the web.
The increased popularity of mobile has had a knock-on effect on app technology in general. There is literally an app for everything that we do in our day to day lives, from counting our steps to blocking the amount of time we spend on social media. 
So what does this mean for your business?
A gym mobile app is essential if you want to stay ahead of the game.
Since the outset, fitness and technology have gone hand in hand (and there is no evidence of that slowing down).
In fact, there are now over 71,000 fitness apps available since the humble beginnings of the first applications of 2008.
This sheer volume is due, in part, to our obsession with fitness and well-being.
In 2022, the revenue of gym, health, and fitness clubs stand at $36.6bn - in the US alone. Every year, more and more gyms open as health and wellness continue to become a priority for many. 
The advancements in technology coupled with people's love for fitness spell out a huge opportunity for your business.
A quality gym mobile app can increase retention, maintain engagement, create a sense of community, and reach new members.
This technology can also help save time and energy by streamlining simple tasks that eat up your day.
Simply put, a gym mobile app is a powerful tool that can help you achieve your business goals.
Image
Source: Unsplash
The must-have features of the best gym mobile app 
So, we've outlined why you need a gym mobile app. Now it's time to explore what features are critical to any good mobile app. Below we've detailed the ten must-haves for the best gym mobile app.
Ability to track progress and set goals 
To exercise efficiently, your clients need to track their progress and set goals.
These data points are crucial for them to stay on track and stay motivated on those days when working out seems like the last thing they want to do.
Perfect Gym Mobile App through app integration allows users to track key metrics such as calories burned, distance run, or completed activities.
This data can then be monitored over time to measure their overall performance. You can take a look at good data visualization examples to know how you can present these important data. Your members will thank you for this information by staying on track and continuing to work out at your gym.
Image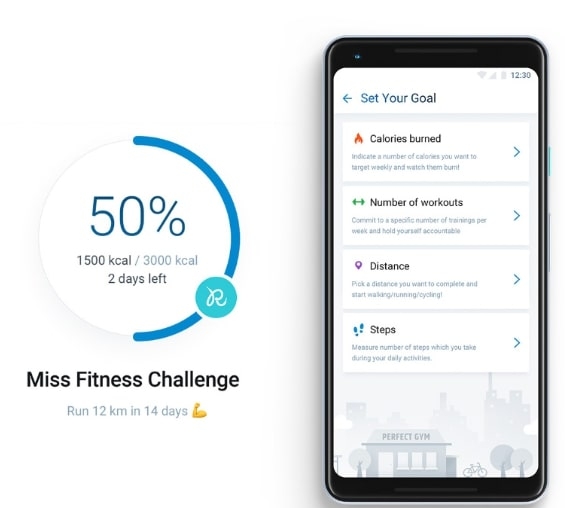 Easy communication 
Sending communication has never been easier with mobile app technology.
A mobile app gives you the ability to reach your members anywhere, anytime. Whether you're chasing up overdue payments, sending out class schedules, or sharing the latest promotions, you can do all of it right within the app. 
Good communication is great for maintaining engagement with your members to keep them training at your gym. It also helps foster a sense of community within your member community.
Building this camaraderie within your organization is a massive win for your gym.
Your members will feel like they are part of something bigger, which is only a good thing for your business objectives moving forward.
Image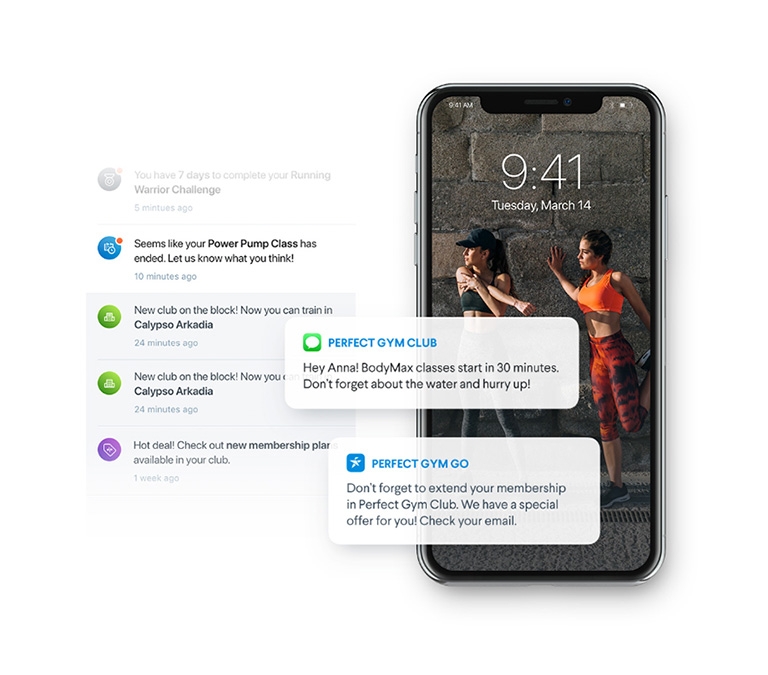 Push notifications 
Push notifications are a handy tool for grabbing the attention of your members.
Send alerts about upcoming classes, promotions, contract renewals, and club announcements.
Perfect Gym Mobile App has customizable push notifications that you can configure for any purpose. This simple trick will get your message in the hands of your members in no time.
Push notifications are also an awesome way for reinvigorating members that have stopped working out. Sometimes all it takes is a little motivation to get your clients back into the gym.
You can send a positive message to inspire them to get back training at your gym with push notifications.
This technique is beneficial for members close to their renewal but who haven't been active.
Getting them back in the gym will dramatically increase their chance of renewing their contract again. 
Branding and design
Branding is incredibly important because it not only makes a memorable impression on your clients but also builds trust with your clients.
Creating a quality brand takes effort and commitment, but you will reap the benefits if done correctly.
Perfect Gym offers a white-label mobile app that can be customized with your gym's logo and colors. This customization allows you to get creative with your branding and overall in-app appearance. 
Branding changes how your brand is perceived drives new business, and increases brand value, but consistency is also crucial.
To ensure you get the most out of your brand, you need to be consistent everywhere.
With Perfect Gym Mobile App, your branding will be right there in the hands of your clients, driving home your company message. 
Member account admin
The best gym mobile apps make people's lives easier. A good app should keep everything in one place where members can monitor all of their gym activities and admin.
The Perfect Gym Mobile App makes this possible. Your members can book sessions, classes, check payment arrangements, and much more, right within the app.
Members are free to manage their memberships without involving the help of your front desk staff less.
Image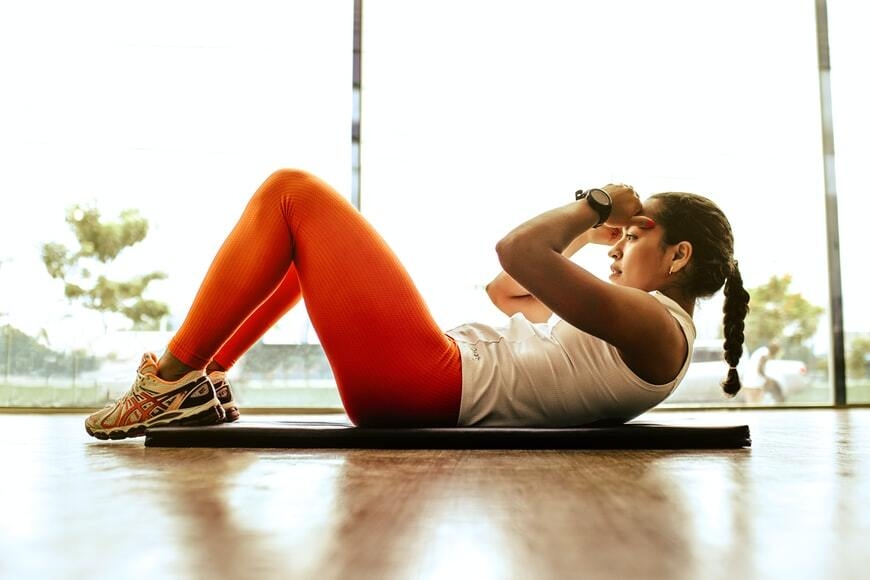 Source: Unsplash
Class booking 
Providing popular and varied classes is critical to the success of any gym.
Classes serve as an excellent option for members who don't have the time or confidence to do an entire workout on their own.
Perfect Gym Mobile App allows members to sign up and pay for their favorite classes right within the app. 
Members can browse the available classes to find the right class and check the occupancy and availability.
Perfect Gym Mobile App also connects to the Client Portal. This connection means members have everything all in the one place, making their overall experience much smoother.
They can monitor their upcoming classes, payment details, and much more.
Image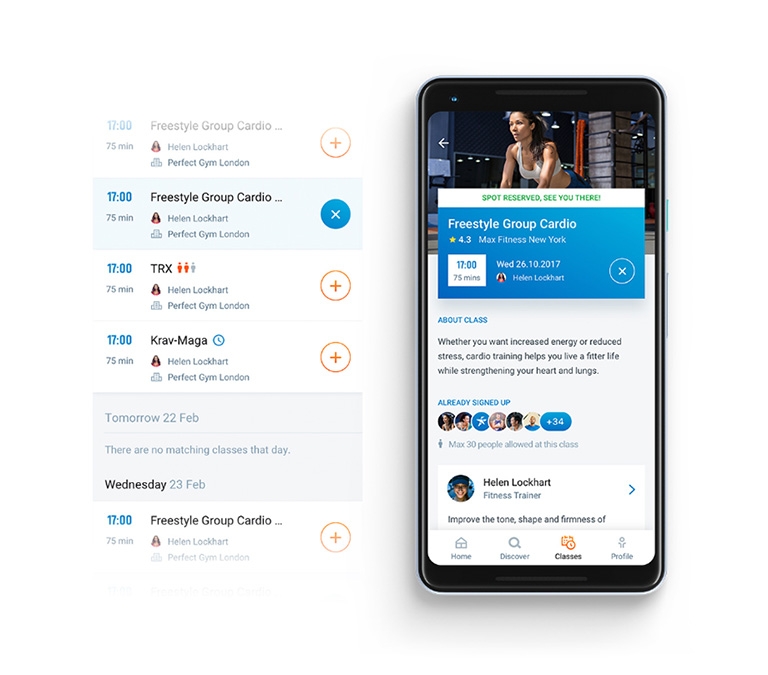 Capacity management 
If you want to keep your members happy, you need to ensure that their gym experience is as smooth as possible.
As a member, there is nothing worse than arriving at a class to find that it has been rescheduled or overbooked. The Perfect Gym Mobile App can help alleviate some of that stress. 
Perfect Gym's Capacity Management, helps your members with simple visualizations about fitness zones or facility capacities.
They can also check class schedules to see which are fully booked or still have availability open.
Capacity Management will ensure that you're never overbooked again!     
Image
Wearable integrations 
Member attendance rate is a critical metric to set and achieve your business goals.
In days bygone, this information was only obtainable from members registering their entrance at the front desk.
Nowadays, smart tech provides gym owners insights on behavioral patterns and attendance without the need for any human interaction. This technology means you can keep your gym open 24/7.
The Perfect Gym Mobile App integrates with wearables that track member attendance in your facility.
The information passed from hardware at turnstiles is stored right within the app. Members can also hook up with 3rd party equipment providers like TechnoGym, Precor, Life Fitness, and Milon to improve their gym experience.  
Engagement initiatives 
Building and maintaining member engagement can be a tall order. Your members are busy people with work, kids, and social gatherings to navigate in their daily lives.
Perfect Score is Perfect Gym's answer to this dilemma. Measure members' engagement with a ranking system designed to give members points based on their activities. They can then showcase their scores in club rankings and compete with other members. 
A little bit of friendly rivalry is a great way to boost morale and serves as a win-win for your gym.
Members get motivated and stay on track with their fitness goals while building engagement levels and keeping them working out at your facility.  
Image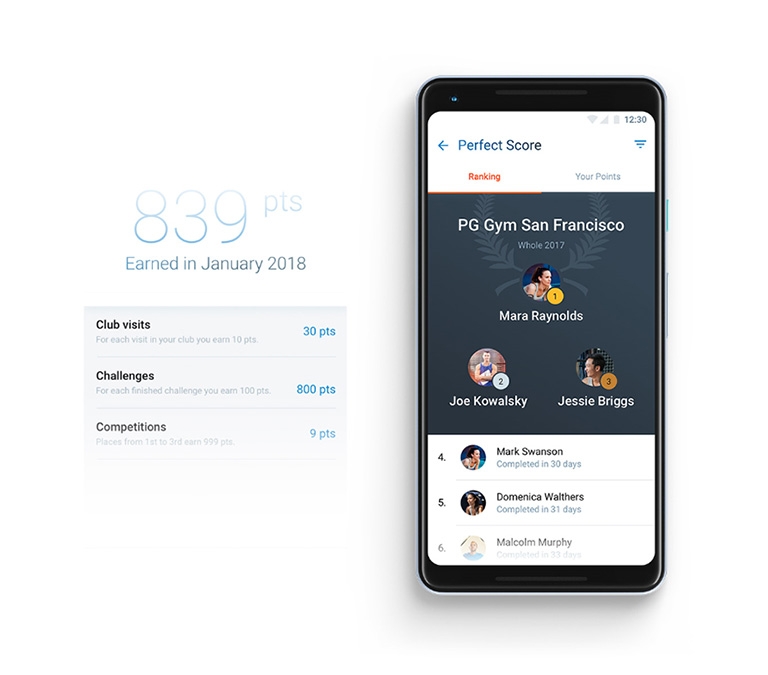 Referral program
Referral programs are a powerful tool for your business.
A referral program is simply a process where you prime and reward customers for spreading the word about your business.
With Perfect Gym Mobile App's built-in referral program, you can turn your members into marketers.
They can send invites directly to their friends and family so you can acquire more prospects and leads for your sales reps. You can get creative as you like with your referral program.
Incentivize your members with enticing giveaways that will motivate them to refer your gym to their contacts. Remember, the better the giveaway, the more prospects your members will deliver! 
You don't have to believe me, the numbers speak for themselves. Harder, a Perfect Gym client saw a 20% increase in conversion or an average of 100 new leads a month with the Perfect Gym Mobile App referral program. 
Image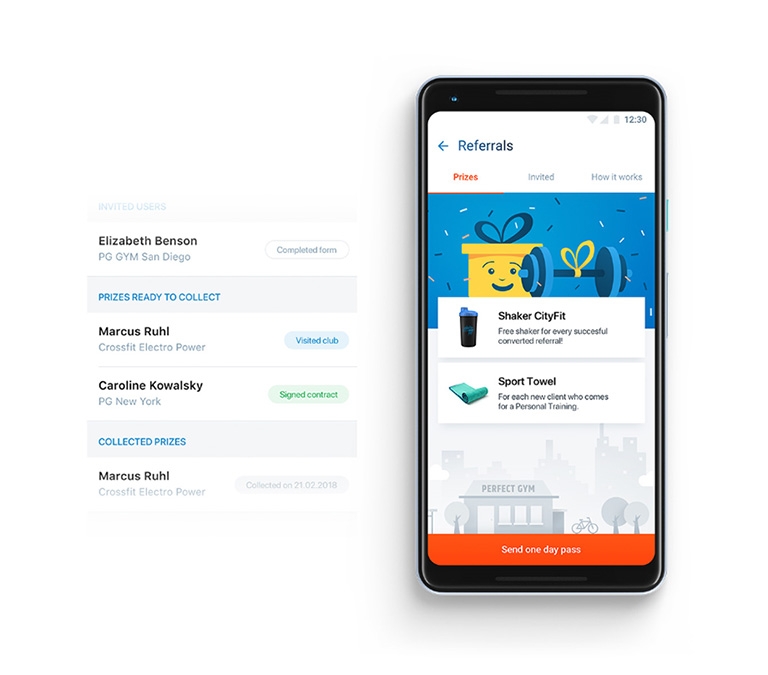 Final word
The fitness and technology industries share a lot in common. They are both fast-paced, innovative, and agile in how they progress with changing societal behaviors.
To succeed in the fitness industry, one must adopt technology to provide the most enhanced experience for their members. Providing a quality gym mobile app is a big part of that. 
A gym mobile app should make the lives of members better.
The ten must-have features discussed in this article are a huge step in the right direction, but it doesn't end there. F
itness and technology are constantly changing, so to stay on top, you must follow the trends of these industries to provide your members with the ultimate experience.  
Please get in touch with us or book a free demo If you are interested in the Perfect Gym Mobile App or any of our other products. We'll be happy to help!