Perfect Gym is a global software provider specialising in management solutions for fitness and leisure businesses. The comprehensive solution allows for efficient management of all facilities in one place and is a number one choice for growth-oriented brands focused on expanding their capabilities. 
With seamless integration into a digital ecosystem of more than 50 top-tier technology and payment partners through an open Application Programming Interface (API), Perfect Gym ensures its clients can deliver outstanding experiences to its members. 
This case study explores how utilising the extensive toolkit offered by Perfect Gym directly translates into tangible business growth outcomes based on our client system data. 
Perfect Gym Payment Integrations Facilitate 99% of Online Transactions 
Providing members with a range of secure and efficient payment options is key to reducing business expenses through the promotion of cashless transactions. Perfect Gym offers payment integrations with leading providers worldwide, making club-to-member transactions easy and flexible. 
Image
Half of the members opt for direct billing, automatically charging their accounts and the remaining part pay online. This streamlined approach simplifies the transaction process and ensures hassle-free payments. Only less than one per cent pay at the front desk, resulting in more spare time for the staff, allowing them to shift their focus to more important tasks. With less time spent on processing payments, employees can dedicate their efforts towards providing better customer service and improving the overall member experience. 
Self-service and automated payments bring significant benefits, such as enabling more efficient budget allocation, improving revenue streams, and ultimately allowing the gym to offer memberships at a more competitive price point. 
Over 35% Increase in Visits 
Maintaining continuous motivation among members plays a crucial role in reducing the risk of churn. One effective strategy employed by fitness and leisure brands involves implementing loyalty programs that reward members for their training efforts. 
By awarding loyalty points for regular club visits, completion of personal training, and engaging in other activities, members are incentivised to train more. These points can be exchanged for discounts, products, or services, rewarding the engagement and dedication to pursuing fitness and health objectives. 
The process of tracking and utilising the loyalty points can be further simplified by automatically sending regular email, SMS, and push notification reminders through Perfect Gym's Automation Centre. In 2022, the loyalty program's discounts were used in 16% of product sales, demonstrating the success of the rewards program. 
Strong member engagement is also highlighted by a remarkable 36% increase in the number of visits in 2022 compared to the previous year. Moreover, 83% of members expressed a strong commitment towards achieving fitness goals by signing an annual contract. 
Open API Accounts for over 90% of Registrations 
With over 90% of registrations, our client's in-house software was the primary source of online member registrations in 2022. Perfect Gym's Open API seamlessly transports all new client data into Perfect Gym's centralised system. This technological solution has been instrumental in facilitating growth and business management. 
Moreover, Perfect Gym's API provides various integration options, including smart equipment, hardware, and third-party apps allowing clubs to offer their members a wider range of fitness experiences. By integrating with market leaders, such as Myzone, Club Planner, FunXtion, Garmin, Strava, and many more, members can track their fitness performance and synchronise personal and fitness data with their favourite devices and platforms. 
Image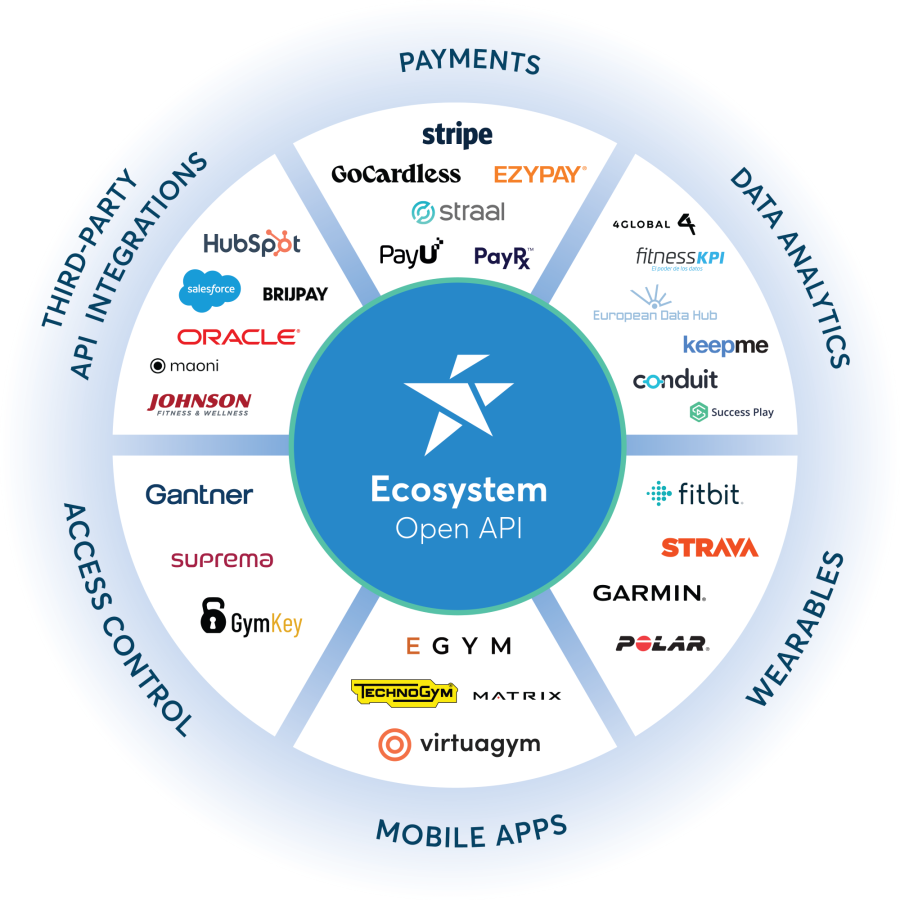 Our client provides its members with an exclusive subscription to a fitness app, offering a range of workout routines that members can perform both at the gym and at home. Over 20% of new clients opted for this opportunity, proving the community's interest in digital fitness experiences. 
Over 70% of Leads Turned into Members with Perfect Gym's CRM 
Maximising the potential of lead-generation tools to drive sales and revenue growth is a key factor for business success. Perfect Gym's Customer Relationship Manager (CRM) streamlines the sales process, consolidates operations, and significantly reduces the required manual input. 
The CRM system proved to be highly effective in converting leads into paying members, achieving over 70% conversion rate based on last year's data. With an easy-to-use dashboard, sales funnel visualisation, pipeline management and reports, sales representatives can quickly strategise on improvements and maximise the profit.  
Concluding thoughts
Perfect Gym's comprehensive solution is designed to empower fitness and leisure businesses by facilitating their continuous expansion, streamlining day-to-day operations, and generating new revenue streams. 
By delivering value-driven experiences through a broad range of offerings, fitness and leisure companies foster a strong sense of community. Building long-lasting relationships with members has proven to be a highly effective approach to driving business growth, and it can be achieved with Perfect Gym's powerful tools and features. 
If you would like to discover new opportunities to scale your business, schedule a demo presentation now.