However, starting a business can be an overwhelming, stressful and daunting task. It may be even more challenging when it comes to a niche like opening a rock climbing gym. Having a clear understanding of the requirements and industry itself is important to ensure success. 
This article provides valuable tips and strategies for starting a rock climbing gym, including equipment sourcing, legal requirements, brand development, and marketing. Whether you are an experienced climber or a business-minded individual, this guide can help you turn your dream of opening a rock climbing gym into a reality.
1. Experience and Skills Required to Open a Rock Climbing Gym
Rock climbing is an exciting, challenging and exhilarating sport. Participants not only build muscle but also develop their agility skills, cardio fitness and grip strength. Whilst rock climbing initially started as an outdoor activity, the first indoor rock climbing gym opened in Seattle in the 1980s. 
Over the past 30 years, there has been a steady growth in indoor rock climbing gyms, allowing experienced climbers and beginners to enjoy the rush and excitement of rock climbing, regardless of the weather. Rock climbing gyms have courses designed for participants of all ages and abilities.
However, opening a rock climbing gym requires more than just a passion for the sport. It requires a specific set of skills and experience to operate a successful business. Before deciding to open a rock climbing gym, consider whether you are ready for this kind of commitment. Ask yourself:
Do you have sufficient funding to open a rock climbing gym? 
Have you researched a suitable location to open the rock climbing gym? 
Do you have any prior experience working in a gym, particularly a gym that offers rock climbing?
Do you have any experience in operating a business previously, particularly involving gyms or exercise activities?
Have you managed staff in your previous employment?
Do you have the ability to train staff in the key components of operating a rock climbing gym, including: fitting safety equipment; sizing shoes and relevant harness equipment; running classes to teach participants how to undertake basic and advanced rock climbing courses; maintaining the boulders, climbing walls and safety pads; managing and delegating marketing and accounting tasks; rostering for staff; human resource management.
If you cannot positively answer the above questions, consider whether opening a rock climbing gym is the right option for you. Alternatively, you could obtain a business partner with the requisite skills and experience to assist you in successfully navigating the above challenges.
Therefore, before barrelling headfirst into opening a rock climbing gym, you should undertake an honest assessment of whether this is the right business for you.
Image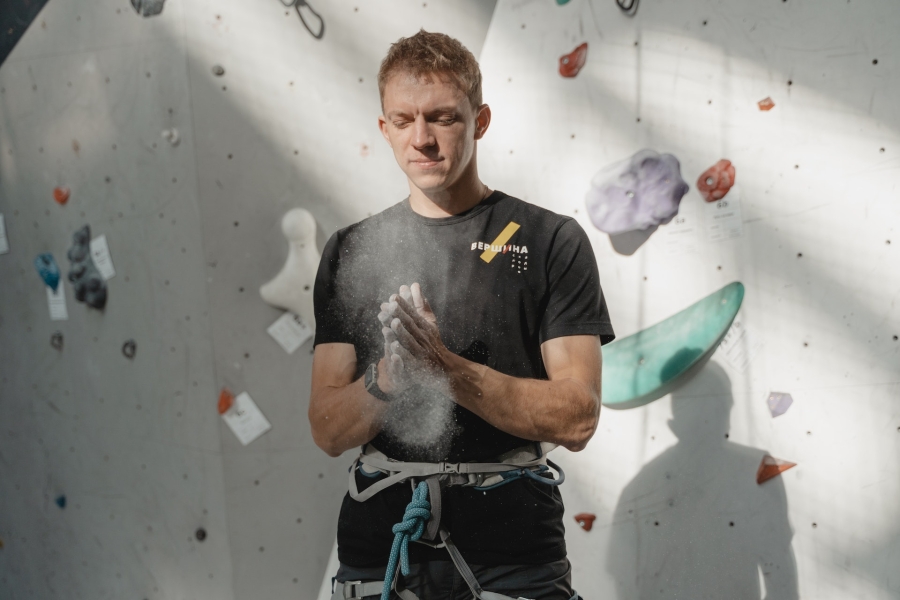 2. Indoor Rock Climbing Industry Overview
Starting and operating a successful rock climbing gym requires a significant amount of knowledge and experience. Without a basic understanding of the industry and the sport, it can be challenging to successfully establish and manage your new business. 
Let's dive into some statistics that demonstrate the significant growth potential for rock climbing gyms as a business, making it an exciting time to enter the market!
Indoor rock climbing has experienced a surge in popularity in recent years, with more and more individuals seeking the physical and mental challenges the sport offers. This growth has led to a proliferation of these types of gyms around the world. Rock climbing was even introduced as a new event at the Tokyo 2020 Summer Olympics, highlighting its growing recognition as a mainstream sport.
As of March 2018, there were already 2,700 rock climbing gyms worldwide, with North America and Europe being the most popular regions. 2 years later, there were 727 rock climbing gyms in North America. The European market for rock climbing gyms was valued at US$770.1 million as of December 2020, with projections that it will continue to grow to reach USD $2 billion by 2031. 
3. How to Open a Rock Climbing Gym? Choose the Right Type!
Before opening a rock climbing gym, it's important to decide which type of climbing you'll offer. Typically, there are three primary disciplines, each with its unique challenges and equipment requirements:
Bouldering
This is a type of rock climbing undertaken on small or artificial rocks or boulders affixed to climbing walls, either aided by a harness and ropes or in freestyle mode without any safety contraptions. 
Lead Climbing
Fast becoming the most popular form of indoor rock climbing and featured at the Tokyo 2020 Olympics. It involves the climber using a rope to climb the wall and affixing it to fixed sites along the climbing wall to protect them from falling. 
Top Rope Climbing
This is also known as 'Top Roping' and is the most common form of rock climbing for beginners found at rock climbing gyms. A rope is anchored to the top of the climbing wall, which the climber uses to aid their navigation up the climbing wall. 
Selecting the right type of climbing will depend on your gym's target audience, available space, and equipment. Consider offering a variety of disciplines to cater to climbers of all levels and interests.
4. Planning Required to Open a Rock Climbing Gym
It is imperative that meticulous planning is undertaken to establish and ensure the ongoing viability of your rock climbing gym, including:
The age-old adage is "failing to plan is planning to fail". This saying particularly applies to indoor rock climbing gyms, being a rather niche industry with a specific target audience of primarily younger persons (under 35 years) with interest in rock climbing, adventure and improving their strength/fitness. 
Preparing a thorough yet streamlined business plan will assist potential investors in assessing the creditworthiness of your business and assist in obtaining the necessary finance for start-up and ongoing costs. 
A business plan will also assess the strengths, weaknesses, opportunities, and threats (SWOT) involved in establishing your rock climbing gym, to ensure its ongoing viability. 
Establishment and Ongoing Costs
Starting an indoor rock climbing gym can be a lucrative venture, but it requires a significant initial investment. Start-up costs have a wide range and depend on the size, location, and services offered. These typically include:
To operate an indoor rock climbing gym, you'll need a large building, preferably a warehouse. It should be at least 10,764 square feet (1,000 m²) with ceilings of at least 20 feet (6 m) to accommodate climbing walls, especially if you're offering bouldering as a climbing wall option. The building also needs to be very structurally sound so that safety ropes can be hung from the ceiling or on top of the climbing wall to prevent injury to customers. The size and location of the property will determine the monthly rental fee.
The cost of rock climbing wall installation varies depending on the height, material, quality of rocks/boulders, texture and angle. A beginner climbing wall of at least 15 feet (4.57 m) will be the cheapest to install. You will pay slightly more to build a bouldering wall of at least 350 square feet (ca. 33 m²). The most expensive will be by far the installation of more advanced overhanging walls for Lead Climbing of at least 700 square feet (ca. 65 m²).
You'll need to have General Liability Insurance, Public Liability Insurance, and Workers' Compensation Insurance coverage in the event of an accident, injury, or other misadventure to customers or staff. 
Equipment and Fit-out Costs
Opening a rock climbing gym requires a variety of specialized equipment to create a safe and engaging environment for climbers.  Here are some of the essential items you will need:
Climbing Holds: grips attached to the walls to provide hand and footholds for climbers. These come in different shapes and sizes, and you'll need a range of them to create different routes for climbers of different skill levels.
Safety Equipment: ropes, harnesses, carabiners, and anchors that are used to keep climbers safe while they climb.
Crash Pads: large foam mats placed on the floor below the climbing walls to cushion climbers' falls.
Climbing Shoes: specialized footwear designed for rock climbing, providing grip and support on the walls.
Belay Devices: used by climbers and belayers to manage the ropes and provide safety while climbing.
Cleaning Equipment: like brushes and vacuums to maintain the climbing walls and holds.
Furniture and Fixtures: Tables, chairs, benches, lockers, and other furniture items will be needed to provide comfortable resting areas for climbers and staff.
You also need to factor in other equipment costs, which include changing rooms, showers and toilets. Additionally, you will need to invest in signage to attract customers to your gym.
You'll need to hire permanent full-time employees, whose salaries depend on experience and managerial competence. Casual employees are also an option.
Electricity, Gas, and Water Costs
Air-conditioning and adequate lighting are necessities. Depending on the size of your indoor rock climbing gym, you should set aside a monthly budget for these costs.
Climbing walls, boulders, and safety equipment are some of the most critical components of an indoor rock climbing gym. That's why they require regular maintenance to ensure the safety and satisfaction of your customers. Neglecting it can cause accidents and injuries to climbers. 
Regular maintenance includes inspecting equipment for wear and tear, tightening loose bolts, replacing worn-out parts, and cleaning and sanitizing surfaces. In addition, regular maintenance ensures that your equipment remains up-to-date and meets industry standards, which can help attract new customers and retain existing ones.
Forecasted Revenue from Entry Fees and Memberships
Forecasting revenue is a vital aspect of the planning process for an indoor rock climbing gym. Daily rates for adult and child customers as well as monthly and yearly memberships can be used as a reference point to forecast revenue based on expected customer numbers. Utilizing an all-in-one gym management software can help simplify and streamline this process.
Financing Options
Financial institutions regularly offer bridging finance for new businesses, but often require security. An alternative way to raise money for initial start-up costs is through crowdfunding; another reason why a thorough business plan should be prepared.
Right Software for Climbing Rock Gym
Once everything is set up, it's essential to have reliable software solutions for managing customer relationships and maximizing sales potential in your climbing gym business. With the right tools such as CRM and Point of Sale, you can easily track sales, forecast revenue, manage leads, and generate reports.
5. Sourcing Equipment for Your Rock Climbing Gym
When opening a rock climbing gym, sourcing equipment is a critical aspect of ensuring the safety and satisfaction of your customers. When it comes to installing climbing walls, it's important to hire suitably qualified and licensed tradespeople. In addition, a structural engineer should assess the gym site to ensure that its foundations are strong enough to support the weight of the climbing walls, ropes, and customers.
Don't forget to stock up on climbing shoes, ropes, harnesses and accessories. By taking the time to research and compare different brands and models, you can find equipment that meets yours needs and budget. Additionally, many manufacturers offer discounts and bulk purchasing options, which can help you save money on your equipment costs.
Image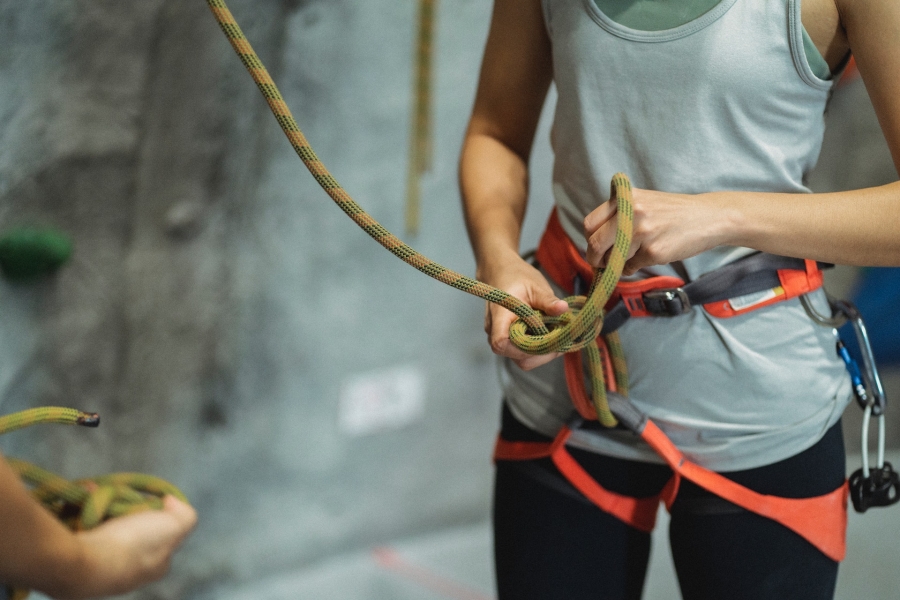 6. Registering Your New Business Name
When registering a new business name for your rock climbing gym, it's significant to ensure that it's unique and not already in use by another company. 
If you are struggling with creating a unique and memorable brand name, there are online tools and resources available that can help you with it. These websites (i.e. Looca) often offer suggestions based on keywords related to your business or industry, and can help you come up with a name that stands out and resonates with your target audience.
7. Establishing the Correct Legal Entity
Determining the correct legal entity to operate your indoor rock climbing gym is essential to limit risk exposure and provide potential tax relief. The four main types of business structures are:
Sole proprietor: A business owned and operated by one person, where legally there is no differential between the entity and the individual owner.
Partnership: Documented in a partnership agreement and is an arrangement where two or more parties operate a business together and share its profits. The partners are jointly and severally liable for the obligations of the business.
Limited Liability Company (LLC): Protects its owners from personal liability for the debts or liabilities of the company. LLCs do not pay the tax directly, rather the profits/losses flow through to the individual members, who then include them on their individual tax returns.
Corporation: A 'legal person', which is separate and distinct from its owners. It is owned by shareholders and operated by its directors. It has the ability to contract and sue/be sued in its own name, borrow and loan money, and acquire assets. It pays tax at the corporate tax rate, and profits are passed onto shareholders through dividends. A corporation also has the advantage of limited liability protection.
Establishing an LLC or Corporation may be the most attractive legal entity for your rock climbing gym, given the limited liability protection that both offer.
8. Licences, permits, waivers, and taxes
There are several licenses and permits that you will need to obtain before opening your rock climbing gym. The requirements may vary depend on the country or state, and it is important to research and comply with the specific regulations of the area where your business will be located. 
Certificate of Occupancy: When purchasing or leasing a site for your rock climbing gym, you will require a Certificate of Occupancy from a licensed certifier to evidence that all planning laws, regulations and building codes have been met. 
Licenses: Federal, State and Local Government licenses are required to operate an indoor rock climbing gym. Therefore, you must familiarize yourself with licenses required in your local area.
Music Licenses: A Public Performance License is needed to play music in your rock climbing gym, which can be obtained from your local licensing authority. 
Sales taxes: Most jurisdictions require businesses to collect sales taxes on goods and services offered, which you will need to research prior to trading.
Liability waiver: Indoor rock climbing can potentially be a dangerous activity. It is therefore essential to have a well drafted liability waiver for customers to sign prior to engaging in climbing at your gym, acknowledging the risks of this activity and that they have been shown a safety demonstration before climbing. Ensure that you have prepared and shown a comprehensive safety demonstration to all customers prior to any climbing activities.
Image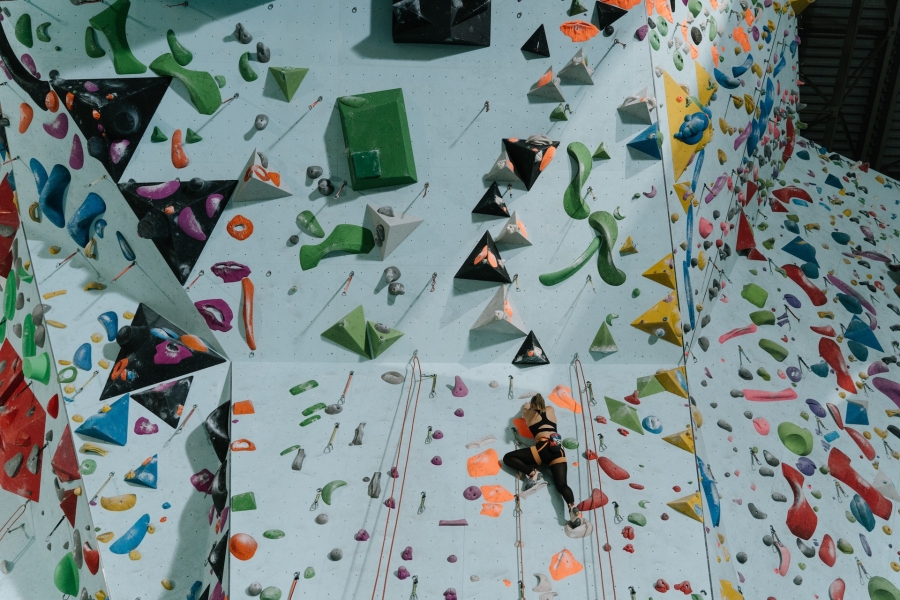 9. Implementing a Unique Brand
Creating a unique brand to stand out from your competitors is essential to entice customers to your business. It should reflect the personality, values, and mission of your business. It is important to create a consistent brand across all channels, including your website, social media, advertising, and in-gym signage. Design a memorable logo, choose a colour scheme, and create a catchy tagline that captures the essence of your gym. 
A website is an essential tool to market your rock climbing gym, allowing customers to access information about the services you offer and provide vital information regarding pricing, opening hours and contact information. 
There are two options to achieve this – hiring a professional web developer or creating the website yourself. The second option is best If you have a limited budget, but there is a risk of the low quality result, especially if you are not experienced in this field. However, website builders such as Wix, Squarespace and GoDaddy offer affordable and easy-to-use tools and help to achieve the professional-looking website. 
11. How to Open a Rock Climbing Gym? Don't Forget to Market It!
Marketing your rock climbing gym is essential for reaching your target audience and building brand recognition. How to do this?
First, identify your target market, which may include fitness enthusiasts, adventure seekers or even schools. Then choose suitable marketing channels to reach them. Consider creating a social media presence and advertising through platforms such as Facebook, Instagram, and Twitter. To attract customers from the surrounding area, utilize flyers, posters, and radio ads. To further encourage people, think about offering promotions, discounts, or referral incentives to entice new customers and keep them coming back. 
Key Takeaways
Opening a rock climbing gym can be a challenging yet rewarding venture. It requires extensive planning and consideration of whether this is the right business for you. To ensure success, it's important to have a clear understanding of the industry, conduct thorough market research, create a detailed business plan, secure the necessary licenses and permits, and hire experienced staff.
By utilizing modern open gym management software, such as Perfect Gym, you can streamline operations, manage customer relationships, and maximize sales potential. With the right approach and tools, your rock climbing gym can become a profitable and thriving business. Contact us today to learn more about how Perfect Gym can help you achieve your goals.